Tweet
Posted by Rob Stevens Categories: Sports, Talent, News,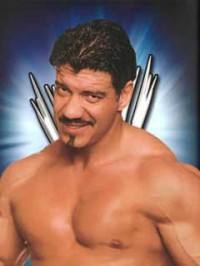 Eddie Guerrero was found dead in his hotel room Sunday morning.
I've been a wrestling fan for a long time, and Eddie Guerrero has been a large part of the reason why I enjoy wrestling so much. The guy was from the old guard, guys who didn't need a writer to give them lines ... a guy who could tell a story inside and outside the ring. He had unbelievable charisma, and tried to leave it all in the ring.
Unfortunately, he also wrestled with the proverbial "personal demons." While Eddie has been clean and sober for four years, the effects that his previous lifestyle left on his body finally took their toll. An autopsy revealed that his heart had become diseased, and he fell into a deep sleep. It seems that Eddie's demons were always strengthened when Eddie seemed to be put into the position of carrying the company to a certain degree…the last time being when Eddie became champion. Sure enough, reports are that Eddie was going to be taking over for an injured Batista, and it appeared that the pressure was too much.
Eddie is survived by his wife and three young daughters. WWE held an Eddie Guererro tribute show Sunday in what was supposed to be a RAW/Smackdown! SuperShow. Spoilers are already available, but each will be aired (RAW Monday night, SmackDown! Friday night) this week.
Vaya Con Dios, Eddie.
Tweet
Posted by Rhys Alexander Categories: Sci-Fi/Horror, WB,
Do you prefer your hunks in the air or in the water? Never fear, you can soon have both. The WB, home of the popular Smallville, is launching another superhero pilot, as Aquaman is in the works. The show is reported to be less flashy than Smallville, with older characters.

Read More

| TV.com
Tweet
Posted by Rhys Alexander Categories: Reality, ABC, Talent,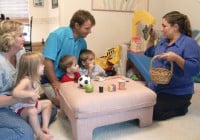 Friday night: the beginning of the dregs of television…weekend TV. Ugh. But don't worry; there are still some shows worth watching. One of these is the fabulous Supernanny. Americans love that feisty Brit Jo Frost, and who can blame them? Somehow, there are few things more satisfying than seeing a bratty kid get a smackdown. Except Supernanny doesn't smack. Oh, no. She speaks - sometimes firmly, sometimes kindly. She puts children in a 'naughty chair.' She points out what should be extremely obvious (but never is) to parents such as, "Pay attention to your children" and, my absolute favorite, "Do not let your seven-year-old punch you in the teeth."
Click to continue reading Supernanny To The Rescue!
Tweet
Posted by Rhys Alexander Categories: Grey's Anatomy, Talent,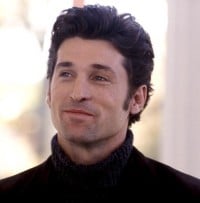 One of a TV fan's favorite pastimes is to look into the histories of the actors that play their favorite characters. What shows were they on before? Were there any scandals? How badly did they have to embarrass themselves before they landed a decent gig?
One actor who requires no searching is Patrick Dempsey, who plays Dr. Derek Shepherd on Grey's Anatomy. Who could ever forget his best role ever, the quintessential nerd in the 1987 flick Can't Buy Me Love?
Dempsey played Ronald Miller, a sweet and intelligent 17-year-old who desperately longs for popularity. So he comes up with a scheme…to pay the most popular girl in school 1,000 dollars to pretend to like him. Aww…heart-breaking isn't it? Just wait until you see the film. If you haven't, go here for more details: it's something you cannot miss.
The character of Ronald Miller was so beloved, in fact, that many fans can never forget him in the role. Which is why Dempsey's smooth confidence on Grey's Anatomy often seems wrong, somehow. America loves a nerd, so it's no surprise that Grey's adorably rumpled T.R. Knight, who plays Dr. George O'Malley, is the breakout heartthrob of the show. Maybe Dempsey should consider returning to his roots…

Tweet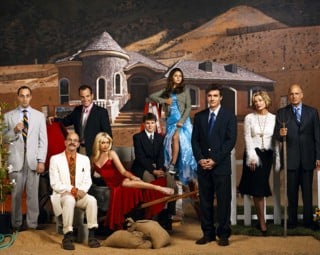 Its a sad day in TV world. One of the best, most original shows to come on in god knows how long is done. Its been a long time coming but I wanted to believe that people would just start watching. They've also cut back the episodes to 13 for its "final" season. I say "final" because I'm praying that FOX decides to save the show at the last minute - fat chance, I know. I'd love to see HBO pick it up and unleash its full potential.

Read More

| Yahoo! TV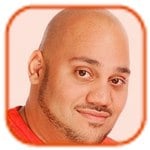 Tweet
Posted by Andru Edwards Categories: Commercials, Talent,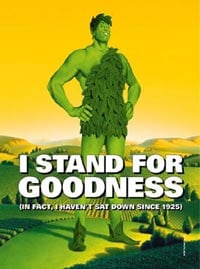 Realizing that children in this day and age just aren't getting their fill of vegetables, the Jolly Green Giant has come out of his slumber to be the face of a new campaign. Backed by General Mills, the Giant can be seen in print and television spots named "For the Love of Vegetables," promoting both the health and tasty goodness that can be found in vegetables. It seems that Santa must again get used to sharing "Ho ho ho."

Read More

| NYTimes
Tweet
Posted by Rhys Alexander Categories: Editorial,
The beloved CSI is on tonight, and millions anticipate Thursday night for this reason.
I like CSI, not many people don't. It's entertaining and sometimes illuminating, with enjoyable characters and intriguing storylines. Every time I catch an episode, though, I have to wonder - what is up with the ratings system in this country? Could you imagine turning on a (non cable) network show, even after 9pm, and seeing characters walking around, completely nude? Of course not. That would never happen.
Click to continue reading What Is Truly Offensive?
Tweet
Posted by Rhys Alexander Categories: Announcements,
One of the best things about starting a fresh new network is being able to make it the best it possibly can be, with help from our readers. No television show can succeed without viewers, and no website can succeed without readers. So let us know: What's your poison? Do you want gossip and spoilers? Recaps and reviews? Thoughtful editorials on the state of television today? All this, and more? Please let us know, in the comment boxes or in our forum. Together, we can make TV Envy as good as…well, TV!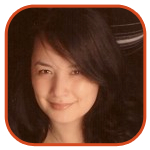 Tweet
Posted by Veronica Santiago Categories: Prime Time, Reality, CBS, News,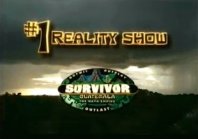 Funny – I always thought that Survivor was getting a bit tired, but what do I know? Apparently most viewers don't share my sentiments, which is why CBS has already ordered two more seasons of the reality show. This is in addition to the 12th version that has yet to be filmed. It's interesting how quickly that other Mark Burnett production, The Apprentice, has started to wane over the years yet Survivor keeps going strong. Of course—once Jeff Probst finally gets around to admitting that he is fed up babysitting stinky contestants, Survivor will have officially jumped the shark. But then again, I think that happened a few years ago when women started stripping for peanut butter…

Read More

| ABC
Tweet
Posted by Rhys Alexander Categories: Drama, ABC, Grey's Anatomy, Spoilers,
This is what I love about Grey's Anatomy: it's so wild, weird, and fun, that even if you knew exactly what was going to happen, you'd still want to watch it. With most shows, if you know the spoilers, it's well…spoiled. A flurry of sweeps spoilers have been flying around the last two days, thanks to inquisitive fans and a certain TV Guide article.
More spoiler information after the jump.
Click to continue reading Even Spoilers Can't Spoil Grey's Anatomy
© Gear Live Media, LLC. 2007 – User-posted content, unless source is quoted, is licensed under a Creative Commons Public Domain License. Gear Live graphics, logos, designs, page headers, button icons, videos, articles, blogs, forums, scripts and other service names are the trademarks of Gear Live Inc.