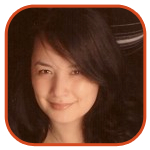 Posted by Veronica Santiago Categories: NBC, West Wing, The, Video,
Ron Silver, an Emmy-nominated actor and Tony award winner, died Sunday after a two-year battle with esophageal cancer. The 62-year-old was surrounded by family when he passed during his sleep yesterday morning.
Silver, who was featured on the big screen in such projects as Ali, Reversal of Fortune, Enemies: A Love Story and Silkwood, had been nominated twice for his work on the small screen. His first nod came in 1988 for the miniseries The Billionaire Boys Club. He was then recognized in 2002 for his role as Bruno Gianelli on The West Wing (see above).
Click to continue reading West Wing's Ron Silver Dies of Cancer
Read More

| Reuters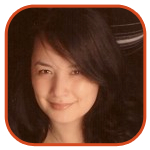 Posted by Veronica Santiago Categories: Action, Prime Time, FOX, NBC, 24, West Wing, The, Announcements,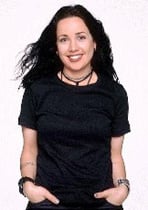 Janeane Garofalo (Ratatouille, The Truth About Cats and Dogs) will once again channel her serious side and enter the world of TV politics. The actress-comedian brought her signature snarky flair to NBC's The West Wing and now she'll (hopefully!) do the same for Fox's 24.
Garofalo will star in the show's seventh season as the requisite government agent who investigates Jack Bauer's latest crisis. I am regrettably doubtful - but seriously hopeful - that she can help bring the show a much-needed spark. Season 6 was such a ridiculous bore that I can't even remember how it ended.
Those needing to review last year's recaps (like me) have until September 10th to get all caught up.
Read More

| Hollywood Reporter
Posted by Rob Stevens Categories: Comedy, NBC, West Wing, The, Editorial,
I'm a Sorkin fan. I thought The West Wing was one of the best shows on TV while Sorkin was still running it, and a great deal of my knowledge of how our government works (or should ideally work) came from that show. One of the things I've liked about Studio 60 was just how much like The West Wing it was in pacing and writing style. Even some of the actors were the same, people who've proven to be able to handle the way Sorkin writes. Hell, the title of the episode is in the same font.
Studio 60 stopped being similar to The West Wing last night, and practically turned into a rerun.
Click to continue reading Studio 60 Devolves into West Wing Reruns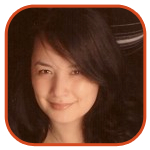 Posted by Veronica Santiago Categories: Drama, Prime Time, NBC, Desperate Housewives, West Wing, The,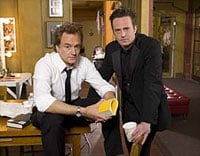 Now that I've had time to digest the series premiere of Studio 60 on the Sunset Strip, it's time for a little post-mortem analysis:
What Will Make Me Watch Again:
-Thanks to creator/writer Aaron Sorkin and director Thomas Schlamme, Studio 60 very much has the feel of a West Wing episode. The quick, witty banter is always refreshing after a week's worth of reality shows
-Matthew Perry and Bradley Whitford are tried and true likeable actors who know how to deliver
-we are reunited with characters from the West Wing that we had grown to love (Timothy Busfield, Perry, Whitford) and we were even treated with a cameo from Felicity Huffman (from Sorkin's Sports Night)
-It gives us a perspective we haven't really seen. Makes us wonder what's really going on backstage at the real-SNL
What Will Make Me Think Twice:
-This is too much like the West Wing...even the title fonts are recycled!! And I swear the hotel room scene was filmed on the WW lot.
-I love that Sorkin is loyal to the actors he has worked with before… but it's a new show. He needs new people.
-Perry and Whitford are delivering the exact same routine we've seen from them before
-Is there some reason Sorkin loves to do 'behind-the-scenes' based series? Sports Night, West Wing and now this. Me thinks he might need to start branching out soon.
-Last but not least, I am in no way buying Amanda Peet as the NBS President… and this has nothing to do with her being a young woman. She just doesn't have the presence to pull that role off.
Final Analysis: It's neither here nor there. If I'm free and without anything else to watch on my Tivo, I'll probably watch the show again. But I'm not going to hurt myself trying to find the time.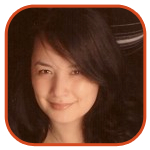 Posted by Veronica Santiago Categories: Award Shows, Comedy, Drama, ABC, CBS, NBC, 24, Amazing Race, The, Daily Show, The, Desperate Housewives, Entourage, Grey's Anatomy, House, King of Queens, My Name Is Earl, Scrubs, Talent, The Office, West Wing, The, Features,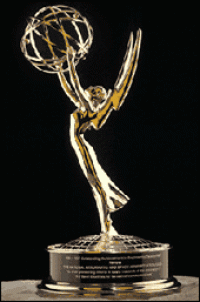 As some of you might remember, TV Envy brought you live remarks during the 2006 Oscars. I had so much fun last time - I thought I would do it again for the 58th Annual Emmy Awards. Unfortunately, since I live on the West Coast, live blogging is not possible. I could cheat and write this while reading the online reports—but I won't. I will keep my eyes focused on the TV screen before me and make catty remarks as I think of them in Pacific Standard Time.
Although I'm still a bit bitter that neither Lost or Desperate Housewives were nominated this year (apparently due to the recent changes in the nomination process), my annual viewing must go on. If someone can manage to eke out a win for either Entourage, The Office or Scrubs, I may be able to forgive and forget.
Okay—let the time-delayed festivities begin!
Click to continue reading The 2006 Emmy Awards

Posted by Wendy Michaels Categories: Drama, Cable, TNT-HD, West Wing, The,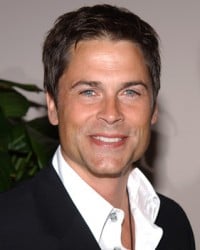 Good news for Rob Lowe fans—he's returning to the small screen, starring in the TNT movie A Perfect Day. The movie is an adaptation of Richard Paul Evans' best-selling novel, and will be part of TNT's "Johnson & Johnson Spotlight Presentation." Former Johnson & Johnson features include The Wool Cap and Door to Door.
Michael Wright, head of original programming at TNT said of Lowe, "After having worked with Rob Lowe on previous TNT productions, we are thrilled to have him in the lead role for A Perfect Day. We couldn't hope for a better actor to bring to the screen this heartwarming drama about one man's journey through self-discovery." Lowe's character is Richard Harlan, who gets fired from his job, writes a novel and becomes an overnight success. His journey allows him to refocus on his life priorities.
Lowe was on the first four seasons of The West Wing, which he earned Emmy and Golden Globe nominations for. Call me crazy, but I never tire of seeing his ageless beauty. Look for A Perfect Day, airing on TNT in December.
Read More

| Zap2it
Posted by Abby Rose Dalto Categories: Award Shows, Sci-Fi/Horror, ABC, Cable, CBS, FX, HBO, NBC, UPN, WB, Arrested Development, Desperate Housewives, Entourage, Everybody Hates Chris, Grey's Anatomy, My Name Is Earl, The Office, The Sopranos, West Wing, The,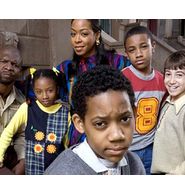 This year's Emmy nominations will be announced July 6 and perhaps new nominating guidelines will make 2006 the "year of the underdog".
Last year showed some progress, with nominations gained by new hits such as Lost, Desperate Housewives and the recently-cancelled, cult-hit Arrested Development (which won seven awards last year).
Apparently some rules have been instated this year that will give newer shows (and shows from less popular networks, such as UPN, FX, and the WB) an even better chance at getting an award. The new system will allow members of the Academy to choose ten to fifteen finalists (depending on category), later cut to five main nominees by a panel of judges.
A few of this year's hopefuls include The Office (NBC), My Name is Earl (NBC), Rescue Me (FX), Grey's Anatomy (ABC), Gilmore Girls (WB), Battlestar Galactica (SciFi), Everybody Hates Chris (UPN), and Entourage (HBO).
Of course, some regular faces will be sure to make appearance on the list such as members of The West Wing and The Sopranos. (Thank goodness Fraiser is off the air, although Will & Grace may return for one last year of nominations, despite the end of the series a few months ago).
The awards will air on August 27.
Read More

| MSNBC
Posted by Abby Rose Dalto Categories: CBS, FOX, 24, Commander In Chief, West Wing, The,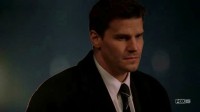 The "median age" of a show is the age at which an equal amount of its viewers are above and below that age. For instance, The West Wing's median age is 54 (meaning that half of the show's viewers are younger than 54 and half are older than 54). E-Ring, the new West Wing spin-off based in the Pentagon, also has a median age of 54.
Many of today's new shows have relatively high median ages; something that might cause concern in an industry that tends to cater to a younger demographic. It shouldn't come as much of a surprise that last season's Commander in Chief had a median age of 55 years, while CBS's NCIS has a median age of 56. Cold Case also had a median age of 56.
What was unpredictable was the median age of Fox's Bones: 44. Any show starring heartthrob David Boreanaz (of Angel and Buffy the Vampire Slayer fame) certainly expected a younger audience than that! 24 also had a relatively high median age at 45 years, which is interesting considering Fox's youth-centric reputation.
On the other hand, The Simpsons – which has been on the air for a whopping seventeen seasons – has the same low median age of 29 that it had several years ago. Despite being an "old" show, it hasn't had any trouble engaging younger viewers.
Read More

| Washington Post
Posted by Eric Chaloux Categories: CBS, FOX, NBC, WB, Arrested Development, West Wing, The, Cancellations, Internet, Ratings,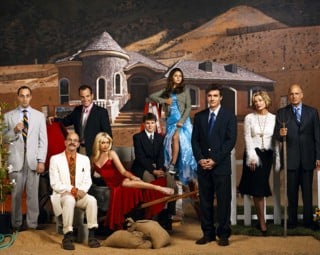 The new summer season is about to take over the steamy airwaves. As we laugh, cry and look for the remote while watching these new shows it will give us sometime to think about what's on the horizon. A lot of shows won't be back this fall.
Here's what MSNBC has as the Top 5 shows they'll miss.
Arrested Development
Alias
The West Wing
Everwood
That '70s Show

A lot of big names are not on their Top 5 list. Some of those obvious ones are Will & Grace, Malcolm in the Middle and the Bernie Mac Show. I'm not that heartbroken over a season without Hope & Faith and Joey.
Read More

| MSNBC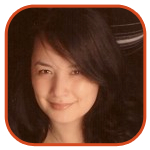 Posted by Veronica Santiago Categories: Prime Time, NBC, Talent, West Wing, The,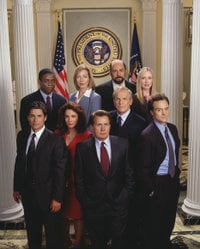 Expect some good news and bad news in May for NBC's The West Wing. The bad news, obviously, being the end of the series and of John Spencer's character. The silver lining? You will be able to catch up with a list of characters that have exited over the past couple of years. Those expected to reprise their roles during the last few weeks include: Annabeth Gish, Emily Proctor (now currently on CSI: Miami), Marlee Matlin, Gary Cole, Tim Matheson, Mary-Louise Parker and last but not least - Rob Lowe. The finale will air on May 14.
© Gear Live Media, LLC. 2007 – User-posted content, unless source is quoted, is licensed under a Creative Commons Public Domain License. Gear Live graphics, logos, designs, page headers, button icons, videos, articles, blogs, forums, scripts and other service names are the trademarks of Gear Live Inc.