Posted by Abby Rose Dalto Categories: Reality, Cable, WB, The Hills, Editorial, Gossip,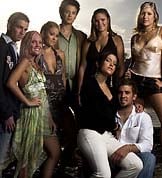 Why is it that we, as a society, are so obsessed with watching other people with bottomless pockets throw away their money? I never realized how many shows there are out there that focus on what can only be called "spoiled brats". These past few years there have been an excess of reality programming documenting the lives of these spoiled brats.
The first one to come to mind is, of course, FOX's Simple Life, which stars America's most famous spoiled brat, (famous for nothing more than being just that) Paris Hilton and equally-spoiled Nicole Richie. MTV has Laguna Beach which follows around a group of rich teenagers and was so popular it inspired both a spin-off (The Hills) and a rip-off (8th & Ocean). Bravo's Real Housewives of Orange County follow women who those teenagers will be in twenty years. Bridezillas gives us a glimpse into the lives of spoiled women throwing elaborate weddings, while MTV's My Super Sweet Sixteen is the sixteen-year-old's equivalent.
Joe Millionaire tricked women into falling in gold-digger's-love with a "millionaire" who wasn't rich after all, while NBC did the opposite in For Love or Money by offering the winning female contestant a large monetary prize for "winning" the heart of a man who is unaware of the incentive.
There has also been E!'s The Anna Nicole Show, A&E's Growing Up Gotti, the WB's Survival of the Richest, and MTV's Rich Girls, Newlyweds: Nick and Jessica and sister spin-off The Ashlee Simpson Show. At least WE's Daddy's Spoiled Little Girl openly admits that their "stars" are spoiled rotten.
What is it that keeps us tuning in to these shows? Do "have-not" viewers live vicariously through these "have plenty" stars? Does watching their excessive waste make us feel superior for own conscientious frugality? Do we take pleasure in their seeming lack of intelligence? (I'm not implying that all spoiled people are stupid; I'm simply questioning the brainpower of certain wealthy people from some of the above shows, no names, no names).
A male friend in his twenties recently confessed that he sometimes watches My Super Sweet Sixteen. He and I both find the show extremely funny (even when it might not mean to be), but he also described it as a type of social-commentary. While some people might watch the show from a "wow-isn't-that-cool" position, he sees it as a mockery: "how ridiculous that these children are complaining that they're getting a $100,000 party instead of a 500,000 party!"
Whatever it is, America has not stopped watching.
Read More

| Mercury News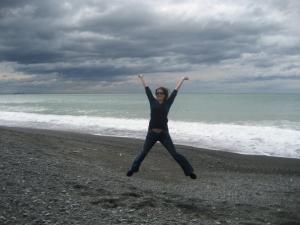 Posted by Auburn Scallon Categories: Prime Time, Reality, Cable, The Hills,

Fans of Laguna Beach will fall instantly for another glimpse into the ridiculously pampered lives of Southern California teens. In its debut episode, a Teen Vogue staffer begins his phone call to Lauren "LC" Conrad by listing all of the reasons why she's not ready for an internship position, before throwing caution to the wind and offering it to her anyway (what magazine would turn away this kind of free publicity?!). This spin-off promises months of wishing you were born wealthy and beautiful while you watch as kids who have been given everything struggle to take orders.
We can surely count on her roommate Heidi, whose goal in school is to become a "fun, PR, party-girl", fellow intern Whitney, and gorgeous new neighbor Audrina, to incite drama while good-natured LC struggles to learn how to stand up for herself. Don't count on the return of womanizing ex-boyfriend and fellow LB alum Jason to make this any easier.
Posted by Kristen DeLeon Categories: Prime Time, Reality, Cable, The Hills,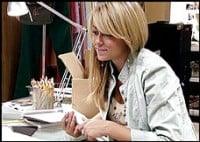 Yesterday on The Hills Lauren and her roommate Heidi discovered some new drama as Heidi ditched school. Lauren seems to be getting tired of Heidi's lack of interest in school and constant "party-girl" attitude. She just doesn't seem like she cares about anything aside from having fun and going out to clubs. One night when they were all out, Heidi met someone from the most famous public relations firm in California and she landed an interview. Lauren seemed like she was anything but happy for her friend making the situation a bit tense. After Heidi got the job she called up Lauren to tell her about it and Lauren hung up on her during the call. It's hard enough having to deal with all of that drama just among friends, but when it comes to roommates, an ugly situation can be even worse than it appears. Hopefully the girls will be able to work through this tough time in their friendship and learn to be supportive of each other.
Since Heidi was hired at the firm, she made the decision to drop out of school. She claimed that not everyone was meant to go to college and since she cut the first day of classes, it's safe to say she probably fits in to this category. Will this decision to drop out of school influence Lauren in anyway? The truth is, Heidi's choice may affect Lauren's ability to do well in school since the "party-girl" will be interrupting her daily schedule. Hopefully this won't mean the end of their friendship.
Posted by Abby Rose Dalto Categories: Drama, Reality, Cable, The Hills,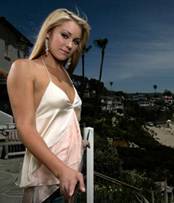 The first two seasons of the MTV reality series Laguna Beach: The Real O.C. posed the very serious moral question: Kristin or Lauren? Reality television (and yes, I use the term "reality" loosely) often forces us to choose between two pretty, but vapid blondes. Hello, Paris and Nicole. However the love triangle between Kristin Cavallari, Lauren "L.C." Conrad, and Stephen Colletti (a guy who honestly, didn't seem to be worth the trouble) left us a nation divided.
Those of you on the L.C. bandwagon are no doubt excited about The Hills, a Laguna Beach spin-off that follows the fashion student and her new friends through school and an internship at Teen Vogue. After having watched the premiere episode, I'm convinced that The Hills will follow Laguna Beach's this-can't-be-real-reality format and that's what will keep the fans tuning in.
Both Kristin and Lauren fans alike will enjoy watching her fumbling through an internship she isn't remotely qualified for and partying in an apartment she can't possibly afford on her own. Oh and of course, the previews have been teasing us with the reunion of L.C. and smarmy ex-boyfriend Jason (although I'll admit, anyone is better than whiny, undernourished Stephen at this point). I am admittedly much too old to watch a show about over-privileged teens and their antics, but something about Laguna Beach and The Hills just sucks me in. I think it's one of those "so-bad-it's-good" guilty pleasures that we all have. Lauren Conrad is mine.
Meanwhile, the third season of Laguna Beach, due to premiere sometime later this summer, will focus on both familiar cast members and new ones, including L.C.'s sister. I think the only question left to ask now is: what ever happened to Lo???
© Gear Live Media, LLC. 2007 – User-posted content, unless source is quoted, is licensed under a Creative Commons Public Domain License. Gear Live graphics, logos, designs, page headers, button icons, videos, articles, blogs, forums, scripts and other service names are the trademarks of Gear Live Inc.