« Moblogging: Web Revolution or Invasion of Privacy? | Main | AllOfMP3 Offers Cheap Downloads From Abroad »
June 22, 2004
Sendo X Launches in Europe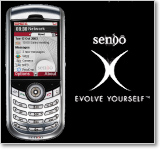 Sendo has launched an amazing little cell phone in five European countries including France, Italy, Portugal, Spain, and The Netherlands. The Sendo X uses the Symbian 60 platform, and is filled to the brim with state of the art features. The Sendo X can record VGA video, as well as take pictures (with a 4x zoom and red eye reduction). The phone also has built-in photo editing software, allowing you to spruce up your pictures before sending them off to friends.
Posted by Andru at June 22, 2004 08:19 AM
RECENT GEAR LIVE STORIES:
Notebook Makers Moving to Slimmer Designs

Gear Live Holiday Music Guide 2004

Are Cell Phones Harmful?

Gear Live Giveaway: Three DVD's of Your Choice

Gamer Buys Virtual Island for $26,500

Trackback Pings
TrackBack URL for this entry:
http://WWW.WRISTDREAMS.COM/mt/mt-tb.cgi/59
Comments
Nice Site !!
Posted by: ftpd exploit at July 9, 2004 05:37 PM
Post a comment