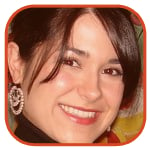 Tweet
Posted by Katie Gutierrez Painter Categories: Fashion,
This post launches the start of what I'll call our Daily Deal. Inspired by my own feverish bargain-hunting for high-quality goods, I thought, Why not share the wealth? Or, rather, the savings. Which can lead to wealth. Or keep you wealthy. Whatever. Slightly convoluted, I'll admit, but nonetheless well-intentioned. So come back often to check out a designer deal and its a look-alike steal. And share your own bargain-shopping spoils!
Designer Deal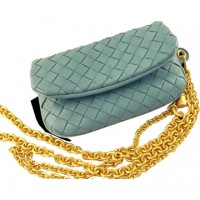 With woven leather in a gorgeous sky blue, this Bottega Veneta handbag measures approximately 5"W by 3"H. In other words, it's the perfect night-out size, but its color also makes it appropriate for day—think summery dresses and fabulous neutral heels, the perfect brunch date outfit (I want it soooo badly!). The bag also features brass chains measuring 38" long but which can be shortened to 22"; a flap closure; fully lined zippered back compartment; and two interior compartments. The designer name is stamped on in the inside. Despite its summery texture, I'd use this bag through fall and winter as a fresh contrast to richer (colored) clothing. Retailed at $602, this bag that I'm quite obviously lusting after is being sold on efashionhouse.com for $299. However, add the code OFF20 at checkout for 20% off the sale price. Then add the code OFF10 for an additional 10% off. You're left with $215.28, and FedEx ground shipping is free. Oh, and the bag also comes in tan and red—take your pick.
Look-alike Steal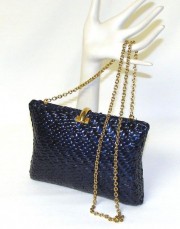 With vintage appeal, the deeper color on this vintage Walborg woven purse will make it more versatile than the Bottega Veneta clutch (for some) come winter. Its dimensions are about 8"W by 5.5"H, and it also features a brass chain shoulder strap. The one-compartment interior is lined in black vinyl, and the bag also has a small gold-lined open slip pocket. But the kicker? It's being sold for only $35 at retrodesignerdeals.com. In lieu of the real thing, seems like a no-brainer to me!
I'd love to hear your thoughts on today's deals—and take requests for future ones. I have to admit, all modesty aside: I'm a wizard at bargain-shopping. Enjoy!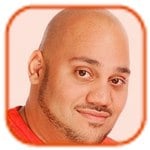 Tweet
Posted by Andru Edwards Categories: Accessories, Announcements, Smartphones, Features, Handhelds,

Whoa! Gear Live is now five years old—can you believe that? I sure can't. It seems like it was just yesterday that I started up this little blog, to share my thoughts on consumer electronics in my spare time, and eventually getting a friend to help me post some news. Before we knew it, this become my full-time gig, and we were adding writers, and sections, left and right. Today, Gear Live has over 20,000 articles spread across our various sections, headed up by some of the best writers in the blogging game. We've got video shows, giveaways, and a social network that we are building as well. Regardless of how many things we've got going on from the past, we will always have some neat tricks up our collective sleeves in the future.
So how are we celebrating? Well, how about if we gave you presents? Since it's our fifth birthday, we decided we would give away five Mophie Juice Pack Airs. After all, people are all over the iPhone 3G S if our numbers are correct (they are,) and what better way to celebrate than by doubling the battery life of your iPhone 3G or 3G S?
How do you enter? Simple. Just leave a reply in our 'Gear Live Turns 5' forum thread, letting us know what your favorite Gear Live story of all time happens to be. It can be a text update, or one of our videos. Just leave a link and tell us why you liked it. Once you've done that, head on over to Twitter and tweet the following:
"@gearlive Turns 5, and I just entered to win a Mophie Juice Pack Air! http://bit.ly/mophie-air" (Click here to tweet this now)
We will choose five random entries as our winners, and they'll receive the Mophie Juice Pack Air for their troubles. Why should you want one? Check out our Mophie Juice Pack Air review. Now to start comparing kindergarten programs…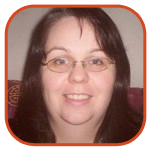 Tweet
Posted by Colleen McKie Categories: Celebrities,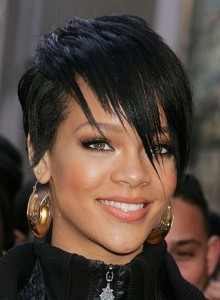 Rihanna is served
Rihanna has been subpoenaed to testify against Chris Brown in his June 22nd trial. For a while it was thought that Rihanna would refuse to testify against Brown. But now that she has been seen out and about snuggling with Canadian rapper and actor Aubrey "Drake" Graham I have a feeling that she's a lot more open to testifying.

Paris Hilton takes the cheesy way out
Paris Hilton has broken up with boyfriend Doug Reinhardt. Or rather, Hilton's publicist has. The heiress decided to take the tacky road and reportedly had her publicist end the relationship. And then released an official statement to People magazine.
Hey, at least she didn't dump him on Twitter.

Michael Lohan okay with Daughter's reconciliation for now
Seems like Lilo's dad Michael is okay with her getting back with Sam Ronson.
Bet that's a load off her mind.

Pete Doherty arrested
Sometime musician and constant coke head Pete Doherty has been arrested for DUI and drug possession in Gloucester, England. This follows last Friday's arrest in Switzerland for doing heroin on a plane.
You going for some kind of record, Pete? Why not try staying sober for more than a day?

Alba without a spine
Jessica Alba was caught on camera plastering shark posters all over Oklahmoa city as part of a protest of some kind of protest. Shortly after the actress issued a formal apology.
"I got involved in something I should have had no part of. I realize that I should have used better judgment, and I regret not thinking things through before I made a spontaneous and ill-advised decision to let myself get involved with the people behind this campaign."
Way to protest, Jessica. For a second there I thought you were more than an actress whose main concern his how much money she makes. My bad.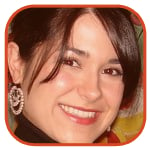 Tweet
Posted by Katie Gutierrez Painter Categories: Editorials, In The News, Parenting, Sex,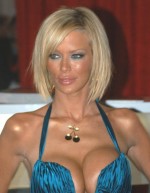 Alright, folks, ready for a little controversy? On second thought, what I'm about to write shouldn't be controversial. It should be a that's-ridiculous-and-disgusting-and-offensive-to-good-fathers-and-functional-daughters-everywhere no-brainer.
So tonight, as I'm driving home from nearly exerting myself to death on my bike, I hear this situation on the radio: A father, right here in my humble town, is encouraging his 18-year-old daughter to be an "adult film starlet." Yes. As in porn star. Here's how this went down. Apparently this
douche
dad had his old college buddy—and thriving porn star friend—over to dinner. This friend sees the 18-year-old daughter and tells her father that she's "smokin' hot." Not conventionally gorgeous like Jenna Jameson, he adds, but she could easily fit among the top 25 of today's porn stars. He wanted to sign her right there on the spot. For $400,000 a year. And Daddy says? Hell yes!
Well, okay, I guess he didn't say hell yes. He brought it up with his daughter, who was "taken aback" by the suggestion. Um, yeah! If my dad approached me after dinner with his raunchy-ass friend and said, "Hey, Kate—Bob thinks you've got the stuff"—a.k.a. T&A—"to be a hot porn star. Wanna give it a go? You've got my support." I'd be like, WTF? My dad thinks I'm a ho.
And the kicker. Apparently the girl's mother—who is still married to the father, mind you—knows nothing about any of this. She has no idea that her husband, who held their baby girl in his arms after she was born, is encouraging said baby girl to be everybody's "baby girl." Yes. That'll be a fun conversation. "Hey, hon, how would you feel about Margaret being renamed Crystal and starring in Back Door Beauties XXIIIII?" If I were the wife, I'd be packing my bags and my daughter and getting the hell outta there!
Am I being completely close-minded here? Is this actually the act of a loving and supporting father who wants his daughter to be financially and sexually liberated? Or is this
pimp
guy just absolutely in-effing-sane? How would you react if you were the daughter or the wife in this situation? I'd love your opinions!
Oh… and as a fun little add-on, my husband just told me about a dad who SWORDED HIS SON for not moving out. Sworded. As in like, stabbed with a sword that he just happened to have hidden under the living room couch. Well, yeah. Isn't that where everyone keeps their swords? The son's okay. The dad's effing nuts. What's wrong with parents these days???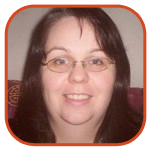 Tweet
Posted by Colleen McKie Categories: Celebrities,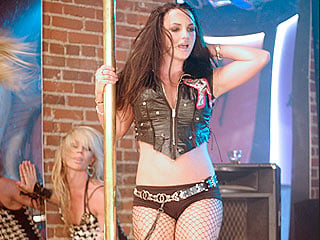 Brit should just cover up
The photographer responsible for those topless Britney Spear's pics says that the singer knew about the pics and actually requested them. In a bid to help the star continue to clean up her crazy act, Daddy Dearest was trying to block the topless photos from hitting the Internet.
So it's okay to let your daughter star as a topless stripper in her video as long as her boobies don't show? That's what, Rule #2 of how to be a great Dad?

Melody staying catty
Looks like at least one Pussycat Dolls refuses to keep quiet about trouble within the group and is quite happy to keep her claws out.
Melody Thornton is once again bitching about fellow Doll Nicole saying, "Nicole's always had extra things going on as opposed to the rest of us, but we have aspirations as well. It's definitely a huge misconception that we are just chilling and happy to just be members of the group."
So, does this mean that the band could be splitting up? Noppers. Thorton also said, "I don't think we're breaking up any time soon. As long as this thing is moving, we're all still here."
In other words? As long as people are dumb enough to buy their crappy music, they'll be around.

Rocker in need of a walker
Prince is in need of a double hip replacement, but refuses due to religious beliefs.
Too bad your religion didn't forbid wearing 9 inch heels, eh Prince? Then maybe you wouldn't need the surgery.

Adam Lambert announces he's gay
Well, duh.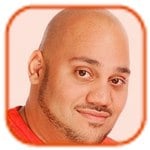 Tweet
Posted by Andru Edwards Categories: Announcements, Features, Handhelds, Hot Deals, Internet, Microsoft, Portable Audio / Video,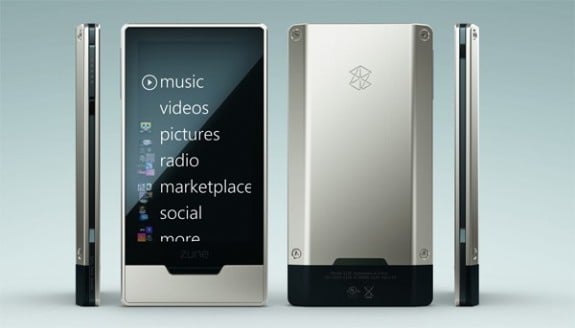 The Zune HD is real, and we are going to be giving one away to one of our readers. You want in? All you need to to do enter to win the Zune HD is help us win the I'm a Blogger Get me Out of Here contest. If we win, we will be bringing you content straight from the set of I'm a Celebrity…Get Me Out of Here. Seriously, I had to taste some of the most vile flavors I've ever put in my mouth, and you'll probably get a few laughs out of it.
Here's how to enter to win:
.(JavaScript must be enabled to view this email address)

- make the subject line "Vote for Andru Edwards" and hit send.
If you don't have one already, sign up for a Gear Live account
If you don't have one already, sign up for a Twitter account
Add the Gear Live Twitter account to your follow list
On Twitter, post the following tweet about our contest:

"I just entered to win a Zune HD from @gearlive! http://bit.ly/zune-hd" (Click here to tweet this now)


Once that is done, leave a comment in this forum thread with a direct link back to your Tweet, or a screen capture showing you voted. Be sure you are signed in to your Gear Live account before you leave the response.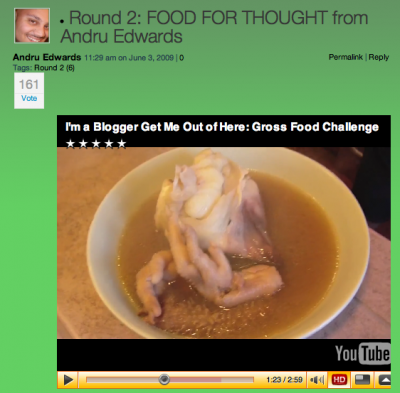 BONUS ENTRIES: Want more chances to win? Share the link to our contests on the following sites, and leave us a comment linking to those as well:
Post a screen capture in the forum thread showing that you voted
Facebook: Shared Link
Del.icio.us bookmark
FriendFeed: Use Post a Link
Your blog: Have a site? Link to our contest on it!
Remember: The bonus entries are just that - bonus. In order to be eligible to win, you must complete the core Twitter requirements.
As we (hopefully) make it through each round, you get another chance to Vote all over again, giving you even more chances to win. The contest starts today, and is open to US residents only. You have until 11:00 PM PST on June 11th to enter your votes. We will then announce our winner, chosen randomly out of all valid entrants and bonus points, on June 12th. The winner will be sent a Zune HD right after the product launches. Remember, you have three chances to enter a vote!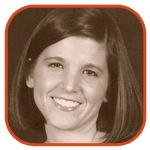 Tweet
Posted by Melissa Trebus Categories: Humor, Parenting,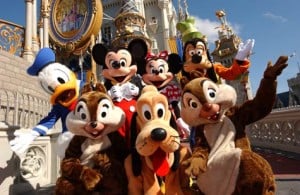 Well the countdown has begun! In six days my immediate family, all 16 of us, will arrive at Walt Disney World - the happiest place on Earth! To say that we are excited would be an understatement. We booked the trip last November. For the last seven months we have been pricing dining plans (we decided against), scheduling character dining (a princess lunch and a lunch with the Little Einsteins), booking appointments at the Bippity-Boppity Boutique (Monday afternoon), watching videos of all the rides via YouTube, planning our packing, and most importantly watching the promotional DVD every single Sunday after lunch (I am not exaggerating, we have watched it about 50 times). This will be my children's first trip. We told them that as soon as my son was out of diapers we would go. Well he is now three years old and has been diaper-free for about nine months. My daughter (five-years-old) cannot wait to ride Space Mountain. I do not ride roller coasters for fear of literally falling right out, but I'm sure she'll have a great time with her dad! Check back next week as I breakdown each day. It's sure to be eventful!!!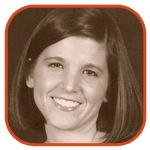 Tweet
Posted by Melissa Trebus Categories: Humor, Parenting,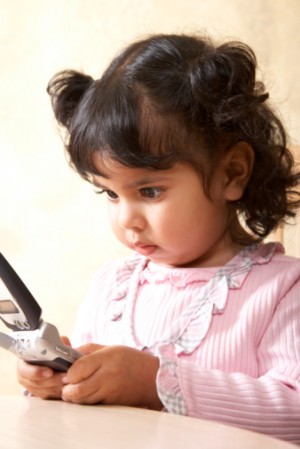 I try to pride myself in being a cool "hip" mom (wait, do they say "hip" anymore), however I am having a little bit of trouble with the new technology-age vernacular. I guess my background of being an English teacher runs deeper than I thought, because the new verbs are causing me a lot of trouble. Example number one - texting. Every time I hear a group of kids talk about "texting" my grammatically correct nose twitches. A text is a noun or an adjective. They should say, "I sent you a text message." And what about "friending" on MySpace and Facebook? Really? To an unknowledgeable observer the comment, "She friended me," sounds absolutely ridiculous!!! How about - She sent me a friend request? Oy! The ultimate in weird is "tweeting." I don't use Twitter, but the thought of telling someone that I just tweeted makes me laugh out loud - seriously!!! I suppose the gauntlet has now been thrown. Will I resist these crazy verbs or will I cave and join the crowd. Stay tuned!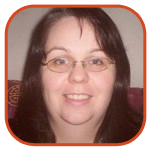 Tweet
Posted by Colleen McKie Categories: Celebrities,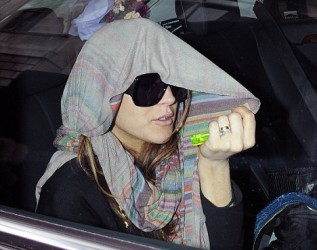 Lilo getting married?
Well, according to rumors (and Lindsay Lohan's twitter account) Lilo has gotten back together with ex girlfriend Sam. The duo reportedly came into Heathrow together and Lindsay was flaunting some serious bling on her wedding finger.
Ah, it's so nice to see all of her crazy stalking has paid off.
Impatient Pete
Pete Doherty was arrested in Geneva for heroine consumption during a plane trip from London. It seems Pete shot up during the hour and forty minute flight.
You couldn't have waited until you landed Pete? I've held pee in longer than that.
Nothin' but a misstep
Poison's Bret Michaels had a bit of a mishap at the Tony Awards. After performing Nothin' But a Good Time with the cast of Rock of Ages, Michaels walked offstage only to be taken out by a piece of scenery.
Seems he missed his mark. And judging by his hair and facelift, in more ways than one.
We're tortured, why shouldn't they be?
Looks like viewers aren't the only ones being tortured by I'm a Celebrity …Get Me Out of Here!. If Spencer Pratt is to be believed, he and wife Heidi were thrown into some kind of torture chamber where they had to spend 24 hours with only water, beans, rice and each other.
Spencer emerged angry and Heidi came out throwing her guts up with a suspected stomach ulcer.
24 hours alone with only your thoughts and Spencer will do that.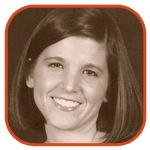 Tweet
Posted by Melissa Trebus Categories: Advice, Humor, Parenting,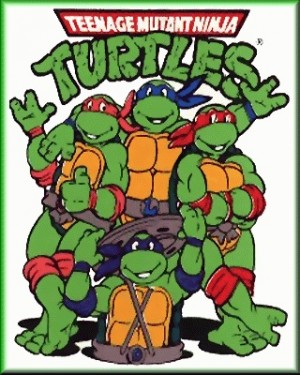 In these current times of economic crisis I have a suggestion for moms and dads trying to come up with new toys for your kids. Go check your parents' attics! Yesterday, my kids and I went to visit my mom and dad. Late in the afternoon I noticed that the kids were being very quiet upstairs. When I went up to check on them I was surprised at what I found. They had gotten into an old box of my brothers' and my toys and found tons of things to play with! My daughter had gotten out My Little Pony, Strawberry Shortcake, and even Barbies. My son had discovered my brothers' endless supplies of Transformers and Teenage Mutant Ninja Turtles. They were having a blast. The thing they were excited about was that these were the same toys they play with at home, just older versions. Sure enough, retro-toys are back in style. Thanks Mattel, Hasbro, and whoever else thought to bring back the toys from the 80s. Even though my daughter couldn't understand why Barbie was wearing leg warmers (hey they were cool in 1986) and the lead paint was chipping off Optimus Prime, they had hours of fun.
© Gear Live Media, LLC. 2007 – User-posted content, unless source is quoted, is licensed under a Creative Commons Public Domain License. Gear Live graphics, logos, designs, page headers, button icons, videos, articles, blogs, forums, scripts and other service names are the trademarks of Gear Live Inc.