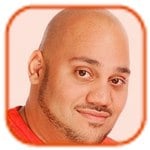 Tweet
Posted by Andru Edwards Categories: Announcements, Features, Internet,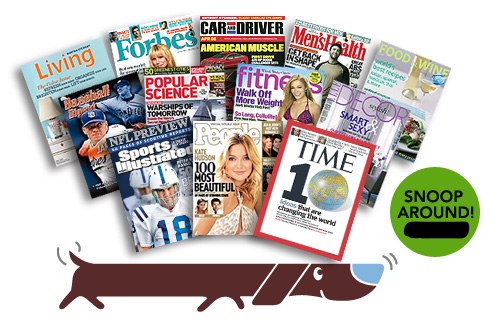 We've been using MAGHOUND for a couple of months now on an evaluation basis, and we must say, we like the concept. The easiest way to describe it is to say it is like Netflix for magazines, but even that isn't quite right. In a nutshell, when you join MAGHOUND, you choose a number of magazines that you'd like to receive each month. Let's say, 3. Unlike traditional magazine subscriptions, though, if it turns out you don't like a magazine, you just log in to your MAGHOUND account and replace it with something else.
Even better, if you subscribe to a magazine that only publishes every other month, then you also get to specify what substitute magazine you want to receive in the off months. You see, you are paying for three magazines per month, period. So if a magazine doesn't print that month, you get to choose something else. It's very cool, especially if you know there is an upcoming issue of a magazine that you definitely want. You can take a look at their complete magazine offerings to see what I mean.
Want in on the action? We are giving away TWO one-year subscriptions to the 3-per-month MAGHOUND plan, which would normally cost you $4.95 per month. Entering is simple - we will give one subscription away on Twitter, and the other on Facebook:
To enter the Twitter giveaway, be sure you are following Gear Live on Twitter, and tweet the following:
Hey @gearlive - Count me in on the MAGHOUND giveaway! http://bit.ly/maghound #gearlive (Click here to tweet this now!)
To enter the Facebook giveaway, just become a fan and leave a comment on the Gear Live Facebook page.
Feel free to enter both. Winners will be selected at random, and if you enter both, you will only be able to win one. The contest runs from today through September 11, at 11:59 PM PDT. We will announce winners on Monday, September 14th, and you must be a US resident to enter.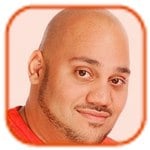 Tweet
Posted by Andru Edwards Categories: Accessories, Announcements, Features, Hot Deals, PC / Laptop,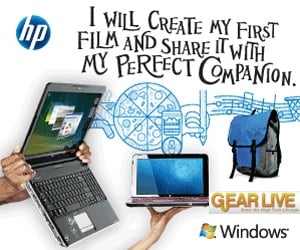 We realize that it's been a few weeks since our last giveaway, so we are back with a vengeance this time around. As part of HP's Back to School: Better Together campaign, we are a part of 25 different sites that are giving away a bunch of portable computing technology to one lucky winner. So, what's up for grabs? Take a look:
One HP dv6 notebook: Intel Core 2 Duo P7350, Windows Vista Ultimate, 4GB RAM, 500 GB Hard Drive, Blu-ray drive
One HP Mini 110 netbook: Intel Atom 270, Windows XP, 1GB RAM, 10-inch display
A customized Gear Live Timbuk2 bag
Syncables software pre-installed on the notebooks, for hassle-free synchronization between the two
Sounds good, right? We've made entering super-easy. Here's how to throw your name into the hat:
That's it! Our contest runs from today through August 20, at 11:59 PM PDT. As long as you've completed the above requirements by that time, you are entered. The winner will be picked randomly, and contacted through Facebook messaging, and will need to respond within 48 hours, or else another random entry will be selected as the winner. This contest is open to anyone, as long as you live on planet Earth, so you non-US residents, feel free to play along.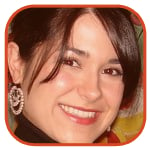 Tweet
Posted by Katie Gutierrez Painter Categories: Fashion,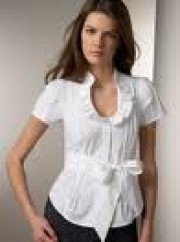 Ladies, my head is exploding. I've just spent the last 20 minutes on the Neiman Marcus website, and there is, for the next three days (online only), an extra 30% off sale items! I'm talking scoring designer clothes, shoes, and handbags for RIDICULOUS prices. Like this NM Exclusive ruffled-neck blouse, originally $145, now $26. How perfect for the office is this? I could go on, but frankly, as I said, my head is exploding. I'm off to search for any Visa gift cards I may have hanging around. Enjoy, and let me know what you find!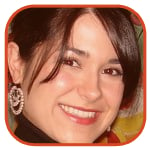 Tweet
Posted by Katie Gutierrez Painter Categories: Editorials, Fashion, Health,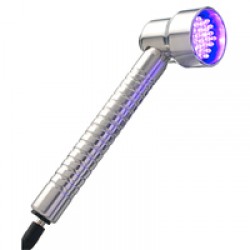 So, yesterday on Gilt, I'm trolling around, looking for deals, no real intention of buying. And THEN I see the Quasar Baby Blue. Now, at first glance it looked like a shower head to me. Or something a dentist would use. I was unsure. Then I read that it's a device that uses blue light to target the sebaceous glands on the face, killing the bacteria that causes acne. So I'm intrigued. I Google reviews. Sure enough, people like this thing. It seems to work. And for a girl like me who (1) has battled her skin for her entire post-pubescent life, (2) has bought countless items from late-night informercials, and (3) just has hope that something will work as promised, darn it, it was a perfect storm. Plus, Gilt has never disappointed me. So I winced, paid $250 (on sale from $350—hooray!), and am now anxiously awaiting its arrival at my door. I'll tell my husband it cost $25. Just kidding—sort of. Anyway, I'll keep you all posted!
Your turn: What's the most indulgent/expensive/ridiculous beauty product you've ever bought? Did it work? Share!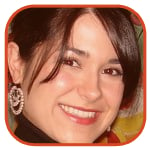 Tweet
Posted by Katie Gutierrez Painter Categories: Editorials, Marriage, Relationships,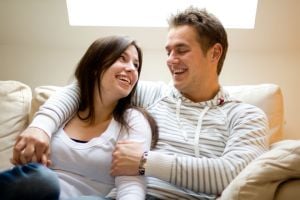 Okay, that's kind of an unfair question. After all (in most cases… hehe) the relationship is as different as could be. Perhaps I should rephrase: To whom do you show more courtesy and consideration: your boss or your spouse?
The question is one I've vaguely had in mind for a few days, ever since I decided to multitask by using my lunch hour get my cardio in via taking the dog for a jog. I also took along my Bluetooth headset just in case any clients called. Instead, it was my husband who called, and I tried valiantly to have a decent conversation while keeping my pace through the home stretch. Eventually, he griped, "I can't hear a thing you're saying with all that wind. Just call me later." Before hanging up, he added, sort of incredulously, "You wouldn't actually talk to a client like this, would you?"
Click to continue reading Who do you treat better: your boss or your spouse?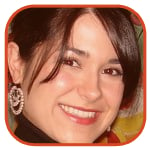 Tweet
Posted by Katie Gutierrez Painter Categories: Fashion,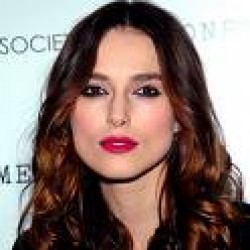 In another month or so, summer's heat and bright colors will begin their annual fade to autumn's darker, richer hues. To get you through the transition, look no further than the luscious hybrid between magenta and violet: fuchsia.
Why it works: Fuchsia is still bright and sexy enough for summer dresses and stilettos but has the depth and maturity to pair with your early fall jackets and bags. When hunting down shades, draw inspiration from the beautiful stain that raspberries leave on your fingers. Or just try the following:
Click to continue reading Fall's Hottest Color Does Triple Beauty Duty: Lips, Cheeks, Nails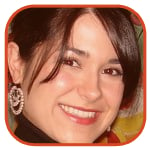 Tweet
Posted by Katie Gutierrez Painter Categories: Fashion,
Well, with my borderline unhealthy love of dresses, it was only a matter of time till I found some great deals on fabulous summer staples. Use these till the weather cools, then top with a chunky knit, belt, and add tights. Voila!
Designer Deal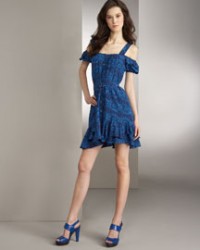 I love Nanette Lepore for her unabashedly feminine pieces (ruffled tops, floral trench coats, beautiful embellishments), and this dress is no exception. Lepore's "Kaleidescope" dress, originally $375, is being sold at Neiman Marcus for $187. With its ruffles, sweetheart neckline, and off-the-shoulder straps, it's reminiscent of the 80s in all the right ways, with a softer, much more modern touch. Love!
Look-alike Steal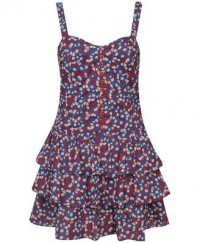 All right, ladies, how about this adorable dress from Forever 21? Like the Nanette Lepore piece, this one features a ruffled hem, 1-inch shoulder straps on a sweetheart neckline, and a sweet floral pattern. Snap on a pair of flat silver shoes, let your hair down, and you're ready for a Saturday afternoon shopping! Oh—and did I mention it's only $22.80? Enjoy!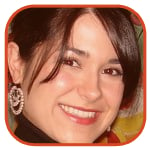 Tweet
Posted by Katie Gutierrez Painter Categories: Fashion,
Today's deals epitomize summer. Slightly platform sandals embellished with beads and brightly colored stones are the perfect accompaniment to breezy, jewel-tone dresses. Sigh. I'm love.
Designer Deal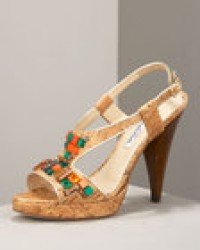 I've had my eye on these beautiful Oscar de la Renta sandals for a few weeks now. I like that they're both glamorous and whimsical, as perfect for a night on the town as they are for the ideal picnic in my mind: crisp sauvignon blanc, caprese salad, and a flowy chiffon skirt. (Notice I say "in my mind"—there's no such thing as an ideal picnic in 100+ degree weather!) Regularly $825, these sandals are 45% off at Neiman Marcus for price tag of $371. A worthy splurge, if you ask me!
Look-alike Steals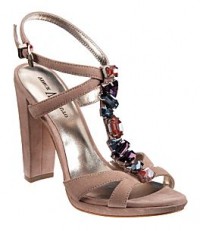 These Vince Camuto sandals are nude suede instead of cork—which means they'll go straight into fall when paired with plum-colored tights. The acrylic jewels are also beautiful, rich colors: autumnal orange, lovely gray-blue, and deep amethyst. Reduced from $120 to $43.20, do I even need to say how great a deal they are at Dillards??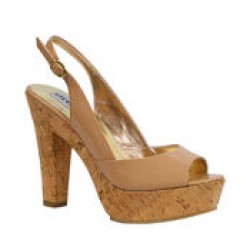 If you like the look without the embellishment, try these Steve Madden sandals, featuring a cork platform and heel and nude patent leather. Originally $99.95, they're being sold on stevemadden.com for only $39.98. A great option to lengthen the legs with your summer dresses and skirts—and who doesn't want that?
Enjoy—and let me know if you snag one of these deals!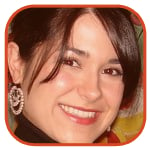 Tweet
Posted by Katie Gutierrez Painter Categories: Editorials, Fashion,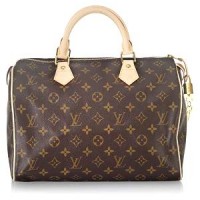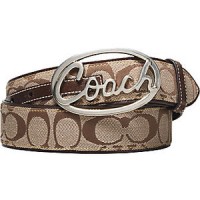 In the last, oh, say five years, I've gone from swearing American Eagle was the only brand I'd ever love to seeking out designer clothing and accessories for their quality, workmanship, and lasting value. (Oh, and because they're preeeeetty.) But one thing that hasn't changed is that I still will not buy goods that have the designer's name splashed all over them. Monogram purses, for example? So not my thing. Even if I admire the shape and quality of some Louis Vuitton bags (like the Speedy, above), I won't buy them if they're covered in the signature LV. And why would I want a belt stamped all over with the Coach logo and featuring a buckle spelling, what else, Coach? To me, these are gratuitous status symbols, and that's not why I shop designer.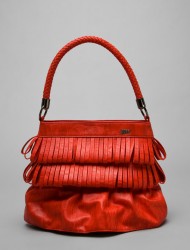 Granted, I know there's a threshold—a line dividing classic from tacky. But that line is much thinner to me than it is to, I think, a lot of people. And don't get me wrong: My little pet peeve can get pretty annoying. Because plenty of designers I really like, such as Marc Jacobs, sneak their name onto the most innocuous places, like the buttons on a blouse. Buttons! Or this otherwise perfect daytime Miss Sixty purse that I would totally buy if it didn't have MISS SIXTY right in front. See it? Sure, it's small, discreet, and perfectly tasteful, but it's there. For things like this, I know my distaste is silly, but I can't help it.
Am I alone in my abhorrence of designer name-flaunting? I'd actually love to hear from people who disagree with me—please share why!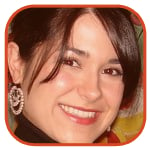 Tweet
Posted by Katie Gutierrez Painter Categories: Fashion,
Today's deals come in the form of interesting multi-strand pearl necklaces, which I've been obsessed with lately. They're a modern, young way to rock this classic gemstone—a far cry from Sandra D.! I'd wear them with a casual, soft, slightly loose white t-shirt, gray skinny jeans, and—of course—a great heel; I'm thinking black patent platform peep-toes. Add a metallic clutch and a little liquid liner, and you're good to go! Enjoy!
Designer Deal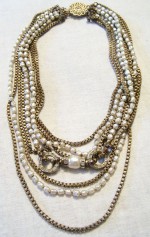 I'm loving this vintage Miriam Haskell baroque pearl, boxchain, and rhinestone necklace—a gorgeous piece that evokes the feeling of pulling a forgotten treasure from your stylish grandmother's jewelry box. Haskell is known for stunning, hand-crafted jewelry, and is also the powerhouse behind department store jewelry lines O Oscar (by Oscar de la Renta) and Kenneth Cole. Similar designs are priced on her site for $700, but you can find this necklace at rubylane.com for $325.
Look-alike Steals: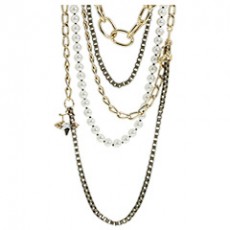 We have two look-alike steals today! The first is this Betsey Johnson long, five-strand necklace with faux pearls, gold tone, and crystal accents. We all know Betsey Johnson for her bright, offbeat, always feminine and joyful clothing line that isn't entirely wearable for a lot of women. This necklace, however, is very wearable—and adorable. Even better, it's 20% off on Zappos for a total of $103.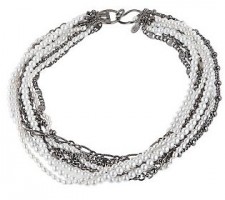 Now, check out this Kenneth Jay Lane piece for
QVC. A couple of obvious differences: We're working with a gunmetal finish here and a bit of a shorter length—the nine strands fall around 20". I love Kenneth Jay Lane for his affordable but still high-end, feminine, and unique designs. This is no exception. Retailed at $95, the necklace is on sale at QVC for $69.50.
Happy shopping!
© Gear Live Media, LLC. 2007 – User-posted content, unless source is quoted, is licensed under a Creative Commons Public Domain License. Gear Live graphics, logos, designs, page headers, button icons, videos, articles, blogs, forums, scripts and other service names are the trademarks of Gear Live Inc.