Tuesday May 26, 2009 7:25 am
Men's Fashion Turn-Off #1: The Deep-V (Thanks American Apparel)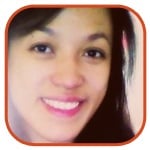 Tweet
Posted by Mia Ricci Categories: Celebrities, Editorials, Entertainment, Fashion, Humor, In The News,
Dear American Apparel,
How's it going? How's everything? Are you still busy fending off those sexual harassment charges? I'm sorry. But hey, I have a bone to pick with you.
Here's the thing… you know those awesome V-neck shirts you sell? The one that's super soft, super comfy, and makes every girl looks instantly babe-a-licious? I love them. Thank you for that, really. But the thing is, I don't understand why you have to make 'em unisex. Seriously? Yes, some guys can pull it off. Mega hotties like Ewan McGregor, Javier Bardem, Gael Garcia Bernal, yes those guys work those v-necks like nobody's bizznizzz. It's pretty delicious.
But you see, 99% of the male population do not look like Ewan McGregor, Javier Bardem, or Gael Garcia Bernal. Most of them do not possess the natural, yet serious masculinity that is required to pull off those shirts. So they end up looking, well, icky. Even creepy. And slightly girly.
You started a trend I do not wish to ever see again, seriously. It's gotten worse too.
Let's take a look at the journey, shall we?
First you came out with these shirts.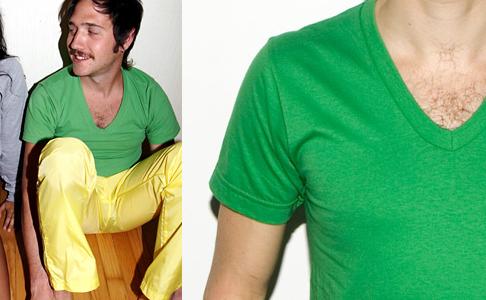 Even on your model it is not pleasing to me eyes. I do not wish too see your chestpubes saying hello. No, thank you.
And then of course, about two seconds later, you dug even deeper and came out with these…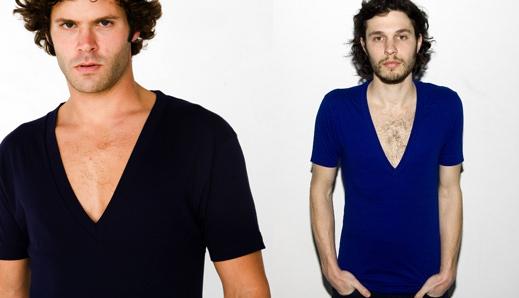 You call them the Deep V. I call them Deep Vomit.
How is this attractive? Unless you're a figure skater, there's no excuse why any male would want to walk around in these. The look makes me want to buy you a pearl necklace to go with the shirt. And maybe take you out for a mani-pedi while we drink champies in pink flutes.
Then of course, the fashion world jumped on the bandwagon…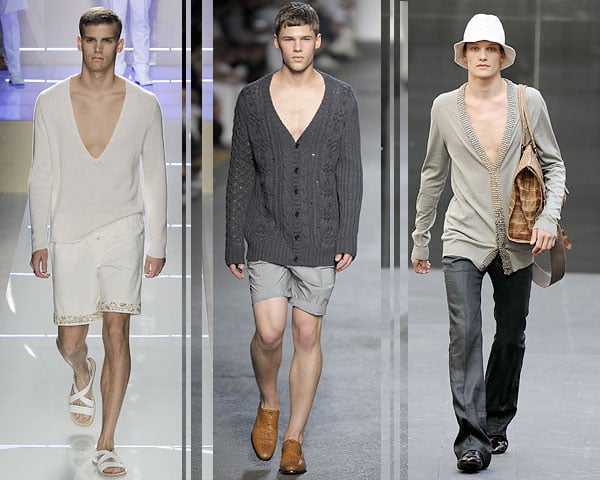 Naturally, the celebs followed suit…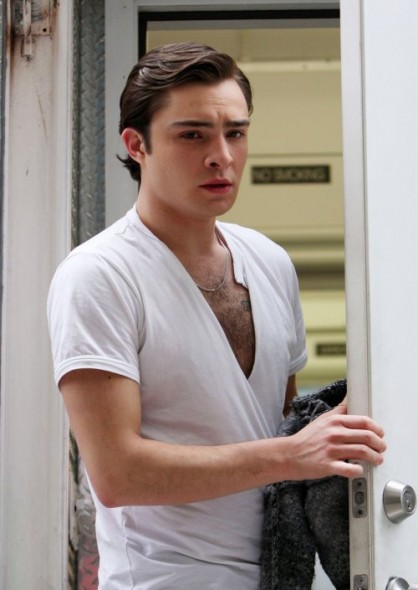 I mean, Chuck, my favorite Gossip Girl character, why, why? You super-scheming, brooding, sexy evil manchild you, in a self-inflicted deep-v t-shirt? Gross.
What's next?
Will this next guy be deemed fashionable, not ridiculous?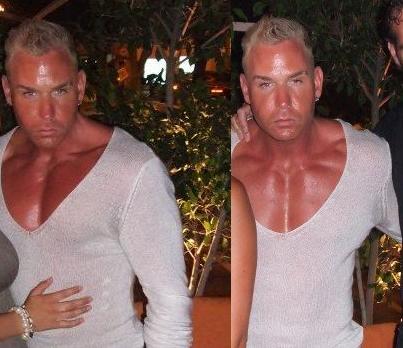 I'm sorry friends, I think I just threw up in my mouth a little.
No.
N.O.
American Apparel, thank you. You started this. Thanks.
I thought the whole Joey Lawrence fiasco was the end of the man-cleavage trend, you remember that one?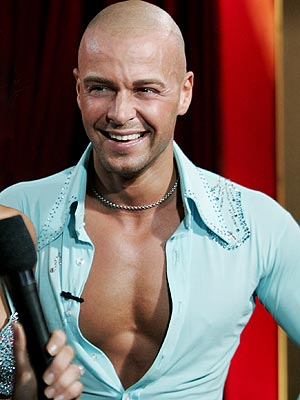 But now… these v-neck shirts. They will haunt me forever. Thanks a lot.
Sincerely,
Mia
© Gear Live Media, LLC. 2007 – User-posted content, unless source is quoted, is licensed under a Creative Commons Public Domain License. Gear Live graphics, logos, designs, page headers, button icons, videos, articles, blogs, forums, scripts and other service names are the trademarks of Gear Live Inc.