Tuesday September 22, 2015 6:37 am
Unboxing Live 170: Star Wars BB-8 Sphero Droid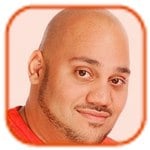 Tweet
Posted by Andru Edwards Categories: Cell Phones, Features, Toys, Videocasts,
Here's how to get the show:
|
Download
| - iPod-formatted H.264
|
Download
| - Apple TV High Resolution
|
Download
| - MPEG-4
Sponsor:
GotoMeeting Hold your meetings online for just $49/mo. Try GoToMeeting FREE for 30 days.
Subscribe to Unboxing Live…

iTunes

Democracy

Others

Standard, iPod-compatible version
(640 x 360 pixels)
HDTV, Apple TV-compatible version
(720p)
MPEG-4 version
(854 x 480 pixels)
Video transcript:
Are these the Droids you're looking for? We unbox the BB-8 Star Wars Sphero. Stay tuned.
[Music]
Hey guys, welcome to Bleeding Edge TV, I'm Andru Edwards. This is the show that brings you vicarious thrills through opening new gear.
Today we've got the BB-8 Star Wars Sphero. So if you haven't seen one of these yet, you probably haven't been paying attention to the Internet lately?
It was Force Friday the other day, that was the day all the new Star Wars toys came out for The Force Awakens. Hashtag Force Friday. This guy came out of nowhere.
So if you're unfamiliar, Sphero makes a round ball that you can use your iOS device or Android device to control. Make it roll around the room, make it do tricks, it's really cool.
They took that same idea, that same concept - this ball, this Sphero ball - and they turned it into the BB-8 Droid. So we're gonna open this up right now and show you what it looks like. It seems to be the biggest thing online since Kim Kardashian broke the Internet.
The reason you see one here, one here, one here, and one here is because these things are gonna be hard to get. Resellers are already marking them up super high, so what are we gonna do? We're gonna hook you guys up. We have a few of these to give away to our viewers. And I'll talk about that a little later on. Let's take a closer look at the actual box itself.
I just want to admire the actual box. Look at this, there's a lot of detail on here, it's premium. I mean, it is pretty much the biggest Star Wars toy for The Force Awakens, but I just wanted to show that off. There's a lot of information on the box. It's nice, it's sturdy. Authentic movement, listens and responds, holographic communication, autonomous behavior, and adaptive personality.
Durability is good. Spheros are known for their durability. Then on back it just says BB-8 is the spherical, loyal astromecha Droid of the resistance pilot Poe Dameron. And I may have mispronounced that, just keeping it real.
Built with advanced traitware, skillware, and hardware, this app-enabled companion is equipped to explore the Star Wars galaxy by your side. This is the Droid you're looking for.
And there you see the price tag. $149.95. But, as I mentioned earlier, we do have a few to give away to our viewers. Let's go ahead and open this guy up.
Alright. Oh, ok, so on the inside of that box, it's like a Droid storage container. Nope! I figured he'd be revealed right there. There's a Star Wars logo on the underside there. And there he is.
Some instructions. Take the Sphero, put it on a flat surface, take the head of BB-8 and place it on the Sphero, then place the whole thing on the inductive charger, then download that app, and launch the app. And there he is.
Look at that! That is cool. So it's in multiple pieces. So the first piece is the body and that is the Sphero ball basically. The typical Sphero was just this, just a white ball. And it was awesome. Now they've obviously put a bunch of artwork on there to turn it into BB-8.
Here's the head of BB-8. Couple of antennas on there, I assume that's the front of his face, and there's a little bit of plastic as well, so we'll remove that. And there's two wheels there and that's gonna make the head move around the body and it connects by magnet. So you just kinda place it anywhere.
Next piece, this is the charging cradle, the base. Star Wars logo, BB-8 would just sit in there. Pretty easy and straight forward. And here there's a USB logo, yes, there it is, that's the microUSB cable. We can move on to setting this guy up.
So we've got BB-8 in it's charging dock. He should ship with some semblance of battery. First thing I'm gonna need to do though is download that app. That's the BB-8 app enabled Droid Powered by Sphero. All the sound effects actually come from your smartphone.
Something's happening!
So, oh! What? Firmware is updating...
We're about 10% away...dude lit up...
We're gonna...we're gonna drive this guy. Use the Aim Control to rotate BB-8's aim left and right. Come here...whoa!
He can say no, he can say yes.
[Robotic BB-8 noises]
Where are you going?
And there you have it. That was your look at the BB-8 Sphero Droid available now for $150 bucks. Check it out at Sphero.com, you can find him at Apple.com, Amazon has them as well. They're hard to find. A lot of them are sold out already, so resellers have bumped up the price. I've seen them for as high as $500.
Now I did mention something about a giveaway, and I didn't forget, we're gonna be giving away a few of these guys to you guys out there. Details are coming in just a couple days, I'm teaming up with a couple of my other YouTube friends.
One of the requirements in order to enter is simply to subscribe to the Gear Live channel, which you can do right now to take care of one of the pre-requisites for entering. So go ahead and hit that subscribe button and you'll be well on your way to winning this guy. But again, I'll have full details in a future video in just a couple days while we lock down the final details of the giveaway.
Thanks for watching guys. I'm Andru Edwards, this was Unboxing Live, the show that brings you vicarious thrills through opening new gear. Hit the Like button if you like what you saw today, and honestly, how can you not like this guy? This thing is awesome.
And again, hit subscribe to find out more about our future videos and to start entering to win this guy right here. Stay tuned for more vicarious thrills through opening new gear right here on Unboxing Live, and I'll see you in the next video.
You can also find us on:
Related Tags:
andru, andru edwards, astromech, bb-8, bb-8 review, bb-8 robot, bb-8 sphero, bb-8 toy, bb8, disney, droid, episode vii, force friday, gadgets, gear live, reviews, robot, sphero, sphero bb-8, sphero r2d2, star wars, star wars episode vii, star wars toy, the force awakens, toys, unboxing, unboxing live
© Gear Live Media, LLC. 2007 – User-posted content, unless source is quoted, is licensed under a Creative Commons Public Domain License. Gear Live graphics, logos, designs, page headers, button icons, videos, articles, blogs, forums, scripts and other service names are the trademarks of Gear Live Inc.