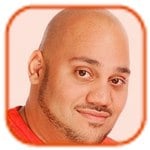 Posted by Andru Edwards Categories: Prime Time, Sports, Talk Shows, ESPN-HD, Video,
With the buzz surrounding the conflict for next Monday night in Denver with Monday Night Raw scheduled to run at the Pepsi Center, where the Nuggets and Lakers scheduled to play Game 4 of the NBA Western Conference Finals at the same time. WWE Chairman Vince McMahon appeared on ESPNEWS to talk about the situation.
Jonathan Coachman conducted the interview with his former boss. Coach mentions that Vince is never one to step down from a fight. Coachman mentions that next week's Raw at the Pepsi Center was booked in August, but the contract was not signed until April, and as you'll see, Vince proceeds to talk about the business ethics of Stan Kroenke, saying he had no faith in his team and is now throwing WWE out on their ear.

Posted by David Onda Categories: Action, Prime Time, Sports, Cable, Cable/Satellite, Editorial, Features, News, Spoilers,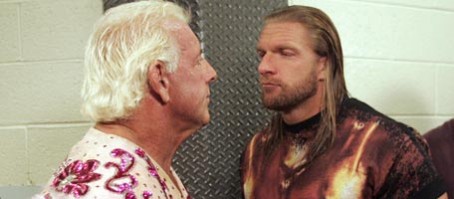 Fresh off of last night's Armageddon pay-per-view, it's time for Monday Night RAW! Last night, Edge became the World Heavyweight Champion by defeating Batista and The Undertaker, WWE Champion Randy Orton retained the title over Chris Jericho when JBL interfered and Shawn Michaels beat Mr. Kennedy. Tonight, we've got a big divas match, Ric Flair vs. Umaga, a tag title match and a big return to RAW.
The show kicks off with a delicious "Santa's Little Helper" match featuring Victoria, Layla, Jillian Hall and Melina taking on Kelly Kelly, Mickie James, Michelle McCool and Maria. Jillian opened with her usual entertaining destruction of a Christmas classic. All the girls look absolutely amazing. Kelly Kelly has really gangly looking legs. Lillian Garcia accidentally announced Kelly with the heel team - awkward. Maria wrestled the least, while Kelly botched a move at some point. McCool is starting to get some respect and seems to be getting to work a good portion of women's matches. Once again, Mickie seems to be the sexiest of all the divas. I don't know what it is, man. She is just on fire. Mickie scores the pin on Victoria for the win. Couple of nice impact moves and sells from Melina in this one.
Join me after the jump to find out which retired WWE Champion is joining the RAW roster.
Click to continue reading WWE RAW Reflections (12/17)

Posted by David Onda Categories: Action, Prime Time, Sports, Cable, Cable/Satellite, Editorial, Features, Spoilers,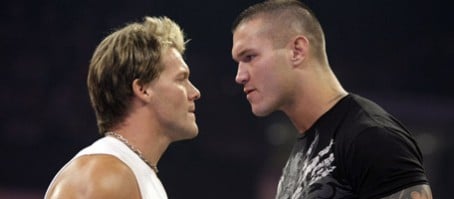 WWE Monday Night RAW opens with "Y2J" Chris Jericho in the ring doing his whole "me want title shot" schtick. Jericho replays the video of WWE Champion Randy Orton accepting Jericho's challenge for Armageddon. Orton comes out and it's pretty much more of the same. The two get in each others faces - threat, threat, threat - and it almost comes to blows. Of course, Regal comes out and stops them. Orton and Jericho will pick each other's opponents for the night. It would make sense for them to make Jericho face Flair. Now, that would be a good match. Instead, Jericho will face Umaga. Orton will face off against Shawn Michaels. Not bad main events!
After the jump, three WWE legends and an "Attitude Era" tag team make surprise "returns"!
Click to continue reading WWE RAW Reflections (12/3)

Posted by David Onda Categories: Action, Prime Time, Sports, Cable, Editorial, Features, News, Spoilers,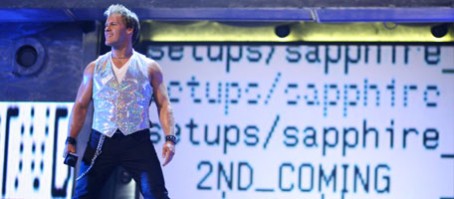 BREAK_DOWN_THE_WALLS … OF JERICHO! The wait came to an end tonight and the questions (or lack thereof) behind the SAVE_US.222 videos have been revealed. Chris Jericho has returned to the WWE. Was it worth the wait? You may be surprised …
Monday Night RAW kicked off like every RAW should - with "The Heartbreak Kid" Shawn Michaels. Michaels lost a fantastic match last night at Survivor Series against WWE Champion Randy Orton. I knew he'd lose considering that he has such a limited schedule and doesn't wrestle house shows - it's highly unlikely that they'll put the title on a guy who can't won't wrestle a full schedule. Shawn invited Orton to the ring and Orton answered by appearing on the Titon-tron and turning him down. According to Orton, HBK will also not get a re-match because Orton will apparently receive a figurative and literal torch-passing from some sort of marathon runner.
Continue RAW Reflections after the jump - SAVE_US.222 revealed!
Click to continue reading WWE RAW Reflections (11/19)

Posted by David Onda Categories: Action, Prime Time, Sports, Cable, Cable/Satellite, Editorial, Features, Rumors,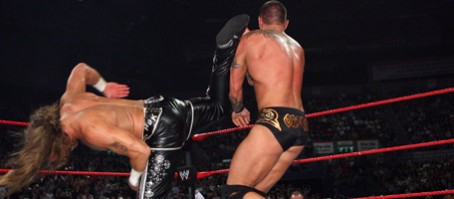 Monday Night RAW came to us live (to tape) tonight from jolly ol' England. And coming into this week we have a lot of questions surrounding returning talent and departing talent. Everyone knows that all three of the WWE brands have been thin on main eventers with the recent injuries to Triple H, The Undertaker, Shawn Michaels, Edge and Rey Mysterio. Thus far, all but one has returned but we've also seen non-injury related departures as well in Booker T and Ric Flair. Toss in the devastating injury to John Cena that will sideline him for up to a year and we still have a set of rosters that aren't quite up to snuff.
At no point in recent memory has it been as evident as the past two Monday nights. Last week we had Triple H wrestling in three matches – that's three times the Triple H. And for people who don't care much for Triple H, that'll make for a long night. Let's face it, I'm not jumping out of my seat for a non-gimmick Triple H vs. Umaga match any day of the week. This week, we have Randy Orton in three matches. Three times the Randy Orton. I get it, he's the champ, but it defies logic to put your heel champ in a situation where he is fighting the odds. Shouldn't the good guy be getting screwed?
Read more of my RAW thoughts after the jump and check out the latest on the SAVE_US.222 videos.
Click to continue reading WWE RAW Reflections (10/15)

Posted by David Onda Categories: Prime Time, Sports, Cable, Features,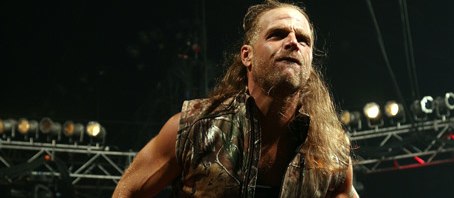 After a five month absence from the WWE ring, "The Heartbreak Kid" Shawn Michaels made his triumphant return to Monday Night RAW. On a night meant to celebrate the WWE Championship reign of the newly-crowned champion, Randy Orton, Michaels would finally get his revenge on Orton, who side-lined the "Grand Slam Champion" with a concussion at May's Judgement Day pay-per-view.
WWE Chairman Vince McMahon ordered that all WWE superstars congratulate Orton on his tainted WWE Title win the previous night by entering the ring on RAW, one-by-one, and shaking Orton's hand. First in line, demanded McMahon, would be Triple H, whom Orton defeated for the title in the last of three matches "The Game" was forced to endure the night before.
More on the RAW shocker and match results after the break.
Click to continue reading WWE RAW Recap (10/8): Shawn Michaels Returns

Posted by Wendy Michaels Categories: Reality, Specials, Sports, Cable, NBC, On Demand/PPV, Apprentice, The - Donald, Cable/Satellite,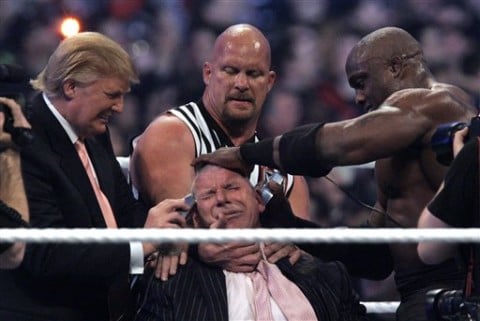 Did you think this could go down any other way than Trump walking away with a full head of hair? If you weren't aware of the "Battle of the Billionaires" that went down between Donald Trump and World Wrestling Entertainment owner Vince McMahon, the two had a wrestling match where the winner would keep their hair intact. Sounds kind of interesting, although neither got in the ring and did the actual fighting—they had representatives handle the "wrestling" for them. In the end, the winner was Trump, who got to shave McMahon's head. The little stunt didn't do too shabby either—the pay-per-view event drew mega viewership. The billionaires did manage to get in on the action a little, with Trump taking a few jabs at McMahon and Trump recieving a Stone Cold Stunner from "Stone Cold" Steve Austin. We have to wonder if bald Trump would be better than comb-over Trump though.
Read More

| People


Posted by Wendy Michaels Categories: Sports, Cable, Apprentice, The - Donald, Cable/Satellite, Gossip,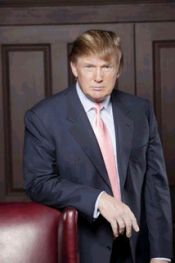 Donald Trump has bet his famous hairdo for a wrestling event. He and World Wrestling Entertainment chairman Vince McMahon both bet their hair for the WrestleMania 23 event on April 1st. A recent taping of Raw, to air on February 15th on the USA Network, shows Trump challenging McMahon to a match. The challenge was brought on after McMahon wanted Trump in his "dubious Mr. McMahon Kiss My Ass Club," as well as the accusation that Trump stole "You're Fired!" from McMahon. Trump had some fightin' words for McMahon, which will air on the February 15th show, saying, "I am here to challenge you to a match at WrestleMania. And I am going to kick your ass!" Of course, these guys can't actually get into a ring (although that might be interesting), so each will have a representative wrestle for them. Trump's ultimate challenge? "If my guy loses, you can shave my head. But if your guy loses, I'm going to shave your head!"
Read More

| Reality TV World

© Gear Live Media, LLC. 2007 – User-posted content, unless source is quoted, is licensed under a Creative Commons Public Domain License. Gear Live graphics, logos, designs, page headers, button icons, videos, articles, blogs, forums, scripts and other service names are the trademarks of Gear Live Inc.