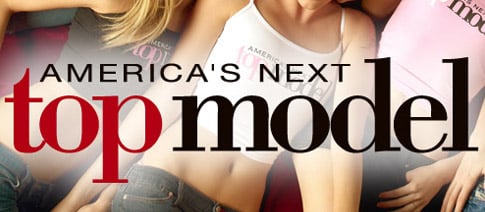 Bianca set off the episode on a very catty tone. If she wasn't giving Kimberly misleading critiques on her runway walk (why would she give her helpful advice?), she was labeling Heather (who was getting dolled up by the other girls) a 'pity' case or wishing Saleisha (her biggest threat) a quick exit home. In other words—the show started off exactly like I had hoped.
Later the girls traveled to a 'Fashion Madhouse' where Miss J (appropriately dressed as a 'mad' nurse) welcomed them. His goal of the day was to 'cure them' of their fashion ailments. The girls were told they'd be practicing their runway walk (again!). But instead of wearing lifejackets, this time they'd be wearing straitjackets. Parading down runways in high-fashion couture can often feel quite constricting—hence their confining tops. Their performances, as expected, were mostly blah: Sarah needed a longer strut; Jenah had problems with her chin; and Bianca couldn't let go of her strong face. But Miss J did compliment Janet for her sexy strut and Saleisha for her nice gait.
Click to continue reading America's Next Top Model: Cycle 9: The Girls Go Rock Climbing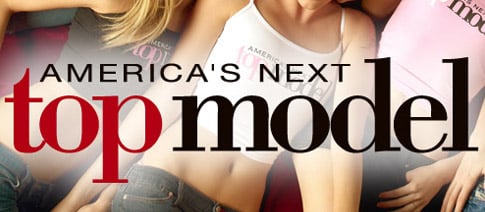 After disembarking their Caribbean cruise, the thirteen finalists arrived in Los Angeles. As a refresher, the wannabes included: Victoria, the geek who'd never been east of Chicago; Mila, the bug-eyed girl who always thought she'd be a model; Heather, the socially-awkward girl with the mild form of autism; Lisa, the exotic dancer who bounced around the foster-care system; and Ebony, the one everyone loved to hate.
They gathered in downtown LA's fashion district where they met Jay Manuel. He then directed them to their new mode of transportation—a 100% biodiesel tour bus. Tyra, always one to be socially conscious, wanted to pay special attention to the environment in Cycle 9. (I have a hard time believing those girls could care less about their recycled seats). The ladies were then taken to their plush, yet not-so-green pad. (So how exactly those huge monitors in the home being lit??)
Click to continue reading America's Next Top Model: Cycle 9: The Models Go Green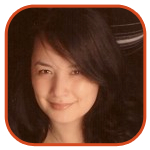 Posted by Veronica Santiago Categories: Prime Time, Reality, The CW, America's Next Top Model, Spoilers,

While talking to the NY Post's Page Six recently, Miss J. Alexander dropped a potentially huge clue about the America's Next Top Model finale. While I still haven't figured out who the next ANTM winner will be—the answer may become more obvious in the weeks to come.
If you want to read the potential spoiler and sort it out for yourself, click below:
Click to continue reading 'America's Next Top Model' Spoiler?
Read More

| NY Post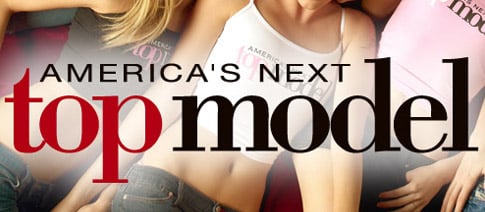 Hallelujah! The season premiere of America's Next Top Model kicked off in high gear this week with Tyra Banks making personal phone calls to the thirty-three Cycle 9 semi-finalists. After traveling to San Juan, Puerto Rico, the ladies were blindfolded and shuttled to a secret location. Once there, they found Miss J (dressed up as The Love Boat's Captain Stubing) standing in front of a large cruise ship. That's right—those lucky bastards were getting a free luxury trip right off the bat.
They all got on board and were immediately thrown into work. The lesson of the day? Learning how to 'work it' with what you got. The terrified novices were forced to demonstrate their unpolished runway walk—while wearing a burdensome life jacket. To make matters worse, they had to stumble past gawking cruise passengers lounging in their chairs.
Click to continue reading America's Next Top Model: Cycle 9: The Girls Go Cruisin
Read More

| America's Next Top Model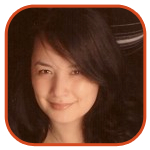 Posted by Veronica Santiago Categories: Action, Comedy, Drama, Games, Prime Time, Reality, Sci-Fi/Horror, Sports, ABC, CBS, FOX, NBC, The CW, Hell's Kitchen, America's Next Top Model, Dancing With The Stars, Desperate Housewives, ER, Everybody Hates Chris, Family Guy, Grey's Anatomy, Heroes, House, My Name Is Earl, Prison Break, Scrubs, Saturday Night Live, Survivor, The Bachelor, The Office, DVR,
Despite having a Tivo and another DVR, I know that a new television season can take some serious planning. When will your favorite shows start? What days are they now on? Which programming 'conflicts' will you have to resolve? Will you need to buy another TV???
Hopefully our detailed scheduling guide can assist you in the weeks to come. We have compiled information from five different networks (ABC, NBC, CBS, FOX and CW) and included the days, times and premiere dates for this fall's shows.
Click to continue reading Fall 2007 TV Programming Schedule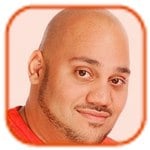 Posted by Andru Edwards Categories: Daytime, Talk Shows, America's Next Top Model, Talent, Editorial, Features,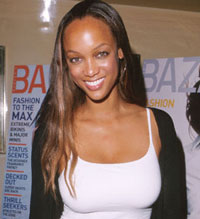 I'm not a psychologist or a psychiatrist; my training in that department goes only up to and including my Psych 101 class freshman year at Cornell. I'm just somebody who watches a bunch of TV, and watches clip shows like "The Soup" which boils down even more TV for me. All this having been said however, let me say this: I think Tyra Banks is a sociopath.
That's not a value judgment at all. I guess it's not technically a mental health judgment either because of my aforementioned lack of psychological training. But here's the thing: I've been watching Top Model for a few seasons now, I've seen many clips of her talk show (I tried sitting through a whole episode and I just … yeah, no), and something's always bothered me about Ty Ty Baby and I could never quite put my finger on it. Finally, though, when I saw Tyra salute herself on her talk show for being a trailblazer in African-American history (she was the first person of color to appear as the cover girl on the Sports Illustrated Swimsuit Edition), it all came to me.
She's not just a narcissist; Tyra Banks has absolutely no sense of empathy. Having no ability to empathize is what (many websites tell me) catapults someone from simple narcissism to sociopathy.
Click to continue reading Is Tyra Banks a Sociopath?

Posted by Wendy Michaels Categories: Music, Prime Time, FOX, American Idol, Gossip, Rumors,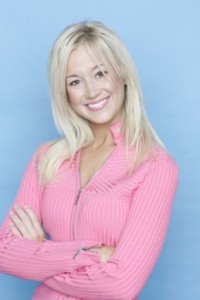 If you caught Kellie Pickler on Thursday night's American Idol results show, you may have noticed that she looked a little more va-va-va-voom in the breast department. Me, I just thought she was wearing a really tight dress that showed off her ... ahem… assets. After her appearance, the web was swirling with rumors that the singer had gotten breast implants. Quick, someone call Tyra Banks. Season 5 Idol contestant Katharine McPhee just went on Banks' show to declare that she's all-natural. Pickler is remaining mum for now.
Many thought that Ryan Seacrest's question to Pickler that night was a nudge-nudge moment: "Have you spent your money on anything since you left us?" he asked. You could hear the comment flying over her head as she giddily commented on her shoes. Access Hollywood wasn't quite as subtle when they ran a segment called "Pickler's New Pair?" Ugh. Anyhoo, Pickler is giving the "no comment" comment when it comes to matters of her enhanced cleavage.
Read More

| Reality TV World


Posted by Wendy Michaels Categories: Talk Shows, Cable, Syndication, Cable/Satellite,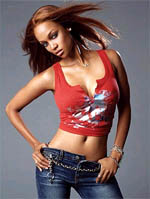 Oh Tyra, what are you up to this time around? You may recall last season on her show, Tyra Banks dressed as a 350-pound woman to experience what it was like to be an overweight person. And now, she's going to see what it's like to be a guy—going undercover as a member of rapper Chingy's entourage. The 32-year-old model has already donned the makeup and filmed her experience for an episode of The Tyra Banks Show scheduled to air on November 13th. Banks endured five hours of makeup and prep to become a man, saying, "I actually had a suit thing that went over me that made me have pecs and, like, a six-pack. And I was so muscular that it covered all of that breast tissue underneath it. We had to give me like, a heavier brow bone and a man's chin and bone structure." Tune in for Tyra's transformation and see how people perceived her as a dude. And know that underneath, she's gorgeous—no fair.
Read More

| Yahoo! News

© Gear Live Media, LLC. 2007 – User-posted content, unless source is quoted, is licensed under a Creative Commons Public Domain License. Gear Live graphics, logos, designs, page headers, button icons, videos, articles, blogs, forums, scripts and other service names are the trademarks of Gear Live Inc.