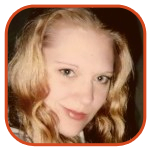 Posted by K.C. Morgan Categories: Comedy, Talk Shows, Cable, Daily Show, The, Video,
Former Illinois Governor Rod Blagojevich appeared on The Daily Show last night to talk candidly with Jon Stewart about his public fall from grace…er, sort of. Actually, Blago mostly stuck to his carrot-on-a-stick "I'm innocent" story, wherein he is prevented from actually disclosing the evidence that will prove he did no wrong.
Click to continue reading VIDEO: Blago Won't Blab to Jon Stewart
Read More

| The Daily Show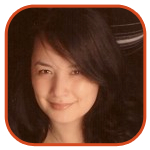 Posted by Veronica Santiago Categories: Animation, Award Shows, Comedy, Drama, Late Night, Prime Time, Reality, ABC, Cable, CBS, FX, FOX, HBO, NBC, Showtime, 30 Rock, 24, Amazing Race, The, American Idol, ER, Family Guy, Lost, Saturday Night Live, Survivor, Features,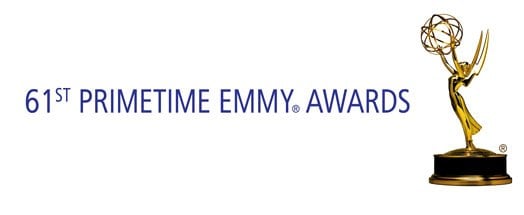 Could the 61st Primetime Emmy Awards be another year for firsts?
Around this same time last September, the execs of basic cable were thrilled to see one of their own finally win the Emmy for Outstanding Drama Series (Mad Men). Meanwhile, producers of reality fare saw an award given to one of their hosts (Jeff Probst). So which other category could be covered during this round? Animation.
For the first time since 1961 (when The Flintstones were still on air), an animated program has been nominated for Outstanding Comedy Series. So will Family Guy finally go where The Simpsons has never gone before? Not if the six other contenders have anything to say about it!
So who won? Who lost? Which funnyman took home the award for Outstanding Supporting Actor since Jeremy Piven wasn't even nominated? Read our West Coast play-by-play account of this evening's telecast and find out!
Click to continue reading The 61st Primetime Emmy Awards
Read More

| Emmys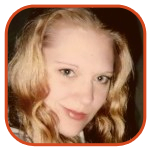 Posted by K.C. Morgan Categories: Comedy, Prime Time, Reality, Talk Shows, Cable, Daily Show, The, Video,
After a week-long media battle, in which anchors from several different networks weighed in, Jon Stewart and Jim Cramer enjoy a much-anticipated meeting on Comedy Central's The Daily Show.
Stewart has recently focused on many of Cramer's predictions and bits of advice, which he provides through his CNBC show Mad Money.
"I understand that you want to make finance entertaining, but it's not a [expletive deleted] game," Stewart sassed Cramer near the top of the interview. "I can't reconcile the brilliance and knowledge that you have of the intricacies of the market with the crazy [expletive deleted] I see you do every night," he said a few minutes later.
Click to continue reading Jon Stewart and Jim Cramer Clash on Daily Show
Read More

| MSNBC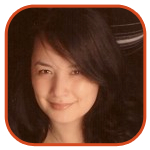 Posted by Veronica Santiago Categories: Comedy, Late Night, Cable, Video,
Before Sarah Palin supporters start attacking the "leftist" media again, they might want to check out this hilarious segment from last night's episode of The Daily Show.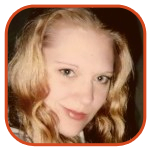 Posted by K.C. Morgan Categories: Comedy, Cable, Daily Show, The, Gossip,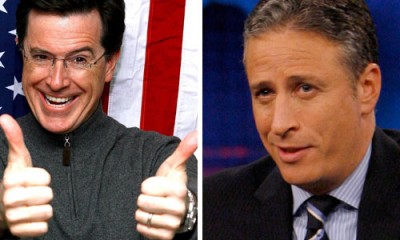 Comedy Central favorites Jon Stewart and Stephen Colbert are proudly sporting "Union Made" labels and enjoying a full staff of writers once more, much to the delight (and sheer relief) of fans. Late night TV is finally back on track now that the strike has ended.
With a newfound comfort in front of cameras and a relaxed joy in the air, the hosts resumed their normal duties…this time, with scripts. After weeks of watching them invent ways to fill the gaps in their programs, it was a relief to see them with full episodes once more. Though both did remarkably well under improvisational pressure, I'm happy to see them back at full staff.
Read More

|
Comedy Central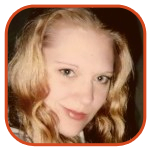 Posted by K.C. Morgan Categories: Comedy, Late Night, Talk Shows, Cable, NBC, Gossip, Video,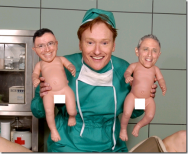 Well after American Gladiators finished for the evening, when most people were thinking about getting to bed, the battle of the late night hosts began to heat up…again. Let's re-cap.
Comedy Central host Stephen Colbert took exception to NBC host Conan O'Brien's claim that O'Brien "made" Presidential contender Mike Huckabee. Conan responded on his show that he, O'Brien, actually made Colbert. Daily Show host Jon Stewart offered video evidence that in fact Stewart made O'Brien. Thus, the world was put to rights again.
Until a certain redhead (O'Brien) presented a photo depicting himself delivering both Colbert and Stewart, thus proving that he in fact made them both - and by extension, Huckabee. For those who missed it, this battle all came to head last night. Conan threatened to "kick some Comedy Central ass" and so, Stewart and Colbert showed up to give him exactly this opportunity. (You can see the video clip, after the jump.)
Click to continue reading Late Night War Ends in Violence
Read More

|
Late Night With Conan O'Brien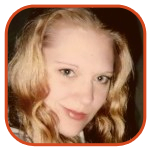 Posted by K.C. Morgan Categories: Comedy, Late Night, Talk Shows, Cable, NBC, Daily Show, The, Gossip,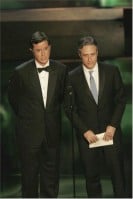 In an epic late night match-up, post-prime time hosts are facing off in a battle for the ages. It's a contest of wills that dares a meeting of cable and network TV that could rock more than one snarky show.
Well, perhaps it isn't as big as all that - but it is mildly entertaining and it's giving Comedy Central a little much-needed fodder in this strange world without TV writers. Like as not, even the best late night programs have been faltering. Jon Stewart is opening every episode by flicking paper footballs randomly toward his audience, and on Tuesday's episode Stephen Colbert played with clam shells instead of monologuing. Thankfully, Colbert recently picked a fight with fellow host Conan O'Brien to keep us all amused.
Here's the breakdown: Colbert invited Presidential contender Mike Huckabee onto The Colbert Report, thus granting him the highly coveted "Colbert bump." Naturally, Huckabee's popularity increased - and even he attributed this climb to Colbert. So, when Conan O'Brien claimed to be the real puppet master behind Huckabee's success, Colbert was affronted.
Click to continue reading The Battle of the Late Night Hosts
Read More

|
Huffington Post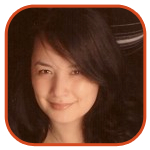 Posted by Veronica Santiago Categories: Action, Award Shows, Comedy, Daytime, Drama, Food & Home, Games, Late Night, Mini Series, Music, Prime Time, Reality, Sci-Fi/Horror, Sports, Talk Shows, ABC, Bravo, Cable, CBS, NBC, Syndication, The CW, Daily Show, The, Medium, My Name Is Earl,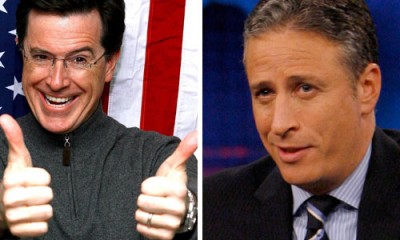 (Reminder: You can view the whole Revamped TV Programming Schedule here.)
MONDAY (1/7)
The View (ABC, check local listings): Elisabeth Hasselbeck returns from maternity leave. I'd gladly sacrifice her to the union gods for an end to the writers' strike.
Dance War: Bruno vs. Carrie Ann (ABC, 8pm): Here's our chance to see if the DWTS judges can actually teach what they preach.
American Gladiators (NBC, 8pm): "In the men's competition, an engineer takes on a radiation-control technician." The year of the nerd has now officially spilled over into 2008.
Medium (NBC, 10pm): Season four premiere. "Allison has creepy visions of a boy being kidnapped from a toy store." I never did trust that Geoffrey Giraffe.
Anthony Bourdain: No Reservations (Travel Channel, 10pm): Anthony travels to Singapore for his latest season premiere. I don't like traveling with crusty people, but I love watching them venture on TV.
The Daily Show/The Colbert Report (Comedy Central, 11:30pm): Tonight Jon Stewart and Stephen Colbert will crank out their versions of a writer-less show. God love 'em for trying.
Click to continue reading This Week on TV (1/7-1/13)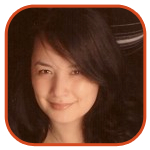 Posted by Veronica Santiago Categories: Late Night, Talk Shows, ABC, Cable, CBS, NBC, Daily Show, The, Announcements, News,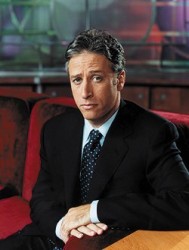 Comedy Central has just announced the January return of its two late-night talk show hosts. Jon Stewart and Stephen Colbert will ring in their new years on January 7th, five days after Kimmel, Leno and O'Brien have scheduled their starts. The Daily Show and The Colbert Report - like the ABC and NBC programs - will resume production sans writers. What this means for these 'news' shows and their largely scripted formats is unknown.
Stewart and Colbert, who are also members of the Writers Guild of America, released a joint statement about the decision:
''We would like to return to work with our writers. If we cannot, we would like to express our ambivalence, but without our writers we are unable to express something as nuanced as ambivalence.''
Meanwhile, we may get details later today about the plans for CBS' late-night programs. David Letterman's company, Worldwide Pants, will be meeting with members of the WGA today. If they can reach an interim agreement, both The Late Show With David Letterman and The Late Late Show with Craig Ferguson could also be hitting the airwaves - with scribes - come January 2nd.
No matter how you feel about the writers' situation, what do you think about The Daily Show and The Colbert Report returning? Could they possibly be as good as they were pre-strike—or do you think the quality will suffer? Will you simply be happy to see them back regardless of the content?
Read More

|
Variety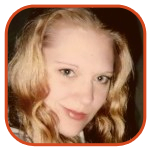 Posted by K.C. Morgan Categories: Late Night, Talk Shows, Cable, Daily Show, The, Gossip, News,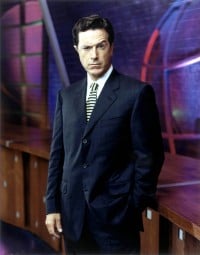 South Carolina's self-proclaimed favorite son, Stephen Colbert, made his presidential campaign journey to the only state in which he's competing and basked in the worship of sign-waving southern fans. The mayor of Columbia, SC gave Colbert a key to the city and announced the event on Sunday as 'Stephen Colbert Day'.
Colbert made his preliminary announcement to run for the presidency on Jon Stewart's The Daily Show, though the official announcement occurred a few minutes later on Colbert's title show. Colbert intends to run as a Democrat and a Republican in the state of South Carolina, which could potentially cause a problem for the only other presidential candidate from the state: Democrat John Edwards.
Read More

|
LA Times
© Gear Live Media, LLC. 2007 – User-posted content, unless source is quoted, is licensed under a Creative Commons Public Domain License. Gear Live graphics, logos, designs, page headers, button icons, videos, articles, blogs, forums, scripts and other service names are the trademarks of Gear Live Inc.