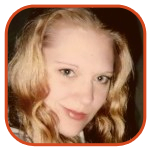 Posted by K.C. Morgan Categories: Comedy, Cable, Daily Show, The, Gossip,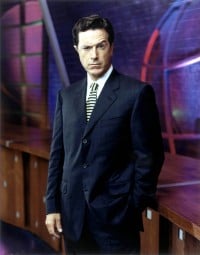 Daily Show fans got a surprise treat this week when Stephen Colbert rode in on a wagon pulled by Uncle Sam. This, on an episode already promising prestigious actress Meryl Streep. Colbert pulled out a bale of hay and kicked back to enjoy a brew he produced from within, accepting a huge round of applause from Comedy Central studio fans. It was Jon Stewart's show that launched Colbert's success, eventually leading to a spinoff and the birth of the Colbert Nation (the nickname given to Colbert fans). Colbert gave Stewart a note card containing questions he wanted asked, then surprised fans with his official announcement to officially consider whether – or not – he was going to run for the office of the President of the United States of America. Colbert added that he hoped to make the announcement of his decision on a more prestigious show. Fifteen minutes later, on The Colbert Report, he did.
Click to continue reading One Colbert Nation Under All?
Read More

| Yahoo! News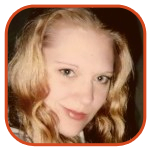 Posted by K.C. Morgan Categories: Comedy, Cable, Daily Show, The, Gossip,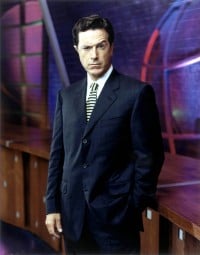 Stephen Colbert, Comedy Central host and leader of the Colbert Nation, threw down the gauntlet to Congressman Dennis Kucinich, who is currently on the presidential campaign trail with something close to twenty other Joes (and one Jane). Kucinich has accepted, and will appear on the October 15 show to take part in Colbert's pocket challenge. As part of the challenge, Kucinich will empty his pockets onstage before Colbert cameras. Will he get the famous "Colbert bump" for his appearance on the show?
Both The Colbert Report and The Daily Show have been getting big guests recently. Jon Stewart will interview several A-list celebs in his upcoming shows, right on the heels of a visit from Lynn Cheney, wife of Dick.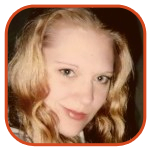 Posted by K.C. Morgan Categories: Comedy, Talk Shows, Cable, Gossip,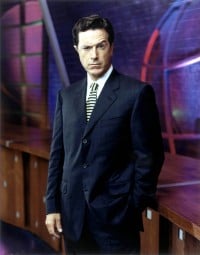 During an episode of Comedy Central's The Colbert Report, host Stephen Colbert made a joke that the Republican presidential candidates sounded like Klingons (you know, from Star Trek) while talking about honor. Now, Cenk Uygur of The Young Turks, an Air America morning show, says the joke was actually his – told on his Sept. 7 radio program. Uygur has already made a stink on YouTube, the Web site that is slowly taking over every single media story in the U.S. A Colbert spokeswoman offered no immediate comment, but said the issue is likely to be addressed on the show. As Jon Stewart might say, "eggggggcellent."
Read More

| Yahoo News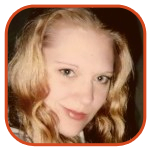 Posted by K.C. Morgan Categories: Comedy, Prime Time, Talk Shows, Cable, Daily Show, The, Gossip,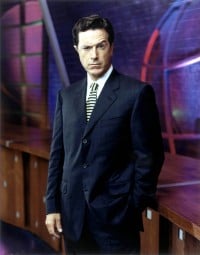 You've seen the TV show. You've checked out the web site. But you haven't seen anything yet. The former Daily Show correspondent-turned mega-Comedy Central celebrity made the world laugh with witty observations and wholly invented words, Stephen Colbert is perhaps best known for his no-holds-barred approach to interviewing celebs, writers, and political candidates. Colbert's book I Am America (And So Can You!) is set to hit the shelves this fall, and the Colbert Nation is anticipating the event. In an Entertainment Weekly interview, Stephen Colbert said that he embodies America – those who want to do the same can read the book. He also asked fans not to lend the book – heroes buy. Colbert said the book serves as a Constitution for the Colbert Nation, which is the appellation he has coined for his many, many fans. America as seen through the eyes of Colbert…are you ready, nation?
Read More

| Entertainment Weekly


Posted by Wendy Michaels Categories: Comedy, Cable, Daily Show, The, Cable/Satellite, Gossip, Rumors,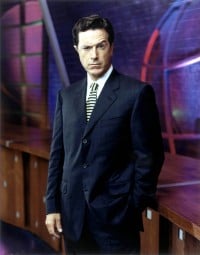 It's official. Stephen Colbert will have an ice cream flavor named in his honor. Internet rumors have been swirling about the possibility of a Colbert-themed flavor from Ben & Jerry's. You know you've hit the big time when you become a flavor, and it seems Colbert is as likely an honoree as anyone. The flavor will be called "Stephen Colbert's Americone Dream," a vanilla base with fudge-covered waffle cone pieces and caramel. The folks at Ben & Jerry's describe it as "The sweet taste of liberty in your mouth." Hmmm, that seems like a peculiar description. Since when do waffle cones and caramel taste like liberty, and why does that personify Colbert? Colbert, ever the quick-wit, responded to the new flavor by saying, "I'm not afraid to say it. Dessert has a well-known liberal agenda. What I hope to do with this ice cream is bring some balance back to the freezer case." All in good fun though—Colbert will donate proceeds to charity via his Stephen Colbert Americone Dream Fund.
Read More

| Yahoo! News


Posted by Wendy Michaels Categories: Comedy, Cable, Cable/Satellite, Internet,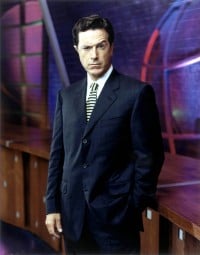 A portrait of The Colbert Report's Stephen Colbert was recently auctioned on e-Bay for charity. Turns out the highest bidder was Chad Walldorf's chain of barbecue restaurants—bidding $50,605 for the painting which once hung above the fireplace on the set of Colbert's show. Kooky lil' painting, showing Colbert standing in front of a portrait of himself—so when he stands in front of it in reality, it's Colbert standing in front of Colbert… standing in front of Colbert. Colbert announced Walldorf and his business partners as the winning bidder on Tuesday's show. The partners, who oversee 17 Sticky Fingers restaurants, plan to put the painting in their Charleston, S.C. restaurant. An homage to Colbert, who calls Charleston his hometown.
"We don't know much about art, but figured any time you can get two portraits for the price of one, then it must be a great deal," Walldorf told The Associated Press. Proceeds for the sale will go to Save the Children.
Read More

| Yahoo! News


Posted by Wendy Michaels Categories: Comedy, Talk Shows, Cable, Daily Show, The, Cable/Satellite, News,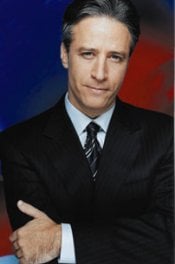 While most of us rooted in reality can pretty much identify that an entertainer like Jon Stewart would never run for president, there are some optimists out there who love the idea. Case in point: the T-shirts reading "Stewart/Colbert '08." Call me a naysayer—for while Stewart is smart, funny, entertaining and devilishly handsome, the prospects of his presidential run will never see the light of day. Stewart recently commented on the shirts at the New Yorker Festival, saying, "Nothing says 'I am ashamed of you my government' more than 'Stewart/Colbert '08."
Stewart is, however, doing his part by making politics interesting and entertaining—including having guests such as Bill Clinton and Pakistan's president, Gen. Pervez Musharraf, on The Daily Show. He also has high hopes of getting the Bush administration to appear as well. Well, that's probably about as likely as Jon Stewart running for president.
Read More

| Yahoo! News


Posted by Wendy Michaels Categories: Comedy, Specials, Cable, Cable/Satellite, Internet,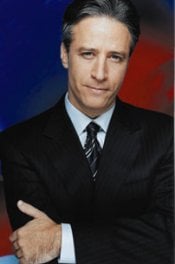 As if you need more proof that Jon Stewart is a good guy… The Daily Show anchor will be hosting an upcoming autism benefit event, titled Night of Too Many Stars: An Overbooked Benefit for Autism Education. Too many stars indeed. Tune in to Comedy Central on October 15th at 8:00 p.m. to see Bob Odenkirk, Adam Sandler, Jack Black, David Cross, Sacha Baron Cohen, Ricky Gervais, Will Ferrell, Norm MacDonald, Steve Carell, Jimmy Fallon, Mike Myers, Amy Poehler, Ben Stiller, Stephen Colbert and Paul Rudd (among others). I'm practically salivating at the thought of the entertainment factor. And all for charity too, benefiting autism education and research programs—what could be better? The benefit will air live from New York City's Beacon Theater on Comedy Central, with a live simulcast on comedycentral.com. Tune in for this special event.
Read More

| Comedy Central


Posted by Wendy Michaels Categories: Award Shows, Comedy, Daily Show, The, Grey's Anatomy, Internet, News,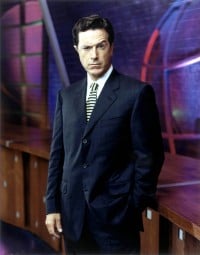 Oh, you gotta love Stephen Colbert—once a fantastic part of The Daily Show, it seemed Colbert had a shaky start when he ventured into his own show, The Colbert Report. Not so shaky anymore, it seems, as Colbert quickly rose in popularity and has developed quite a following. To further solidify his status, the "word-trend" group Global Language Monitor has discovered that two terms from The Colbert Report were part of their annual survey of television words that have impacted language. Colbert's use of "Truthiness" and "Wikiality" were included in the list of the top television buzzwords of the year. Other high rankers? "Katrina" (for obvious topical reasons) and "Dr. McDreamy" (in reference to Patrick Dempsey's character on Grey's Anatomy).
"Truthiness" is defined as "truth unencumbered by the facts," while "Wikiality," referencing the informational web site Wikipedia, is defined as "reality as determined by majority vote." This is best explained by the voting off of Pluto as a legitimate planet by astronomers.
Colbert also should be applauded for his Emmy appearance—one of the highlights of the evening—as he expressed his upset over losing to Barry Manilow. Priceless.
Read More

| Reuters

© Gear Live Media, LLC. 2007 – User-posted content, unless source is quoted, is licensed under a Creative Commons Public Domain License. Gear Live graphics, logos, designs, page headers, button icons, videos, articles, blogs, forums, scripts and other service names are the trademarks of Gear Live Inc.