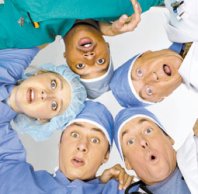 As a fan of all things Scrubs, I can barely contain my excitement over the upcoming YouTube preview from the series' musical episode. On December 29th, a sneak peek of the song "Everything Comes Down to Poo" will be available to view on YouTube. The song is performed by Zach Braff, Donald Faison and Stephanie D'Abruzzo (who guest stars in the musical episode). If you haven't already, check out the video "Guy Love" on YouTube. This tender sweet song expresses the totally straight, yet sometimes misunderstood, relationship between Braff's JD and Faison's Turk.
The upcoming musical episode of Scrubs will air on January 18th.
Read More

| Comingsoon.net


Posted by Wendy Michaels Categories: Comedy, Prime Time, NBC, Scrubs, News,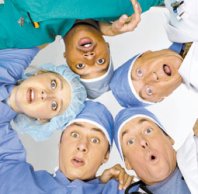 Sarah Chalke, who plays hyperactive Dr. Elliot Reid on Scrubs is engaged to her longtime boyfriend, Jamie Afifi. Afifi proposed to Chalke last week while on vacation in Hawaii. Chalke, 30, could potentially be facing her last season on Scrubs. There has been a lot of speculation that the series will come to an end after this season, although there has not been any final confirmation of that. Afifi, 33, is an entertainment lawyer. Chalke recently won rave reviews for her role in the Lifetime movie, Why I Wore Lipstick to My Mastectomy and will next be seen on the big screen in Mama's Boy, starring Diane Keaton and Jon Heder.
Chalke follows closely on co-star John C. McGinley's engagement news. McGinley got engaged in August. Who's next? Zach Braff, we're lookin' at you!
Read More

| Zap2it


Posted by Wendy Michaels Categories: Comedy, Prime Time, NBC, My Name Is Earl, Scrubs, The Office, Ratings,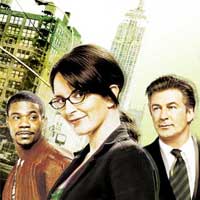 Great news, 30 Rock fans! NBC has ordered additional scripts of the show, so here's hoping we'll get to see a little more of that Alec Baldwin and Tina Fey magic. The recent move to Thursday nights was not too eventful, ratings-wise, so the fate of this little comedy is still up in the air. Hey, it's up against Grey's Anatomy—but I'm telling you, this show is funny. It's got the goods. What does Grey's have anyway? OK, believe it or not, I'm one of the few people that doesn't watch Grey's. And come this Thursday, I will be completely devoted to NBC's Thursday night block of comedy: My Name is Earl, The Office, Scrubs and 30 Rock. The return of Must-See TV? Well, I know I'll be there!
Read More

| AOL News


Posted by Wendy Michaels Categories: Comedy, Prime Time, NBC, Scrubs,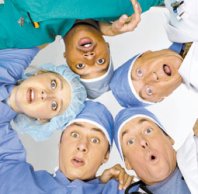 The cast of Scrubs gathered in Los Angeles to celebrate their sixth season—starting on November 30th on NBC. Access Hollywood gave a rundown of the celebration, as well as some details that the cast spilled about the upcoming season. Tidbits include:
Episode 6 will feature the first all musical endeavor, airing in January 2007.
Cameos will include Blue Man Group (which we reported yesterday).
While guest stars will be fewer this season, the cast hopes to land Ricky Gervais and Mackenzie Crook (who played Gareth on the British Office).
Judy Reyes (Nurse Carla) revealed that she and Turk (Donald Faison) will have some rough times ahead of them, saying, "I don't want to give too much away, because it's gonna be airing soon. She's having the baby and dealing with real life issues that women deal with when they have their children. And [she's] dealing the emotional turmoil of actually bearing a child and what real women deal with and the sadness of dealing with child birth and the turmoil."
Read More

| Access Hollywood


Posted by Wendy Michaels Categories: Comedy, Prime Time, NBC, Grey's Anatomy, My Name Is Earl, Scrubs, The Office,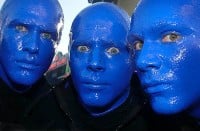 First, let me just say that I can barely contain myself about the return of Scrubs. It's been way too long of a wait for diehard fans, but we have been filling the void with the excellent re-runs on Comedy Central. This show is just too good, and with rumors that this may be its final season, we need to hang on to every excellent little morsel that this show delivers. Case in point, TV Squad is reporting that Blue Man Group will make a special appearance on the season premiere—which airs November 30th at 9:00 p.m. In the episode, J.D. (Zach Braff) will join the blue percussion dudes on stage at The Venetian Resort Hotel and Casino. This does bring to mind the great gag that Arrested Development had with Tobias (David Cross) trying to become a member of the group. Tune in—November 30th is going to be a great night—The Office, My Name is Earl, Scrubs and 30 Rock! Of course, there's that little show, Grey's Anatomy, that's likely to pull a viewer or two away from Scrubs...
Read More

| TV Squad


Posted by Wendy Michaels Categories: Comedy, Prime Time, NBC, My Name Is Earl, Scrubs, The Office,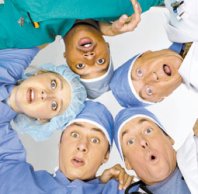 Remember when Thursday nights were 'Must See TV' on NBC? Well, Thursday nights are about to get a great lineup again. Of course, this is just in my opinion, but I'm sure plenty will agree. First, Scrubs is coming back on November 30th! The long-awaited return is finally just around the corner, and here's hoping that the 9 p.m. slot on the Thursday night lineup will bring more viewers to this great comedy. Second, 30 Rock, the new Tina Fey/Alec Baldwin sitcom will move to Thursdays at 9:30. This little comedy has got potential and Thursday may give it more exposure. My Name is Earl and The Office will continue at 8 p.m. and 8:30 p.m. Oh my god, settle in to your comfy chair for the best night of TV! Kevin Reilly, President of NBC Entertainment, said of the news, "We are excited about the prospect of two-hours of top-notch comedy on Thursday nights, which includes the return of Scrubs. We will stay on-brand with the best comedy block on television, which will position us for the future on the night." Look for it all on November 30th (and of course, ER is still hanging in the Thursday 10 p.m. spot).
Read More

| ComingSoon.net


Posted by Wendy Michaels Categories: Comedy, Drama, Music, Prime Time, ABC, NBC, Grey's Anatomy, Scrubs, Internet,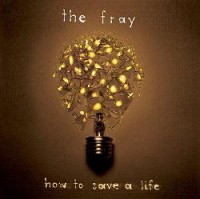 In other Grey's Anatomy news, the series has featured two videos by the band The Fray—and given the rock group significant exposure. The hit series aired a four-minute video following the September 7th episode for the single "How to Save a Life," featuring clips from the show. They followed it up two weeks later with an extended video with additional scenes. And that's not all—the videos were available on web sites, including ABC.com, as well as electronic magazines. ABC Entertainment senior VP of marketing, Michael Benson, said that the value of the videos were in their ability "to become great content for TV viewers… going beyond the 30-second promo and driving people back to television."
The band has definitely seen a jump in sales, with between 2,000 and 3,000 copies being sold per week, according to Nielsen SoundScan. To date, the album has sold 897,000 copies, while the title track has sold 622,000 digital downloads. The song "How to Save a Life" is also featured on the Grey's Anatomy, Volume 2 soundtrack.
For my money, however, I think the tune "How to Save a Life" was a much better fit on last season's episode of Scrubs, titled "My Lunch." I was bawling—Scrubs has always done an excellent job of integrating music into every storyline and the inclusion of "How to Save a Life" made me rush out and buy The Fray's CD the very next day.
Read More

| Yahoo! News


Posted by Wendy Michaels Categories: Comedy, Prime Time, NBC, Scrubs,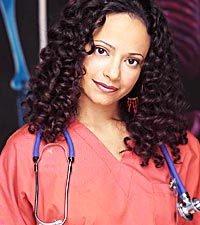 Scrubs actress Judy Reyes, who plays Carla, recently suffered an injury at home and fractured her pelvis. According to People magazine, the injury occurred after she fell on September 20th. She didn't believe her injury to be too serious and even came into work the following day. She did leave work that day, going straight to the hospital from the set. Spokesperson Monique Ward said, "She had surgery to repair it on Thursday. She didn't realize it was as bad as it was and still went to work. Once there, she realized she needed medical treatment… she's going to be fine." Reyes will be released from the hospital on Monday and will spend six weeks on crutches. Scrubs will be rearranging their shooting schedule to accommodate the injury, but will continue to do some filming around her in the meantime.
Read More

| Zap2it


Posted by Wendy Michaels Categories: Comedy, Cable, NBC, Syndication, Scrubs, Cable/Satellite,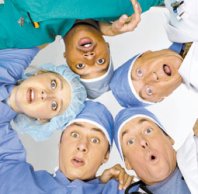 Great news for Scrubs fans everywhere—Comedy Central has acquired the NBC sitcom and will begin airing old episodes of the series on September 18th at 7:00 p.m. The network will show the sitcom weeknights and Saturday mornings. David Bernath, senior vice president of Comedy Central said, "We're thrilled to have Scrubs join the network. It is a very funny show with a great cast. Not many off-network sitcoms fit our brand and this one fits perfectly."
If you've never seen the series, now's your time to jump on the bandwagon of one of the funniest little shows out there. Follow J.D. (Zach Braff) and the gang (including John C. McGinley, Sarah Chalke, and Donald Faison) as they experience love, loss, humiliation (and more) at the hospital where they work. The ensemble cast is fantastic; the stories funny, but often touching. Overall, a nice mix of drama and comedy.
Read More

| Comedy Central


Posted by Wendy Michaels Categories: Comedy, Music, Prime Time, NBC, Scrubs,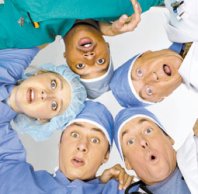 Here's some good news for fans of both Scrubs and musicals—the series' sixth episode this season will be a musical. For non-musical fans, this may not be such a great thing, but I'm curious to see how they pull it off. TV Guide's Michael Ausiello had the opportunity to interview Scubs creator Bill Lawrence about the episode. Apparently, Lawrence called on the talent behind the Broadway musical Avenue Q to help out with the logisitics, which he calls "a big pain in the ass"—with additional rehearsals and recordings necessary to pull the whole thing off. Scrubs diehards are likely to think this is a genius move, since the series already incorporates its fair share of music and dancing (anyone catch Turk's air guitar number?). The cast is for the most part excited about the prospect, with only some grumblings from Sarah Chalke—according to Lawrence, she's not allowed to sing (I guess she's not as good as the other cast members), but he needs to find a way to incorporate her character into the whole musical madness. The plot of the episode centers around a woman who has an aneurism and sees everything as a musical. According to Lawrence, this is based on an actual medical case where a woman who suffered an aneurism thought every time someone spoke to her, they were singing. Now the question—when will the episode air? With the series not set to start until mid-season, we will need to wait until early 2007 to check this out.
Read More

| TV Guide

© Gear Live Media, LLC. 2007 – User-posted content, unless source is quoted, is licensed under a Creative Commons Public Domain License. Gear Live graphics, logos, designs, page headers, button icons, videos, articles, blogs, forums, scripts and other service names are the trademarks of Gear Live Inc.