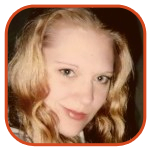 Posted by K.C. Morgan Categories: Music, Prime Time, Reality, FOX, American Idol, Gossip, Video,
American Idol kicked off the first installment of its finale shows with clips of past Idols and its two current contestants. The stage was set for drama, the Nokia Theater was packed with people and we were all ready to count the cowboy hats as the hour-long performance episode kicked off.
Ryan Seacrest called the battle "the boy next door versus the southern belle." They are Idol's youngest two contestants to face off in the final round. Both gained early attention from judges and fans, both are absolutely country singers, both want to win badly. Despite reports from TMZ that the finale might have been otherwise, Lauren Alaina was indeed ready to perform on Tuesday. According to the doctor that Idol trotted on stage, Lauren belted too hard in her rehearsal and blew out a vocal cord.
Think it'll affect the voting? Doesn't everything?
Click to continue reading American Idol 10: Top 2 Perform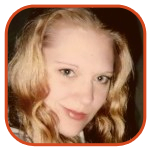 Posted by K.C. Morgan Categories: Music, Prime Time, Reality, FOX, American Idol, Features, Video,
Wednesday night was Simon Cowell's last moment with American Idol, and the night belonged to him much more than the two contenders for the ninth Idol crown. Lee DeWyze and Crystal Bowersox performed ably on Tuesday night, but only the votes would determine which would walk away with the winning title. The show will undoubtedly crash and burn now that Cowell is walking away…but that is talk for another time.
The Top 12 Idols - including Crystal and Lee, of course - danced out on stage to deliver "School's Out for Summer." While Orianthi jammed out on the guitar, Casey James suddenly announced a surprise appearance - Alice Cooper. This was an exciting guest star, but honestly, he sounded quite bad. And I'm a fan.
The evening started out with a fairly lackluster vibe…but there was much, much more to come.
Click to continue reading American Idol 9: The Finale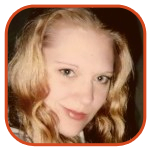 Posted by K.C. Morgan Categories: Music, Prime Time, Reality, FOX, American Idol, Gossip,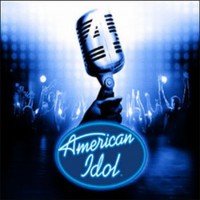 The five females who managed to snag coveted Top 10 spots on the seventh season of American Idol recently talked with reporters about the aftermath of the show and the beginning of the summer tour.
The tour kicked off in Arizona, the first of 49 cities which will soon welcome the group of crooners. Diminutive Ramiele Malubay feels positive about the tour, saying there will be "no one to say you sang horrible."
"It's not about what a judge is going to say. It's about the music and the fans connecting and having a great time," offered Brooke White.
Carly Smithson also felt cheerful, saying "it's amazing. Nobody is going to judge us after we sing." Third-place finalist Syesha Mercado likened the tour to "a mini-concert for each person."
"We sing three songs each," Brooke White said of herself and her fellow females, "David Cook five, Archuleta will sing four. I think a lot of people had the impression it was going to be a bunch of group numbers, but it's not. We actually are going out as individual performers and do our own set, our own music."
Click to continue reading Idol Divas Talk Tour
Read More

|
LA Times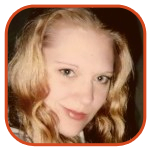 Posted by K.C. Morgan Categories: Music, Prime Time, Reality, FOX, American Idol, Gossip,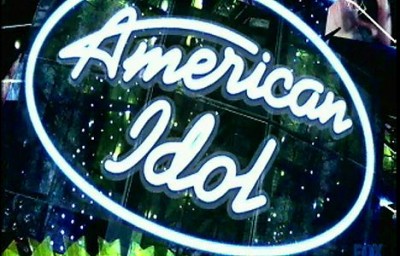 American Idol gives its contestants a grueling schedule during the weeks of shooting live performances, Ford video commercials and sessions with mentors. The show may be over - the hard work is not.
Even while the Idols sing a path across the U.S. (they'll visit 49 cities in 72 days), some of the finalists will be pulling double duty and making records at the same time. Davids Cook and Archuleta, the season's final two men standing, will both be working on tracks even as they woo audiences.
Thanks to a new deal with 19 Recordings and Arista Nashville, Kristy Lee Cook (who managed to astound judges and audiences with her unimagined longevity in the contest) will also be working on her debut album. The first single "15 Minutes of Shame," is scheduled for an August 11 release. Cook was formerly signed to this same label years before, but never had the chance to record a single song.
Click to continue reading Idols Hit the Road
Read More

|
E! Online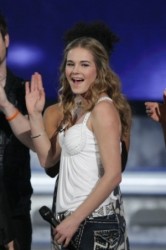 As elimination night began on American Idol, host Ryan Seacrest reminded us that "anything can happen on this show." After a season-high vote tally of a whopping 36 million, what did happen was probably a long time coming - and hardly shocking for most viewers.
Seacrest quickly introduced the judges (Paula Abdul looked spectacular for a change - loved the upswept 'do) before the Idols took the stage, singing "One Sweet Day." Idol then reminded all that there's only one week left to vote in the songwriting competition. Remember, the winning song will be crooned at the finale by the winning contestant. But soon enough, it was time to get down to the real reason for watching: elimination.
Click to continue reading American Idol Narrows it Down to Six
Read More

|
American Idol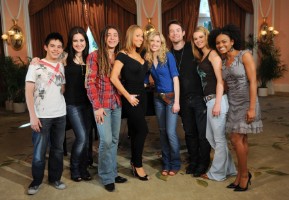 Mariah Carey night on American Idol began on a rather solemn note, as host Ryan Seacrest remarked that all were "still feeling the shock waves here after last week's surprising departure by Michael Johns." As a chorus of boos filled the theater, he reminded us that "every single vote is vital."
But really, all that's old news. Tomorrow someone else will be kicked to the curb and it will time to interview them. Who will it be?
Superstar Mariah Carey mentored this week, and at the outset I was afraid for the Idols. Carey is a diva unlike any other - a harder theme night could hardly be imagined. She looked fabulous for her mentor sessions, and seemed completely at ease with the cameras and contestants. Were the Top 7 just as comfortable with her songs?
Click to continue reading American Idol Top 7: A Vision, or a Watered-Down Version?
Read More

|
American Idol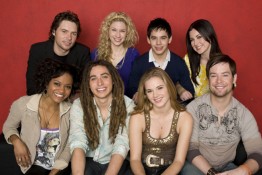 The pushed-back Thursday elimination night on American Idol began with a promise from Ryan Seacrest, who touted "guest stars and surprises" at the top of the hour. There certainly were some surprises, but most of them weren't at all good.
The evening kicked off with clips of Idol Gives Back, which has so far raised more than $60 million for various charitable organizations. Next, the Top 8 Idols sang "Shout to the Lord" while a huge choir sang in the background. It was, all told, way too schmaltzy for an elimination night. But more of the same would continue throughout the evening.
Click to continue reading American Idol: Shock and Awe
Read More

|
American Idol Official Site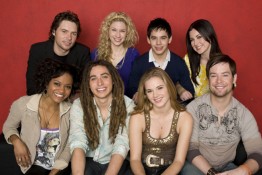 With promos and promises of Idol Gives Back clouding every available moment of American Idol this week, it was only fitting that Tuesday night's performance theme was songs of inspiration. Singing about peace, hope, joy, dreams and love, the Top 8 contestants took to the stage to win over our hearts. But which of them failed to inspire votes?
Click to continue reading American Idol Top 8: An Inspiring Bunch?
Read More

|
TMZ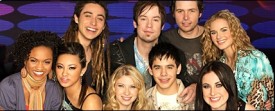 The American Idol contestants were all smiles as they performed the Dolly Parton hit "9 to 5," but tensions seethed just below the surface as this group was quickly shuffled backstage to await their respective fates. The routine was peppy and poppy, with the singers gathering around the judges' island to finish the number. Joy was short-lived, however, as attentions quickly turned to talk of elimination.
Idol very cleverly turns information which might take less than a minute to deliver ("hey, by the way, you just got kicked off the show") into an hour-long spectacle replete with stage performances, video clips, and of course the endless cross-promotions. Elimination action is always very cleverly placed, little tidbits leading up to what is supposed to be a dramatic end. Were you shocked?
Click to continue reading American Idol: Another One Bites the Dust
Read More

|
American Idol Official Site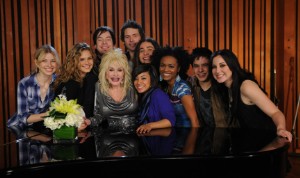 American Idol kicked the night off with an unbelievable April Fool's joke just for fun, before it got around to the business of honoring mentor Dolly Parton. I will say, however, that I think Simon Cowell would be fabulous on The Moment of Truth - and ratings would be through the roof.
Singer/actress Dolly Parton is a superstar, award-winning and top-selling, both in the box office and in the recording studio. But she's still a southern girl with charm, admits to wearing false eyelashes and even wigs, and maintains that endearing girlish giggle no matter how many years pass. What's not to love about Dolly? As a mentor, she proved sweet and encouraging with all the contestants. Were the judges just as kind?
Click to continue reading American Idol: Dollywood and Hollywood Combine
Read More

|
American Idol
© Gear Live Media, LLC. 2007 – User-posted content, unless source is quoted, is licensed under a Creative Commons Public Domain License. Gear Live graphics, logos, designs, page headers, button icons, videos, articles, blogs, forums, scripts and other service names are the trademarks of Gear Live Inc.