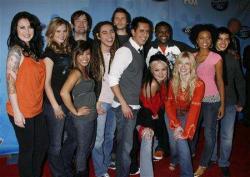 Kelly Clarkson. Fantasia Barrino. Taylor Hicks. Carrie Underwood. Ruben Studdard. Jordin Sparks. Put them together and it's hard to find one common element - other than the fact that they can all sing. But here's the thing - many of the contestants on American Idol can carry a tune. Winning the show takes a whole lot more than sensational singing. What does it take to win American Idol?
The hot button issue for this year's crew of competitors is sexual orientation. The Internet community is alive with comments, videos, and hooplah regarding the sexual preference (real or imagined) of Season Seven's best and brightest singing talents. As far as fans know, a homosexual has never won American Idol. Some say that one will never win on the show.
Click to continue reading In the Mold: What Does it Take to Win American Idol?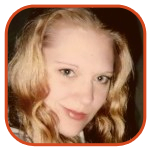 Posted by K.C. Morgan Categories: Music, Prime Time, Reality, FOX, American Idol, Editorial,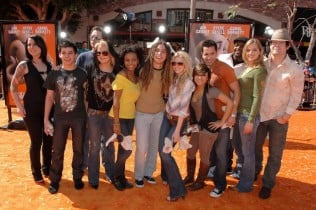 It's been hyped for weeks, anticipated since last year's Idol was crowned, and advertised until TV watchers can hardly stand the promos. Tuesday night it finally arrived - the performances from American Idol's Top 12. Was it worth two hours of programming?
The night kicked off with the big debut of a big new stage, where in an odd setup the band is suspended and the judges are shoved behind some of the crowd. Host Ryan Seacrest showed off the new lights and interiors as fans screamed, then dropped the bomb that this performance night would be melodic with songs from the famed Lennon-McCartney songbook. My breath caught, and immediately I was excited. Surely one of the Idols would be bold, brave, brash…surely, one of them would sing something from the darker, more politically-minded years of the Beatles. Surely, we would hear some hot 70s-era vocals.
Click to continue reading American Idol: Twelve Top Performances?
Read More

|
American Idol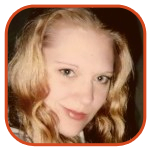 Posted by K.C. Morgan Categories: Music, Prime Time, Reality, Specials, Cable, FOX, American Idol, Gossip, News,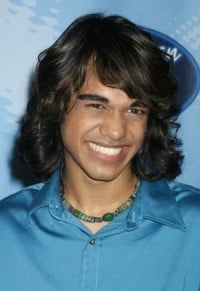 American Idol is the only show on television which turns us all into music industry insiders. "He's got some pitch problems," you might say to a companion, or "Now, that was a poor song selection." While Idol contestants audition before the judges, it's really the viewing audience that's offering the harshest criticisms. We're carefully breaking down wardrobes, hairstyles, personality and sometimes singing too. But now that the Best of the Rest episode has aired, the hopefuls are on to Hollywood to display their talents for a much-hoped-for spot in the Final 24.
It's a new season and today it's all about the new faces and voices getting ready to grace the live Idol stage. But let's not forget all those shining stars we rooted for in the past. Wondering what happened to that contestant from season three you adored and never saw again? Want to know how to find the singers who didn't nab the most votes, but managed to nab your affections? Former Idol contestant (and media darling) Sanjaya Malakar will be hosting Idol Stars: Where Are They Now? on the TV Guide network. It airs Feb. 24 at 8 pm EST, but don't worry, TV Guide has a bad habit of repeating all their programming until you're quite sick of it. You'll have tons of chances to watch.
Click to continue reading The Idols: Now and Then
Read More

|
TV Guide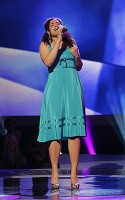 Jordin Sparks, the youngest American Idol winner to claim the crown, has just released her first album. The production is a result of her last-season victory…but is Jordin now last season, as well?
The seventeen-year-old included lightweight, loving little ditties on her album which enhance her wholesome image (part of the reasons fans fell in love with her), but there are some different sounds included as well. "Young and in Love" is a bit of a deviation for Sparks, though most of the other songs remain just as tame as fans want them to be. All in all, no big surprises for Sparks' debut album, which may or may not be a good thing.
Without a few raunchy, rollicking tracks, does Sparks have a shot at Kelly Clarkson-esque success? There's got to be a pill somewhere in all that jam, and the new Sparks album just doesn't seem to have it.
Read More

|
MSNBC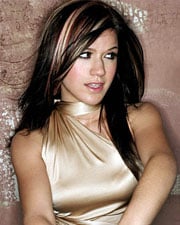 Kelly Clarkson, often touted as the most successful American Idol, is going back on tour this fall. Clarkson canceled her summer tour earlier this year, an action following in the wake of a disagreement with her record label. Many of the venues Clarkson booked did not sell out for the summer dates. This time around, Clarkson will kick off her tour at New York's Beacon Theater on October 14, finishing off her run in Nashville's Ryman Auditorium in early December. And all the dates in-between? In a statement, Kelly Clarkson said she's looking forward to the tour. With luck, there will be no more cancellations for the reality star-turned pop/rock princess.
Read More

| LA Times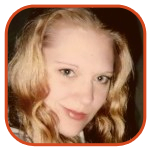 Posted by K.C. Morgan Categories: Music, FOX, American Idol, Talent, Gossip, News,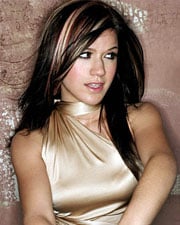 Kelly Clarkson, who was first introduced to the public as a contestant on a brand-new FOX show called American Idol, canceled her summer concert on Thursday. Clarkson has recently had problems with her record label and her manager, and says "touring is just too much too soon." The real problem is not in Kelly's reluctance to continue, however, but in the reluctance of her fans to purchase tickets. Clarkson booked several huge venues for the upcoming tour, and seats are not selling. Instead of scaling back on the dates and perhaps moving Clarkson from large arenas to more intimate settings, the entire summer tour has gone out the window. Will all the media attention and subsequent fall of her tour be enough to end Clarkson's promising post-Idol career? Not hardly. Kelly Clarkson has one thing many pop divas of today lack: the courage to stick.
Read More

| TV Guide


Posted by Wendy Michaels Categories: Music, Prime Time, Reality, FOX, American Idol, Gossip, Rumors,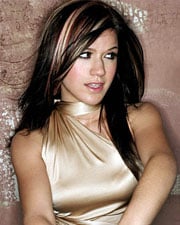 The original American Idol, Kelly Clarkson, fired manager Jeff Kwatinetz today. The firing comes amid her disagreement with her record label, who are more intent on churning out cookie-cutter pop songs than letting the budding artist write her own material. Her upcoming third album, My December, has been a hot topic because of the disagreement between Clarkson and RCA chairman Clive Davis. Her Elle magazine cover story hit the newsstands today as well, with Kwatinetz commenting that "They don't want her to be a songwriter. They just want her to shut up and sing. They want her to stay their little American Idol." Clarkson added, "I could give a crap about being a star. I've always just wanted to sing and write." At this point, you'd think Clive Davis would lay off Clarkson and focus on the newest American Idol. After all, Clarkson has proven that she can sell records and her upcoming release is likely to fly off of the shelves too. My December is scheduled for release on June 26.
Read More

| Reality TV World


Posted by Wendy Michaels Categories: Music, Prime Time, Reality, Specials, FOX, American Idol, Internet, Ratings,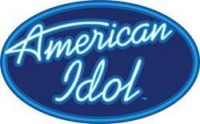 If you are a faithful watcher of American Idol, you've probably heard about the "Idol Gives Back" program, raising money through corporate sponsors and viewers to really do some good for American and African kids. Hey, you've got to give Idol credit for doing something important with all of the exposure the show gets. So, to make this really worthwhile, it's time to pull out all the stops and bring in some really big names. Idol will air a two night special on April 24th, from 8:00 - 9:00 p.m. and April 25th, from 8:00 - 10:00 p.m. The sheer star power is going to be worth tuning in, including:
Hugh Grant
Keira Knightley
Kelly Clarkson
Forest Whitaker
Daniel Radcliffe
Teri Hatcher
Helena Bonham Carter
Gwen Stefani
Josh Groban
Pink
Michael Buble
Annie Lennox
Il Divo
Borat
Viewers calling in to vote after the April 24th performances will contribute to the charity with a a donation from the sponsors. And the results show will give viewers the chance to make their own donations.
Read More

| ComingSoon.net

Posted by Rob Stevens Categories: Music, Prime Time, Reality, FOX, American Idol, Features, Gossip, Spoilers,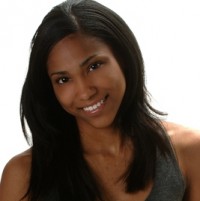 Anyone who knows me has probably heard me rail on the "parade of mediocrity" that is the audition process for American Idol. I'm just the kind of guy that thinks that to get your fifteen minutes of fame, you must be able to do something significant to contribute to ... something. Looking like a jackass and not being able to sing don't count.
But that's neither here nor there. Tomorrow starts the first round of hopefuls that were talented enough to get to the Hollywood stage of the competition, and this is normally where I start paying attention to the show. Idol has the ability to make stars out of even non-winners, and in fact, not winning could end up being a major opportunity for you. Kelly Clarkson notwithstanding, some of the biggest names to come out of Idol are Jennifer Hudson and her meteoric rise to capture a Golden Globe and probably an Oscar, and Season 5 finalist Chris Daughtry who's debut album just went platinum (and is a great rock album).
Which led me to have an interesting conversation with my wife last night. How is it that the audience has been getting it so wrong, since they are the ones making this decision? The voting should be roughly analogous to how sales should go, right? And yet, winner Ruben Studdard falters while Clay Aiken makes out like a bandit. What's going on?
Click to continue reading Has Robyn Troup Won American Idol: Season 6 Before It's Even Started?
© Gear Live Media, LLC. 2007 – User-posted content, unless source is quoted, is licensed under a Creative Commons Public Domain License. Gear Live graphics, logos, designs, page headers, button icons, videos, articles, blogs, forums, scripts and other service names are the trademarks of Gear Live Inc.