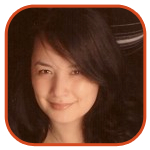 Posted by Veronica Santiago Categories: Late Night, Talk Shows, NBC,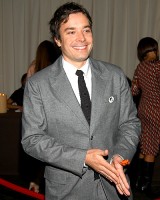 Yesterday's Conan O'Brien finale (the New York version) officially kicked off the countdown for his successor's premiere.
Beginning next month, a host of A-list celebrities will help launch Late Night with Jimmy Fallon. Tina Fey (NBC star), Donald Trump (NBC star), Drew Barrymore (his Fever Pitch costar) and Cameron Diaz (why??) are among the names slated for Week 1.
Unfortunately, the SNL vet has elected to get the ball rolling with one of the most difficult interviewees out there: Robert De Niro. (I strongly suggest Fallon dissect Brian Williams' awkward attempt first.)
Late Night debuts @ 12:30 A.M. on March 2nd.
Read More

| Entertainment Weekly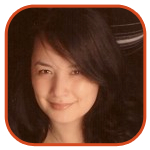 Posted by Veronica Santiago Categories: Late Night, Talk Shows, NBC, News, Ratings,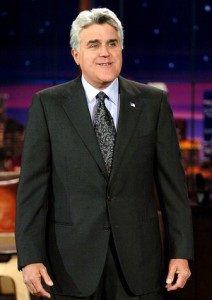 What do you do when your network sucks, the economy sucks and your late night ratings leader is on the verge of leaving? Well - if you're NBC, you simply restructure your whole schedule.
Although it was initially believed that we would be getting a start date for Jimmy Fallon's new program today, the Peacock network apparently had much bigger news to deal with. Earlier Monday at the UBS Global Media and Communications Conference, NBC Universal chief Jeff Zucker got speculators buzzing about possible cutbacks in his network's primetime programming. "Can we continue to broadcast 22 hours in primetime? Three of our competitors don't," Jeff said in Manhattan. "Can we continue to broadcast seven days a week? One of our competitors doesn't."
Hours after Zucker's statement, the Peacock network announced a major decision for the its 2009-2010 season: they'll be keeping Jay Leno around after all. (It's always best to admit you're wrong now than later.) But fans of Conan O'Brien shouldn't be worried by the news; Leno's presence won't affect the redhead's upcoming time shift. Instead of leaving Jay in his old slot, NBC will bring him into the primetime fold. Starting next fall, the 58-year-old will enter our homes at 10:00. (The network will now only have to worry about 17 hours of primetime programming.)
Click to continue reading Jay Leno Staying with NBC, Moving to 10 P.M.
Read More

| Variety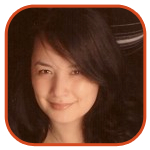 Posted by Veronica Santiago Categories: Late Night, Talk Shows, NBC, News,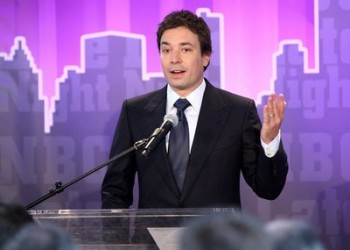 Although he still has months to go before his official debut, Jimmy Fallon is making sure he gets off the ground running. Beginning tonight, the former SNL-er will try to get fans accustomed to a whole new face in late night television.
At 12:35 AM Tuesday morning, the man-who'll-soon-take-over-Conan's-time-slot will premiere his very first "video blog." The five-minute segments, which will be posted daily during Late Night's usual hour, will vary in content. It's hoped the freeform webisodes will allow the new program to find its groove.
NBC is expected to announce an official start date for Jimmy's program sometime later today. It's believed Conan O'Brien will step down at the end of February (he takes over for Jay Leno on June 1) leaving Fallon to begin his hosting duties in early March.
Read More

| Broadcasting & Cable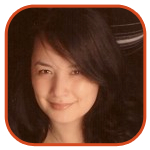 Posted by Veronica Santiago Categories: Late Night, Talk Shows, ABC, NBC, Gossip, News, Rumors,
What seemed so far off in the future has now been given a date. Jay Leno's departure from The Tonight Show will happen on May 29, 2009.
This calendar announcement was announced earlier Monday by NBC. The news ended any speculation that the network might chicken out and keep the ratings winner in place a bit longer. Also solidifying the decision made years ago was the date chosen for Conan O'Brien's time shift: June 1.
Click to continue reading Jay Leno's Last Day Announced
Read More

|
Hollywood Reporter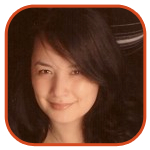 Posted by Veronica Santiago Categories: Comedy, Late Night, NBC, Saturday Night Live, News,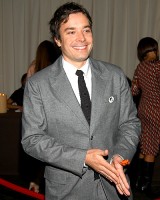 What was rumored over a year ago is now finally set to happen. Jimmy Fallon has been tapped to be Conan O'Brien's late-night successor.
Speculation as to who would fill the 12:30 AM slot has been ongoing since NBC decided to end Jay Leno's run back in 2004. With the 2009 deadline now approaching, the network is formally expected to reveal its newest golden child next month. (I guess that means more 'Last Calls' for snubbed Carson Daly.)
Since leaving Saturday Night Live, Fallon has appeared in a few film projects including last year's Factory Girl with Sienna Miller.
Read More

|
Hollywood Reporter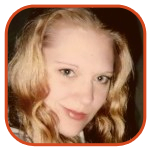 Posted by K.C. Morgan Categories: Late Night, Reality, Talk Shows, NBC, Rumors,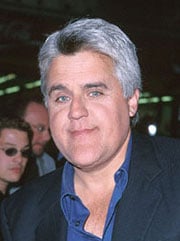 It all started when long-running NBC darling Jay Leno said he was going to retire. The Tonight Show, currently enjoying its fifty-second season on the network, is a show that's obviously bigger than any one man. So NBC execs immediately started casting about for Leno's replacement. Early rumors linked Conan O'Brien's name to the late night variety/talk show, leaving a hosting hole wide open on O'Brien's gig. Jimmy Fallon became the heir apparent, and Leno's retirement (not scheduled, by the way, until 2009) seemed a done deal. But now, Jay just might be changing his mind. Sources purporting to be close to the situation say Leno doesn't want to go, and NBC has answered the rumor. The network says it wants to stick with Leno, and has no intention of giving the show to O'Brien (and collectively, we can all say "whew"). The network is anxious to keep Conan on his regular late gig, which doesn't bode too well for Fallon's career.
Read More

| Yahoo News


Posted by Wendy Michaels Categories: Comedy, NBC, Saturday Night Live, Gossip,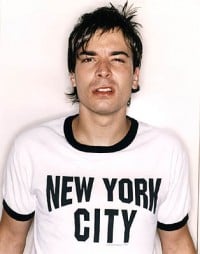 A sad, salty tear just streamed down my face when I read that my sweet Jimmy Fallon got engaged. I don't know why I've been holding out hope that he would consider me. Heck, I'm married, so I don't even know why I feel like my heart has been trampled upon. Seriously though, Fallon has always been a favorite of mine, but I'm a sucker for a funny guy (Jon Stewart, Paul Rudd and David Duchovny have a special place in my heart). Jimmy, who you may recall from Saturday Night Live and later, films Taxi and Fever Pitch, popped the question to Fever Pitch producer Nancy Jovonen last weekend—at sunset on a dock at Lake Winnepesaukee. That just happens to be where On Golden Pond was filmed, and incidentally, is just a great name to say outloud. Blah, blah, blah… he gave her some amazing ring and then, my heart snapped in half as I tried to deal with the fact that I'm losing Jimmy forever. Back to reality, Fallon is also rumored to replace Conon O'Brien on Late Night when O'Brien moves over to the Tonight Show in 2009. All I know is that I expect to see Fallon show up on an episode of 30 Rock this season—how great would that be?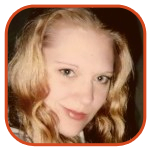 Posted by K.C. Morgan Categories: Late Night, Reality, Talk Shows, NBC, Gossip,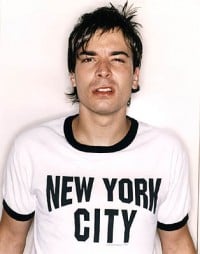 Conan O'Brien, who is reportedly moving to The Tonight Show, has got to pass the late night baton on to someone. Why not Jimmy Fallon, SNL alum? Show execs say that Fallon is at the top of the short list of candidates to replace O'Brien, though the official announcement won't be made until 2008. Tina Fay, Fallon's former Weekend Update co-host, says she thinks Fallon will be great for the gig. There is a possibility that NBC will hold onto Leno, however, as he's still pulling in a big chunk of ratings for the struggling network. If they do keep Leno, the network will have to pay O'Brien $45 million – a hefty sum indeed for the network that's currently in fourth place in the network ratings game. Allegedly, NBC also talked to Jon Stewart to entice him away from Comedy Central, but Stewart did not seem very keen on the idea of leaving his cushy cable job. Earlier this year, Stewart was nominated for an Emmy for his funny, edgy political satire show.
Read More

| AOL News


Posted by Wendy Michaels Categories: Comedy, Late Night, Prime Time, Specials, NBC, Saturday Night Live,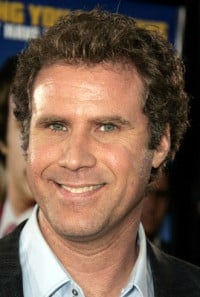 Who knew that there were Saturday Night Live documentaries in existence? Well, it's news to me, and I consider myself a pretty diehard SNL fan. Through good times and bad, I've watched… So, I just read that NBC has ordered a documentary about the show during the 1990s. Cool, I thought, then I read that there were two previous documentaries. Huh? Guess I've got to hunt those down because I love that behind-the-scenes kind of stuff. This latest edition is called Saturday Night Live in the '90s: Pop Culture Nation and promises to be "funny, dramatic and filled with great clips and new interviews featuring the biggest comedy stars of today. These are the backstage stories that made headlines." What makes this great will be interviews of former cast members and writers—Mike Myers, Tina Fey, Will Ferrell, Cheri Oteri, Chris Rock, Molly Shannon, Tim Meadows and Jimmy Fallon. You can catch the documentary on May 6th.
Read More

| Zap2it


Posted by Wendy Michaels Categories: Late Night, Talk Shows, NBC, Saturday Night Live, Rumors,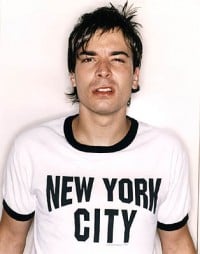 Former Saturday Night Live cast member Jimmy Fallon is reportedly being considered as the next host for Late Night. With Conan O'Brien scheduled to take over The Tonight Show hosting duties from Jay Leno in 2009, NBC is looking for someone to fill Conan's rather large shoes. The New York Times reported that NBC executives are discussing a deal with Fallon, but the deal makes no promises that he will win the coveted hosting job. Carson Daly, host of Last Call, would love the job, but NBC has not yet made that an option. Quite honestly, I would much rather see Fallon take on the job over Carson. Fallon has hosted MTV awards shows in the past and even filled in for David Letterman in 2003. And he's funny. I don't think the same can be said for Daly. It's unclear if anyone can really match Conan's wit, but it would be nice to see someone like Jimmy Fallon taking over. The deal with NBC may not end in the hosting job, but does guarantee that any projects he does will be exclusively for NBC. Marc Liepis, a spokesman for NBC, told E! Online that "the stories are speculation and unconfirmed." Fallon hasn't done too much since leaving SNL, except for the films Taxi and Fever Pitch, as well as lending his voice to Arthur and the Invisibles. He's got a couple of indie films coming up too. Personally, I'd love to see him on my TV every night—just have Tina Fey be his first guest. I really miss them on Weekend Update.
Read More

| Yahoo News

© Gear Live Media, LLC. 2007 – User-posted content, unless source is quoted, is licensed under a Creative Commons Public Domain License. Gear Live graphics, logos, designs, page headers, button icons, videos, articles, blogs, forums, scripts and other service names are the trademarks of Gear Live Inc.