Posted by Wendy Michaels Categories: Comedy, Drama, Prime Time, ABC, HBO, Desperate Housewives, The Sopranos, Ratings,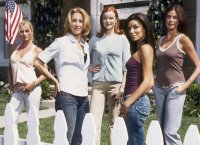 If you caught Sunday night's episode of Desperate Housewives and felt disappointed, you're not alone. The show is just screaming for a decent storyline and the latest episode failed to deliver the goods. Ratings for Sunday were at their lowest for the series, drawing just 15.9 million viewers. Overall, the show has seen about 5 million fewer viewers from last season. ABC claims that the dip may have been because of the Easter holiday, the fact that The Sopranos' last season aired at the same time, or the first time back for DH in five weeks. Maybe another scenario is that the show has just become boring. I was irked about Felicity Huffman's character's beef over wearing orange t-shirts as part of the restaurant uniform. That's the best they can come up with?! Also there really was a void without Marcia Cross on the episode. Here's hoping for better stories in the weeks to come before the season finale.
Read More

| E! News


Posted by Wendy Michaels Categories: Comedy, BBC, HBO, The Office, Cable/Satellite,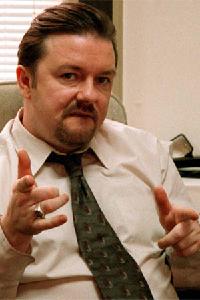 You'll have to excuse me while I sniffle about this news. Ricky Gervais and Stephen Merchant will not continue with a third season of their show Extras. You may recall that they made the same decision about their first show, The Office—they did, however, wrap up The Office by giving fans a special episode. History is repeating itself here, with Gervais and Merchant ending Extras after just two seasons and offering up a special. If you never saw this little gem, it's well worth catching a re-run on HBO. The show stars Gervais as actor Andy Millman, with Merchant playing his clueless agent. No word on when the special will air, but hopefully it will bring in more big name celebs (past episodes included Ben Stiller, Kate Winslet, Orlando Bloom, and Daniel Radcliffe, to name a few).
Read More

| Zap2it


Posted by Wendy Michaels Categories: Drama, HBO,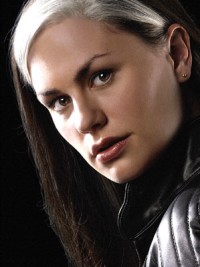 Here's one young actress who should never have a shortage of acting jobs. Anna Paquin, who started her career in the film The Piano, won an Oscar for Best Supporting Actress at just 11 years old. Her roles in other films, including X-Men, have allowed viewers to watch her grow up onscreen. Now, Paquin will be coming to the small screen, in an HBO drama called True Blood. The show comes from the creator of Six Feet Under, so you can anticipate a great series. True Blood is a story of vampires, based on the book series Southern Vampire. Paquin will play Sookie Stackhouse, a mind-reading waitress. The vampires integrate into a small Louisiana town, assisted by the availability of Japanese-made synthetic blood. Paquin will also appear in HBO's upcoming film, Bury My Heart at Wounded Knee.
Read More

| Reuters


Posted by Wendy Michaels Categories: Comedy, Drama, Prime Time, HBO, Extras, Gossip,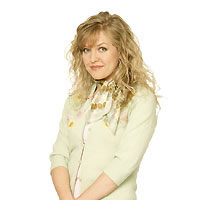 Ashley Jensen, who can be seen on both Ugly Betty and Extras, has tied the knot with her longtime boyfriend, Terence Beesley. The two eloped on January 22nd in a forest in Big Sur, California. Their dog, Barney, served as ring bearer. Jensen plays seamstress Christine on Ugly Betty and can also be seen as Maggie Jacobs, opposite Ricky Gervais on the HBO comedy Extras. I enjoyed her so much on the first season of Extras, and this season hasn't disappointed yet either. She can really hold her own against Gervais, which is no small feat. I was thrilled to see her on Ugly Betty as well, although she doesn't get a lot of screen time. Jensen commented to People magazine about the nuptials, saying it was a "beautiful, beautiful magical wedding…It was brilliant."
Read More

| E! Online


Posted by Wendy Michaels Categories: Reality, Bravo, Cable, HBO, Cable/Satellite,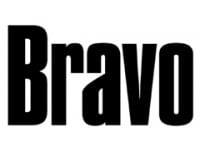 Remember Taxicab Confessions? If you're not familiar with it, it's like the equivalent of getting toasted at the local bar and spilling your indiscretions to the bartender. Only it's in a cab and a hidden camera catches the whole thing. Taxicab Confessions originated on HBO in 1995 and was a long-running, Emmy winning series for the cable network. Bravo will begin airing three new episodes on Friday, December 29th. Then on New Year's Eve, they will be showing a marathon. "Taxicab Confessions was ground-breaking as one of the original reality series," according to Bravo's Executive Vice President of Programming and Production, Frances Berwick. "This award-winning show was raw, moving and shocking while at the same time poignant in its portrayal of urban lifestyles." No telling what the censors will do with the series, however. HBO allowed explicit comments to air, but not sure that Bravo (home of Project Runway and Queer Eye for the Straight Guy) will let that fly.
Read More

| Zap2it


Posted by Wendy Michaels Categories: Comedy, Cable, HBO, Saturday Night Live, Cable/Satellite,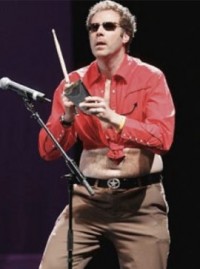 And speaking of former SNL cast members (see article below about the recent firings), Will Ferrell will bring the comedy P.E. to HBO. The premise of the series is a major league baseball pitcher who, after failing at professional sports, returns to his hometown to teach phys ed at his former middle school. He'll also have to make up with the people from his town that he snubbed when he left to become a ball player. Along with his production company partner Adam McKay, Ferrell was able to sign on with HBO—the Hollywood Reporter is reporting that the deal is "one of the pay cable network's richest development deals." Writers Jody Hill, Ben Best and Danny McBride will pen the series; they wrote and starred in "The Foot Fist Way," an indie kung fu comedy. McKay and Ferrell wrote this summer's hit, "Talladega Nights: The Legend of Ricky Bobby," starring Ferrell and directed by McKay. Got all that? At any rate, funny people behind a funny premise—on HBO. Oh, and I couldn't resist this picture of Will playing the cowbell.
Read More

| Yahoo! News


Posted by Wendy Michaels Categories: Comedy, Prime Time, BBC, Cable, HBO, Extras,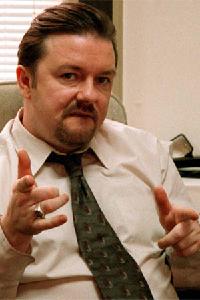 It's become the Ricky Gervais Syndrome. Following in the footsteps of his original series, The Office, which ended after two seasons, so too shall Extras suffer the same fate. Gervais' excellent series Extras is now running the second season on British TV and is expected to air on HBO in 2007. According to Gervais, "At the moment, I don't think there will be another one. [Co-creator Stephen Merchant] and I have always had this thing where we only like to do two series. It's like The Office—people are always asking why we didn't do any more, but we just wanted to leave people wanting more." Huh, must be a British thing. Here in the states, we run TV series until people just can't take any more.
So, enjoy it while you can. The great thing about Extras are the cameos, with season two featuring appearances by Orlando Bloom, David Bowie and Daniel Radcliffe. At the end of the first season, Gervais' character, Andy Millman, was selling a sitcom to the BBC; season two picks up with Andy losing control over the show. Let the laughs begin.
Read More

| Zap2it


Posted by Wendy Michaels Categories: Comedy, Cable, HBO, Cable/Satellite, News,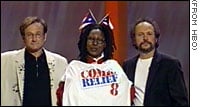 Remember how great Comic Relief used to be? They were wildly successful at raising money, yet somehow they stopped making new ones. Hard to believe that it's been eight years since the last Comic Relief special. After the long hiatus, Comic Relief returns to HBO this fall—raising money for the Hurricane Katrina recovery. For those without HBO, their Time Warner "sibling" TBS will also air the Comic Relief 2006 concert live on Saturday, November 18th. The special is taking place in Las Vegas and it's good to hear that the original hosts will be returning. Robin Williams, Whoopi Goldberg and Billy Crystal originally hosted Relief in 1986 and hosted the first eight concerts.
"Disasters like Katrina devastate the environment and cause suffering for all forms of life, both human and animal," says Bob Zmuda, Comic Relief's founder and president. "Comic Relief is determined to address these tragedies by benefiting everyone from the elderly to children and pets." Look for live segments from New Orleans during the three hour show. The specifics of the performers have not yet been released.
Read More

| Zap2it

Posted by Christina Furtado Categories: Mini Series, Prime Time, Cable, HBO, Talent,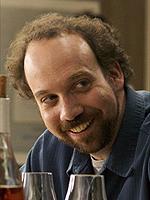 Yesterday, Variety reported that Paul Giamatti will play John Adams in a seven episode HBO miniseries based on the David McCullogh bestseller John Adams. Tom Hanks and Gary Goetzman are executive producing the project, which begins filming in Virgina in January, and is slated to air in seven hour-long parts starting in March 2008.
The miniseries will focus on Adams' time as a Massachusetts lawyer working behind the scenes to facilitate the American Revolution rather than on his time as the second President. I have not read McCullogh's book, but apparently it is partly based on the famous correspondence between Adams and his wife Abigail during the period (these letters are also immortalized in the musical 1776).
I'm very excited by the idea of this project, and I think Giamatti is a great choice to play Adams. I was just rewatching Cinderella Man, a highly underrated movie, last night, and he's great in it. I'm glad he's moving on to bigger and better things after the fiasco of Lady in the Water. I also can't wait to see who else will be cast. This almost makes up for the cancellation of Deadwood, HBO—but only almost. Actually, no, it doesn't, but it's a good start at getting back in my good graces.
Read More

| Coming Soon

© Gear Live Media, LLC. 2007 – User-posted content, unless source is quoted, is licensed under a Creative Commons Public Domain License. Gear Live graphics, logos, designs, page headers, button icons, videos, articles, blogs, forums, scripts and other service names are the trademarks of Gear Live Inc.