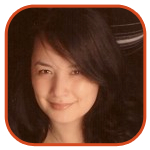 Posted by Veronica Santiago Categories: Prime Time, HBO, Cable/Satellite,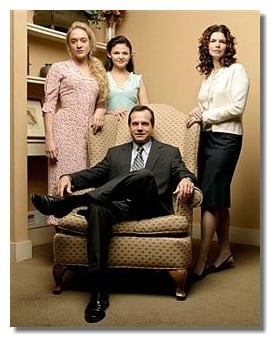 HBO has just announced that their under-appreciated series, Big Love, has already been picked up for a third season. And while I dutifully watch this show and wish others would jump on board, I must admit—it really needs to improve by the time it comes up to bat again.
When I watch a show about polygamists, I want the show to focus on the polygamy angle. Unfortunately, I'm not entirely thrilled with the direction the show has taken this year. Way too much time has been spent on the compound, the family problems, the gambling venture and the annoying Rhonda. It's time we back to the central storyline: the three wives and one husband. There is so much potential fodder there for a voyeur like me. Jealousy, time management, household duties….those subjects were only touched upon in the first season. Everytime ABC's John Quinones does a 20/20 investigative piece on polygamists, I'm glued. I like to be a fly on the wall because I want to know if these wives truly get along with each other.
And what about the common denominator for all these women? Bill Paxton is extremely appealing as Bill Hendrickson, but his character is stretched a bit thin when he's focused outside his immediate row of homes. Shouldn't he be popping pills wondering how he's going to take care of his ladies and his business? How exactly does he father all of his children equally?
Granted, storylines reminiscent of Desperate Housewives cannot be sustained over the lifetime of this series…but am I the only one who is bothered that the wives are TOO nice to each other? Yes, they argue—but where are the catfights? Big Love tries to demonstrate that polygamists are families too…but if they were just like the rest of us, would we have a reason to watch?
Read More

| Variety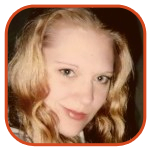 Posted by K.C. Morgan Categories: Award Shows, Comedy, Daytime, Drama, Late Night, Mini Series, Prime Time, Reality, ABC, Bravo, Cable, CBS, HBO, PBS, Amazing Race, The, American Idol, Daily Show, The, Dancing With The Stars, Entourage, Grey's Anatomy, Heroes, House, The Office, The Sopranos, Top Chef,

The 59th annual Primetime Emmy Awards have been announced, giving the biggest honors (17 nominations) to HBO's Bury My Heart at Wounded Knee. AMC's Broken Trail just missed the top slot with 16 nominations. After a review of the best comedy, drama, reality, and variety series of the year, a look at the TV movies and mini-series, the die has been cast. Many were nominated, but few will win. Did your favorite show, movie, or mini-series get the nod from the Primetime Emmys? There's only one way to find out.
Click to continue reading Primetime Emmy Nominations Nod at Several Shows
Read More

| TV Guide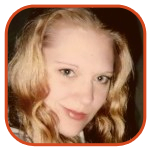 Posted by K.C. Morgan Categories: Award Shows, ABC, Cable, CBS, HBO, NBC, PBS,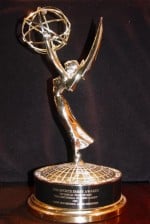 It's the biggest thing in television, and a great pat on the back – the annual Emmy nominations. The 28th News and Documentary Emmy Awards nominees this year were outshined by PBS, a network that received 22 nominations to CBS's 19, ABC's 15, and NBC with 14. PBS is in the running for the honor with Nature, POV, American Experience, and Nova. CBS garnered the largest chunk of nominations for segments of 60 Minutes, while NBC got nine of its nominations from NBC Nightly News With Brian Williams. CNN and HBO each received six nominations, with five apiece going to Cinemax and the History Channel. FOX News Channel wasn't in the competition – the network was too busy pushing its conservative agenda. At a ceremony in New York City, the winners will be announced September 24, 2007.
Read More

| Emmy Online via LA Times

Posted by Wendy Michaels Categories: Comedy, BBC, Cable, HBO, The Office,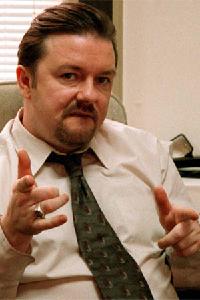 I'm sensing a pattern here with Extras show creators Ricky Gervais and Stephen Merchant. Much like their smash hit The Office (the original Brit version, mind you), their latest series will end after just two seasons, but wrap things up with a special episode. Not that we should be surprised—after all, they did announce that they wouldn't be filming a third season of the HBO series that follows film extra Andy Millman (played brilliantly by Gervais) and his escapades as he tries to make his big break. The second season looked at Andy's sad-sack existence after he landed a role on a mediocre sitcom. Pity about this series ending, however, is that it never failed to deliver big-name cameos: Kate Winslet, Orlando Bloom, Daniel Radcliffe, Sir Ian McKellan, David Bowie, and Robert De Niro, among others. The one hour Extras special will begin shooting next month, but the specifics about an airdate have yet to be released. Carolyn Strauss, president of HBO Entertainment, said of the series, "It's been an honor to present this hilarious series on HBO. I can't wait to see how Ricky and Stephen will wrap up the saga of Andy Millman."
Read More

| Zap2it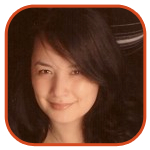 Posted by Veronica Santiago Categories: Comedy, HBO, Gossip, Rumors,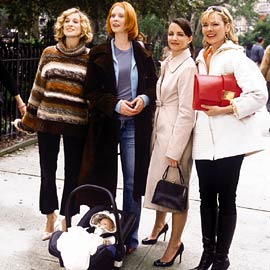 I know that speculation about a Sex And The City movie has been brewing for some time now—but I've done my best to ignore all the chatter. The last time plans were squashed (reportedly thanks to Kim Cattrall's financial demands), I put all my hopes to rest. So when the rumors recently started up again, I listened with skepticism.
And while anything could change at the drop of a hat, TVGuide.com is now reporting that production is imminent. New Line Cinema is apparently in final distribution talks with HBO. A formal announcement could be made as early as next week with filming to being in mid-September.
I'm ecstatic at the prospect of seeing my beloved ladies once again—but I'm also bit nervous. Will this show really translate well to the big screen? (We all know how the film versions of Twin Peaks and The X-Files fared). Is a made-for-HBO version the better option?
And what about the storylines? Are we better off pretending that Carrie and Mr. Big live happily-ever-after? And then there's Samantha, Charlotte and Miranda. They were all pretty happy with their respective love lives as well. If someone has to carry on with the SATC tradition, does that mean that one of these ladies will be off hopping into bed with someone else soon?
Regardless of how it all ends, I will be there on opening night…cosmopolitan in hand.
Read More

| TV Guide


Posted by David L. Williams Categories: Reality, ABC, FOX, HBO, MTV, NBC, Hell's Kitchen, So You Think You Can Dance, Top Chef, Editorial, Features,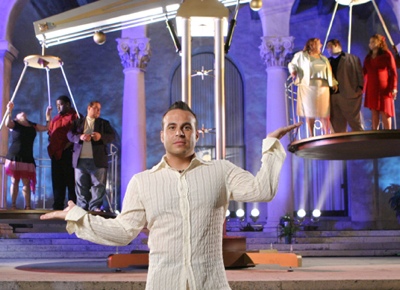 Now that we've said goodbye to June and its 30 days of weddings, trips to the beach, and the slow, crippling realization that it's still a long, long time until Lost comes back, why don't we take a few minutes and look back at the best and worst of June reality TV? Nope, that was a rhetorical question. Yes, I know, there are lots of reasons not to look back, and yet I'm going to do it anyway.
Oh, and it doesn't really fit here because it's not a reality show, but Flight of the Conchords on HBO is pretty hilarious. I don't really have enough to say about it to write a full column, obviously, but it's definitely worth checking out. Okay, here we go…
Click to continue reading Reality Recap - The Best & Worst of June

Posted by David L. Williams Categories: Drama, Prime Time, Cable, HBO, The Sopranos, Editorial, Features,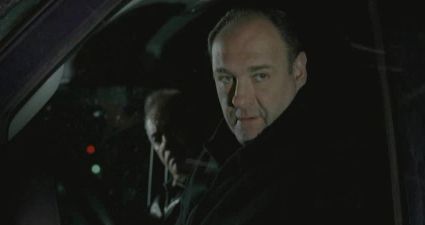 Man, am I ever readying myself for a barrage of anger.
Television viewers have en masse, according to many news outlets, anyway, decided what the greatest crime against humanity is. No, it's not murder. Nope, not going to a house to sleep with a fifteen year old and finding Chris Hansen of Dateline. Evidently, the most egregious, damnation-worthy sin of them all is ambiguity.
HBO's The Sopranos had its final episode the other day (in case you just woke up from a coma and happened to be serendipitiously staring at this webpage) and several papers, websites, and other TV shows have reported that the entire nation is up in arms because ... well, honestly, I'm not sure why. I thought the ending was perfect.
Tony Soprano is having dinner with his family, an image we've returned to time and time again on this series. The diner in which he sits is full of other families, a couple, what looked like a scout troop and scout leader, etc. If you knew nothing else, you'd see Tony, Carmela and A.J. (with Meadow soon approaching) as just another family. In a way, that's been one of the points of the show.
Click to continue reading Sopranos Fans: Please Stop

Posted by Wendy Michaels Categories: Drama, Prime Time, ABC, Cable, HBO, Lost, The Sopranos, Cable/Satellite,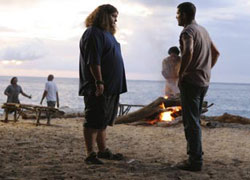 In the wake of the series finale of The Sopranos, Lost series creator Carlton Cuse is assuring fans that the Lost ending won't go down the same way. No fade to black that leaves viewers wondering, "huh?" Cuse commented, "We will not be ending with a blackout," at the annual Promax/BDA conference. He also said that there have been "minicamp" writers' sessions to sketch out the last three seasons. The series is set to wrap after three 16 episode seasons, concluding in spring 2010. Co-creator Damon Lindelof said, "Obviously, we can't wait to the 48th hour to say, 'Here are all the mysteries of the show." Lost fans are breathing a collective sigh, I'm sure, to know that over the course of the three years there will be some answers. Cuse said, "I'm not sure there is any ending that will satisfy everyone. Our hope is that the ending will be ... the logical conclusion of the story." Ah, logical… sounds like a plan. To be sure, with all of the online speculation about the show, there are going to be some fans that aren't thrilled with the ending, but at least it sounds promising, you know, with the logic and all. To hold fans over until the next season begins in 2008, they are planning on a series of "mobisodes"—90 second episodes featuring the cast that will keep the story fresh in everyone's minds. More details to come about when the mobisodes will be made available.
Read More

| Yahoo! News


Posted by Wendy Michaels Categories: Drama, Cable, HBO, Cable/Satellite,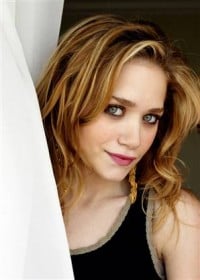 If you thought the Olsen twins were a package deal, think again. Mary-Kate (the skinny one—how funny is that?) will be joining the third season of Weeds, starring Mary-Louise Parker. This is the first time she has appeared without her sister and after a long hiatus from the television business. Remember, they spent their adolescence churning out direct-to-video features? And then there was their attempt at the film New York Minute... well, 'nuff said there. She'll be playing a Christian girl who is smitten with Nancy Botwin's (Parker) son Silas (Hunter Parrish). Olsen will appear for 10 of the upcoming 15 episodes. Well at least she's staying in the wholesome role, although the character is rumored to be a bit of wild child. "I'm thrilled to be a part of the show," said Olsen. "It's really an honor to be a part of such a talented group of actors and writers." Executive producer Jenji Kohan said of Olsen, "She came in and read with Hunter and was absolutely charming and real and seemed like a great fit. Audiences have seen only one side of Mary-Kate, but here we'll see her in a whole new light." Will this new role have people seeing Olsen in a new way? Or at least as more of an individual rather than part of the "Olsen twins"? At the end of the day, I'm sure she doesn't really care because she's a millionaire! Weeds premieres August 13th.
Read More

| E! Online


Posted by Wendy Michaels Categories: Music, Prime Time, Specials, Cable, HBO, Saturday Night Live,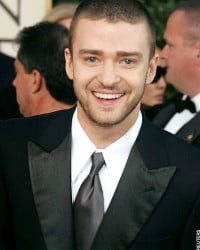 Love his music or hate it, Justin Timberlake is huge. And he's not going anywhere any time soon. Given his popularity, HBO has signed on with the "SexyBack" singer to do a special for his first solo concert this summer. Timberlake's Madison Square Garden appearance on August 16 will be taped for the special. HBO's Nancy Geller said, "Justin Timberlake is a dynamic performer, and we're thrilled to welcome him back to HBO." He was previously on the cable network for an 'NSync special. She continued, "We're especially excited that he'll be creating unique new elements for the special that will make the show an even more memorable experience for our viewers." Timberlake has been making the rounds, winning two Grammys, hosting the Kids' Choice Awards, hosting over at Saturday Night Live and even taking on films like Alpha Dog and Black Snake Moan. He'll next be heard in Shrek the Third.
Read More

| Zap2it

© Gear Live Media, LLC. 2007 – User-posted content, unless source is quoted, is licensed under a Creative Commons Public Domain License. Gear Live graphics, logos, designs, page headers, button icons, videos, articles, blogs, forums, scripts and other service names are the trademarks of Gear Live Inc.