Posted by Jacci Lewis Categories: Late Night, Prime Time, Reality, Cable, FOX, Editorial, News,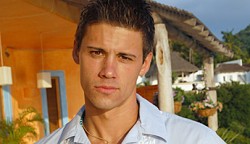 I'm pretty sure the Earth just reversed it's magnetic poles or something because somehow the trashiest reality show on television has morphed into a tarty version of Oprah's Big Give.
On the season finale of Paradise Hotel 2, we learned which of the hotel guests won the so-called "ultimate prize". Sit down for this one. The first shocker: it was the biggest tool from Season 1, 28-year-old personal trainer Zach. Shocker two: Zach entered this season as the least offensive and idiotic of this batch of hotel guests. (I dare say Zach actually seems smart and nearly likeable compared to the cocky, confused and verbally-challenged kid he was on Paradise Hotel 1. What a difference four years can make!) Shocker three: Zach shared his "ultimate prize" of $200,000 with Tidisha and Stephanie!
Click to continue reading Paradise Hotel 2: Zach Wins And Shares The Ultimate Prize

Posted by Jacci Lewis Categories: Drama, Late Night, Prime Time, Reality, Cable, FOX, Editorial, News,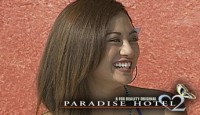 I stopped writing recaps of Paradise Hotel 2 a couple of weeks ago for the same reason I stopped watching the show…it is just too depressing to see such moral bankruptcy without any wit or style. Still, I read all the comments people leave for my web logs and try to respond accordingly. Someone asked me to do another Paradise Hotel recap, so here it goes.
I've caught up enough to know that Charte got the boot a few weeks ago after Stephanie arrived. Raheim and Johnny cleared out to make way for two new guys, Chris and Aaron. Chris is 27, a fitness trainer from Scottsdale, Arizona. Aaron is 24 and some type of hayseed student/model from Jacksonville, Alabama. The sense I get so far is that Chris is a laid-back, likable sort of guy while Aaron is annoying and sounds a bit like Forrest Gump when he talks.
Last night's episode brought in another new girl. Her name is Myrna. She is described as a 22-year-old "fashion designer" from Los Angeles, California. She tells the other girls that she likes to date guys with "a touch of black in them" who have fancy cars and good jobs. Good luck finding a guy who can even spell job let alone hold one in Paradise Hotel 2. More on that in a moment.
Click to continue reading Paradise Hotel 2: Another New Girl Sheds Her Dignity, I Mean Checks In

Posted by Jacci Lewis Categories: Late Night, Prime Time, Reality, Cable, FOX, Editorial, News,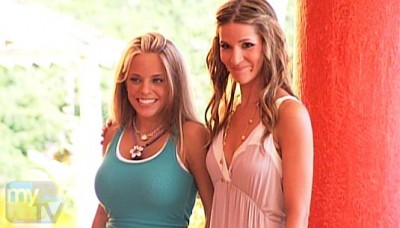 A new girl just checked into Paradise Hotel 2 and boy is she blond, busty and drunkety drunk drunk drunk.
Last night's episode began with James apologizing to the men of Paradise Hotel 2 after he got super drunk the night before and made a wee bit of a fool of himself (though frankly it is all relative with this bunch). James told the other men he'd work hard to gain back their trust and respect. Until, of course, he'll need to back-stab them one by one to win the "ultimate prize."
Next, we see roommates Mike and Tanya in their hotel suite. While Tanya works out provocatively on the floor (ewww), Mike tells her she has the highest sex drive of anyone he has ever met. (Cue soft porn music.) Then he proceeds to crawl on top of her to do push ups over her while she does crunches. (There is a Cinemax movie with this exact same plot somewhere, I'm sure of it). Tanya swears that she and Mike are "just having fun" but later cries when he expresses his desire to hook-up with the new girl, Stephanie. Tanya admits she is developing genuine feelings for Mike. Mike says Tanya is a "bad ass" and "awesome friend" but he doesn't want much more than a bed buddy. Hey, at least he is honest about it.
Click to continue reading Paradise Hotel 2: The New Girl Arrives

Posted by Jacci Lewis Categories: Late Night, Prime Time, Reality, Cable, FOX, Editorial,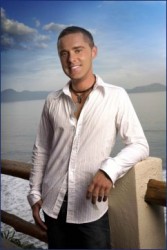 Paradise Hotel: 2: Episode 4 offered yet more proof that there is nothing more annoying than being around drunk people when you are stone-cold sober.
The only real headline from the show is that Nathan Clutter was sent home by the maneuvering of new hotel guest Johnny. Johnny said Nate's desire to spend time alone, read and be respectful to women just didn't fit in with the loud, obnoxious, drunk, morally bankrupt group. (Nathan Clutter jumped to his death from a Texas cell phone tower less than a month after taping of Paradise Hotel 2 ended. His family believes he was suffering from an undiagnosed mental disorder. The show had a brief tribute to Clutter at the end.)
This episode began with a reminder that Mike, the 25-year-old Phoenix real estate buyer, and Tanya, the 25-year-old San Diego public relations worker, had sex the night before, a fact she admitted to freely at the women's breakfast the next morning. She and Mike both decided to euphemistically refer to most of what they did as "finger painting". That annoying term would come up again and again in this episode.
Click to continue reading Paradise Hotel 2: Nathan Sent Home

Posted by Jacci Lewis Categories: Late Night, Reality, Cable, FOX, Editorial,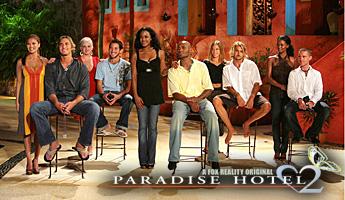 While watching last night's episode of Paradise Hotel 2 on MyNetworkTV (that's the slighty tamer version, the mature-rated version is on FOX Reality Tuesday mornings at 1 a.m. ET/PT), I realized one phrase kept circling around and around in my mind. That phrase?: I seriously don't like these people!
I guess the premise of the show sort of excludes finding individuals with any real depth of character or virtue. After all, the only way to win the "ultimate prize" as it is teased, is to survive the longest by convincing other hotel guests that you'd make a good roommate because you are willing to do ANYTHING to win. But do the hotel guests have to be so dumb and one-dimensional?
First a recap: The show starts with a reminder that Chelsea was sent packing because James and Ryan turned on her when she wouldn't have sex with either of them. James is now roommates with resident virgin Krista. She tells him that she thinks sex just gets in the way for men and women who don't know each other well. That was the last sensible thing anyone said during this episode. Instead of agreeing, James insists Chelsea should have hooked up with someone if she wanted to stay.
Click to continue reading Paradise Hotel 2: Johnny Come Lately

Posted by Jacci Lewis Categories: Prime Time, Reality, CBS, Showtime, Editorial,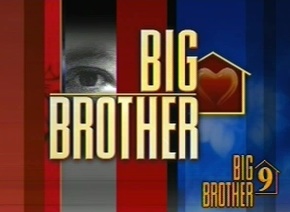 If you've read my past two blogs on Big Brother 9, you may remember me likening the subscription-based 24/7 Big Brother house feed to watching paint dry. My information was based entirely on past seasons. (No one needed to see an uncut version of Chicken George in BB season 1.) Based on what I've been able to pinch off the internet for free this season though, boy was I wrong. In fact, it appears the most interesting things that happen in that house are too naughty to show on network TV.
First though lets talk about what happened on Night 3 in the PG-rated version on CBS. The CliffsNotes version is that Head Of Household pair Amanda and Alex nominated Jen and Parker and Allison and Ryan for eviction. This after Jen and Parker decided to tell everyone that Jen and Ryan are dating and have been for 9 months. They did it because they feared Allison would spill the secret first. In the end, all this dumb bit of strategy did was prove that both couples are a liability and that Jen is a loud-mouth pain in the butt.
Click to continue reading Big Brother 9: Secret Lovers Nominated For Eviction

Posted by Jacci Lewis Categories: Late Night, Reality, Cable, FOX, Editorial,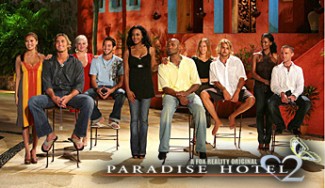 I think it is just good policy to be leery of any reality show that airs first run episodes at 1 a.m. (okay, 10 p.m. Pacific… but still). After a 4-year hiatus, FOX's Paradise Hotel is back, though demoted somewhat to MyNetworkTV and the FOX Reality channel.
America managed to pick up the pieces and move on after the first season of Paradise Hotel ended without the promise of another. So why, you may ask, is the show coming back now?
There was a time when shows like Paradise Hotel, Love Cruise and Temptation Island seemed edgy and provocative (well, sort of). Americans were still in the dawn of the high shock-value, low morals era of reality TV. Now, at least in my opinion, we've all seen too much. Somewhere between Flavor of Love and Pants Off Dance Off, skeevy people who will do anything for their proverbial 15 minutes of fame have lost what little political capital they had.
Still, I'm not too proud to admit I love trashy reality TV as much as the next guy, so I was more than willing to give Paradise Hotel 2 a look-see. I confess, waiting up until 1 a.m. to watch the show made me feel a bit shameful and lecherous. The "TV-Mature" rating didn't help either (a less-steamy version of Paradise Hotel 2 airs on MyNetworkTV at 9 p.m. ET).
Click to continue reading Paradise Hotel 2: Why, God, Why?
© Gear Live Media, LLC. 2007 – User-posted content, unless source is quoted, is licensed under a Creative Commons Public Domain License. Gear Live graphics, logos, designs, page headers, button icons, videos, articles, blogs, forums, scripts and other service names are the trademarks of Gear Live Inc.