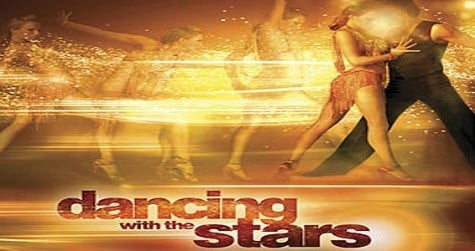 In tonight's semi-finals, the final four couples got to choose the dance styles (one ballroom, one Latin) they wanted to perform. Read on to see how they fared:
MARIE OSMOND (partner Jonathan Roberts)
(Dance: Quickstep/ Song: 'Good Morning')
It was a very entertaining and charming piece; it looked like it was stripped right out of 'Singin' in the Rain'. They did a great job covering the floor with their sweeping performance.
Len said Marie brought joy and entertainment. He thought the performance was perfect. Bruno said the choreography was filled with plenty of content. Carrie Ann thought it was wonderful; she said Marie really upped her game. Score: 10/10/9 (29)
MELANIE BROWN (partner Maksim Chmerkovskiy)
(Dance: Viennese Waltz/ Song: 'Somebody to Love')
Melanie looked gorgeous in her flowing dress; it perfectly matched her graceful and elegant performance. Not only did she have great lines, but she also pulled off an amazing series of splits across the floor!
Bruno thought the dance was fast, precise and sexy. Carrie Ann said Melanie's performance gave her chills. She thought Mel and Maks moved as one. Len said the performance was fabulously clever. Score: 10/10/10 (30) (Their 3rd perfect score of the competition.)
Click to continue reading Dancing With The Stars: Week 9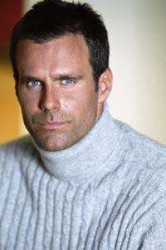 With only five dancers left last night, the competition was really anyone's game. If voting was based solely on competence alone, yesterday's Bottom Three (Marie, Cameron and Jennie) should have been justifiably nervous tonight. Unfortunately, it's already been proven that high-scorers like Helio and Melanie could easily be knocked off Sabrina-style due to lack of viewer support.
Well, tonight's Dancing With The Stars elimination was note the type to set off major shockwaves. Although Cameron Mathison seemed to be making large strides in the past few weeks, his dance card average (24.5 points) was barely higher than that of last night's lowest scorer, Marie Osmond (24.1 avg).
Maybe Mathison - who still has his day(time) job to turn to - should look at this as a mixed blessing. Now he doesn't to accrue more frequent fliers believing he ever had a chance against Helio.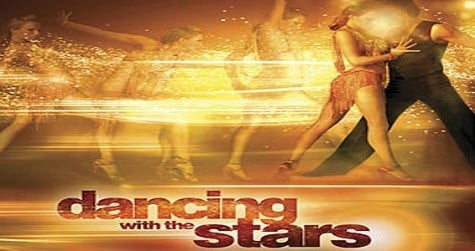 The Final Five competitors were each two dances away from next week's semi-finals. Read on to see how they fared tonight:
JENNIE GARTH (partner Derek Hough)
(Dance: Jive/ Song: 'It Takes Two')
Something about Jennie's green-sequined outfit tonight screams mermaid to me. (Tom Bergeron said her outfit made him crave frozen vegetables.) I think she looks incredibly awkward with this fast-paced dance. She seems a bit wobbly and a little sloppy overall. Len said that the dance wasn't one of her best; he wasn't sure the performance was worthy of a berth in the semi-finals. Bruno said Jennie wasn't as sharp as she should have been. Carrie Ann said she lacked good posture and clean pump action. Score: 8/8/8 (24)
CAMERON MATHISON (partner Edyta Sliwinska)
(Dance: Viennese Waltz/ Song: 'Harry Potter Theme')
Cameron and Edyta make a beautiful pair tonight. I really like his grey tux/tails and her pink gown is gorgeous. He looks very confident with this dance and his lines look great. Bruno said it was majestic and sweeping. Carrie Ann complimented his great lines and holds. Len praised their beautiful rotations. Score: 9/9/9 (27)
Click to continue reading Dancing With The Stars: Week 8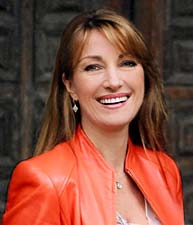 Despite the palpable tension, Dancing With The Stars felt weirdly anti-climactic tonight. Seriously—how could anything surpass last week's results shocker? Any dancer eliminated from this point forward had to have known their day could come.
Of the Final Six competitors, only three have managed to avoid the Bottom Two (Helio, Jennie and Marie). The remaining three (Jane, Mel, Cameron) have only faced elimination once. So who ended up getting the glowing red light tonight?
Hoping to keep us on our toes, the DWTS producers decided to change things up a bit tonight. Instead of the usual Bottom Two—there was a Final Three: Helio, Jennie and Jane. Thankfully when the dust finally settled, we were left with a controversy-free elimination. Having earned the lowest score the past two weeks, Jane Seymour had to admit it was her time to go.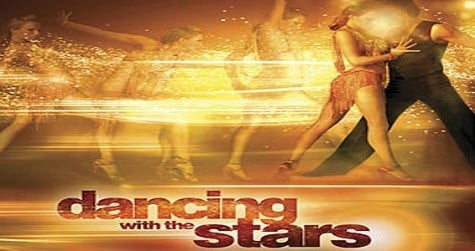 The Final Six competitors performed two full dances tonight—a ballroom and a Latin number (no group dances this time around). Read on to see how they fared:
HELIO CASTRONEVES (partner Julianne Hough)
(Dance: Tango/ Song: 'The Jean Genie')
Helio looks like he's wearing a black, crushed-velvet version of something from The Love Boat. He's very stiff and awkward tonight, though it's hard to tell if the jacket or his dancing is to blame. Len complained about Helio's lack of 'heel leads'. Bruno said the technical aspects of the dance needed more polish. Carrie Ann really liked the performance; she thought it was a nice twist on the tango. Score: 9/8/8 (25)
MARIE OSMOND (partner Jonathan Roberts)
(Dance: Quickstep/ Song: 'Boogie Woogie Bugle Boy')
Marie looks great—I could really see her as an Andrews Sister. It's obvious she's having a lot of fun with her dance tonight; I think this style suits her well. Bruno said her performance was a morale booster. Carrie Ann thought it was wonderful. Len said entertainment runs through Marie's veins; he liked that she put a lot of twist into her dance. Score: 10/9/9 (27)
Click to continue reading Dancing With The Stars: Week 7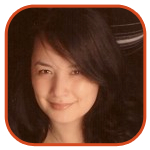 Posted by Veronica Santiago Categories: Prime Time, Reality, ABC, Dancing With The Stars, Editorial, Features,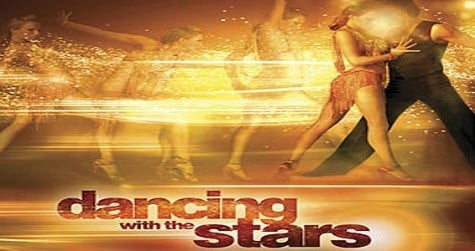 Tonight the competitors had to perform two dances: a style they've never performed before and a group dance number. Read on to see how they fared:
SABRINA BRYAN (partner Mark Ballas)
(Dance: Foxtrot/ Song: 'I'm a Woman')
I think her hair's been needing this updo; it brings a new level of maturity to her look. Although I believe she's had a couple of missteps, she's doing quite well. Her arms and lines look great and she's really covering the floor. Although Len thought her performance was excellent, he felt she still needed a bit more contrast throughout her dance. He said it was too powerful. Bruno said she still needed to work on finessing her dance. He also noticed that her foot got caught. Carrie Ann disagreed with the two other men; she thought the dance was feisty and smooth. Score: 9/8/8 (25)
JENNIE GARTH (partner Derek Hough)
(Dance: Mambo/ Song: 'Mambo Baby')
She almost looks like a Chiquita girl; she's very fun and flirty tonight. And I love all those tricks she and Derek have choregraphed into their dance! Bruno said she brought steam and heat to the floor. Carrie Ann thought she finally unveiled herself tonight and let it all hang out. Len said it was an exceptional performance. Score: 9/9/9 (27)
Click to continue reading Dancing With The Stars: Week 6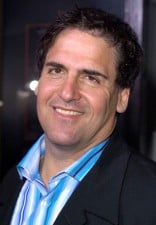 After weeks of occupying the low scorer's bench, the Dallas Maverick's owner was finally ejected from the dance floor tonight. As entertaining as Mark Cuban had been (especially in his 'I Dream of Jeannie' performance last night), his abilities were clearly lagging behind those of the remaining competitors. Fortunately, Cuban didn't overstay his welcome and make things equally as awkward as last night's show-stopper.
But who had the honor of warming the seat next to him? Was it wobbly Marie? Last week's near-miss, Mel B? Or how about Helio, the dancer with the pained expression? No—it was Monday's sexy siren, Jane Seymour. Although she scored higher than Garth, Osmond or Castroneves, Jane's hot rumba apparently didn't do much for the viewers at home. (Maybe Dancing With The Stars voters don't like rooting for someone who's all skin and bones.)
So now we're down to the Final Seven: Jane, Melanie, Jennie, Marie, Sabrina, Helio and Cameron. All the obvious contenders have already been eliminated—so who do you think will occupy the Bottom Two next week?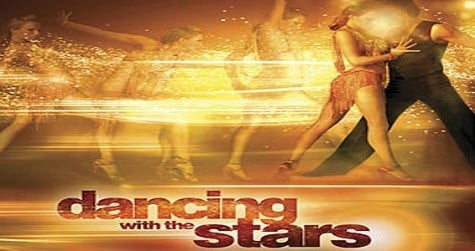 It was Latin night on Dancing With The Stars this week, and as Tom Bergeron joked—there was very little fabric to be seen. Tonight the competitors had to perform either a sizzling Samba or a romantic Rumba. Read on to see how they fared:
MARIE OSMOND (partner Jonathan Roberts)
(Dance: Samba/ Song: 'Crickets Sing for Anamaria')
She looks like Charo in her short blue dress tonight (and that's not a good thing). She's also dancing very tentatively and looking weirdly off. NOTE: Anticipating Marie's fall (read here for the details), I never really heard what Len said (though he never really got to finish before the collapse anyway). Score: 7/7/7 (21)
JANE SEYMOUR (partner Tony Dovolani)
(Dance: Rumba/ Song: 'Breathe Again')
It's amazing how she can go from classy to sexy in just one week. And what a hot, red dress! Bruno complimented her lovely lines and shape. He even said she even looked like Edyta at times. Carrie Ann said Jane had a problem spotting her turns. Len said she brought romance and class to the floor. Score: 8/9/9 (26)
Click to continue reading Dancing With The Stars: Week 5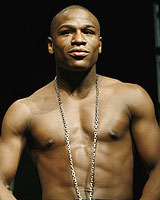 Although Floyd Mayweather achieved his best personal score yesterday (23), the light-footed boxer was knocked out of Dancing With the Stars tonight. Despite Mayweather's clear potential, the strength of the remaining dancers made this day inevitable. I'm certain this was one decision that came as a relief to Pretty Boy's trainers; now he can properly focus on his upcoming fight.
Surprisingly, the lowest scorer from Monday night (Mark Cuban) managed to avoid a place in the Bottom Two once again. (I'm now convinced he's sold his soul to the devil.) Of the three tied for third place, Melanie Brown received the rude awakening. Fortunately, the Spice Girl lived to see another day. But assuming Cuban remains consistently low next week—who will now warm the spot next to him?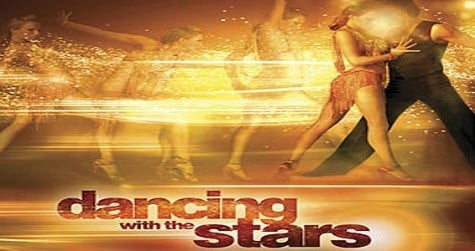 Tonight the competitors attempted either a fiery Paso Doble or a elegant Viennese Waltz. Read on to see how they fared:
MARK CUBAN (partner Kym Johnson)
(Dance: Viennese Waltz/ Song: 'Mr. Bojangles')
Despite his best attempts, Mark still looks a bit awkward and stiff tonight. If nothing else, he at least looks dapper in his suit. Len thought this was his best dance so far. Bruno believes Mark is continuing to improve, though he noted his inconsistency. Carrie Ann called him 'The Little Engine that Could'. She thinks he's quite fun to watch. Score: 7/8/7 (22)
SABRINA BRYAN (partner Mark Ballas)
(Dance: Paso Doble/ Song: 'You Spin Me Round')
Her intensity is off the charts today. She looks like she could hurt Mark at any time; maybe she'll whip him to death with her dress. Bruno thought she was incredible. Carrie Ann thought it was 'perfection'. She loved Sabrina's ability to put power and passion into every moment. Len couldn't find one fault with her performance. Score: 10/10/10 (30) (It's only Week 4 and we already have the first perfect score of the competition.)
Click to continue reading Dancing With The Stars: Week 4
© Gear Live Media, LLC. 2007 – User-posted content, unless source is quoted, is licensed under a Creative Commons Public Domain License. Gear Live graphics, logos, designs, page headers, button icons, videos, articles, blogs, forums, scripts and other service names are the trademarks of Gear Live Inc.