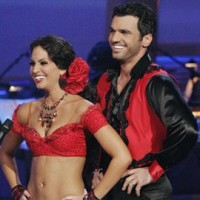 Once again, Dancing with the Stars fans proved they love to see a comeback story. But will their votes have been in vain?
Even though a rib injury kept her from performing on Monday, Melissa Rycroft's supporters rallied to keep her around for another week. This despite no guarantees that she will even be able to dance again.
During last night's results show, Melissa updated the audience on the status of her hairline fracture. "We've started new treatment and we're kind of optimistic that it will be effective," she explained.
Since the former Bachelor star was spared elimination, the ax had to come down on another couple. Although they went into the evening with 5 more points than Rycroft and Tony Dovolani, Chuck Wicks and Julianne Hough were the ones sent home. But is there a possibility that they could return?
Should Melissa discover that she can't continue as previously hoped, would the producers bring back the last pairing? Or would that all depend on the timing of her decision? I guess we'll just have to wait and see.
(You can find all the Dancing with the Stars: Season 8 posts here.)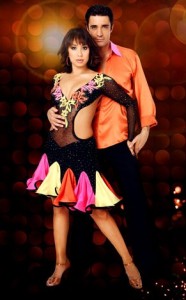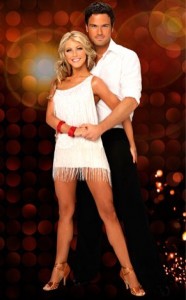 Since we're now just over a week away from the start of Dancing with the Stars 8, here's a little backstage scoop to get you warmed up:
Julianne Hough: Three months ago the two-time champion announced she would be taking a hiatus to pursue her music career. So what made her change her mind? A boy.
Hough said ABC used her real-life boyfriend (singer Chuck Wicks) to rope her back in. "It was a last minute deal," she wrote in her blog. "I was set on taking this season off and then last minute the show asked me to do it because they had asked Chuck to do it and they thought it would be cool if we danced together."
"At first I still said no because I wanted to focus on my music," Julianne explained, "BUT then I thought about it for a day and figured this out. I can still write, go on tour and work on Julianne Hough the country singer because Chuck will be my partner and that will be a huge luxury."
Click to continue reading DWTS News: Julianne Hough, Gilles Marini and Jewel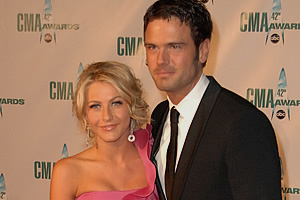 Although we've already learned the names of Dancing with the Stars' next competitors, we know now which 13 pairs will be vying for that mirror ball trophy.
Included in the mix are two professionals familiar to So You Think You Can Dance viewers: Chelsie Hightower (Season 4) and Dmitry Chaplin (Season 2). Chelsie and Dmitry will join Lacey Schwimmer, another SYTYCD vet, on the eighth installment of the ballroom show.
Click to continue reading Dancing with the Stars 8 Pairings Announced
Read More

| E! Online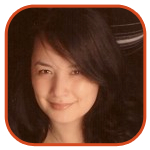 Posted by Veronica Santiago Categories: Prime Time, Reality, ABC, Dancing With The Stars, News, Video,
When Cody Linley was eliminated from Dancing with the Stars this past Tuesday, most people didn't realize they were saying goodbye to Julianne Hough as well.
In an radio interview with Ryan Seacrest, the two-time DWTS winner said she would like to take some time off to concentrate on her other job. "I really, really want to focus on the music and, ya know, be taken seriously a little bit. And I think it's hard to be on [Dancing] and be singing," Julianne explained. (In the above clip, you can see the 20-year-old performing "My Hallelujah Song" on the recent results show.)
So does this mean the country singer will be gone from just Season 8 (the next installment should start up again in just a few months), or could her absence be even longer than that? That's unclear. The only thing we can say for certain is that Derek is somewhere jumping for joy right now.
Read More

| People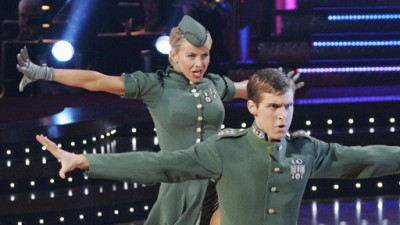 Last night's episode of Dancing with the Stars was dramatic on many fronts. With the finals hanging in the balance, the competition was already intense. Then Brooke performed…and the whole game changed.
After weeks and weeks of being near or at the top, Burke did something unthinkable right off the bat: she scored a 21 for the Jive. That was the lowest score she had ever received during the whole season. Although she nicely rebounded with her second number (she got a 28 for her Salsa), the door was already left open for Brooke's fellow challengers.
Fortunately for Lance Bass, there couldn't have been a better night for him to peak. Yesterday, Lance and Lacey got their first 10 ever…three of them. They were also the only couple to break the 50 point mark. (Their total was 57.) Will the inconsistent competitor be able to keep up this momentum in the finals? (Assuming the voters even put him there?)
Click to continue reading Dancing with the Stars 7: Week 9 Loser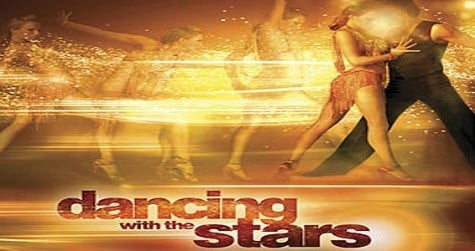 Tonight on Dancing with the Stars, the four contestants were each given a private Master Class session with Len Goodman. With next week's finals on the line, the celebrities were happy to accept any advice that they could get.
For this week's semifinal round, the dancers first had to perform a style they hadn't individually tried yet. The second half of the show was then devoted to new styles introduced this season (the Salsa and the Jitterbug).
Who proved they were worthy of a Top Three finish…and who needed more of the head judge's help? Read on!
Click to continue reading Dancing with the Stars 7: Week 9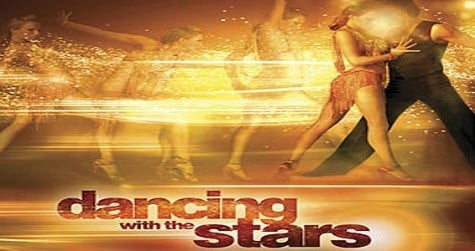 On this week's episode of Dancing with the Stars, the producers had one more surprise in store for both the competitors and the audience.
In addition to their solo numbers, the six pairs had to perform in the first team dance. After being split into two groups of three (captains Warren Sapp and Susan Lucci were responsible for the assignments), the teams were then charged with working together on an ensemble performance. Unlike last Monday's previous group hip hop number, these two performances - a Cha Cha Cha and a Paso Doble - were actually being scored. (Those scores would then be added to the individual totals.)
Who showed us they could work in unison…and who still needed work on their solos? Read on!
Click to continue reading Dancing with the Stars 7: Week 7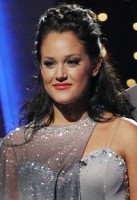 Just days after Julianne Hough announced her leave of absence, we're learning that another DWTS professional has been diagnosed with endometriosis.
According to The Insider, Lacey Schwimmer just discovered that she too had this medical condition. Strangely enough, Julianne was the reason Lacey found out.
Once the 20-year-old realized she had symptoms similar to the ones Hough had, she went in for an evaluation. Her doctor informed her yesterday of the news. Fortunately for Lacey (and Lance), her situation will not require surgery. Because the condition was diagnosed early, medication is the only thing necessary at this time. Meanwhile, Julianne has already undergone surgery and is reportedly "at home resting comfortably."
Endometriosis is the development of uterine-lining tissue outside the uterus on the surfaces of organs in the pelvis or abdomen where they are not supposed to grow. It is a common medical condition found in 5-10% of women of reproductive age around the world.
Read More

| The Insider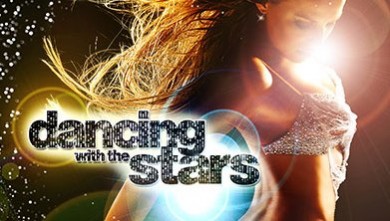 On this week's episode of Dancing with the Stars, the viewers - and competitors - saw a list of firsts.
For tonight's battle, the Top 7 competitors each had to perform a dance they had not yet attempted.
The couples all had to tackle hip hop for the group dance number.
Len Goodman - who had an unexplained absence this Monday - was replaced by Michael Flatley (a.k.a. the "Lord of the Dance").
One professional announced that they would be temporarily leaving for a non-dance related medical procedure. (Julianne Hough is having her appendix removed this week.)
In the end, who proved they could master two dances…and who showed us they couldn't even handle one? Read on!
Click to continue reading Dancing with the Stars 7: Week 6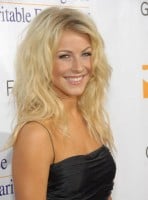 The curse of the parquet floor has struck again.
Despite being only halfway over, the seventh season of Dancing with the Stars has already seen more than its share of medical emergencies. So far this fall, we've seen Jeffrey Ross with an eye patch, Susan Lucci with an ankle wrap and Misty May-Treanor with a seat on the sidelines. Now one of the show's professionals is going to be added to the injury list.
One week after being checked out for stomach issues, we're learning the real reason behind Julianne Hough's trip to the hospital. Although her evaluation was initially downplayed, it turns out the country singer - who was discovered to have endometriosis - will actually need to have her appendix removed.
Fortunately, the 20-year-old has a common medical condition that is found in 5-10% of women of reproductive age. Those diagnosed with endometriosis experience a development of uterine-lining tissue outside the uterus on the surfaces of organs in the pelvis or abdomen where they are not supposed to grow.
Click to continue reading DWTS' Julianne Hough Scheduled for Surgery
Read More

| E! Online

© Gear Live Media, LLC. 2007 – User-posted content, unless source is quoted, is licensed under a Creative Commons Public Domain License. Gear Live graphics, logos, designs, page headers, button icons, videos, articles, blogs, forums, scripts and other service names are the trademarks of Gear Live Inc.