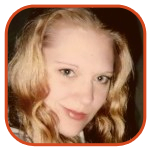 Posted by K.C. Morgan Categories: Reality, Gossip,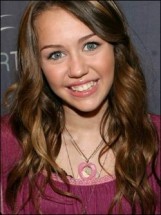 Here's a big surprise: teen superstar Miley Cyrus would like to spend even more time in front of the cameras. The Disney sensation was promoting her work in Bolt when she stopped to chat with E! News about her own career desires.
"I would want to do a reality show like 'The Real World' because I think that's crazy," she told reporters. "Anyone who would do that has some serious guts." Or issues with exhibitionism.
"I just want to be in a really nice house, with cameras following me around," she elaborated. I actually kind of thought her life was already like that - cameras and all. We've certainly seen enough pictures of her in somewhat private situations. "I can just sit there, eat Cheetos, read my book, hang out all day."
So, if Cyrus was doing a reality show, we'd all get to watch her eat junk food, read and sit around. This would absolutely tank…with any other star but her. I actually believe people would watch this gladly, and I'm quite sure someone is pitching the idea to MTV even at this moment.
Referring to her life, Cyrus said, "It's like a free reality show, I just don't get paid for it." Don't worry, fans, Cyrus actually gets paid prettily by Disney for her work. "They're always there," she complained of the paparazzi.
Sure, I get it. Sometimes it's uncomfortable to have the photogs taking shots. Why not just install cameras and sound equipment in one's home instead?
Read More

| E! Online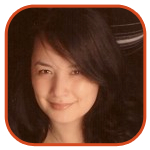 Posted by Veronica Santiago Categories: Kids, Music, Prime Time, Cable,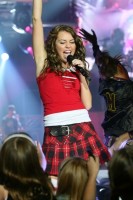 Sorry parents. Who knew when you purchased those IMAX tickets months ago that the 3-D Hannah Montana movie would soon be offered for free?
In hopes of giving your kids something to do this summer, the Disney Channel has chosen to dedicate a week in July to teen star Miley Cyrus. Only July 20, the cable channel will air a fresh episode of Hannah Montana. Six days later, a marathon of shows will lead up to the television debut of Hannah Montana/Miley Cyrus: Best of Both Worlds Concert Tour.
Those unable to see the movie when it originally debuted can still get a bit of that 3-D experience at home. TV Guide will be offering glasses in its July 21 issue.
Read More

|
TV Guide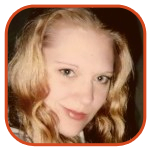 Posted by K.C. Morgan Categories: Kids, Music, Prime Time, Cable, Gossip,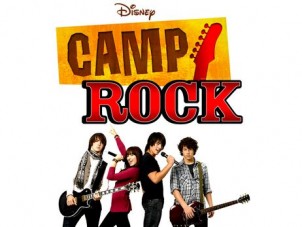 Lightning doesn't strike twice…unless you build the right kind of rod. No one anticipated the runaway success of Disney's High School Musical, and now the powers-that-be are determined not to be caught unawares a second time. Fanfare and fan participation became the bookends of the High School Musical 2 marketing campaign…and even this pales in comparison to the star treatment the network is giving the soon-to-be-released Camp Rock.
The promos have been going strong for weeks, the Web site is filled with glitter and pizazz, and the debut is scheduled for June 20. Are you itching to set your DVR?
With the Jonas Brothers co-starring and a crop of fresh-faced youngsters, Disney is treating Rock like it's the heir apparent to the Musical throne (the stars of which are moving quickly past the high school stage of their lives). But…is it?
Click to continue reading Can Disney Rock the Ratings Again?
Read More

|
CNN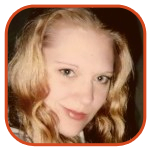 Posted by K.C. Morgan Categories: Music, Prime Time, Reality, FOX, American Idol, Editorial,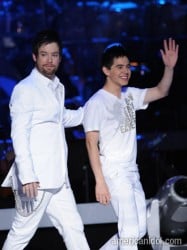 The seventh season of American Idol culminated last night in a spectacular, two-hour grand finale event. The fans, the fanfare, the Davids - it was a truly great show.
The men of the hours, Davids Archuleta and Cook, appeared in white for the opening sequence. Ryan Seacrest announced that the winner of the contest secured 56% of the vote. More than 96 million votes were logged, a record-breaking number, but of course voters had four hours after Tuesday's performance (instead of the usual two) to make their wishes known.
Click to continue reading American Idol: Season Seven Winner Announced
Read More

|
American Idol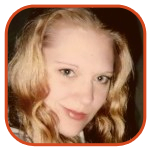 Posted by K.C. Morgan Categories: Cable, Gossip,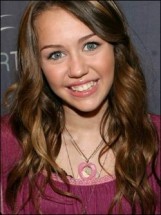 It's a long way down from the top of the pedestal, and young tween idol Miley Cyrus is finding out just how tough that topple can be.
Rock 'n roll group Lustra has fingered Cyrus for borrowing a little too heftily from their song "Scotty Doesn't Know" (from the Eurotrip soundtrack) for her tune "Rockstar."
"Although we are very flattered that Ms. Cyrus took this route, we would have preferred some credit," guitarist Nick Cloutman told the press. The band, according to Cloutman, is "considering various options to rectify this situation." As far as I can see, all those options will probably melt down into just one: a very quiet and tidy little settlement - anything to stop the bad reports in the media.
"She doesn't write the songs - she sings them. We have referred this to Disney," one of Miley's reps responded to the news. And Disney, make no mistake, has the best lawyers money can buy.
Read More

|
AOL

Posted by Jacci Lewis Categories: Games, Kids, Reality, Sports, Cable, Cable/Satellite, Editorial, News,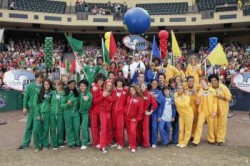 Walt Disney World's Wide World of Sports will be the center of the known tween world this week when The Disney Channel Games kick off tomorrow in Orlando.
Hannah Montana star Miley Cyrus, the Jonas Brothers, the Cheetah Girls and the ubiquitous Sprouse brothers from The Suite Life of Zack & Cody are among Disney stars continental and international who will compete this week with winnings going to charity.
Tuesday and Thursday production will be free and open to the public, albeit in a very limited way. Disney officials told the Orlando Sentinel, "We can't have regular kids on the field." That is due in part to the fact that the games aren't really a sporting event, it's more like a series of reality TV challenges. Footage shot this week will culminate in five half-hour shows that debut in late July on the Disney Channel.
Click to continue reading Disney Channel Games To Begin This Week in Orlando
Read More

|
Orlando Sentinel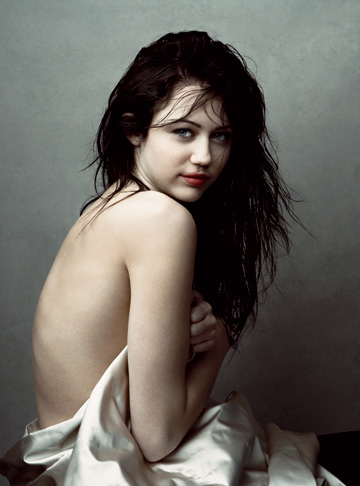 Tween idol and star of Disney's juggernaut Hannah Montana says she is embarrassed by photos taken for the upcoming issue of Vanity Fair.
In a statement issued Sunday through her publicist 15-year-old Miley Cyrus said, "I never intended for any of this to happen and I apologize to my fans who I care so deeply about."
The spread, shot by famed photographer Annie Leibovitz, included the above photo of a natural looking Cyrus seemingly naked save for a silky sheet. Cyrus' statement said she thought the photo shoot was supposed to be artistic but after seeing the photos and reading the accompanying story featuring Miley and her father, singer Billy Ray Cyrus, she feels "embarrassed".
Click to continue reading Miley Cyrus: Embarrassed By Vanity Fair Photo Spread
Read More

|
Associated Press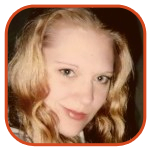 Posted by K.C. Morgan Categories: Kids, Music, Cable, Gossip,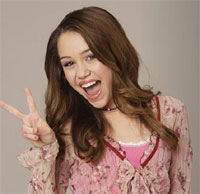 Successful TV series? Check. White-hot recording career? Done. Box-office breaking movie? No sweat. What's next for Miley Cyrus? How about the one aspect of entertainment she's not yet conquered - the written word?
Here's yet another classic example of stars who steal jobs - and thunder - from the real writers of the world. The fifteen-year-old Disney channel star plans to pen her memoirs. Go ahead, you can start laughing now.
Click to continue reading Miley Cyrus to Conquer All Entertainment
Read More

|
E! Online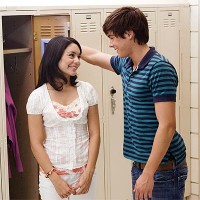 Please don't confuse this post with something we wrote earlier this month. With production on High School Musical 3 just about underway, Disney has already moved on to its next project: High School Musical 4.
The cable channel confirmed that they are already in scriptwriting mode for the franchise's third sequel. Although the current installment will be heading directly to the big screen, HSM4 will be another made-for-TV movie. At least that's what they're saying now.
At this point, no cast has been announced for the latest venture. (Most of the original actors have claimed they were done after three.) But who knows - if Tori Spelling is willing to come back to the 90210 spinoff, anything can happen.
My theory? This is all connected to the summer reality series based on the musical. At this point, no one seems to know what the 'winners' will be getting. I'm guessing it's their opportunity to be the latest Disney stars.
Read More

|
Hollywood Reporter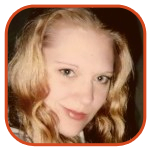 Posted by K.C. Morgan Categories: Kids, Music, Cable, Gossip,

Disney can't control the market on teen/tween musical movies for much longer, not if kids-based Nickelodeon has anything to say about it.
Spectacular, a new musical comedy set in high school, will begin shooting on April 21 - move over, High School Musical. Newcomers Tammin Sursok, Nolan Funk, and Simon Curtis will star in the film, along with Zoey 101's Victoria Justice. The film will focus on the school choir and one preppy, pretty female student in particular. A new rock-n-roller joins the group, however unwittingly, and soon enough musical romance is borne between them. Sounds a little familiar…but I can't quite recall which musical movie plot this might be similar to. Hmmm.
Nick's high school musical movie is not the classic, cookie-cutter musical film. The numbers in this flick are performance-based rather than random singing insertions. Think more Dreamgirls and less My Fair Lady. Right now, the Viacom-owned cable network isn't planning on any sequels - though there are contractual options open for just such an occurrence.
Read More

|
Hollywood Reporter
© Gear Live Media, LLC. 2007 – User-posted content, unless source is quoted, is licensed under a Creative Commons Public Domain License. Gear Live graphics, logos, designs, page headers, button icons, videos, articles, blogs, forums, scripts and other service names are the trademarks of Gear Live Inc.