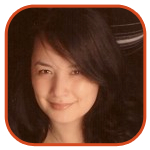 Posted by Veronica Santiago Categories: Sci-Fi/Horror, Syndication,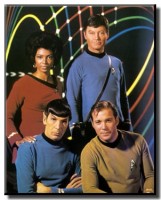 For those who can't afford to beam their cremated ashes into space like the recently departed James Doohan (Scotty), a Star Trek experience may still await you. Come October, over a thousand authentic pieces from the show will be up for auction in New York. Memorable items include the Enterprise bridge, a pistol collection from Deep Space Nine and costumes worn by several of the characters. If you'd rather sleep with the enemy, you can also purchase goods from the Klingon camp. The auction—taking place Oct. 5-7th—will help celebrate the 40th anniversary of the original series.
If meeting the actors from Star Trek is more your cup of tea, schedule a trip to Seattle this fall. The Science Fiction Museum will be hosting a Star Trek Gala Celebration and Conference from Sept. 8-10. Actors confirmed for the appearance include George Takei, Jonathan Frakes and Nichelle Nichols.
Read More

| Science Fiction Museum

Posted by Wendy Michaels Categories: Cable, FOX, Syndication, Arrested Development, HDTV, Internet,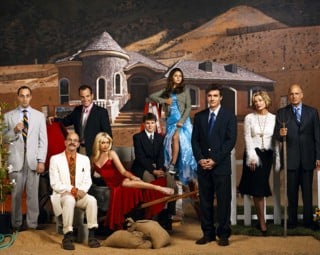 OK, so we know that Arrested Development was canceled. We just have to accept it and move on (sob!). To me, it always begs the question: "How can sub-par sitcoms continue into their umpteenth season while something cool and hilarious like Arrested Development gets canceled?" It's just not fair. But anyhoo… Arrested Development will be returning in syndication with a very interesting arrangement. The 53 episodes have been sold to both MSN and cable networks HDNet and G4. The agreement is that MSN has rights for three years, beginning later this year, and will be free to MSN subscribers. Additional interactive elements are planned to further enhance the greatness that is Arrested Development. Then, HDNet also gets the series for three years, beginning in September (airing in high definition, of course), and G4 (owned by Comcast) will get the series in October. Now if only someone could bring it back from the dead.
Read More

| Reuters

Posted by Wendy Michaels Categories: Comedy, Syndication, Talent, News,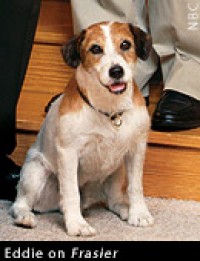 Hollywood recently suffered a great loss with the death of "Eddie" – the Jack Russell Terrier who was Frasier's companion for 10 years. "Moose," as he was known in real life, got his big break when his trainer saved him from the pound. Apparently, prior to his rise in Hollywood, he got into quite a lot of trouble. That mischief paid off in both the TV series Frasier and the film My Dog Skip. Moose was 16 and a half years old and according to his trainer, "he just had an incredible charisma and was such a free spirit."
Read More

| People
Posted by NoName Categories: Syndication, Talent, Internet, News,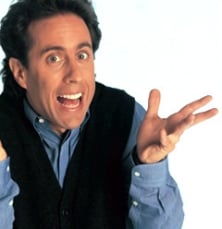 Out of 20 early responses, Seinfeld is six times the answer to Yahoo's question, "What is your favorite TV sitcom ever?" No other sitcom was named more than once accept "Friends" which was listed three times. Is Seinfeld the next "I Love Lucy?" Lucy came up one time. Once merely a stand-up comedian, the "Long Island Hamlet" is now best known for perpetrating a fictional version of "himself" on a sitcom he co-created and produced. Later sitcoms "crawling" their way to success with past Seinfeld cast are said to be suffering the "Seinfeld Curse." He has even coined a new term through the title of his book, "Seinlanguage." And there's "Seinology," a new form of science perhaps? He's quite the "phenominfeld." But what does all of this mean to the future of sitcoms? Ah, the next great question for the likes of Yahoo to survey. Meanwhile, here's a bit of "Seintrivia." Did you know that Seinfeld is left handed; loves Superman, Phish, and the Mets; and was the first to receive an American Express Centurian Card? But, wait! Here's the one that makes the most sense. In April, the Boston-based magazine, "Phoenix," named Seinfeld the "17th un-sexiest male celebrity"...ever! Or should we say, "everfeld?"

Read More

| Jerry Seinfeld
Posted by Rhys Alexander Categories: Animation, Comedy, Late Night, Cable, Syndication,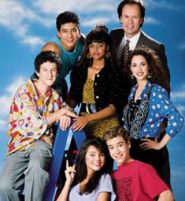 Zap2it has confirmed some shocking news today; the late eighties/early nineties cheesefest Saved By the Bell will join the Adult Swim line-up, known for its wild and eclectic programming. We're all for originality, but…Saved By the Bell?
Seems like the show is being added simply because many Adult Swim staffers carry fond memories of Zack Morris and the gang. In case you were in a coma during the show's heyday, it follows the adventures of a group of very well-scrubbed, over-acting teens trying to get through high school with as much silliness as possible. But it wasn't all bad: it did launch stars Elizabeth Berkly and Mark-Paul Gosselaar into fame with Showgirls and NYPD Blue, respectively.
Even longer-time fans will remember that Saved By the Bell was a spin-off of Good Morning, Miss Bliss, which starred Hayley Mills and followed several of the characters through middle school. How sad is it that I knew that without having to look it up?
Fans of Adult Swim aren't impressed, though, judging by the flaming comments on message boards, so it's in doubt whether Saved By the Bell will survive its two-week trial.
Sure, TV is filled with ghosts and aliens and even scrupulous lawyers, but this has got to be the strangest thing we've heard in a long, long, time.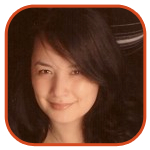 Posted by Veronica Santiago Categories: Animation, Comedy, Cable, Syndication, Talent,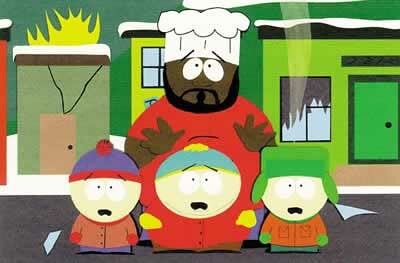 After years of bashing everything under the sun, it looks like an episode about Scientology may have been the straw that finally broke Isaac Hayes' back. The musician, best known in recent years as the voice of 'Chef' on South Park, has finally reached his satirical limit and quit the show. Apparently, he felt the show's reputation for religious bashing had finally gone too far. In a statement given to People magazine, the 63-year-old Hayes states: "There is a place in this world for satire, but there is a time when satire ends and intolerance and bigotry towards religious beliefs of others begins."
Given his willing participation in previous episodes, co-creater Matt Stone wonders if Hayes' decision has something to do with Scientology specifically, and not religion overall. Turns out that 'Chef' is a Scientologist in real-life (who would have guessed?). As many faithful followers of the show know, a November episode of the show was devoted to bashing the often-criticized belief. According to Stone, it was only when that episode aired did Isaac's opinions come forward. "(We) never heard a peep out of Isaac in any way until we did Scientology. He wants a different standard for religions other than his own, and to me, that is where intolerance and bigotry begin."
No word yet as to how the creators will do away with the character…

Read More

| People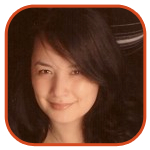 Posted by Veronica Santiago Categories: Daytime, Syndication, Oprah Winfrey Show, Talent,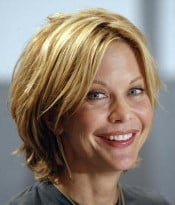 Of all the recent one-on-one interviews Oprah has had recently—I am most eager to see Wednesday's interview with Meg Ryan. Is it because this is Meg's first interview in two years? No. Is it because she dishes about the end of her 'unhealthy' marriage to Dennis Quaid? No. Is it because she addresses her long-forgotten fling with Russell Crowe? No. (Though I do wonder how she feels about Russell eventually returning to his long-time love).
Sadly—the reason I am most excited about this interview is probably the one thing that won't get addressed: her botched-plastic surgery. Dear Gawd, Meg…what the heck were you thinking? You can deny it all you want—but your face and popularity have coincidentally not been the same since. Maybe we can get you on an episode of Nip/Tuck so that the boys of McNamara/Troy can salvage your career…
Posted by Rhys Alexander Categories: Daytime, Talk Shows, Syndication, Talent, News,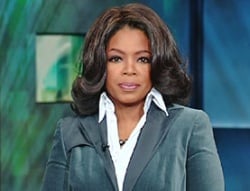 The power of television - a disgraced man can't even catch his breath before the lawsuits begin. Ain't America beautiful?
Lawsuits were prepared the very afternoon Oprah's show aired, after James Frey revealed he had fudged parts his 'memoir.' Interestingly, it's the readers who are demanding restitution, and suits already number more than a dozen.
This debacle has stirred up questions of ethics on a personal level, as well as in the publishing and television worlds. Several readers are suing Frey's publishers for false representation, and there is even talk about suing the queen of talk TV, Miss Winfrey herself, for passing on 'lies' as truth without careful research. Some readers have sided with Frey, claiming that as long as the book has helped people, it shouldn't matter if it is entirely true. But most readers, like Oprah, seem to feel betrayed.
What do you think? Who is in the wrong here? Does it make sense for a reader to try to gain $10 million for feeling 'betrayed?" Does Oprah, as well as Frey, owe us an apology? Please let us know what you think.
Posted by Rhys Alexander Categories: Daytime, Talk Shows, Syndication, Talent,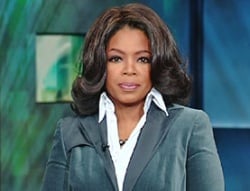 Talk show powerhouse Oprah Winfrey has accomplished what Larry King could not: she got bestselling author James Frey to admit his best selling 'memoir' was largely fictional. The drama was increased by the fact that Oprah Winfrey promoted his book and was largely responsible for it becoming a bestseller. In perhaps the most dramatic Oprah episode ever—which is saying a lot—Oprah cried and audience members booed the formerly popular author.
In a stunning switch from dismissive to disgusted, Oprah Winfrey took on one of her chosen authors, James Frey, accusing him on live television of lying about "A Million Little Pieces" and letting down the many fans of his memoir of addiction and recovery. "I feel duped," she said Thursday on her syndicated talk show. "But more importantly, I feel that you betrayed millions of readers." Frey, who found himself booed in the same Chicago studio where he had been embraced not long ago, acknowledged that he had lied.

A sometimes angry, sometimes tearful Winfrey asked Frey why he "felt the need to lie." Audience members often groaned and gasped at Frey's halting, stuttered admissions that certain facts and characters had been "altered" but that the essence of his memoir was real.

Thursday's broadcast, rare proof that the contents of a book can lead to great tabloid TV, marked an abrupt reversal from the cozy chat two weeks ago on "Larry King Live," when Winfrey phoned in to support Frey and label alleged fabrications as "much ado about nothing."
Sure, it makes for great television, but is this yet another sign that television shows need to more carefully research their subjects? What do you think? Is Oprah, in a way, as 'guilty' as Frey for the misinformation spread to her TV audience? Please leave your opinions in the Comments section!

Read More

| MSN Entertainment
Posted by Rhys Alexander Categories: Syndication, WB, Editorial,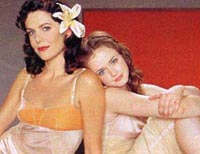 Usually, syndication is a wonderful thing, allowing us to relive the best moments of our favorite TV shows, or catch up on any episodes we may have missed - but sometimes, syndication isn't so pretty. It can serve as an ugly reminder that the shows we love just aren't what they used to be.
When new episodes and repeats are airing at the same time, it's impossible to not draw comparisons. And trouble comes when the old outshines the new.
A case in point: Gilmore Girls. My favorite television show for years, it captivated me with its sweetness and beautiful mother-daughter relationship. This season has left me—and many viewers—feeling empty. Now that The Family Channel has started airing Gilmore Girl's beginning episodes, it's easy to see why. With its ease of storylines, natural character development, and celebration of love and friendship, the older episodes are a joy to watch, a reminder of what I, and so many others, loved about the show.
But they make the current episodes look even worse. When viewed side by side, you can't help but notice today's trend toward caricature rather than character, overblown plot lines, and ridiculous attempts at over-the-top drama. It's as though the show lost trust in its simple formula, and feels it has to go to extremes to keep its audience.
That plan has obviously backfired. Gilmore Girls is already contracted for another season. Will the show bounce back to what it once was? Maybe the writers should start viewing the repeats…soon.
© Gear Live Media, LLC. 2007 – User-posted content, unless source is quoted, is licensed under a Creative Commons Public Domain License. Gear Live graphics, logos, designs, page headers, button icons, videos, articles, blogs, forums, scripts and other service names are the trademarks of Gear Live Inc.