Posted by Wendy Michaels Categories: Comedy, Prime Time, NBC, WB, Scrubs, Internet,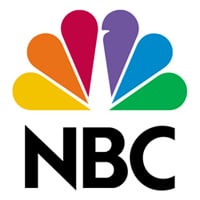 I love it. A failed sitcom pilot has been given a new life on the Internet. Nobody's Watching, a sitcom that was previously passed on by both NBC and the WB was posted on YouTube in June. The show ended up getting a lot of attention and before you know it, hundreds of thousands of people were stopping by to check the pilot out. The show was created by Scrubs creator Bill Lawrence and two Family Guy writers, so there is an impressive comedic pedigree. Says NBC Entertainment president Kevin Reilly, "I love the spirit of the experimentation and I think if we can actually have something find an audience on the web, gravitate over to the network, continue with a web presence and have them feed each other, that could end up being a really cool thing." To test the waters, Nobody's Watching will continue online in a series of webisodes before airing on NBC. Look for the webisodes within the next month. At present, there is no guarantee that the pilot will ever make it to the small screen, but its online popularity could certainly improve its chances.
Read More

| Zap2it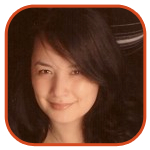 Posted by Veronica Santiago Categories: Comedy, Drama, Reality, ABC, Cable, CBS, FX, FOX, HBO, NBC, 24, Amazing Race, The, American Idol, Apprentice, The - Donald, Degrassi, Lost, My Name Is Earl, Prison Break, Scrubs, The Office, The Sopranos,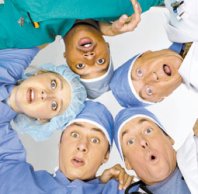 In a recent edition of Broadcasting & Cable, the trade magazine presented a list of the Best Shows on TV for the 2005-06 season. The 2nd annual poll, based on the views of 111 critics, didn't reveal many shocking choices overall…but does give much love to some underappreciated gems. Let's see how your choices compare:

BEST SHOW
and
BEST DRAMA:
Gold: Lost (ABC)—Really not much of a surprise on any of these choices. It's only shocking to remember that Lost is the only one of these three to be shut out of the Best Drama category for the upcoming Emmys.
Silver: 24 (FOX)
Bronze: The Sopranos (HBO)
BEST COMEDY:
Gold: The Office (NBC)
Silver: My Name is Earl (NBC)
Bronze: Scrubs (NBC)—Woo hoo! Even if NBC doesn't respect the comedic gem enough to give it a regular time slot (and a fall start), it's reassuring to know that the show is still being noticed.
BEST REALITY:
Gold: American Idol (FOX)
Silver: The Amazing Race (CBS)—Race may not be able to compete against Idol in the ratings department, but it still wins in my heart. No popularity contests here. The prize goes to those who simply stick it out.
Bronze: Project Runway (Bravo)—Heidi Klum has it all. Good looks, two cute kids, a sexy husband—and now a highly respected show. I hate her. I may enjoy watching her show..but I still hate her.
BEST NEW SHOW:
Gold: My Name is Earl (NBC)
Silver: Prison Break (FOX)
Bronze: Big Love (HBO)—Although I'm personally obsessed with polygamy-based stories, I feared the subject might be too taboo for the average audience. Regardless of the subject matter, this show has been a hoot to watch..and it doesn't hurt that Bill Paxton is still quite easy on the eyes. No wonder three women want to bear his children.
WORST SHOW:
Gold: Unan1mous (FOX)
Silver: The War at Home (FOX)
Bronze: The Apprentice (NBC)—While I will have to admit that my interest in this show has waned over the past year or so, I don't think it's one of the worst shows out there. But if Donald continues to make creepy remarks about the attractive females on his show, I may have to call the FCC myself.
CABLE NETWORK MORE PEOPLE SHOULD WATCH:
Gold: BBC America
Silver: FX
Bronze: The N—- Degrassi, Degrassi, Degrassi. I've said it before and I will say it again. The N is home to the best drama for teens…ever.
MOST MEMORABLE TV MOMENT:
Gold: Coverage of Hurricane Katrina
Silver: Uncle Junior shoots Tony on The Sopranos (HBO)
Bronze: Michael shoots Ana-Lucia and Libby on Lost (ABC)—I admit, I don't watch The Sopranos so I may be a bit biased here. But Michael shot two people. That should definitely earn him a higher medal than Uncle Junior. I dare say Michael even deserves the gold, but he can't compete with Nature.
Read More

| Broadcasting & Cable

Posted by Wendy Michaels Categories: Award Shows, Comedy, Drama, NBC, Arrested Development, Commander In Chief, Desperate Housewives, Entourage, Grey's Anatomy, House, Lost, My Name Is Earl, Scrubs, The Office, News,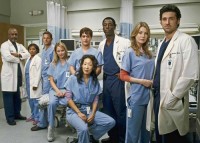 Bright and early this morning, the Emmy nominations were announced from Hollywood. There's certainly an interesting mix this time around with the change in nomination procedures – you'll notice no mention of Lost in the major categories and none of the leading ladies of Desperate Housewives. Here are the major categories:
Best Drama
Grey's Anatomy
House
The Sopranos
24
The West Wing
Best Comedy
Arrested Development
Scrubs
Two and a Half Men
Curb Your Enthusiasm
The Office
Click to continue reading Emmy Nominations Announced
Read More

| CNN

Posted by Wendy Michaels Categories: Comedy, Prime Time, NBC, My Name Is Earl, Scrubs,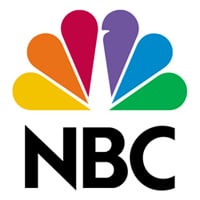 NBC just gave the go-ahead for a comedy pilot from "Cars" writer Dan Fogelman, called Lipshitz Saves the World. The project will be directed by Chris Koch, who directed other NBC faves My Name Is Earl and Scrubs.
Lipshitz focuses on 17-year-old Adam Lipshitz, who discovers that he might be destined to save the world. Fogelman compares the show as "if Keanu Reeves wasn't good-looking and 'The Matrix' was not a movie but a pilot for NBC."
Lipshitz is the first pilot NBC has ordered since announcing the fall schedule in May. According to NBC Senior Vice President Comedy Jeff Ingold, "We had been eager to work with Dan, so we jumped fast after reading this spec. It has a big comedic idea driving it, just like his feature work."
Read More

| Reuters
Posted by Abby Rose Dalto Categories: America's Next Top Model, Scrubs, Internet,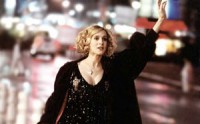 Want to know where your favorite celebrities are from or which star represents your hometown? I was quite pleased to find that like myself, Omar Epps of ER hails from New York.
California featured Tyra Banks of America's Next Top Model and the Tyra Banks Show, while Scrubs-star, Zach Braff represented New Jersey, which should have been obvious to those of you who saw his writing/directing debut Garden State.
Some of the information might surprise you. For instance, not everyone knew that Sarah Jessica Parker - an actress who has become synonymous with "New Yorker" thanks to Sex and the City - was actually born in Ohio, or that the star of Las Vegas, Josh Duhamel, grew up in North Dakota.
View the list of all fifty states - each with its own featured celeb and a full bio for each star - on AOL.
Read More

| AOL

Posted by Wendy Michaels Categories: Comedy, WB, Family Guy, Scrubs, Cancellations, Internet,
Here's something new – a sitcom for the WB that the network didn't pick up can be viewed on YouTube. Kind of an interesting way to get a glimpse at something that didn't make it, and in this case wasn't good enough even for the WB. Who knew they were so discerning in their sitcom choices?
The show is called, interestingly enough, Nobody's Watching, about two friends who think they can do better developing a sitcom than what's currently available. The fictitious WB execs hook the boys up with their own show, complete with a sitcom set to live and work on and their own studio audience. The show was created by Scrubs creator Bill Lawrence and two Family Guy writers, so it's got a pretty good pedigree. Take a look – it's not great, but it showed some potential.
Read More

| YouTube

Posted by Wendy Michaels Categories: Prime Time, NBC, Scrubs, Talent, Internet,
It's rumored that the new season of Scrubs will once again begin mid-season – meaning we'll have to wait way too long to see what J.D., Elliot, Carla, Turk, Dr. Cox and the rest of the gang at Sacred Heart are up to. Personally speaking, it's going to be pure agony waiting for one of the funniest shows around to return to the lineup.
In the meantime, check out Zach Braff's new website. Previously, he had been posting a blog at the Garden State movie site, but has now taken over his own domain on what should be a pretty promising site. Currently, just a welcome blog, video post, and a sneak peek of his new film "The Last Kiss," but it should give you Scrubs fans something to gnaw on for awhile anyway. Zach also shares some of his favorite music and has a section for shameless plugs. Check it out.
Read More

| Zach Braff
Posted by Christopher Stone Categories: Comedy, Prime Time, NBC, Scrubs, Editorial,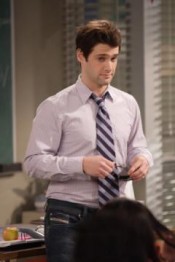 When an NBC comedy is good, it's frequently very good. Just for openers, I'm thnking Frasier, Friends, and Seinfeld. Other times, NBC's good comedies are simply good. In this case, my mind turns toward Scrubs, My Name is Earl, and The Office. On the flip side, when an NBC sitcom is bad, it's likely to be god-awful. Couplings and Four Kings are two fairly recent examples. Last month, their rank was joined by Teachers, a situation edu-comedy about quirky, young teachers at a New Jersey high school.
Teachers, like The Office, is an adaptation of a UK hit. But, instead of The Office-style lightning striking twice, NBC has served up the Second Coming of Couplings. The network believed that the young and attractive cast would draw the coveted 18-49-year-old demographic. The cast might have pulled in big Nielsen numbers if it wasn't simply re-arranging flotation devices on a Titanic of a sitcom. Somebody, please give Sarah Alexander (a survivor of the Couplings debacle), Justin Bartha, and Deon Richmond something worthy of their ability and potential. A few more sh**coms like Teachers, and the Peacock Network will be reduced to stripping special two-hour editions of Deal or No Deal, five nights a week.
Posted by Rhys Alexander Categories: Comedy, ABC, NBC, Scrubs, Internet, News,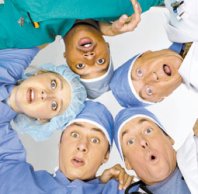 The NBC comedy, Scrubs, is so good that it has the power to unite enemies. In a television first, the warring networks NBC and ABC will join together to bring the popular comedy to iTunes. If you are a tragic soul who has never seen the show, Scrubs follows the adventures of John "J.D." Dorian, played by Zach Braff, through his years as a fledgling emergency room physician. With a wildly talented cast, and unparalleled writing, Scrubs is the best comedy on television today.Executives agree, and are counting on the highly-rated show to attract viewers in the coveted 18-49 age group.
As always, each iTune episode will cost $1.99 to download. We're thrilled. You can never have too much Scrubs!

Read More

| LA Times
Posted by Rhys Alexander Categories: Comedy, Prime Time, NBC, Scrubs,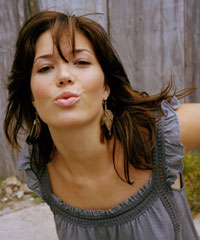 Finally! The beloved comedy is coming back on Tuesday, January 3rd. The NBC smash hit has been sorely missed, and viewers are thrilled with its return. Never before has "mid-season premiere" sounded so good. If that weren't exciting enough, rumors abound that this season will be even wilder and wackier, with all sorts of new developments and top-notch guest stars, including Mandy Moore and Jason Bateman.
When "Scrubs" returns for its fifth season on Tuesday, Jan. 3, viewers are going to see a slightly different show. Unlike series where people stay in high school for 12 years, the characters on "Scrubs" are getting on with their lives. For example, Turk and Carla finally are going to live alone, as a married couple should. J.D. and Elliot live together, not with any sexual tension but as friends, so the show can explore how close you can get to someone of the opposite sex. And the young doctors are now going to become teachers and leave the student role behind.
"I think this fifth season is even more amped up than it ever was because there was a little bit of the attitude, 'Who knows if anybody will see this, so let's have fun,'" says Zach. "We wrote and acted what we thought was funny, so we are pretty excited about the season."

Read More

| Yahoo! Entertainment
© Gear Live Media, LLC. 2007 – User-posted content, unless source is quoted, is licensed under a Creative Commons Public Domain License. Gear Live graphics, logos, designs, page headers, button icons, videos, articles, blogs, forums, scripts and other service names are the trademarks of Gear Live Inc.