Posted by Wendy Michaels Categories: Late Night, Talk Shows, CBS, NBC, Renewals,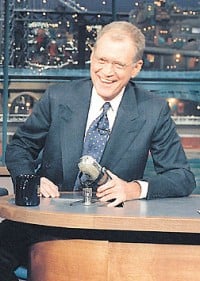 David Letterman has reached an agreement with ABC that will keep the late-night host around for four more years. His contract extension keeps Dave on the Late Show through the 2009-2010 season. Interestingly enough, this is one year past the plan for Leno to step down from the Tonight Show and pass the torch to Conan O'Brien. According to Nielsen Media Research, Leno continues to be the ratings winner, averaging 5.71 million viewers nightly, versus 4.16 million per night for Letterman. The rivalry has been ongoing since Leno took over Johnny Carson's post on the Tonight Show—and it looks like the competition will now continue against O'Brien. CBS Entertainment and Letterman spokespeople had no comment about the negotiations since the deal is not official yet. Even after all these years, I still prefer Letterman to Leno—Leno is more corny than anything, but Letterman's goofy persona wins me over. Goofy beats corny in my book any day, but what to do when Letterman and O'Brien go head to head? Two goofs—don't make me choose!
Read More

| Yahoo! News

Posted by Wendy Michaels Categories: Comedy, Daytime, Talk Shows, NBC, Renewals,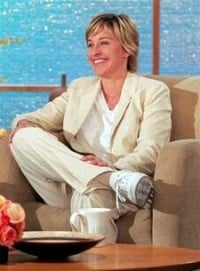 The Ellen DeGeneres Show has been picked up for three more seasons by NBC stations in New York, Los Angeles, Chicago and seven other big cities. This takes the show through the 2009-2010 season in these markets. Great news for the dance-aholic whose show earned three Daytime Emmy awards for outstanding talk show, and who herself won two for outstanding talk show host. Jim Paratore, an executive with Warner Bros., said DeGeneres "connects with the upscale, suburban soccer-moms that advertisers pay a premium to reach." Um,... ok. I think DeGeneres is herself—easy-going and fun-spirited—and that makes her show so relatable to so many people. If that includes upscale suburban soccer-moms, then so be it. I am neither upscale, nor a soccer mom, but I try to catch Ellen's show whenever I can. I have been a longtime fan of her stand-up, loved her sitcom, and can't enough of her in Finding Nemo—her transition to daytime talk show host was a natural progression. Dance on, Ellen!
Read More

| E! Online

Posted by Wendy Michaels Categories: Comedy, Cable, HBO, Renewals,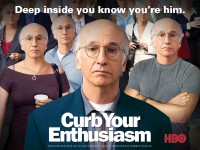 I've been checking HBO's website weekly to find out if Curb Your Enthusiasm will be back, but there hasn't been any news—until now. The Hollywood Reporter announced that HBO will in fact be airing a sixth season of Curb. And no, the HBO site still doesn't have any information about the new season. The series is expected to begin production in September, and all of the players will be returning again. Jeff Garlin, Cheryl Hines and Susie Essman (god, I love that woman!) will all be on board for the new season, expected to air in 2007. The last season of Curb premiered in September 2005, so we still have a long wait ahead for anything new. Chris Albrecht, chairman and CEO of HBO, just one month ago told reporters that Larry David was unsure about whether or not the show would do another season. With five Emmy nominations, including best comedy, it seemed certain that the show would be back for another term. Pretty, pretty good.
Read More

| Reuters

Posted by Wendy Michaels Categories: Reality, Cable, Renewals,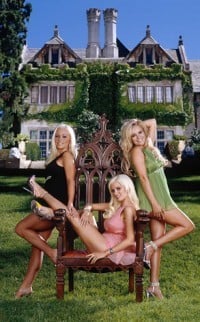 I admit it. I watch it—not faithfully, mind you—but I have seen more than my fair share of The Girls Next Door on E! Seems I'm not the only one to tune in because E! renewed the reality show for a second season. The series follows Girls Holly Madison, Kendra Wilkinson and Bridget Marquardt, who all are Hugh Hefner's girlfriends and live at the Playboy Mansion. My personal viewership is pure curiousity. I just can't wrap my head around the fact that three women are shacking up with Hefner. But, I suppose, it is the Playboy Mansion and he is a millionaire, so their "attraction" to him is likely based on access to the finer things in life. E!'s executive producer for the series, Brent Zacky says, "It's surprising, considering what many of the skeptics said when it first aired. I think a major reason for its success is that the viewers love the girls." Well, I wouldn't go that far, but I'm only speaking for myself. At any rate, I'm sure I'll be tuning in again at some point during season 2—the new season premieres on Sunday night.
Read More

| Reality TV World

Posted by Wendy Michaels Categories: Comedy, Prime Time, NBC, Talent, Renewals,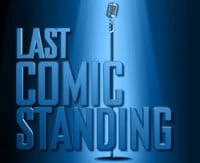 NBC announced that it has ordered additional seasons of Last Comic Standing and America's Got Talent, set to air in 2007. Last Comic will return next summer, while the second season of Talent promises a January midseason premiere, following the end of the NFL season. Says NBC Entertainment President Kevin Reilly, "Both of these series have been bright spots on the summer television landscape. We think they'll be around for a long time." Talent has definitely improved NBC's summer ratings, ranking as the most watched original show of the season. The episodes average about 11.7 million viewers a week. Next month, the million-dollar winner will be announced. Similarly, NBC has seen good ratings for Last Comic, drawing about 8.2 million viewers per week. Personally, I tuned out pretty early on with both of these shows, but hey, somebody's watching!
Read More

| Zap2it
Posted by Christina Furtado Categories: Drama, Prime Time, Cable, FX, Renewals,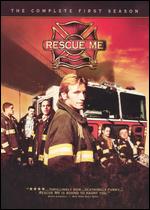 FX has recently announced that the controversial Denis Leary drama Rescue Me has been picked up for a fourth season, which is likely to air in the Spring of 2007. The show has been doing well in the ratings, enjoying about a 10 percent boost from last season's numbers. I'm sure that Denis Leary's recent Emmy nomination doesn't hurt, either. I guess all the talk about the rape that apparently wasn't hasn't kept people away from the show—quite the reverse, in fact. According to FX President John Landgraf, Leary's character, Tommy Gavin, will get what's coming to him as this season goes on. Rescue Me airs in all its politically incorrect glory on Tuesday nights at 10 on FX.
Read More

| Zap2It
Posted by Abby Rose Dalto Categories: Bravo, Desperate Housewives, Ratings, Renewals,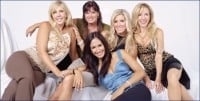 Bravo has decided to renew The Real Housewives of Orange County for a second season, set to premiere in 2006. The reality show focuses on the day-to-day lives of a group of wealthy Southern Californian women, in what has been called a real-life "Desperate Housewives" (or as I like to think of it, "Laguna Beach" for grownups).
Although the show was not an overwhelming ratings topper, it was relatively successful for Bravo, as a basic cable network. Oddly enough the median age of viewers was 34 (meaning that half of the show's viewers were over 34, and half were under 34). That makes it Bravo's "youngest" show of the schedule, which is a big deal considering it is about housewives.
Hopefully the second season will have the same success, despite a change in producers. Instead of Kaufman Films and Dunlop Entertainment - headed by creator Scott Dunlop - this season will be produced by Evolution Film & Tape.
The second season will focus on the original women - in addition to some new faces - as it picks up where the first season ended.
Read More

| Reality TV World

Posted by Wendy Michaels Categories: Comedy, Cable, Cable/Satellite, Renewals,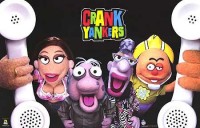 At least one network still thinks that prank phone calls are funny. MTV2 has announced that it will air eight new episodes of Crank Yankers. Crank Yankers started on Comedy Central in 2002, featuring celebrity guest pranksters whose calls were re-enacted by a variety of puppets. While the show has been absent for some time—Comedy Central cancelled its run after 60 episodes—MTV2 finally gave the green light for more new episodes. Among the crank callers are Jimmy Kimmel, Adam Carolla, Wanda Sykes and Sarah Silverman. While I was not a regular follower of the series, I was a fan of the prank phone calls by Sykes and Silverman. According to Tony DiSanto, Head of Programming at MTV2, "The show's devious sense of humor fits right in with our creative sensibility… and we're looking forward to running up the phone bills." A debut date has yet to be set—and heck, does anybody watch MTV2?
Read More

| ComingSoon.net
Posted by Abby Rose Dalto Categories: Reality, Gossip, Renewals, Rumors,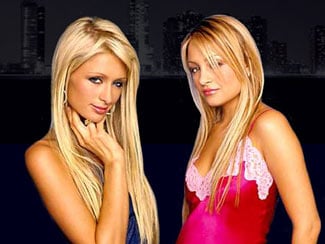 Oh what are we going to do about those two? Paris Hilton and Nicole Richie - the spoiled stars of The Simple Life - are at it again. Or rather… they're at it still. The Simple Life is being renewed for a fifth season, despite the fact that Hilton and Richie are not on speaking terms.
The former best friends both starred in the show's fourth season - which is currently airing on E! – but did not appear in any scenes together.
The fifth season may have the reality-show going back to its original format, forcing the girls to reconcile or to learn how to act well enough that they can pretend they've reconciled. Hilton claims she can act (although anyone who saw House of Wax might argue otherwise). She recently admitted that her Simple Life persona is nothing like the real her.
She hasn't been shy about how the "real her" feels about Richie. She has described her costar as jealous and attention-seeking, claiming that Richie has "let the fame go to her head". However, many attribute the rift in their friendship to rumors that Richie hosted a viewing of Hilton's sex tape One Night in Paris; Hilton has been quoted as saying, "Nicole knows what she did".
Hilton recently hinted that she would be willing to end the feud if Richie would apologize for "being mean". Richie states that they are no longer friends because they "grew apart".
Read More

| Dose
Posted by Stephanie Whiteside Categories: Drama, FOX, The O.C., Renewals,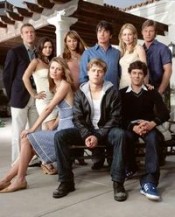 Fox's rich kid drama "The O.C." is moving to a new night! The network has only ordered 16 new episodes of the hit show, instead of the usual 22, possibly indicating that the end is near for the show.
Fox has also announced that rather than put "The O.C." up against hit shows "CSI" and "Grey's Anatomy," which will both be airing at 9 PM Thursday in the 2006-2007 season, the show will now air on Friday nights. I don't know about anyone else, but I'm excited about the change—I've never seen "The O.C" because of the time slot (I've heard it's possible to watch something else when Jorja Fox is on TV, but honestly, I don't believe it) and now maybe I'll get a chance to watch and finally understand what everyone else is talking about!
Read More

| E! Online
© Gear Live Media, LLC. 2007 – User-posted content, unless source is quoted, is licensed under a Creative Commons Public Domain License. Gear Live graphics, logos, designs, page headers, button icons, videos, articles, blogs, forums, scripts and other service names are the trademarks of Gear Live Inc.