Posted by Christopher Stone Categories: Prime Time, Cable, HBO, The Sopranos, Features,

Watching Paulie Walnuts barge in on Colombian money launderers in the opening moments of this episode evoked memories of Eliot Ness busting Al Capone in The Untouchables. Of course, Paulie doesn't look much like Kevin Costner, and Ness didn't limp away with a million in cash and a wounded nut-sack. At "Mafia General Hospital," Carmela and her children waited impatiently for Tony's vitals to stabilize. Did viewers believe for a nano-second that Tony would die? Let's get real. Without Gandolfini's full participation, Season Six of this series wouldn't have happened.
Click to continue reading The Sopranos: Mayhem
Posted by Christopher Stone Categories: HBO, NBC, Talent, News,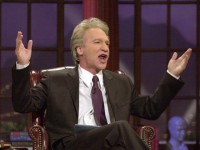 "The world needs Bill Maher!" Or so says the New York Times in reviewing his HBO series Real Time With Bill Maher. We tend to agree. When it comes to debating vital issues with clarity and intelligence, offering razor-sharp commentaries, and volleying humorous, shrewd observations, Real Time, live on Friday nights from CBS Television City in Hollywood, is the authentic "must-see" TV. Over at NBC, "must see" is little more than an over-used ad slogan in need of retirement.
Whether or not you agree with Maher's progressive politics, he's an Independent, and humanely enlightened world view, for one hour weekly, he and his eclectic guests, everyone from Newt Gingrich to Gloria Steinam, lay bare society's smoke and mirrors, political postures, and illogical conclusions. With laser precision, they expose the venal, corporate-owned politicians behind Washington's curtains, who, indifferent to Planet Earth's well-being, are waging a war on terra, and not on terror.
Maher understands that if we don't heal our imploding environment, poisonous diets, outdated beliefs, as well as our greed and selfishness, fighting terrorism over there, or even right here, will be among the least of America's problems.
In the case of Real Time With Bill Maher, it isn't television; it isn't even HBO. It's simply the real deal.
Posted by Christopher Stone Categories: Drama, Cable, HBO, News,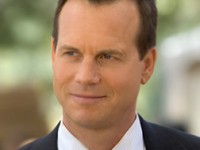 HBO's muscular Mafia megahit, The Sopranos, attracted 9.2 million viewers to the network on Sunday. However, the premium channel's freshman entry, Big Love - which follows The Sopranos - managed to lose almost 6 million of its buff lead-in's audience, registering a limp 3.4 million viewers. Dubbed 'Desperate Housewives in Utah' by cynics, Big Love premiered on Sunday, March 12, to a less than stellar audience of 4.6 million.
For the uninitiated, Big Love stars Bill Paxton as a Viagara-propelled polygamist who juggles three beautiful wives and legal woes in present-day Utah. As the over-extended husband/father/businessman, Paxton is supported by the wonderful Ginnifer Goodwin, Jeanne Tripplehorn, and Chloe Sevigny, as the wives who perpetually get short shrift.

Read More

| Hollywood Reporter (Subscription Required)
Posted by Rhys Alexander Categories: Drama, Cable, HBO, News,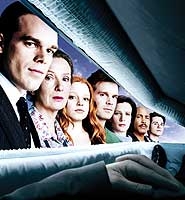 Six Feet Under, the quirky and addictive HBO drama chronicling the adventures of a family who owns a funeral parlor, went out with one of the most creative finales in TV history. If you were a fan or have always wanted to see what all the fuss is about, there's great news - Bravo will air the complete series, purchased for a cool $15 million. That's a lot of cash, but likely will be worth its price when the show garners big ratings.
We can't wait to tune in.

Read More

| TV Fodder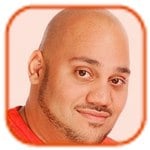 Posted by Andru Edwards Categories: Comedy, Cable, HBO, Extras, Features,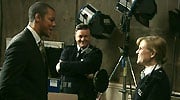 This week on Extras, the star-du-jour was Samuel L. Jackson, starring in some sort of police drama where he referred to himself as "Uncle Sam." That aside, Andy has to deal with being guilted into dinner with another extra who happens to yearn for any sort of human interaction, while Maggie is smitten with Dan, a black actor. His race comes into play later on in the episode. So at the start, Andy bumps in to an extra who annoys him to no end. The man goes on to tell him about a friend on his who was blinded by bleach. Once their exchange ends, one of the higher-ups comes over to them to discuss one of them getting a speaking role with Samuel Jackson. Andy's new acquaintance let's him have it, and only asks that Andy take him out one night to grab some food.
Moving over to lunch, Maggie and Andy find that when they go to sit on the actors' bus, they are denied because they are "background." Turns out that the extras have their own bus that they must use for their eating facility. Obviously, they leave annoyed. Andy bumps in to his new friend again, who offers another sad tale from his life's history, which is supposed to be his segway into another invitation to hang out, throwing beet and Vera Drake into the mix. Finally, Andy tells him that he simply doesn't care to hang out with him because they aren't even friends, but the big bald guys states that by going out, they will become friends. So that's how it works, eh?
Click to continue reading Extras: Episode 4
© Gear Live Media, LLC. 2007 – User-posted content, unless source is quoted, is licensed under a Creative Commons Public Domain License. Gear Live graphics, logos, designs, page headers, button icons, videos, articles, blogs, forums, scripts and other service names are the trademarks of Gear Live Inc.