Posted by Christina Furtado Categories: Comedy, Prime Time, Cable, FX, Editorial,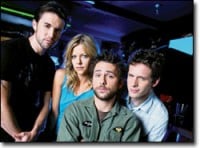 If you're not yet watching FX's It's Always Sunny in Philadelphia, you need to start, especially if you were a fan of shows like Seinfeld or Arrested Development. Like those shows, It's Always Sunny excels at creating an amoral, dysfunctional group dynamic. The gang, consisting of Charlie, Mac, siblings Dennis and Dee, and their father, Frank (played by Danny DeVito), is a collection of losers who continually get into hilarious scrapes.
For example, last night, Dennis and Dee quit working at the gang's bar after their father buys into it. Instead of trying to find new jobs, they decide to try to scheme their way onto welfare: "Hello. I'm a recovering crackhead . This is my retarded sister that I take care of. I'd like some welfare, please." Of course, neither of them see anything wrong with this plan, and Dee even wears a pink bike helmet in order to look "retarded." They even go on to actually buy crack from a dealer as if they were ordering a Happy Meal at the McDonald's drive thru: "One, please." This is just a taste of the wonderfully politically incorrect humor of this show, and the fact that it airs on FX allows it a lot of leeway in terms of what the characters can do and say. However, even though the characters are all pretty horrible people, they also seem just like those people you knew from college who never quite grew up afterwards.
I tried watching a couple of episodes of the first season of this show last year, but I think I wasn't paying proper attention because it didn't really catch me. But when FX started pushing this season heavily, and hilarious spots for it kept coming on during Rescue Me, I decided to give it another go and downloaded the first season (seven episodes) from iTunes. It's well worth catching up on the show that way. This season is just as funny, and Danny DeVito makes a solid, if not entirely necessary, addition to the cast.
It's Always Sunny in Philadelphia airs at 10 PM on Thursdays on the FX network, and I'm sure this week's episodes will repeat at some point. Watch it now!
Read More

| FX Networks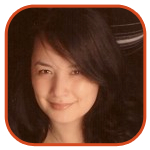 Posted by Veronica Santiago Categories: Drama, Prime Time, FX, Nip/Tuck, Talent,

Adored by millions of women during the height of the 80's, actor Richard Chamberlain will soon be playing a character he can more closely relate to: a gay man. Once known for his leading-man status in epic mini-series events (Shogun, The Thorn Birds), Chamberlain will now be playing a cameo role next season on Nip/Tuck. Chamberlain, 72, will appear as a wealthy businessman who wants to make over his younger boyfriend. This will be the first homosexual role for Chamberlain, who came out of the closet in real life back in 2003. The fourth season of Nip/Tuck is currently scheduled to premiere on Sept. 16.
Read More

| The Insider
Posted by Abby Rose Dalto Categories: Award Shows, Sci-Fi/Horror, ABC, Cable, CBS, FX, HBO, NBC, UPN, WB, Arrested Development, Desperate Housewives, Entourage, Everybody Hates Chris, Grey's Anatomy, My Name Is Earl, The Office, The Sopranos, West Wing, The,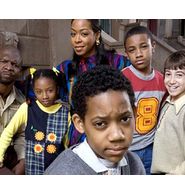 This year's Emmy nominations will be announced July 6 and perhaps new nominating guidelines will make 2006 the "year of the underdog".
Last year showed some progress, with nominations gained by new hits such as Lost, Desperate Housewives and the recently-cancelled, cult-hit Arrested Development (which won seven awards last year).
Apparently some rules have been instated this year that will give newer shows (and shows from less popular networks, such as UPN, FX, and the WB) an even better chance at getting an award. The new system will allow members of the Academy to choose ten to fifteen finalists (depending on category), later cut to five main nominees by a panel of judges.
A few of this year's hopefuls include The Office (NBC), My Name is Earl (NBC), Rescue Me (FX), Grey's Anatomy (ABC), Gilmore Girls (WB), Battlestar Galactica (SciFi), Everybody Hates Chris (UPN), and Entourage (HBO).
Of course, some regular faces will be sure to make appearance on the list such as members of The West Wing and The Sopranos. (Thank goodness Fraiser is off the air, although Will & Grace may return for one last year of nominations, despite the end of the series a few months ago).
The awards will air on August 27.
Read More

| MSNBC
© Gear Live Media, LLC. 2007 – User-posted content, unless source is quoted, is licensed under a Creative Commons Public Domain License. Gear Live graphics, logos, designs, page headers, button icons, videos, articles, blogs, forums, scripts and other service names are the trademarks of Gear Live Inc.