Thursday March 27, 2008 10:43 am
The Real Housewives of New York City: One Shrew Too Many or New Guilty Pleasure?

Tweet
Posted by Jacci Lewis Categories: Prime Time, Reality, Bravo, Cable/Satellite, Editorial, News,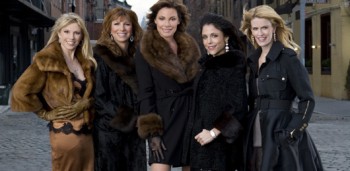 I remember once a media professor at the University of Washington asked our class the simple but loaded question: Why do you watch TV? The class' answer seemed to boil down to two main reasons: we watch television because we aspire to be what we see or because what we see makes us feel better about our own lives.
This memory popped into my head as I watched a mini-marathon of Bravo TV's newest 'docu-reality' series the The Real Housewives of New York City. What I can't yet decide is which category of reason for watching TV this show falls into. I'm pretty sure it is the latter.
After shame watching three seasons of the The Real Housewives of Orange County, I expected the NYC ladies to be more of the same cliche of spoiled, self-indulgent, wasteful and shameless cougars albeit a bit less tan, with sleeker hair and a much less appealing accent. And while they are to an extent all of those things, much like New York City itself, these women do seem more worldly and educated than their Southern California counterparts. It is also clear that despite Bravo's spin-off name for this show, these women are not housewives at all. In fact, it appears they spend very little time, if any, at home.
So who are the Real Housewives of NYC?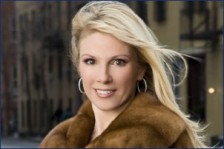 Ramona Singer: Ramona owns her own business, R.M.S. Fashions. From what I gather, she buys overstock garments from manufacturers then resells them to discount retailers. She also has a "faith-based" jewelry and clothing line of her own and oddly enough she is developing a skin care line. Her husband, Mario, is a jeweler. They have a 13-year-old daughter named Avery. The family lives in a condo in Manhattan's Upper East Side. They also have a second home in Southampton. So far we've seen Ramona try to ingratiate herself with other social climbers by wearing the wrong outfit to a child's horse show. We've seen her try to get her somewhat reluctant daughter into acting (not modeling though because she thinks they aren't smart enough). We've seen her throw a dinner party that excluded queen bee and fellow Bravo housewife Jill, much to Jill's dismay. We've seen Ramona play a grudge tennis match against Jill and LuAnn where she threw her doubles partner under the bus and screamed at her husband when they did not win. Oh yeah, Ramona will make good reality TV.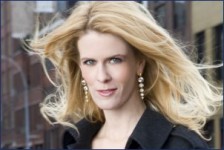 Alex McCord: Alex is a high-powered graphic designer with Victoria's Secret. She's married to clearly in a sickly co-dependent relationship with Simon. McCord has two small children, Francois and Johan (no, I'm not kidding). The tots already take music, art, swimming and French lessons. McCord appears to be the most pretentious of the bunch. Imagine Lillith from Fraiser with better, flashier clothes. She is also the housewife who appears to have the husband most in touch with his feminine side, shall we say. He shops with her, talks about shopping with her, goes to fashion shows with her, frets with her over which color boots to wear. Alex also appears to be the most striving of the bunch. She and her family live in Brooklyn. I don't know NYC too well but I'm guessing from my years of watching Sex and the City that Brooklyn isn't as chic as the Upper East Side? They don't go to St. Bart's at the right time of year. At one point fellow Housewife Jill commented that Alex and Simon only pay $300 a night for a room in the dreaded "low-season" when she pays thousands of dollars in the "high-season".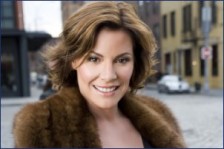 LuAnn de Lesseps: LuAnn is a Countess by marriage. Her husband is a French aristocrat whose ancestors actually presented the city of New York with its most famous desperate housewife, the Statue of Liberty. LuAnn juggles caring for two children (with the help of a nanny) with her charity work, horse shows and a gig hosting a cable show about the Hamptons called "The Countess Report". She has a house on NYC's Upper East Side and also in the Hamptons. LuAnn is rich, tall, beautiful, sophisticated, snooty and extremely well-dressed. What's not to hate?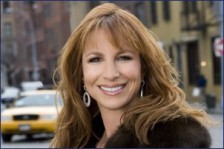 Jill Zarin: When you look up typical rich bitch from New York City in the dictionary, Jill's picture accompanies the text. She is described as a regular on the Manhattan social circuit. She and her husband Bobby run Zarin Fabrics and Home Furnishings. They have a 14-year-old daughter who already seems to understand that she is not their highest priority in life. We've already seen the daughter shipped off to a "health detox" via private plane. Bobby also has three children from a previous marriage. Jill considers herself a "connector" who enjoys bringing people together for their own personal gain. (I admit, I wish I knew someone like her). Despite the grating New York accent, Jill seems to have a sensitive side. She is deeply hurt after being left out of Ramona's dinner party and deeply offended when she ends up sitting behind her at a Fashion show. Jill also has the obligatory "gay husband"/shopping partner who comes complete with a pink cowboy hat.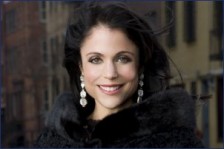 Bethenny Frankel: The least housewifeyist of the bunch. Bethenny is a single woman in her 30's. She is also a well-known natural foods chef and entrepreneur. This isn't her first go around on reality TV either. She was a runner-up on the short-lived The Apprentice: Martha Stewart. Bethenny is dating Jason, a Wall Street worker with three children of his own. She wants to get married and have exactly one child with him, like right now. I gather from episodes so far that Bethenny masks insecurities with a wicked sense of humor (her snappy remarks about Alex were spot on). She also appears to have daddy issues (he is Bobby Frankel, a world-famous horse trainer). She describes herself as having a horrible childhood where she had to fight for everything she's gotten. I'm assuming that means she refused any sort of trust fund she was entitled to?
These five women cover the bases of insecure, pretentious, snotty, spoiled and delusional quite nicely. They're also far more fashionable than their Real Housewives of Orange County counterparts. It is refreshing to see clothes, hair and makeup on women of a certain age that don't make you immediately think of a White Snake video or what girls from White Snake videos look like now.
Time will tell if The Real Housewives of New York City matches it's predecessor in popularity and buzz. So far so good. I mean even as cynical as I am, I'd sure like to be a fly on the wall of these ladies lives or at least invited to one of their charity events.
The Real Housewives of New York City airs Tuesday nights at 10 p.m. ET/PT on Bravo with reruns like all of the time, just turn on your TV you're sure to catch one.
Related Tags:
alex mccord, bethenny frankel, bobby frankel, bobby zarin, bravo, charity work, editorial, jill zarin, luann de lesseps, martha stewart, ramona singer, real housewives of new york city, real housewives of orange county, reality tv, socialites, the apprentice, the hamptons, the real housewives of new york city, the real housewives of nyc, white snake
© Gear Live Media, LLC. 2007 – User-posted content, unless source is quoted, is licensed under a Creative Commons Public Domain License. Gear Live graphics, logos, designs, page headers, button icons, videos, articles, blogs, forums, scripts and other service names are the trademarks of Gear Live Inc.