Thursday May 1, 2008 5:52 pm
Top Chef Chicago: Mark Out, Antonia Back in the Game

Tweet
Posted by Jacci Lewis Categories: Food & Home, Kids, Prime Time, Reality, Bravo, Cable, Top Chef, Editorial, News,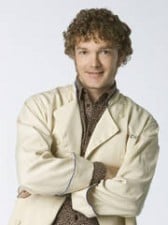 Time now to check in on what's cooking in the Top Chef Chicago kitchen. The last two weeks have seen pretty boy/chef Ryan and the remaining half of the lesbian couple/competitors, Jen, go home. (Girlfriend Zoi went home in episode 5.)
This week New Zealand native and resident mop head Mark got the axe but not before questioning whether head judge Tom Colicchio, likes him personally. Sadly Mark, I think it might just be your food. This week's challenge involved cooking for kids and he made vegetable curry, you do the math.
This week also saw single-mom Antonia get back in the game in a big way (last week she nearly went home thanks to a badly improvised dish involving polish sausage). That was then, this is now. Last night, Antonia won both the Quickfire and Elimination challenges.
The Quickfire challenge introduced Art Smith, personal chef for Chicago-based queen of the Universe, Oprah Winfrey. Smith is known for creating simple and healthy dishes. He introduced the challenge to create a fabulous entree in 15 minutes or less using Uncle Ben's rice. I liked that moment, you could see the look of contempt flicker over these elite chefs faces at the thought of using rice in a microwaveable pouch. Oh the humanity!
Richard tried to be diplomatic saying that microwaveable items are "not his style" because he likes to be more "thoughtful and methodical" (unlike the rest of us multi-colored trash who rely on them daily). The 15-minute time constraint created a mad scramble for the chefs as they ran like hell in the kitchen to get their dishes together.
Dale went the Asian route, creating a quick fried rice featuring scallops and long beans. Stephanie threw together some seafood pancakes featuring rice and scallops. Spike stuffed tomatoes with a Greek-inspired rice. Antonia created a rice salad which consisted of salad greens mixed with hot rice accompanied by a grilled skirt steak. Mark opted for a miso-glazed turkey breast that the judges found too dry. Nikki threw together a vegetable fried rice. Richard came up with a tuna steak, rice dish. Andrew made a wild rice encrusted fish that the judges found too crunchy. Lisa created a rice, corn and black bean entree with lime shrimp.
Mark's turkey, Stephanie's oddly heavy seafood pancake and Lisa's "pretty but unoriginal" Mexican dish all scored in the bottom three. Dale's fried rice, Richard's tuna steak and Antonia's interplay between cold salad and hot rice were Art Smith's favorite. Antonia ended up winning the Quickfire and securing immunity.
Next came the Elimination Challenge, where the chefs were asked to create a meal that is simple, easy and affordable for four people. The big catch? The entire meal couldn't cost more than $10.00. As anyone who has spent any time in a grocery store recently, let alone a Whole Foods knows - that barely buys four chicken breasts these days. The challenge was inspired by Art Smith's "Common Thread" organization which tries to get families to cook and eat together more.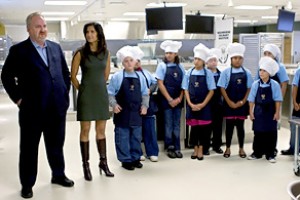 After the painful ordeal of shopping for the food they needed, (at one point Antonia had to peel leaves off of bok choy to get her total below $10.00), they went back to Chicago's Washburne Culinary Institute to prep and cook their meal. There they learned they'd have children as their sous chefs. Much like the Uncle Ben's Rice moment, you could tell some of the chefs were slightly annoyed by having to interface with small, unskilled human beings.
The kids for the most part were easy, helpful and mild-mannered. Uptightish Richard even said the experience made him want to have children when he gets home. Most of the chefs drew from their experiences of being raised by single mothers to come up with their ideas.
Dale created a turkey bratwurst with apples, cabbage and potatoes. Stephanie, who says she grew up eating only gourmet food, created a couscous with chicken and a peanut butter-tomato sauce (neither appetizing nor seemingly easy to pull off in your own home). Rich went for a roasted chicken with beets concoction. Antonia came up with a whole-wheat stir-fried pasta with chicken. Andrew went the chicken route as well with a chicken paillard. Spike made a pasta puttanesca . Nikki created a delicious-looking roasted chicken and vegetable one-pot meal. Lisa made some type of chicken dish that I could never really get a handle on. Mark made every kid's favorite Friday night dinner, vegetable curry. (OK, that isn't fair, I bet in some parts of the world curry is a kid's favorite. Too bad this is America where kids consider ketchup a vegetable and Kraft Lunchables fine dining.)
In the end, Lisa's bland and nebulous dish, Mark's overly-sweet and uninspiring vegetable curry and Stephanie's over-wrought, over-cooked couscous ended up in the bottom three. Host Padma Lakshmi called Stephanie's dish awful and off-putting. Lisa tried to defend her dish but the judges insisted it was bland and chalked her reaction up to her not being able to take criticism. Mark, who couldn't figure out why he was on the chopping block either, theorized that it was because Tom doesn't like him personally. To be fair, I'm pretty sure Tom doesn't like any of them. Either way, he laughed that one off. The judges issued Mark his walking papers. I'll miss his Kiwi accent and oddly-earnest way of talking.
In the winner's circle were Andrew's chicken paillard (which the judges liked because it introduced kids to fennel in an easy to stomach way) and Nikki's one-pot meal (which seemed smart and accessible to most people). But it was Antonia's whole wheat noodle stir-fry with chicken that took top honors. Art Smith chose her dish as his favorite.
All in all, a slow and somewhat boring episode. (I'm kind of falling out of love with this show; I hope it gets better.) Next week looks promising. It's being billed as Top Chef Wedding Wars. The commercial shows the remaining chefs working 14 hours straight, freaking out and making a wedding cake to boot. That should be good. Top Chef Chicago airs Wednesday nights at 10 p.m. ET/PT on Bravo.
© Gear Live Media, LLC. 2007 – User-posted content, unless source is quoted, is licensed under a Creative Commons Public Domain License. Gear Live graphics, logos, designs, page headers, button icons, videos, articles, blogs, forums, scripts and other service names are the trademarks of Gear Live Inc.