Thursday May 15, 2008 8:38 pm
Top Chef Chicago: Andrew Gets a Raw Deal

Tweet
Posted by Jacci Lewis Categories: Drama, Food & Home, Prime Time, Reality, Bravo, Cable, Top Chef, Editorial, News,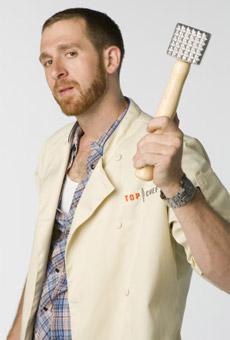 If three previous seasons of Top Chef have taught contestants anything, it is that you always have to follow the judges' rules for each challenge. If you don't, you are the most likely target to be sent packing. In Top Chef, taste is subjective. So all things being equal, the rules are the deal breaker.
Andrew is the latest chef to learn that lesson the hard way. His over-confident attempt to create a healthy sushi box lunch for Chicago cops (???) fell flat with the judges, both because it didn't taste very good and also because it was missing a food group required for the challenge.
The spastic 30-year-old New York sous chef joins Nikki who went home last week after her ineffectual role in the "Wedding Wars" episode. That leaves just six chefs left to fight it out for this season's title.
This episode began with the chefs still exhausted from the "Wedding Wars" challenge in the previous week. Spike was also still sore at Dale for suggesting that he pulled most of the weight for their team during that challenge. Spike believes Dale's "I'm not here to make friends" strategy will backfire.
Andrew's first comment of the episode was that he woke up for the day's challenges with a fire in his belly that would either translate into cooking well or "stabbing someone." Yeah, not entirely sure Andrew is playing with a full-deck. Maybe it is the crazy eyes or the bizarre speech patterns? I don't know.
Anyway, the Quickfire Challenge brought back a fan favorite from Top Chef season 2, Sam Talbot. His challenge was to create a "sexy salad" (whatever that means) in 45 minutes. Which, even I know, is a lot of time to make a salad.
Spike came up with what he called a "sensual beef salad." In what had to be one of the more surreal moments of this episode Spike suggested, with a straight face, his salad would say to someone "let's have sex after we eat salad." (I say you better spring for the entire meal, drinks and a show then we'll talk.)
Andrew created a Thai fruit salad. Lisa made a "sexy banana salad" that according to the judges, tasted too much like bananas. Apparently that is not sexy. Stephanie created a fall-themed salad with artichokes which she didn't finish in time. Richard created what he considered more of a ceviche of fruits. Dale, big surprise, came up with an Asian-themed salad. And Antonia created a spinach, poached egg and bacon salad.
The judges' bottom three were Rich, whose "ceviche" just didn't seem enough like a salad or something sexy, Stephanie whose lack of time management put her fall-themed dish in the bottom three along with Lisa whose squid and lobster salad were too overpowered by the non-sexy bananas.
The judges loved Spike's beef, pineapple salad and Dale's Asian salad. They also liked Antonia's poached egg salad. Sam remarked that there is nothing sexier than cutting into an egg. This is the moment where I realize that I must not understand food very well. Eggs don't seem remotely sexy to me, particularly after years of low carb diets. Still her salad did sound good (and low carb to boot). The winner of the Quickfire Challenge though was Spike. He didn't win immunity but did get a big advantage in the Elimination Challenge.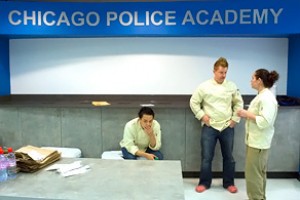 That challenge was to create a healthy box lunch for Chicago Police recruits. The dish had to include a whole grain, a fruit and vegetable and a lean protein. It also had to be low in sugar and fat while still tasty and familiar as something most people would eat for lunch. In addition to this, it had to be microwaveable.
When the chefs got to Whole Foods they learned that Spike's advantage in this challenge was a ten-minute jump on shopping for his items. He also got to select four foods that no one else could use. Spike, being the tool that he is, picked chicken, tomatoes, lettuce and bread to create a healthy chicken salad.
Andrew immediately felt he'd have the upper hand in this challenge because he has studied nutrition extensively. He decided to make a sushi using ground up parsnips and pine nuts instead of rice. Unfortunately his dish didn't include a whole grain which would come back to haunt him later.
Antonia decided to make a curry beef and jasmine rice dish. Rich came up with a healthy burrito. Dale opted for yet another Asian-themed dish (which actually sounded SO good) of cabbage cups using bison and vietnamese flavors as the filling. Lisa decided to make a stir fry with vegetables and shrimp which, while low carb and low fat, are actually high in cholesterol.
When it came time to cook, the chefs seemed to still be punch drunk from their 40-hour marathon of cooking for the Wedding War. Lisa accused someone of turning up the burner on her rice which resulted in burnt/undercooked rice.
When it came time to try to convince the Police recruits to select their meal Rich tried hard to break out of his shell by asking everyone who walked by if they liked burritos. Spike called him cheesy but the cops seemed to like his dish.
As for the judges they didn't seem overly wowed by the offerings. Host/judge Padma Lakshmi called Spike's chicken salad "pedestrian". Tom questioned why Spike didn't make more of an effort to use the bread, tomatoes and lettuce he blocked from the other chefs. Andrew's sushi also got a lukewarm reception. Padma called it strange and noted that it contained no whole grain element. The judges also felt it wasn't a very filling or hearty meal. Lisa's stir fry also fell flat. They didn't like the undercooked rice and long beans and didn't feel it was a true stir fry.
As for the cops, they seemed to like everything presented to them which I found endearing albeit kind of sad.
The judges loved Dale's cabbage cups, Antonia's beef curry, Rich's burritos which they said tasted better than they looked and they liked Stephanie's fall-themed mushroom, leek and meatball soup.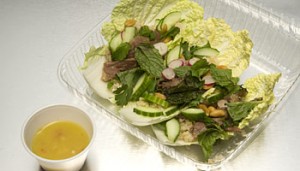 When it came time for judge's tables Dale and Stephanie came out on top. The judges said Dale's bison mimicked beef well and was very satisfying. Stephanie's use of barley in her soup also scored high. Dale won the challenge, a nice bottle of wine and a trip for two to a Napa Valley winery.
The judge's bottom three were Spike, Andrew and Lisa. Spike's salad was deemed too boring, the judges also blasted the flavor combination of olives and grapes in the salad. Spike tried to argue back but Tom was having none of it. Lisa's stir fry also got seriously low marks. In a somewhat desperate move Lisa tried to deflect attention away from her failed dish by reminding the judges that Andrew didn't use a whole grain in his dish. Andrew got a scary look in his eyes, blasted Lisa then insisted that he lost the rule sheet.
In the end it was Andrew's ill-conceived sushi that did him in. As Andrew went to shake hands with the judges they looked vaguely relieved to see him go (or maybe that was just me).
Next week is the show most Top Chef fans wait all season for: "Restaurant Wars". Dale, Stephanie, Lisa, Richard, Antonia and Spike will duke it out to see who gets to the finals. Top Chef airs first-run episodes Wednesday night at 10 p.m. ET/PT on Bravo.
© Gear Live Media, LLC. 2007 – User-posted content, unless source is quoted, is licensed under a Creative Commons Public Domain License. Gear Live graphics, logos, designs, page headers, button icons, videos, articles, blogs, forums, scripts and other service names are the trademarks of Gear Live Inc.