Sunday February 10, 2008 10:02 am
The Opposite of the Grammy Awards: 'Masterpiece Theater's Pride and Prejudice'

Tweet
Posted by Jacci Lewis Categories: Drama, Mini Series, Prime Time, BBC, PBS, Editorial,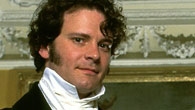 If you are looking for an alternative to the Grammy Awards tonight (live at 8 p.m. ET on CBS) here is one, no actually here is the absolute opposite of the Grammy Awards: Masterpiece Theater.
Okay before you frantically click to close this story consider this: one of the best adaptations of a Jane Austen book begins tonight on the venerable PBS series.
BBC's 1995 version of Austen's Pride and Prejudice begins it's three part run tonight on PBS at 9 p.m. as part of Masterpiece Theater's The Complete Jane Austen series.
The series has already presented admirable new versions of Persuasion, Mansfield Park and Northanger Abbey as well as Miss Austen Regrets, a film biography that tells the story of Jane Austen's lost loves and why she herself, never married. Miss Austen Regrets stars Olivia Williams of The Sixth Sense (1999) and Rushmore (1998) fame. All of these Austen titles are well worth the time and effort it would take to seek them out on DVD or even read them!
For the past 15 years or so Austen adaptations have come fast and furiously to the big screen and small. Like the long, drawn out Capri pant craze some have been more flattering than others and perhaps it is time to put both trends away for a while.
But BBC's 1995 version of Pride and Prejudice is considered by many diehard Austen fans as the definitive adaptation. The movie's faithfulness to the plot, simple but elegant sets and costumes and the strength and chemistry between actress Jennifer Ehle who plays Elizabeth Bennet and Colin Firth who plays Mr. Darcy make it irresistible. It was no coincidence, by the way, that Firth played Mark Darcy in the 2001 movie version of Helen Fielding's Bridget Jones Diary. Fielding's Mark is the modern equivalent of Austen's Darcy.
The reason Jane Austen's books still resonate so strongly with modern readers is simple: she was a master observer of human nature and human folly and those things never change. The customs and fashion presented in her books may be relics of a long gone era but the themes of love, longing and deception never leave the human experience.
Women will always fall for charming, seductive and altogether morally bankrupt men like Mr. Wickham. Parents, like the upwardly mobile Mrs. Bennet, will always try to steer their children to people they consider to be a more suitable match. Some men, like the wonderful Mr. Darcy, will always hide their depth of character and love behind a wall of pride and aloofness. And every family has a black sheep like Lydia Bennet who disregards the feelings and social standing of her loved ones to run off with a very bad man.
The other beautiful thing about this series is that you could safely watch it with younger children, particularly so-called "tween" girls. It presents to them a refreshing alternative to the modern world's take on beauty. There is very little overt sexuality in Austen's world. A simply dressed, kind-hearted and well-read woman goes a lot farther than the town hussy.
Masterpiece Theater itself has undergone a makeover of sorts to shed some of it's musty image without losing the core values that make it so important to American television. New host Gillian Anderson of X-Files fame bring a breath of fresh air to a younger audience. You don't need a smoking jacket, ascot or snifter of brandy to fit in here.
If you've had enough of the glitzy, flashy and lets face it phony world of celebrity culture and (sorry) the Grammy Awards. Give Masterpiece Theater a try. Your brain will thank you for it.
Masterpiece Theater's presentation of BBC's Pride and Prejudice begins tonight at 9 p.m. on your local PBS station. The two remaining parts will air Feb. 17 and Feb. 24.
Related Tags:
adaptation, alternative to grammy awards, bbc, bridget jones diary, colin firth, family, gillian anderson, grammy awards, helen fielding, jane austen, jennifer ehle, lydia bennet, mansfield park, mark darcy, masterpiece theater, miss austen regrets, mr. wichkam, northanger abbey, pbs, pride and prejudice, tween, x-files, xfiles
© Gear Live Media, LLC. 2007 – User-posted content, unless source is quoted, is licensed under a Creative Commons Public Domain License. Gear Live graphics, logos, designs, page headers, button icons, videos, articles, blogs, forums, scripts and other service names are the trademarks of Gear Live Inc.