Tuesday April 15, 2008 12:26 am
Dancing with the Stars 6: Week 5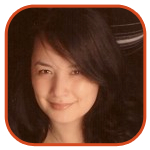 Tweet
Posted by Veronica Santiago Categories: Prime Time, Reality, ABC, Dancing With The Stars, Editorial, Features,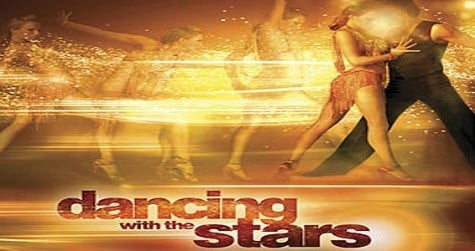 Last week, most of the dancers were floating on air after their impressive turns at either the Paso Doble or the Viennese Waltz. By Tuesday, three of them had 10s, Marissa had confidence and Adam had a return ticket home.
Today, the celebrities of Dancing with the Stars: Season 6 welcomed Latin night with either the sizzling Samba or the romantic Rumba. Did someone finally reach the elusive 30…and was anyone able to make Carrie Ann cry again? Read on!
Mario (partner Karina Smirnoff)
(Dance: Samba/ Song: 'A-Tisket, A-Tasket')
Note to female dancers: To dance the 'samba', you apparently need to spray-tan yourself 5 colors darker than you normally are. (At least that's what Karina has taught me.) As for Mario, he danced really well tonight. He was fun, flirty…and most importantly, he didn't overdo it. He worked his hips nicely and performed some nice glides and turns. I thought he looked quite charming.
Len said this dance suited him well. It had a nice freedom about. Although he felt Mario still needed to work on his footwork, he thought this was his best dance so far. Bruno said if hips could talk, the show would be censored tonight. It was a beautiful and classically done piece. Carrie Ann thought it was nice, clean and to the point. Score: 9/9/9 (27)
Priscilla Presley (partner Louis van Amstel)
(Dance: Rumba/ Song: 'The First Time Ever I Saw Your Face')
Sadly, I was distracted by Priscilla's horrible outfit from the get-go. The sequined goth-esque number looked far too young for her. Unfortunately, she didn't do special to keep me this very slow style from boring me. She lacked crispness, hip movement and the power to seduce. The dance basically went nowhere for me.
Bruno likes that Priscilla is usually sensual but not trashy, available but expensive. But tonight, he said the slow dance exposed a lot of her faults. She missed an underarm turn and looked very shaky, especially in the end. Carrie Ann felt Presley was trying so hard for the technique, the dance's flow suffered. Len simply said he was disappointed. He thought it lacked spontaneity and was far too careful. Score: 7/7/7 (21)
Marissa Jaret Winokur (partner Tony Dovolani)
(Dance: Samba/ Song: 'Tambourine')
This was the perfect style of dance for Marissa. Not only did she look saucy in her purple fringe number, she was incredibly sassy and flirty with her dance. She put 100% into her performance and really felt the music. It was sexy, bouncy and exciting.
Carrie Ann said the Broadway star was really working it. She felt it was her best routine by far. Len liked the mix of basic and clever steps. The head judge thought she had "more bounce to the ounce" and did a great job. Bruno said she had "more shakes than a cocktail bar." He liked that she really in the effort. Once she got into it, there was no stopping her. Score: 8/8/8 (24)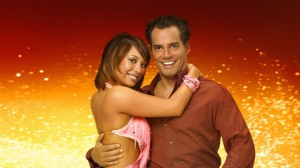 Cristián de la Fuente (partner Cheryl Burke)
(Dance: Rumba/ Song: 'If You're Not the One')
I thought Cristián looked hot. The style really brought out his fiery Latin side. He was intense, sexy and held character quite well. The chemistry between the two of them was so hot, I honestly thought they were going to have sex right on the dance floor at the end.
Len said the dance was not fantastic nor did it blow him away. It was simply competent. Bruno liked the chemistry but had problems with his technique. Instead of caressing the floor, he said Cristián was dragging his feet in the sand. Carrie Ann felt differently. She said the chemistry was actually lacking. She also thought he needed to work on sustaining his movements. Score: 7/8/8 (23)
Marlee Matlin (partner Fabian Sanchez)
(Dance: Samba/ Song: 'Samba Hey')
Marlee had her back to Fabian at the very beginning, yet somehow she knew when to start the dance. Amazing! Although she seemed a bit off at times, I thought she did a great job keeping up with the very fast style overall. And as difficult as the whole thing must have been, she always managed to look like she was enjoying herself.
Bruno said it was very hot, sexy and inspiring. Unfortunately, he did notice that she had a few stumbles in her timing. Carrie Ann admired her for never giving up. There were a few moments when she could have given up, but Marlee kept on fighting. Len thought she danced with such confidence. Taking her hearing loss into consideration, he felt she did a great job with a difficult dance. Score: 7/7/8 (22)
Kristi Yamaguchi (partner Mark Ballas)
(Dance: Rumba/ Song: 'Say')
Tonight, the far too cute couple looked like they should be on a totally different stage; their matching lavender outfits screamed ice dancing pair. Although I felt she was emotionally more open with this sultry dance, I really didn't think it was quite sexy enough. Their wide grins didn't ooze romance to me. As for her performance, she was technically proficient as always. I just wish she would finally get me to care.
Carrie Ann commended her for taking a risk; she felt Kristi's emotions really flow out. Len gave the skater three words: "Fab-u-lous." Bruno thought the dance was "stupendous." He felt that Mark and Kristi had really good chemistry. Score: 9/10/10 (29)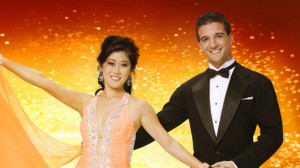 Shannon Elizabeth (partner Derek Hough)
(Dance: Samba/ Song: 'Pon de Replay')
First of all, I really hated the fake hair/headband look. Between that and her way-too-skinny legs, she just looked like a dancing Barbie doll. Although Shannon has made some great strides in the past few weeks, I thought she took a huge leap backwards tonight. She lacked bounce and any evidence of hips. She was as stiff as Marissa was bouncy.
Len said the performance really wasn't good enough. He criticized her for the poor hip action. Bruno dinged Shannon for the missing bounce and messed up turns. Carrie Ann gave her credit for being ambitious and giving it her all. Score: 8/8/7 (23)
Jason Taylor (partner Edyta Sliwinska)
(Dance: Rumba/ Song: 'You're All I Need to Get By')
Having just watched Oprah, I have to wonder if Edyta stole her white number from Mariah Carey's lingerie closet. Meanwhile, Jason was looking pretty hot himself. The tall guy was surprisingly dainty with this style. He also possessed some nice lines and great flexibility. And what chemistry! He was romantic and gentle with his very lucky partner.
Bruno said Jason really has the look of a love god. The large football player somehow managed to be light at the same time. Carrie Ann said the couple had insane chemistry. She just advised him to watch his arms when they are in the down position. The head judge felt Jason had a naturalness about him. He just wished Edyta didn't have him standing around so much. Score: 9/9/9 (27)
You can watch tonight's most upbeat performance (Marissa's) below:
(You can find all the Dancing with the Stars: Season 6 posts here.)
Related Tags:
abc, ballroom, bruno tonioli, carrie ann inaba, cheryl burke, cristian de la fuente, cristián de la fuente, dancing, dancing with the stars, dancing with the stars 6, dancing with the stars season 6, dancing with the stars: season 6, derek hough, dwts, dwts 6, edyta sliwinska, fabian sanchez, jason taylor, judges, karina smirnoff, kristi yamaguchi, len goodman, louis van amstel, mario, marissa jaret winokur, mark ballas, marlee matlin, priscilla presley, reality, rumba, samantha harris, samba, shannon elizabeth, tom bergeron, tony dovolani
© Gear Live Media, LLC. 2007 – User-posted content, unless source is quoted, is licensed under a Creative Commons Public Domain License. Gear Live graphics, logos, designs, page headers, button icons, videos, articles, blogs, forums, scripts and other service names are the trademarks of Gear Live Inc.