Tuesday April 8, 2008 12:21 am
Dancing with the Stars 6: Week 4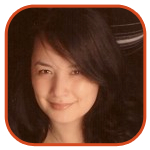 Tweet
Posted by Veronica Santiago Categories: Prime Time, Reality, ABC, Dancing With The Stars, Editorial, Features,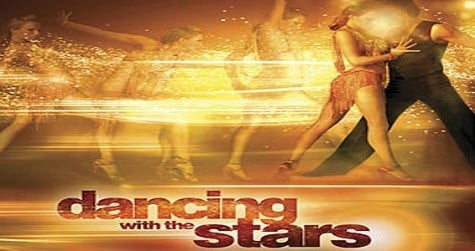 Last Monday, the Top Ten competitors did their best to impress with either the Tango or the Jive. By Tuesday, Adam had improved, Mario had stumbled and Steve was eliminated.
This week on Dancing with the Stars: Season 6, the celebrities were introduced to either the intense Paso Doble or the romantic Viennese Waltz. Did Kristi finally deviate from her boring three 9's…and was Marissa simply boring? Read on!
Kristi Yamaguchi (partner Mark Ballas)
(Dance: Paso Doble/ Song: 'Blue Monday')
Given how boring she is to watch during practice, it was good to see Kristi bring much needed emotion to the dance floor. At times she seemed a bit serious, but I guess that made it the perfect style for her natural persona. Overall, she was in really great form. Her technique was on par and her dance was hot, young and fun.
Len said the performance had great choreography and technique. Unfortunately, he said it also had a sameness about it. He didn't think the drama really came out in her. Bruno disagreed with the head judge. He said Kristi unleashed a harlot tonight. He was also impressed that she pulled off some difficult jumps. Carrie Ann said she enjoyed watching the fantastic dance. She liked that Yamaguchi took some risks. Score: 10/9/10 (29) The first two 10's of the whole season.
Priscilla Presley (partner Louis van Amstel)
(Dance: Viennese Waltz/ Song: 'Do Right Woman – Do Right Man')
I first have to say how much I hated her dress tonight. She looked like Steve Nicks' interpretation of a princess. Luckily, she fared much better with her dance. She had grace, elegance and flair. Her footwork seemed a bit off at times, but I really liked her flow.
Bruno said it was like watching a scene from the 'Merry Winter'?? He simply advised her to watch her shoulder neckline during the holds. Carrie Ann loved that that Priscilla was able to create drama from her facial expressions. Unfortunately, she felt her balance was off and she noticed that they did a forbidden lift. Although it was a bit rushed, Len said the dance had elegance and natural flow. But he also spotted the frowned upon lift! Score: 7/7/8 (22)
Adam Carolla (partner Julianne Hough)
(Dance: Paso Doble/ Song: 'Plaza of Execution')
This was one of the weirdest set-ups ever. It was like Heidi meets Zorro on a unicycle. Yes – a unicycle. I'm not entirely sure how much dancing he actually did, but I really did enjoy the theatrics. He was campily macho. He also managed to throw in a few nice spins and leaps as well.
Carrie Ann said that it was "interesting." She did award them an 'A' for creativity though. Len said Adam was a lovable character; he's just not much of a dancer. Bruno said this was the classic example of how genius and insanity go hand in hand. He then awarded the radio guy a few points for trying. Score: 6/7/6 (19)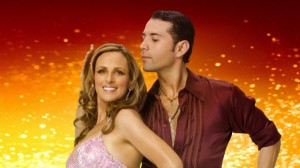 Marlee Matlin (partner Fabian Sanchez)
(Dance: Viennese Waltz/ Song: 'She's Always a Woman')
Until Marlee mentioned it, it never occurred to me that her lack of hearing might give her difficulties with balance. It's not something you could have guessed based on her dancing alone. Although she looked a bit stiff at times, the performance was quite dreamy. The way he held her face and the way she swayed with him…I found myself caught up in the moment and actually emotional at the end.
Len thought it was very, very good. He liked how they came together at the beginning and the fact that she pulled off a difficult step (a fleckle). He did criticize her for some bizarre head movements though. Bruno complimented her for always staying immersed in her roles. He just advised her to work on improving her posture. Carrie Ann was apparently just as moved as I was. The choked up judge said the dance truly touched her. Score: 8/8/8 (24)
Mario (partner Karina Smirnoff)
(Dance: Paso Doble/ Song: 'Higher Ground')
Last week, the singer fell off his game. Tonight, he was masterful and angry. He may have been a bit too hard-looking at times, but he matched Karina step for step. He also had the chance to throw in some Michael Jackson-esque moves. And what a great close!
Bruno said 'Mario the Conqueror' was full of attack. He liked that the dance was very strong and powerful. Although Carrie Ann thought the outing was sometimes a little awkward, she felt Mario was clearly more focused during this performance. Len believed he needed to work on the styling a bit more. He said Mario had only one style of dance…and it's sort of "wild". Score: 8/7/9 (24)
Jason Taylor (partner Edyta Sliwinska)
(Dance: Viennese Waltz/ Song: 'This is a Man's World')
He seemed a bit stiff in the beginning, but things quickly improved from there. It was really interesting to see him use his long limbs during this style. I felt the romance seemed a bit forced at times, but it was a graceful and elegant dance overall.
Carrie Ann thought it was beautiful. She said that Jason has an understated elegance. She also liked that they added a seductive angle to the choreography. Len said it was a "wow" performance. Bruno thought he managed to make the dance look sexy, sensual and erotic. Score: 10/9/10 (29) The third and fourth 10's tonight.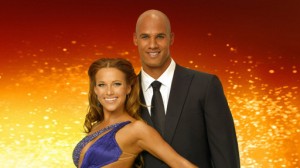 Cristián de la Fuente (partner Cheryl Burke)
(Dance: Paso Doble/ Song: 'La Virgen de la Macarena')
This couple had the skimpiest outfits of the night…so far. She evoked Janet Jackson while he…was basically shirtless. As for his dancing, I thought this was Cristian's best outing yet. He was like a sexy vampire who was completely in control of his victim. He looked incredibly confident thanks to his great posture. And I loved the choreography's climactic moment.
Len liked the passion, drama and intensity. Unfortunately, he felt like the powerful music conquered his performance at times. Bruno said the actor had the pride and power of the arena. He felt Cristián was very convincing and totally in character. Carrie Ann disagreed with Len. She felt he managed to be right there with the music. Score: 9/8/9 (26)
Shannon Elizabeth (partner Derek Hough)
(Dance: Viennese Waltz/ Song: 'Keep Holding On')
Because of a neck injury during rehearsals last week, Shannon spent a lot of time practicing with backup Jonathan Roberts. Amazingly though, she and Derek looked very much like one tonight. Even though I hated the hippie look, she was graceful and elegant. At times things did look slightly awkward, but I think that's because she was afraid of straining his neck.
Bruno said the "hot babe" had graduated into a "class act". He thought she had a beautiful sense of movement and musicality. Carrie Ann liked that Shannon appeared so comfortable in her own body. The actress' ability seemed very organic. Len thought it was the best dance he had seen all night. Score: 9/10/9 (28) (The fifth ten tonight.)
Marissa Jaret Winokur (partner Tony Dovolani)
(Dance: Paso Doble/ Song: 'My Family is My Life')
It was immediately evident that Marissa was ready to fight for her chance to stay. Her normal smile was replaced with a fiercely determined look. But she wasn't just serious - she was also quite sexy! She really threw herself into this fiery dance. In the end, the couple looked like they were ripped right off the cover of a romance novel.
Carrie Ann thought it was fantastic. The Broadway star finally delivered the commitment that she was waiting for. Len said the true Marissa came out tonight. Bruno liked that she got rid of her safety net. She took risks and displayed a different aspect of her they hadn't seen before. Score: 8/8/8 (24) (Her best score so far.)
You can watch tonight's most emotional performance (Marlee's) below:
(You can find all the Dancing with the Stars: Season 6 posts here.)
Related Tags:
abc, adam carolla, ballroom, bruno tonioli, carrie ann inaba, cheryl burke, cristian de la fuente, cristián de la fuente, dancing, dancing with the stars, dancing with the stars 6, dancing with the stars season 6, dancing with the stars: season 6, derek hough, dwts, dwts 6, edyta sliwinska, fabian sanchez, jason taylor, judges, julianne hough, karina smirnoff, kristi yamaguchi, len goodman, louis van amstel, mario, marissa jaret winokur, mark ballas, marlee matlin, paso doble, priscilla presley, reality, samantha harris, shannon elizabeth, tom bergeron, tony dovolani, viennese waltz
© Gear Live Media, LLC. 2007 – User-posted content, unless source is quoted, is licensed under a Creative Commons Public Domain License. Gear Live graphics, logos, designs, page headers, button icons, videos, articles, blogs, forums, scripts and other service names are the trademarks of Gear Live Inc.