Wednesday April 2, 2008 10:07 pm
Big Brother 9: Surly Joshuah Evicted, Adam Wins Head of Household

Tweet
Posted by Jacci Lewis Categories: Prime Time, Reality, CBS, Editorial, News,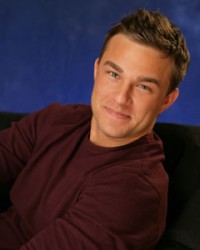 Not even a pathetically staged crying jag could save Joshuah from the chopping block on Big Brother 9. House guests fed up with his scheming ways and, as I've written about before, his bottomless pit of anger against some of the women in the house sent the 25-year-old Texas advertising media buyer packing.
Joshuah was evicted by a vote of 3 to 1. Ryan, Sheila and Adam all agreed it was time for him to go. Fellow pariah "Crazy" James was the only house guest to throw Joshuah a bone but it wasn't enough.
The only other big headline of the night: Adam is the new Head of Household.
Joshuah believed he had gathered up enough votes to stay in the house by tossing his so-called best friend Sharon to the lions. He cried then begged other house guests to choose him over her, suggesting that she was a lot better player than they knew. (Sharon was put up for eviction as a pawn after Natalie's original choice for eviction, James, won the Power of Veto.)
For a while it appeared that Ryan and Natalie were going to go along with Joshuah's plan to get mild-mannered, Bible-loving Sharon out. (And really considering Sharon is a Realtor and the housing market has tanked what else does she have to do that would be better than being locked up in a miserably, unstimulating house with totally annoying people?) It also appeared that Joshuah won Adam over after a totally uncomfortable scene where he blubbered to Adam that it hurt so bad to be nominated for eviction and that he didn't know what he was going to do if he was evicted. (Um, go back to your real life and your job if it is still there?) Adam tried to comfort Joshuah and even teared up himself. This was interspersed with a one-on-one interview where Joshuah explains how he has always been able to cry on cue and that maybe if things don't work out with Big Brother, he'll get on a soap opera.
During all of this, Natalie realized that an alliance with Joshuah was doomed to fail and that he and James would begin picking them off one at a time if she let both of them stay in the house together. She told Sharon about Joshuah's plan, then told Sheila. Both women were shocked, they originally believed that Joshuah was going to sacrifice himself so that his "friend", Sharon, could stay in the house. But alas, Joshuah totally threw Sharon under the bus. (I really hate that expression, if anyone has a better cliche please let me know in the comments section.) After this revelation the women in the house decided to band together to get Joshuah out. Sisters doin' it for themselves! They also convinced Ryan and Adam that Joshuah had to go.
Next, we see live talk backs between Julie Chen and the house guests. Sheila was asked how she feels about James after he verbally assaulted her for being a "lying two-faced bitch". That mini-eruption happened on Tuesday's episode after an emotionally fragile James got a secret pep talk from Sheila then heard her saying the same things to Joshuah while insisting that James had to be evicted. James, clad only in a dirty-looking t-shirt and bikini underwear, got in the former Penthouse Pet's face to the point where I was sure one of the other guys in the house would come and break it up. Of course none of them did, what a bunch of losers.
Julie Chen then asked Joshuah what it was like to be nominated against his closest friend in the house, Sharon. He put on a song and dance about how he couldn't do anything to ruin her chances (yeah, right) and that they will be best friends outside the Big Brother house (yeah, right). He also alluded to some dirty secrets he may have about Sharon which actually made her seem a lot more interesting.
Next, we see our weekly house guest montage. This time the subject is Joshuah and what his beloved mother Darlene thinks about her son's conduct in the Big Brother house. She comes right out and says that she is totally embarrassed by some of what he has done and that she does not recognize the person she sees on her TV screen. HER son is kind and helpful. He was a star athlete, church youth leader, helper of the elderly even a studly looking guy with a girlfriend until he came out to her as gay. But something evil must lurk inside the Big Brother house because he has been downright cruel to people he has taken exception to, namely Amanda and Allison. In a refreshingly honest interview his mother says it has been nerve-wracking watching Joshuah on TV and at times she just wants to wring his neck. But in a defense that only a mother could launch she suggests that maybe he is only ACTING brutally awful as his strategy in the game.
In his exit interview, Joshuah tells Julie he only attacked Amanda and Allison because they had it coming and that he was fighting for other house guests who had been maligned. He even likened himself to Norma Ray. Joshuah insists that the way he acts has nothing to do with his upbringing or who he really is. I still think that boy could use some serious anger management course work, he seems like a walking time bomb.
Joshuah also told Julie he hopes that either Sharon or James wins Big Brother because they are the only two people left in the house who actually deserve it.
The next episode will have Adam selecting two nominees for eviction. There are only 6 house guests left which means there is finally an end in sight to this seemingly endless season of Big Brother. The next Big Brother 9 airs Sunday night at 8 p.m. ET/PT on CBS.
© Gear Live Media, LLC. 2007 – User-posted content, unless source is quoted, is licensed under a Creative Commons Public Domain License. Gear Live graphics, logos, designs, page headers, button icons, videos, articles, blogs, forums, scripts and other service names are the trademarks of Gear Live Inc.