Wednesday February 13, 2008 10:13 am
Big Brother 9: Exploring Co-Dependent Relationships

Tweet
Posted by Jacci Lewis Categories: Prime Time, Reality, CBS, Showtime,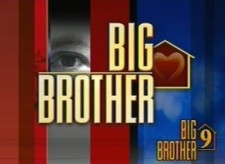 Big Brother 9: 'Til Death Do Us Part premiered last night on CBS and either I'm desperate for entertainment or it actually looks like this might be an interesting season. First off, the concept of the game has shifted some. Big Brother used to a be a random mix of people, stuck in an ugly house, cut-off from the outside world and surrounded by dozens of cameras and microphones that recorded every excruciating second. They lied, cheated and formed unlikely alliances to survive but ultimately it was every man or woman for themselves.
They're still in an ugly house, surrounded by cameras and microphones but now the game is all about the power of two. Each of the 16 house guests in Big Brother 9 had to undergo extensive personality testing. That information was used to romantically match them up with another house guest who could be their so-called "soulmate". The new couples will sleep in the same bed, compete together to win "head of household" or "power couple" as it is now called. The couples will be evicted together or, for the final two, win together. The prize for surviving 3 months confined with people you've potentially grown to hate is $500,000.
Adding to the drama, four of the house guests know each other intimately. Sharon and Jacob, both 23, dated for 12 years until Jacob cheated on her. Neither knew the other would be in the Big Brother house. Jen and Ryan, both from Columbus, OH, live together and have been dating for 9 months. They DID know the other would be in the house but have to pretend to be strangers to avoid eviction.
Read More

|
CBS
So here is how the house guests were paired off:
Jen and Parker: Jen, 26, is a self-proclaimed "crazy party girl" from Ohio. As mentioned above she is dating Ryan but is paired up with TMZ paparazzo Parker. Parker is 26, he describes himself as inappropriate, unpredictable and authentic. The couple has already scored a major victory. They won the first "power couple" competition and an extra $10,000. They will choose the first couple to be evicted.
Ryan and Allison: College student Ryan is 27 and as mentioned before, Jen's live-in boyfriend. Ryan is paired up with Allison, a 28-year old pharmaceutical sales representative from Boston, MA. In her bio, Allison describes herself as a woman that other women love to hate. She is probably right.
Jacob and Sharon: Jacob is a 23-year old ex-Marine from Dallas, GA. He describes Sharon as the love of his life and says he regrets cheating on her. Sharon, a real estate agent from Olathe, KS is clearly still bitter over her ex's infidelity. Not surprisingly she is none-too-pleased to be sharing a bed with him.
Alex & Amanda: Alex is a 24-year old DJ from Staten Island, NY. Amanda is also 23, a paralegal from Fridley, Minnesota.
James & Chelsia: James, 21, is a homeless guy trying to ride his bike around the world with no more than $100 in his pocket. Chelsia is also 21, a German major from Cedar Falls, IA.
Natalie & Matt: Natalie is a 28-year old bikini barista from Salem, Oregon. That's right, she serves lattes in a bathing suit and in one of the strangest introductions in recent memory she said, "I love bikinis, coffee and God". She is matched up with Matt, 23, of Charlestown, MA. Matt is a roofing foreman whose other reality claim to fame is that he once lost on couples' Fear Factor. He is also a self-proclaimed liar who says he keeps his ex-girlfriends around for booty calls. Handsome AND charming!
Joshuah and Neil: As you probably guessed from their names, they are the gay couple in the bunch. Joshuah is 25, an advertising media buyer from Dallas, TX. Neil is 29, a former model and current real estate agent from Los Angeles, CA.
Sheila and Adam: I saved the best for last. Sheila is a 45-year old former Penthouse Pet and current single, stay-at-home mom from Reseda, CA. Adam is 29-year old non-profit public relations manager from Delray Beach, Florida. Sheila wanted a hot guy who works out a lot. Adam didn't want to be paired up with the resident 'cougar'. Guess what? Adam compounded problems by calling Sheila "Ma" within seconds of meeting her. Sheila threw a hissy as soon as she realized Adam was her "soulmate" and not the young stud she was hoping for. She described him as: out-of-shape, pasty white with bad hair. He called her a mentally-unstable beast with bad breath. Oh yeah, this should work out just fine.
The first couple will be evicted Tonight, Feb. 13. If two nights of Big Brother doesn't seem like enough, you can catch a steamier version on Showtime 2, check local listings. If you REALLY can't get enough you could always pay to subscribe to a 24/7 feed on CBS.com (watching paint dry might be more exciting though, and certainly cheaper).
© Gear Live Media, LLC. 2007 – User-posted content, unless source is quoted, is licensed under a Creative Commons Public Domain License. Gear Live graphics, logos, designs, page headers, button icons, videos, articles, blogs, forums, scripts and other service names are the trademarks of Gear Live Inc.