Thursday September 11, 2008 10:22 am
America's Next Top Model Cycle 11: The Ladder of Model Success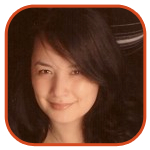 Tweet
Posted by Veronica Santiago Categories: Prime Time, Reality, The CW, America's Next Top Model, Editorial, Features,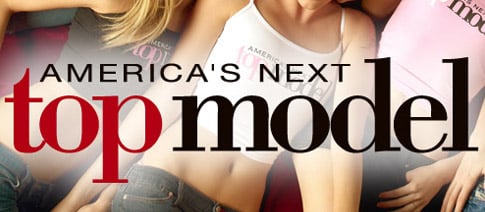 On this week's episode of America's Next Top Model: Cycle 11, the ladies learned the importance of making a good first impression. One girl said a few things she shouldn't say, one girl placed a product in a place she shouldn't put it, and another girl put off her roomies thanks to an off-putting remark.
But what does any of that have to do with modeling, right?
Read More

|
America's Next Top Model
For their first official lesson of the competition, the ladies had the seasonal meeting with Benny Ninja, the show's official posing instructor. Today's mission? Teaching the girls how to think outside – and inside – the box.
After stepping into large pantyhose-esque tubes, the models were asked to strike a series of original poses. For the extremely flexible Sheena, this was not a problem. The Kimora Lee Simmons look-alike was told she did extremely well. Unfortunately, this was not the case for some of the others. Nikeysha made Benny think she was either in labor or having bad gas. (Of course, the girl who talks too much had a few things to say about that.) Meanwhile, it was pointed out to Isis that her face didn't move in concert with her body.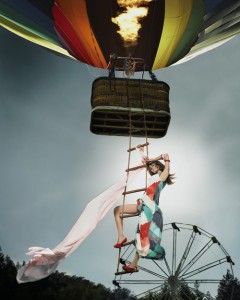 Later in the evening, the ladies opted to wind down in the large hot tub. This relaxing moment proved to be quite fun for some and a bit awkward for others. During a game of Truth or Dare, Elina finally got her chance to kiss Clark. (The bisexual revealed in last week's episode that she had a crush on the bitchy blonde.) Sheena also got a chance to unapologetically tap into her hootchie side. (Thankfully, Jay wasn't around to see her sticking out her booty now.)
Although most of the girls were having fun, the atmosphere was a bit too much for Hannah. The girl from Fairbanks, Alaska was already having a hard time understanding her "sexual" roommates when Isis accidentally went a bit too far. When the transgendered contestant backed up into Hannah, the "sweet" 19-year-old gave her a rude shove. (Apparently she needed her personal space.) Needless to say, this moment kind of ended the spirited mood.
When Sheena and Brittany had a sit-down chat with Hannah about the shove, the small-town gal didn't do a great job explaining herself. The self-proclaimed "stereotypical white person" said that she doesn't appreciate when "black people" come up and "start dancing" on her. She went on to say that she also doesn't like rap music and isn't one of those girls who walk into a room talking loudly. Although Hannah claimed she didn't mean to offend anyone by her comments, she naively sparked a division in the house.
Later, the models once again met with Benny Ninja. For their first mini-challenge, the ladies would be using their posing knowledge to model with jewelry and handbags designed by Tarina Tarantino. The person who used the pieces in the most innovative way would win a handbag full of accessories.
Although the task seemed easy on paper, the inexperienced ladies were still a big green on the fundamentals. Instead of using her body, Hannah channeled her set decorating skills and put her purse in a chandelier. Analeigh used her toes to prop her bag. Bendy Sheena made an ill-advised decision and placed her product…in front of her crotch. (Nice way to offend the client.) Then there was Nikeysha. The mouthy girl joked that she might pee on herself because she really needed to use the bathroom. (Apparently she really didn't want that job.) In the end, Elina was chosen as the challenge winner. Her judges thought she produced some interesting poses. It was also clear that she kept her product in mind.
Back at home, the conversation about Hannah's remarks continued. Wanting to set matters straight, the ethnic half of the house asked to speak to the 19-year-old. Although Nikeysha tried to ease into the matter, Joslyn chose to directly ask Hannah if she was prejudiced. The ambushed girl quickly said "No." She then added, "I'm sorry you feel that I'm racist and prejudiced, but now it's time for me to go to sleep. But thank you for critiquing me!"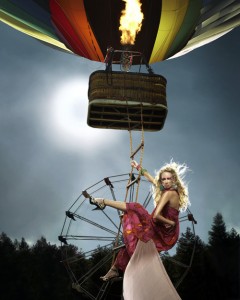 The next day, the girls were taken to a hot air balloon location for their photo shoot of the week. Originally, Jay Manuel had planned for the models to pose from a ladder hanging from a balloon's basket. Unfortunately, high winds forced them to slightly change things up. Now the ladies were going to pose from a ladder being held up by a crane; the balloon would be digitally-composited in later.
Not surprisingly, the rope ladder shoot had some highlights and lowlights. Elina produced an ethereal quality reminiscent of a goddess. McKey kept changing her poses before her photographer could snap them. Isis, once again, forgot to focus on her facial expressions. Joslyn did an amazing, powerful job. Nikeysha's skinny arms struggled to control her body. Clark cut off inches from her height. Samantha neglected to keep her garment in check. Meanwhile, Sheena's butt proved it was much stronger than anyone wanted to know.
When it came time for the evaluations, the judges chose Lauren Brie as this week's winner. The panel felt her photo was one of the Top 5 ever in America's Next Top Model history. They loved her broken-down doll pose, her pointed toes…everything. They felt her still was worthy of a Dior campaign. Elina with her Angelina Jolie-esque photo came in second while Joslyn and her "effortless" pic came in third.
Falling in this week's Bottom Two were Nikeysha and Isis. Tyra explained to Nikeysha that the judges weren't thrilled with her mediocre photos. They were also tired of her interruptions and excuses. As for Isis, the girl who started off strong in the first week quickly went downhill in the second. Not only were they disappointed by the "strained" look in her photo, they were turned off by her appearance before the panel. Her "elementary school" outfit just didn't scream model.
In the end, the judges realized it was easier to clothe a girl than it is to muzzle one. LOSER: Nikeysha.
(You can review last week's episode here.)
(You can read next week's episode here.)
Related Tags:
americas next top model, americas next top model 11, americas next top model cycle 11, antm, antm 11, antm cycle 11, benny ninja, cw, isis, j alexander, j. alexander, jay manuel, lauren brie, marjorie, mckey, miss j, models, nigel barker, nikeysha, paulina porizkova, photo shoots, reality, reality show, reality shows, recap, recaps, sidefeatured, transgender, transgendered, tyra banks
© Gear Live Media, LLC. 2007 – User-posted content, unless source is quoted, is licensed under a Creative Commons Public Domain License. Gear Live graphics, logos, designs, page headers, button icons, videos, articles, blogs, forums, scripts and other service names are the trademarks of Gear Live Inc.