Thursday May 1, 2008 12:25 pm
America's Next Top Model Cycle 10: We Are Spartans!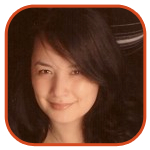 Tweet
Posted by Veronica Santiago Categories: Prime Time, Reality, The CW, America's Next Top Model, Editorial, Features,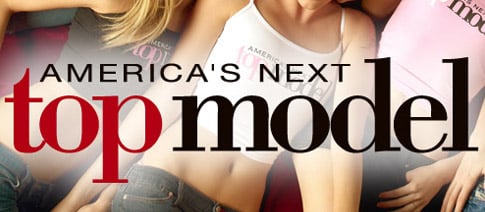 On this week's episode of America's Next Top Model: Cycle 10, the final five had to show they were more than just beautiful. The girls had to demonstrate coordination, the ability to take instruction and sheer physical strength. And they, of course, had to look pretty while doing it.
Who demonstrated a fluidity never seen before…and who simply got stuck in a rut? Read on!
Although she believed her nervousness during the Italian commercial was mistakenly interpreted as fakeness, Whitney smartly realized she needed to make change. She told Anya that being in front of the panel was so nerve-wracking, she often wanted to break down and cry. The other blonde then suggested she give the judges what they wanted: some real emotion.
While Whitney was bummed about her recent Bottom Two spot, Fatima's first place finish still had her feeling high. When asked, she jokingly (??) told Dominique she didn't have any competition in the game. The Somalian later told Whit that the judges' critiques about Katarzyna were dead on. The Eastern European girl was so dull, she deserved to sitting behind a desk doing numbers.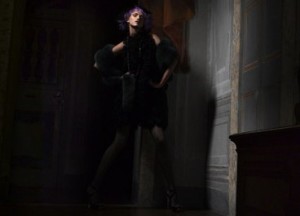 Later, the girls traveled to some ancient ruins where they were presented with a gladiator-fighting spectacle. After the show was over, they met Alex Mariotti, an instructor at the Gladiator School of Rome. His job was to teach them a series of fight moves. Their job was to make sure they still looked like models despite their aggressive stances.
After the lesson, the ladies changed into their own gladiator-esque outfits. Waiting for them were both Miss J and Jay Manuel. The two surprised the ladies with an announcement: They were going to do a photo challenge right there and then. Since the models were only going to be given five frames total, it was important for them to go for it and deliver right away.
Anya – who volunteered to go first – did a good job keeping in mind where the camera was in relation to the light. She also incorporated the moves she had just learned and proved that she could take instruction well.
Although Katarzyna was striving to come more alive in her photos, a weak stance prevented her from getting the money shot. As it was, her sword appeared to be so heavy; all her weight seemed to be in the weapon.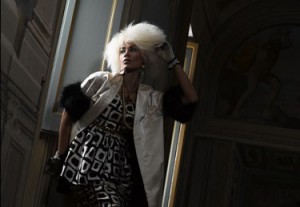 Despite a fairly skimpy costume, Whitney did well keeping her body open to the camera. She seemed very unafraid and comfortable in her own skin.
Fatima, who earlier said she didn't like violence, was so afraid of her large male competitor that she forgot the series of moves practiced earlier. Even though Jay pointed out that she kept blocking her body from the camera, she repeated the same mistake throughout.
Last up was Dominique. The girl with the "dominatrix" face kept trying to get too posey with her body. At one point, her lifted leg made her look like a flamingo. While Jay thought her face was really pretty – possibly the prettiest to date – he said the model didn't do what was asked of her.
When they were done evaluating, Jay and Miss J chose Whitney as this week's challenge winner. For her prize, she got to spend $1000 euros on a shopping spree. Although she could have chosen to waste the money herself, she elected to take Anya along and split the reward.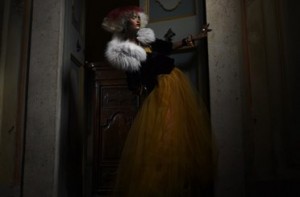 The next day, the girls were taken to a 600-year-old castle for their main photo shoot of the week. Because the structure was filled with Renaissance frescoes, the ladies were going to be doing their own modern interpretation of the Renaissance period. After the gals were done with their hair and makeup, they were given their second surprise of the week: This shoot was going to be shot by Tyra Banks herself. (Cue the nervous/excited screams.) Being photographed by a judge obviously meant increased pressure for the women.
This time around, Katarzyna was the (un)lucky girl to go first. Although Tyra explained – and demonstrated – the kind of look she was going for ("an exaggeration of an Italian Renaissance woman that went to the club up on Sunset Blvd"), the model had a hard time delivering. Instead of looking more vogue-like, her awkward hand movements resembled someone who was either delivering a pizza or walking like an Egyptian. She seemed extremely uncomfortable and didn't know what to do with herself.
Next up was Dominique. Given that she looked like Cruella de Vil post-makeup, Jay said she had to make sure her outfit didn't wear her. Surprisingly to everyone, Dom knocked her shoot right out of the park. She came to the set with a mission and even earned high and low fives from Tyra herself.
Although Fatima had just won the last commercial shoot, Jay was worried her still photo shoot was going to hold them up. The creative director said she had to get into right into her poses because they wouldn't be allowing 10 minutes per frame. Well the girl apparently must have listened to someone's advice because she was as smooth as could be. Her fluid movements not only earned ballerina comparisons from Tyra, they earned an apology from Jay himself.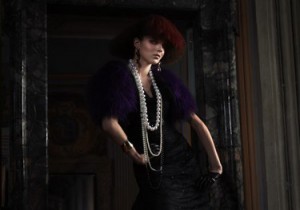 Whitney, who said she wasn't nervous shooting with Miss Banks because she took "really good direction", did not learn from any of her photographer's constructive remarks. Because the plus-sized girl had a tendency to look very Mae West, it was important for her to angle her body in certain ways. ("More fashion, less sex!") Unfortunately, she kept going back to her same old poses.
Last up was Anya. The girl who won an earlier posing challenge once again brought her A-game. She listened to Tyra's words of advice and delivered shot after shot. She seemed very comfortable with her body and was fully aware of her angles.
When it came time for the final panel, Fatima was chosen the winner for the 2nd week in a row. The judges loved her exquisite frames and her broken-down waistline. They said this was the first time she didn't look like Iman; she actually looked like herself this week.
Coming in second was Dominique. (Had she not been dressed like a hostess at a casual restaurant, the judges might have picked her first.) They said her most recent photo proved there was a high-fashion model inside of her. They felt she consistently getting better.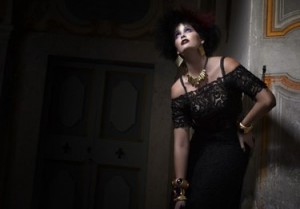 In third place was Anya. Although they said her photo was 100% Italian Vogue, they still felt she was a bit weak in her personality. They weren't quite sure if she was the girl to represent America.
Falling in this week's Bottom Two were Katarzyna and Whitney. Although Katarzyna had the Eastern European features many people coveted, they felt the girl was simply coasting along. She had nice pictures and a nice personality, but nothing that stood out. Meanwhile, Whitney had the "banging body" and the gorgeous face people loved in person, the judges were just not seeing that on camera. The panel was afraid she might be getting "stuck."
In the end, the judges apparently believed Whitney had at least something that was sticking out. LOSER: Katarzyna.
(You can review last week's episode here.)
© Gear Live Media, LLC. 2007 – User-posted content, unless source is quoted, is licensed under a Creative Commons Public Domain License. Gear Live graphics, logos, designs, page headers, button icons, videos, articles, blogs, forums, scripts and other service names are the trademarks of Gear Live Inc.