Thursday March 6, 2008 3:24 am
America's Next Top Model Cycle 10: Top Model Makeover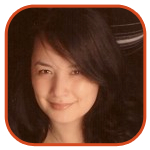 Tweet
Posted by Veronica Santiago Categories: Prime Time, Reality, The CW, America's Next Top Model, Editorial, Features,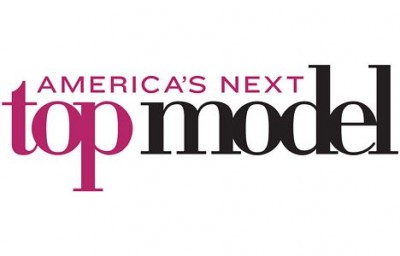 Last night's episode of America's Next Top Model: Cycle 10 got to the root of why I can't stop watching the series. Every season, there's a girl (or two) who somehow manages to overestimate their talent. Then there is the person (often times the same one) who inevitably disagrees with what the professionals have to say. (Anyone else smelling American Idol right now?) Although the idiocy can sometimes be hard to watch, I usually end up relishing it. You know those moments are setting you up for an embarrassing fall from grace.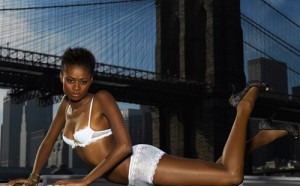 Having just witnessed their first real elimination, the girls started assessing their place in the competition. When asked who she thought her competition was, Dominique said felt "so strongly" about herself at this point. She later said she was the "fierce one, a strong one, a beautiful one – I'm a diva."
Later, the girls received some nice packages outside their apartment door: large white purses stuffed with Apple Bottoms clothing items. Although most of the gals were excited to get their free swag, Allison sat back and looked down upon the shrieking women. Having had previous experience in the industry, she apparently was too good for all of the hoopla. "I have traveled overseas to Asia: Bangkok, Thailand, Taipei, Taiwan. I'm confident in this competition." (Uhh, I fail to see why this makes you a bitch.)
It was later explained that 'Apple Bottoms' is a term used for a certain rear shape (hence, the jeans). Fatima – who I honestly believe was trying to be complimentary in her own way – told Allison her "ass is the epitome of apple-bottom-ness." (Of course, the exotic model then had to add that Allison was also bigger than her. Again, I don't think she was trying to mean. The Somalian gal just happens to be rail thin.) This comment struck a raw nerve in Allison who dramatically made a point of letting everyone know that she was formerly anorexic. (Get over yourself, honey. If you can't take the remark, get yourself out of the critical industry.)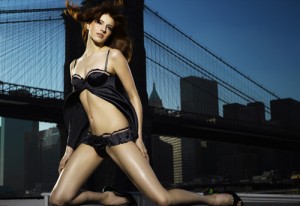 Later that night, the ladies were taken on a surprise trip to cleanest Wal-Mart I had ever seen. There they met two reps from CoverGirl. For a nice reward, the girls were challenged to select several cosmetic items (in specific categories) and get their makeup on in 5 minutes. The goal was to have a clean, finished look. Although Allison felt like she did so much better than most of the others, the judges felt like she had too much on. Because of her great technique and fresh face, Claire was chosen the winner. She would later be featured on the store's cosmetics web page.
Back at home, Allison chose a strange way to get back at Fatima. Using one black and one white doll, she acted out some offensive role-playing. In addition to padding the black doll's rear with paper, she then said something about the black doll liking to 'take it in the back' because she's black. (That part was actually bleeped out.) Because Fatima had been known to say mean things to other people, Allison felt that her comments were defensible. (Wow. Not sure how you can compare mean comments to outright racist ones.)
The next day, the women were taken to the beauty salon for their long overdue makeover sessions. Unlike previous seasons when the girls were told what they would eventually look like, the ladies were not given any warning this time around. (That's supposedly how they do it in the real world.) So they all just had to sit there and take it.
For the most part, all of the ladies were pleased with their new 'dos. Although Stacy-Ann was bummed that her hair was shorter than she would have liked (she wanted the long Naomi Campbell tresses), she didn't complain. The only person who struggled a bit was Fatima. For her new look (she got the mane Stacy-Ann wanted), she had to go through a grueling weave process. Although she teared up (I would have too), she was not uncooperative. (Of course, if you were to ask Allison, she'd give you her own opinion about that.)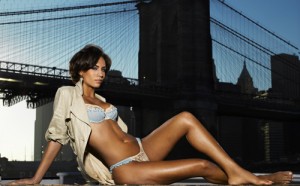 The most dramatic changes were probably on Claire and Marvita. Claire, who had originally had dark hair and one side shaven, came out with blonde locks and two sides shaven. Marvita, who essentially started out with a Mohawk, had long tresses added down the middle. In profile, she basically had a 'horse mane' style. I actually thought it looked great. It was a more feminine version of the Grace Jones look she had going on. And then there was Lauren. The rocker/tomboy was given a long blonde weave with reddish highlights. It was nice seeing a girly side of her come out.
For their next photo shoot, the ladies were positioned out on a boat near the Brooklyn Bridge. When they were out on the water, they were introduced to this week's special guest: Elle Macpherson. The girls were going to be wearing items from the model's lingerie line for their pics.
While some girls fared better than others, everyone seemed to have some issue with their body during this round. Fatima had problems bending her legs; Lauren moved very stiffly and awkwardly; Katarzyna's was 'too' sexy; Dominique was too 'cataloguey' and Allison was too rehearsed. (There was actually a very funny moment when the photographer asked if Allison was cold; Jay said that was her way of posing.)
Later at home, Dominique railed on the criticism given to her by Jay Manuel that day. How dare he call her commercial - she's high fashion! (Just because you can say it, doesn't mean it's true.) Allison was also in a state of denial. She said that she "kicked ass" in her photo shoot and that she "wasn't going home." (Does anyone else see where this is going yet?)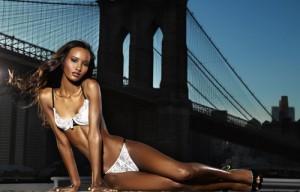 When it came time for evaluations, the judges were pretty blunt about their criticisms. They told Fatima that she only knew how to model from the waist up; Katarzyna was compared to a Russian mail-order bride; Dominique was given suggestions on how to make her booty less 'dimpled' on camera; Stacy-Ann was reminded to extend her neck so that they could see her lovely jaw and Allison was scolded for not learning how to say "Thank You." (When Tyra told her that her new hair made her look soft and pretty, she simply said "I know!")
In the end, awkward Lauren was the girl with the photo of the week. The judges felt that her flaws were what made her interesting. Marvita with her 'panther'-like pic came in second while Aimee and her 'incredible skin' came in third.
Falling in this week's Bottom Two were Dominique and Allison. The judges felt Dominique looked more like a 'newspaper model' whose confidence wasn't translating into her shoots. Meanwhile, Allison was just simply bringing cockiness to the table.
In the end, being a newspaper model is at least a step closer to being a model. LOSER: Allison.
(You can review last week's episode here.)
(You can read next week's episode here.)
© Gear Live Media, LLC. 2007 – User-posted content, unless source is quoted, is licensed under a Creative Commons Public Domain License. Gear Live graphics, logos, designs, page headers, button icons, videos, articles, blogs, forums, scripts and other service names are the trademarks of Gear Live Inc.