Friday April 11, 2008 1:39 pm
American Idol: Shock and Awe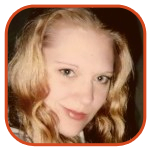 Tweet
Posted by K.C. Morgan Categories: Music, Prime Time, Reality, FOX, American Idol, Editorial,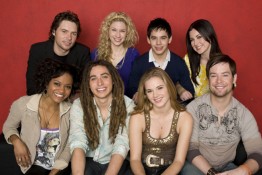 The pushed-back Thursday elimination night on American Idol began with a promise from Ryan Seacrest, who touted "guest stars and surprises" at the top of the hour. There certainly were some surprises, but most of them weren't at all good.
The evening kicked off with clips of Idol Gives Back, which has so far raised more than $60 million for various charitable organizations. Next, the Top 8 Idols sang "Shout to the Lord" while a huge choir sang in the background. It was, all told, way too schmaltzy for an elimination night. But more of the same would continue throughout the evening.
Read More

|
American Idol Official Site
A montage of celebrities followed, each of them dancing and lip-syncing to The Monkees. I caught glimpses of Dr. Phil, Ricki Lake, Rob Sneider, Kobe Bryant, Willie Garson, Catherine Manheim, Selma Blair and even Ryan Seacrest all grooving to the beat of giving. Again, schmaltzy. More pre-taped celebrity clips aired, featuring faces like Zack and Cody (Disney channel kids), Dr. Phil, Ricki Lake, Michael Chilkis, and Jim Carrey. Three pre-recorded speeches from the Presidential candidates followed. Senator Hilary Clinton was impeccably dressed as she talked seriously about the nation, John McCain attempted to make jokes and Barack Obama delivered a very heartfelt speech that was by far the best of the three.
Ryan Seacrest quickly changed the mood of the evening with talk of elimination, announcing that this week saw the highest number of votes for the entire season. Brooke White, in a terrible outfit, was called to center stage first. I predicted that she and David Cook were in bottom 3 danger earlier this very week, but when the two of them were brought out immediately and sent to safety I knew the night would go poorly. David Archuleta followed this pair, and was likewise sent to the elimination-free zone.

A clip of Forest Whitaker and his wife in Africa followed, more heart-tugging moments. But soon enough the stage was set for reigning American Idol Jordin Sparks, who performed "No Air" with up-and-comer Chris Brown. Jordin looked beautiful in black and the performance was entertaining throughout.
Sparks was honored by Idol as soon as the number was done, Ryan Seacrest gleefully naming her successes. Three commemorative plaques - one for 1 million downloads of "Tatoo," another for 1 million downloads of "No Air" and a third for one-half million in CD sales - were presented to a smiling Sparks.
The smiles continued as we viewers were treated to this week's Ford video which featured Idols singing "I Just Want to Celebrate." This week's theme was painting. I've always enjoyed the Ford videos in the past and really thought many of the ones featured last year were quite fun and clever, but I've noticed a real slide in quality for Idol's seventh season. Get your sponsors back in line, FOX.

With only five remaining Idols left to create the bottom three, my teeth began to gnash. I didn't at all like the way this was shaping up. Jason Castro and Kristy Lee Cook were declared safe in the next instant, leaving Syesha Mercado, Carly Smithson and Michael Johns standing alone backstage.
This was the bottom three, and suddenly I realized just how shocking this elimination night was fixing to be. Randy Jackson called these results "pretty surprising," though I barely heard him as I continued to holler at my TV screen. Paula Abdul called this bottom three "partly right." Simon Cowell said he thinks America is listening to him. Why do you like Brooke White, Simon Cowell? Why?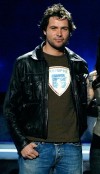 Seacrest held the tense moment for a few minutes, then announced that both Carly and Syesha were safe. I cried "no," Paula Abdul's jaw hit the floor and Carly Smithson looked completely dumbfounded at this news. Good-looking, great-voiced and charismatic almost to a fault, I fully believed Johns was capable of winning the whole shebang. The man already looks, sounds and acts like a star. But there's no accounting for taste.
Johns was treated to a standing ovation by the crowd - before he ever sang a single note. They were on their feet applauding him even before the exit clip played, a gesture I think he really deserved after all his exceptional Idol performances. Seacrest asked him "are you surprised?" Johns admitted that he was, but said the song he picked certainly isn't a bad one to go out on. Randy advised Michael to "keep on rockin'," while Paula told him "it's time to rock it." Simon Cowell reminded him, "you're a very, very good singer."

Michael Johns then went off script and said screw camera angles, taking up the microphone and blasting through the crowd as he sang. He made his way to the judge's island, climbed up on top of it, and delivered his song with mesmerizing power and conviction. Johns has a huge career in front of him…but first, the press junket. He'll soon be making all the talk show rounds, starting Monday on Live with Regis and Kelly. Catch him again Tuesday on the Mike and Juliet Show. For the rest of us, we have more Idol to look forward to, and no doubt more shocking elimination surprises. The fact that Kristy Lee Cook lingers while singers like Michael Johns get kicked to the curb proves what I've said time and time again - American Idol is not a singing competition.
Related Tags:
american idol, brooke white, carly smithson, chris brown, competition, david archuleta, david cook, elimination, idol gives back, jason castro, jordin sparks, kristy lee cook, michael johns, music, paula abdul, randy jackson, reality, ryan seacrest, sidefeatured, simon cowell, singing, syesha mercado
© Gear Live Media, LLC. 2007 – User-posted content, unless source is quoted, is licensed under a Creative Commons Public Domain License. Gear Live graphics, logos, designs, page headers, button icons, videos, articles, blogs, forums, scripts and other service names are the trademarks of Gear Live Inc.