Thursday May 22, 2008 6:56 pm
American Idol: Season Seven Winner Announced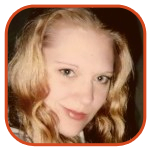 Tweet
Posted by K.C. Morgan Categories: Music, Prime Time, Reality, FOX, American Idol, Editorial,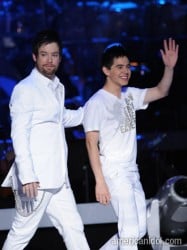 The seventh season of American Idol culminated last night in a spectacular, two-hour grand finale event. The fans, the fanfare, the Davids - it was a truly great show.
The men of the hours, Davids Archuleta and Cook, appeared in white for the opening sequence. Ryan Seacrest announced that the winner of the contest secured 56% of the vote. More than 96 million votes were logged, a record-breaking number, but of course voters had four hours after Tuesday's performance (instead of the usual two) to make their wishes known.
Read More

|
American Idol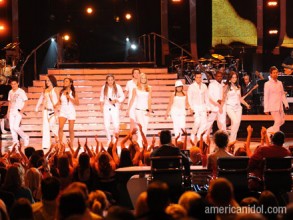 The entire Top 12 (with the So You Think You Can Dance contestants grooving in the background) then appeared to sing. All wore white and all looked completely swamped by the massive stage and busy, busy number. It was far too chaotic…and who had the idea for the white?
Cook and Archuleta were then paired up for the obligatory Final 2 duet, singing "Hero." This song was tailor-made for Cook and was completely terrible for Arch. Their voices didn't mesh well at all for the number, and Cook generally overpowered his younger competitor.
FOX then took the opportunity to shove some Mike Myers promotion in our faces - at once slightly offensive, a little sad and completely and utterly off-topic. The show plugged Mike's latest flick, which the two Davids got to see.
Third-place finalist Syesha Mercado made her triumphant return to the Idol stage to sing "Waiting For You." She looked and sounded gorgeous, then happily announced mega recording star Seal. Together, the pair delivered one of the best performances of the night.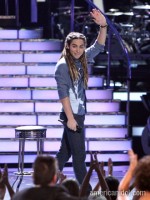 Fourth-place finisher Jason Castro then sang the song which made everyone fall in love with him, "Hallelujah," sounding and looking absolutely great. If he could have dug his heels in a little bit better, he could have been part of the finale in a whole different way.
A montage of all the Ford videos followed, set to the tune of "Let the Good Times Roll," a nice little tribute on the season. To show that Ford is a magnanimous sponsor (with the smarts to know how to spread the promotions out), the company then gifted each David with a Ford Escape Hybrid, hardly a vehicle for two young men-about-town.
Season seven's Top 6 ladies, all decked out in red, next performed a very busy number. They were joined by Donna Summer, whose performance was a rather low note on the exciting evening. The whole thing was highly out of control with the dancers gyrating in the background, and poor Amanda Overmyer looked nervous enough to jump right out of her own skin. Syesha appeared for a moment at Summer's side to gorgeously sing the tune before it all led up to a big finish.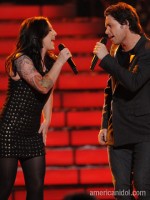 Before the show started, I was convinced we would see a number with two of the season's biggest voices and most gifted competitors: Carly Smithson and Michael Johns. Happily, I was right. The two appeared to sing "The Letter," and their voices sounded absolutely amazing together. I think they ought to go on tour with each other, once freed from Idol obligation. Their performance - engaging and enthralling - served as a powerful reminder of what could have (should have?) been.
Comedian Jimmy Kimmel then oddly came out on stage, leaving me wondering what the hell his affiliation is with FOX. He called this "the culmination of 19 weeks of karaoke singing" before introducing a clip which showed a montage of Simon Cowell crushing various Idol contestants.
Next was a number for the Top 6 men (all dressed in black), though of course it began sans Davids (these two were treated to a big entrance mid-number). The duet of the Davids which followed was much, much better than the first as the Idols belted out Don Henley's "Summer of '69." Oddly, Bryan Adams joined the men on stage. He looks great for his age, and this first performance with the Top 6 men was pretty good. Adams by himself - not so good.
Jordin Sparks, last year's winner, then appeared to plug the new American Idol theme park at Walt Disney World. I could go into a huge tirade about this, the ridiculous cross-promotions and the entire silly idea of it, but I'm sure you can laugh just as well all on your own.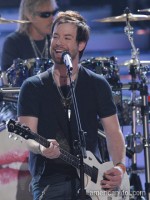 David Cook was then showcased with ZZ Top, Cook of course in the lead for "Sharp Dressed Man." This was a really good pick for Cook. What can I say? He totally rocked the number and the audience.
Brooke White, who yes I'm still sick of, was paired with Graham Nash in a number that carefully showcased her talents. Singing "Teach Your Children," the two crooners treated us to a rather moving number, though I didn't care for Brooke's bare feet and drapey blue gown. She did seem very much in her element. In fact, all evening long all the Idols seemed to be at the top of their game.
The Jonas Brothers performed to the delight of all the kids in the audience, though I wasn't quite sure it was even them until I heard the name announced at the end of their one-song set. Why the heck were they there? It probably has something to do with the appearance of Miley Cyrus on Idol earlier this year - contractual obligations and all of that.
Next came the obligatory walk down memory lane, with clips of funny auditions from the season's beginning. One standout, Reynaldo LaPuiz appeared in his crazy white outfit to sing his "Brother" song. The USC marching band and few hand-selected cheerleaders accompanied him, and though he stumbled he gamely carried on as Randy Jackson and Paula Abdul joined him on the stage. He is a horrible singer, but a wonderful character.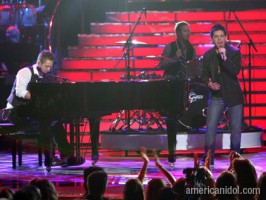 One Republic began to perform "Apologize," and I knew in one bar that this was the band meant to highlight David Archuleta's singular style. He appeared to sing the second verse (and really showed up Republic's lead singer), then melted into a melodic duet before the song was finally finished. I don't like the band; I don't like the song; I didn't much like the number.
Former winner Jordin Sparks, in a gold gown that I think was a little too young for her, came out to sing "One Step at a Time." Many have been highly critical of Sparks today, but I found the performance enjoyable enough. Perhaps it was just the dress that was so bad?
Ben Stiller, Jack Black and Robert Downey, Jr. (I know - what was he doing with those two?) then did a skit where they pretended to be Pips for Gladys Knight. It was infinitely ridiculous and a bit of a waste of time, saved only by the fact that Jack Black is a true comedic genius. He was, it goes without saying, the best part of the skit (which can be downloaded via iTunes, proceeds going to an unnamed charity).
Carrie Underwood, in a very chic white outfit, performed "Last Name" with amazingly impressive vocals. She looked great, and delivered a very professional performance.
I record everything because I can no longer stand to be bombarded with commercials, but I was able to catch two last night which were really worth watching: Guitar Hero commercials featuring the Davids (separately, of course). These were actually very, very cute and clever.
The entire Top 12 was brought out once more for a musical montage, everyone in black (loved the matched black suits the men wore). The "Faith" and "Freedom" set culminated in an appearance from George Michael, who sang alone. Seriously, the man looks awful. He wore Bono-like gray stubble, strange shades and didn't really sound that great. It all had a very weird, Elton John-like vibe to it, though Paula Abdul seemed extraordinarily moved by the whole thing. The number seemed to go on for ever and ever, and all three judges gave Michael a standing ovation.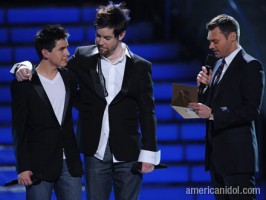 Finally, it was time for the two Davids to stand on stage with Ryan Seacrest. The judges took a moment to share their final thoughts:
"Great, great season seven, you guys brought it down to the wire," Randy Jackson praised, calling this "one of the strongest years ever." He added, "you're both winners, both." Paula Abdul felt "honored and proud." Simon Cowell thought it was a "terrific show," and actually apologized to David Cook for things he'd said the night before. "I don't really care who wins," he announced. Come now, Cowell…yes you do.
As Davids Cook and Archuleta stood there in their little matching outfits and the entire world held its breath, the results were brought to the stage. Ryan Seacrest used a pregnant pause for best effect, announcing that the winner was "David…" nails dug into skin, bottoms slid closer to the edges of seats and ninety thousand ten-year-girls chanted "Archuleta" under their breath, but Seacrest shocked all with his next word: "COOK!"
And the winner, by 12 million votes, has finally been crowned. A humbled and emotional Cook managed a heartfelt "this is amazing, thank you," before he sang his winning Idol song.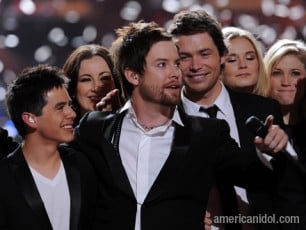 So let's put that on pause while we try to figure out what the heck happened. After Tuesday's performance round it seemed all too clear-cut who the winner would be, so how is it possible that David Cook trounced the season-long favorite by such a large margin of votes?
Throughout the competition, David Cook displayed fine vocal range and offered up several highly varied performances. Meanwhile, David Archuleta sang preachy ballads (and when he didn't, fell flat). Cook was confident and cool, while Archuleta played the part of tongue-tied teen far too well. Cook may not have the better vocals - but he had the better showmanship by far, the greater range and the older fan base. This put him over the edge. As for David Archuleta, a very young and extremely gifted singer, don't feel too bad for him - American's population of young girls won't let him become anything but a larger-than-life success. As Simon Cowell said, American Idol is about finding a star. Last night, two new stars were definitely born.
Related Tags:
american idol, american idol 7, american idol season 7, american idol: season 7, ben stiller, brooke white, carrie underwood, competition, david archuleta, david cook, disney, donna summer, finale, fox, george michael, graham nash, jack black, jason castro, jimmy kimmel, jonas brothers, jordin sparks, mike myers, miley cyrus, music, one republic, paula abdul, randy jackson, reality, results, robert downey jr., ryan seacrest, seal, season 7, simon cowell, singing, syesha mercado, top 12, top 6, votes, winner, zz top
© Gear Live Media, LLC. 2007 – User-posted content, unless source is quoted, is licensed under a Creative Commons Public Domain License. Gear Live graphics, logos, designs, page headers, button icons, videos, articles, blogs, forums, scripts and other service names are the trademarks of Gear Live Inc.