Thursday March 5, 2009 11:44 pm
American Idol 8: Wild Card Round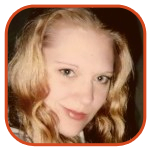 Tweet
Posted by K.C. Morgan Categories: Music, Prime Time, Reality, FOX, American Idol, Gossip,
The Wild Card round of American Idol opened with three stools and eight singers who all hoped to fill them. With eight singers, four judges and one host - not to mention a performance round and an elimination round in a single episode - Idol had to move things along pretty quickly. There was little time for recap or reintroduction. Each contestant had a sort of hurried interview that played for a few moments while they rushed to the stage. It was actually sort of poorly done, not to put too fine a point on it.
At any rate, Idol viewers were given a rare treat - instant gratification. Usually, results have to wait an entire day…but not on this Wild night.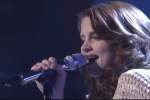 Jesse Langseth began the eight performances with a song that was completely unrecognizable to me. I didn't dig it, or the outfit she wore - a black leather mini with a weird crocheted sweater. Honestly, I didn't dig the performance too much either. She's still incredibly unintelligible when she sings, and it wasn't until she got to the chorus that I realized she was actually singing something very well-known. And though Langseth wanted to hear something good, Randy Jackson didn't have much to offer. "I don't know if you sung it that well," he grudgingly admitted. "You had some notes that were definitely not on key," Kara DioGuardi said, but she did admire Jesse's swagger. Paula Abdul remarked on Langseth's "tenacity" and "determination." Simon Cowell thought this second performance of Jesse's was "a lot better" than her first, but found the whole thing "indulgent."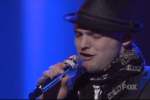 Matt Giraud chose to sing an old Jackson 5 ditty while wearing a strange hat and scarf of some sort. He offered up some decent vocals but I'm not so sure about his stage presence and I'm definitely convinced his wardrobe choices are all wrong. The judges, however, absolutely love Matt Giruad. Kara liked his "bluesy, soulful" sound, saying "what a great vocal." "This is the right zone for you," Paula Abdul advised, saying "Don't go against what you're great at." Simon thought it was "a billion times better" but added "I hate what you're wearing" and even compared Giraud to Taylor Hicks."That's how to sing!" Randy Jackson was enthusiastic, calling Matt's performance "hot." I don't get the appeal.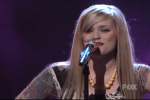 Megan Corkrey sang something upbeat for her time in the spotlight, but I wish she hadn't mumbled at me so. This girl just hasn't displayed a great singing voice at all. "You picked a song that fits your personality," Paula Abdul told her, adding "I think you picked the right song." "I think you're terrific," Simon Cowell cried, and he's been pushing Corkrey from the first. "It wasn't the best vocal I ever heard," Randy admitted, but said it was a "nice choice" on the song. "I think that we need you," Kara DioGuardi told her. "You're different, you're unique."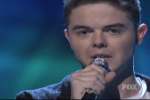 Von Smith was performing for the second night in a row, and started out a little rough. Slightly pitchy vocals took us into a depressing love ballad that didn't do Smith's voice justice, though he did take a few moments to show off a little bit of range. "It didn't start very well," Simon Cowell pointed out. "You are beginning to become a bit boring." It's the depressing ballad. Randy Jackson agreed, saying "it seems a little bit serious right now," and didn't like the song choice. "It got very dark," Kara DioGuardi noted. "You really haven't hit your stride," she told him. "You're not letting your essence of Von Smith out," Paula offered her advice, saying he was "thinking too hard."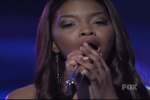 Jasmine Murray is absolutely adorable and seemed to choose the right song - "Reflection." Murray also chose a beautiful dress. This time, sounded pretty, too. Murray finally get the chance to display some of her vocals - and she can sing beautifully. She offered up a much better performance for this second chance effort. "You definitely 100% improved," Randy Jackson told her, saying there were "some great, bright spots." "I didn't even know you had that big of a voice," Kara DioGuardi was surprised. "You look lovely tonight," Paula smiled at her, adding "you did a wonderful job." "That was pretty special compared to what we heard before," Simon Cowell said. "I think you just put yourself back in the running," he finally gave Murray some hope.

Ricky Braddy followed. This North Carolina guy has an amazingly great voice, something I noticed the first time he sang. He's also scored a ton of press regarding his Web site. Braddy's rendition of
"Very Superstitious"
"Superstition" was performed in an extremely tight pair of pants, but somehow it didn't seem to affect his vocal. "You can sing your butt off," Kara DioGuardi was impressed. "I love the way you loosened up," Paula told him, "you nailed it!" Simon Cowell found the song "a bit lightweight," "a bit clumsy," even "karaoke." "You can really blow," Randy told him, but said the song felt "self-indulgent."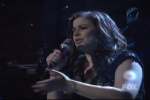 Tatiana Del Toro came to the stage next - she's my favorite. However, she did choose to sing Whitney Houston - something the judges always seem to hate. She also sang a repeat, but I think she sang it well. Tatiana belted with a good amount of passion, showing off her powerful range though she did lose it a little when it came to the lower notes. I thought it was a very strong performance, even the very high end note. "You grew an accent," Paula Abdul noted. Simon Cowell wanted to make sure Tatiana is, in fact, able to sing another song. "It wasn't good enough because you didn't make it through," he pointed out. "It started out really rough," Randy Jackson told he, but found "there were some not so good moments." None of the judges seem to be big Tatiana fans. I just love her.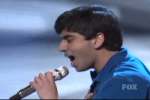 Anoop Desai performed last - he's a big fan favorite. He again sang "My Prerogative." The audience went wild, and Anoop absolutely put on a show for them. He popped his shirt, threw the mic stand away and eyed the ladies. Paula Abdul was on her feet dancing through most of it, and even my eyes went wide when Desai hit and held a note toward the end. Simon Cowell started off the comments. "This has been a very strange night," he said. "People like you," Cowell told him. "And that's important." Randy Jackson liked the performance, saying "I had a good time." "I wanted to dance," Kara DioGuardi admitted. Paula Abdul liked his showmanship and "nasty" moves. "Everyone loved that performance," she gestured to the audience.
Apparently, the judges made their huge decision over the course of a single commercial break. Yeah, I believe that.
Jasmine Murray was called to the stage first. "After some heavy, heavy deliberation," Randy Jackson began, finishing with great news for Murray. She was the first called and the first to be wellcomed into the Top 12.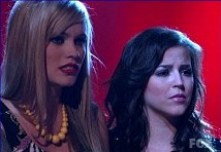 Ricky Braddy was next called to the stage, but dismissed quickly by Kara DioGuadi. Megan Corkrey and Tatiana Del Toro were called up together. Megan won the coveted position, and Tatiana was banished from Idol once more, and more's the pity. "We love you," Paula Abdul tried to comfort her. "You will be going places," the judge promised her. If Tatiana gets her own show, I'm watching it - no questions asked.
Jesse Langseth was the next to be called front and center. Simon Cowell handed her the bad news, but said she "nearly" made it into the contest. Von Smith followed her to the stage. Paula Abdul believes in his career, but Von will not be moving on with American Idol. Matt Giraud and Anoop Desai were called forward.
This was a tense moment. Both seem to be liked by judges and fans, making it a tough call between them. But it was Matt Giraud, not Anoop Desai, who made it to Idol's Top 12.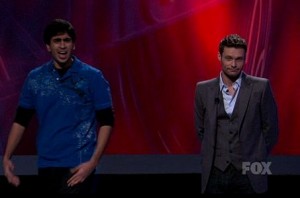 Simon Cowell called out to Anoop Desai to give him some parting words…which actually weren't so bad at all. "We decided, recently, we're gonna make this a Top 13," he broke the shocking news. Anoop Desai was stunned, and my jaw hit the floor. And there you have - last minute shocker for the Wild Card contest.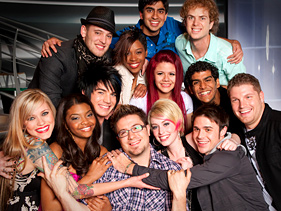 The Lucky 13 will return next week with Kanye West and Kelly Clarkson mentoring and performing. Are you ready for this?
(You can find all the American Idol 8 posts here.)
Related Tags:
american idol 8, anoop desai, jasmine murray, jesse langseth, kanye west, kara dioguardi, kelly clarkson, matt giraud, megan corkrey, paula abdul, performances, randy jackson, results, ricky braddy, ryan seacrest, shocker, simon cowell, suprise, tatiana del toro, top 12, von smith, wild, wild card, wildcard
© Gear Live Media, LLC. 2007 – User-posted content, unless source is quoted, is licensed under a Creative Commons Public Domain License. Gear Live graphics, logos, designs, page headers, button icons, videos, articles, blogs, forums, scripts and other service names are the trademarks of Gear Live Inc.