Wednesday March 18, 2009 3:40 pm
American Idol 8: Top 11 Perform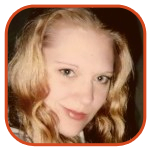 Tweet
Posted by K.C. Morgan Categories: Music, Prime Time, Reality, FOX, American Idol, Gossip,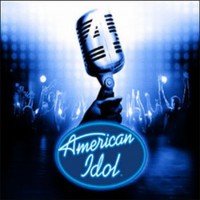 Performance night for the Top 11 of American Idol 8 began as usual: lengthy, time-wasting introductions, useless judge-host banter and other tactics meant to delay the singing. Somewhere in the midst of all this filler, host Ryan Seacrest posed an odd question.
Has the group "evolved"? "This is always a tough week," Randy Jackson answered. Ryan Seacrest talked about Paula Abdul's predictions of the week before, which she's "standing by" for the moment.
The Top 11 Idols were then presented, and the theme of the week presented. Grand Ole Opry singers number among some of the greatest recording artists in the industry. Giants like Hank Williams, Patsy Cline and Dolly Parton were featured in the clip, which culminated in Carrie Underwood's entrance to the Opry and clips of week mentor Randy Travis.
Read More

| American Idol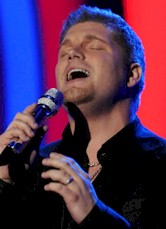 Michael Sarver, who's very believable as a country boy, was the first to start the night. Randy Travis liked the arrangement Sarver used for his version of "Ain't Goin' Down (Til the Sun Comes Up)." The very quick, somewhat manic performance included a harmonica player and Sarver singing an unintelligible warble. I really wasn't that enthused - and he's my favorite. Randy Jackson wished the song showed more "vocal capability," a fair enough assessment. Kara DioGuardi saw a lot of "personality," and was impressed that he remembered all the words. Paula Abdul thought the performance was a lot of "fun" and thinks Sarver is in the right genre this week. "It should have been good," Simon Cowell stated, but pointed out exactly what I thought - "I couldn't understand a single word." He gave the performance a 1.2 on a 10-point scale. Sarver was pleased he wasn't ranked at 0 by the judge.
Allison Iraheta followed Sarver with "Blame It on Your Heart." She delivered up yet another fun, upbeat, rollicking performance that showcased her smoky voice. The song choice was good, the fashion bad and the vocals, of course, perfect. Kara DioGuardi loved it, saying Allison "really made the song" her own and that she "gets better and better every week." "Another rock solid performance," Paula Abdul praised, admiring again Allison's "rock edge." "I thought it was good," Simon Cowell said, but thought she struggled with the words a bit. He also thinks she's "verging on precocious." "I thought it was dope!" Randy Jackson cried.
Kris Allen chose to sing the ballad "To Make You Feel My Love" from a stool on the stage. I still don't think this guy stands much of a chance through the contest, but I could be wrong. He makes a lot of strange faces when he sings, but I will admit this week was a much better vocal performance than last. It was probably a mistake to trot out a ballad so early in the contest, but we shall see. Paula Abdul was "pleasantly surprised," calling his performance "honest" and "pure." Simon Cowell found it to be "terrific," saying it was a "great, great choice of song," and that Allen was "completely in control." "You went out on a limb," Randy Jackson said, appreciating Kris's "tender moments" through the number. Kara DioGuardi didn't even know the song was "Opry land," wherever that place might be.
Lil Rounds was delightful during her version of "Independence Day." She looked elegant, sounded great and can obviously sing any single thing she might want. Lil nailed the ending and sang the entire number beautifully. Randy Jackson thought it was an "interesting, ambitious song choice," but it "didn't feel comfortable" to him. Kara DioGuardi, who by the way was wearing a terrible outfit, thinks Lil is a "great singer." She found, however, the performance wasn't Lil's best. Paula Abdul loved Lil's look, and thought she should have sang one verse instead of two. Simon Cowell likened the performance to an "uncomfortable" wedding and kept calling her "Little," which he maintains is the full version of Lil. Her Wikipedia page lists her as Lillian Rounds.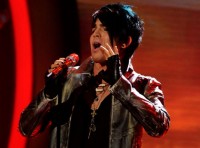 Adam Lambert wore a strange outfit and promised to deliver a "typical Adam" performance. Randy Travis and Lambert couldn't be more opposite musically - the arrangement his one-time protégée chose "really threw me for a loop." On stage, Lambert's "Ring of Fire" was sort of like emo meets the Beatles - again, very theatrical and this week I'm absolutely convinced he's gone too far. I think I might sort of get what he's trying to achieve, but I don't see his performance as being the sort of thing middle American will dig at all. If he was going after the Vote for the Worst support, he missed that, too (it's Corkrey for the second week in a row). Kara DioGuardi could hardly find words for what he did on stage, saying "that's very interesting," and that it was "all a little strange." She did find the "drama" and the "eyes" in the performance, but said "it left me confused and sort of happy." "Great song," Paula said, saying she loved the "middle eastern" sounds, calling it "cashmere Led Zeppelin," whatever the hell that means. Simon Cowell threw his hands up in confusion. "What the hell was that?" He wanted to know. "I think there are a lot of people throwing their television sets out the window at this point," he said, calling the whole thing "indulgent rubbish." "Its current!" Randy Jackson cried, "it's fresh! It's hot!" Lambert has a great voice and amazing stage presence…but I think he seriously screwed up this time. Are we about to see a judge's save in a results round yet to come?
Scott MacIntyre wanted to sing "Wild Angels," a Martina McBride song. Randy Travis was dubious, but found the vocals were "fine." Travis was "surprised" by MacIntyre, and so was I. Seated at his piano, Scott gave a lovely, heartfelt performance. When he picked up the pace in the chorus, everyone in the theater seemed to perk up a bit. This one's a strong contender. Paula Abdul found it to be an "impressive, lovely performance." She thinks the piano might be "a bit of a crutch," however. Abdul wants him to "mix it up." Simon Cowell thought Abdul's comment was "a stupid thing to say." The two judges of course launched into a verbal dispute before Cowell got on with his critique, which mainly focused on MacIntyre's song choice. Randy Jackson doesn't think the problem is song choice - he's looking for "hot, unbelievably, crazy vocals." "Up your game a little bit," Kara DioGuardi suggested. "You bring class and poise to that stage," she told him, which allowed the judging panel to end things on a high note.
Alexis Grace sang "Jolene" by Dolly Parton, which was also done during Season 7's Dolly Parton week. The slow song didn't much suit Grace, and the performance seemed to drag on for quite a while. I kept waiting for her to have a big moment, which she never did. Randy Jackson thought "there was a bunch of pitch problems," though he did like the song choice. "I think you lost your edge a bit," Kara DioGuardi told her. Paula Abdul, however, thought it was "effective," and liked Grace's "artistic approach." "I don't care about pitch problems," Abdul dismissed the poor part of her vocals. "I thought it was okay," Simon Cowell told her. He said he's going to forget the performance in "about ten minutes."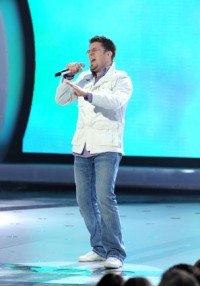 Danny Gokey was very nervous in front of Randy Travis, but when he sang "Jesus Take the Wheel" on the big stage he seemed highly confident. I don't know what could have inspired him to wear the absolutely horrendous white snow coat he was sporting, a garment so visually unappealing it was hard to hear him singing. The first verse was amazingly boring, but when Gokey hit the chorus he hit his stride. The passionate performance seemed to make the crowd happy enough, and vocally Danny has a lot of power to offer. Kara DioGuardi and Paula Abdul both seemed to like it, but I'm not sure either had anything of real substance to say. Abdul said Carrie Underwood would "approve." Simon Cowell did agree with Paula Abdul, and said "my only problem, Danny, is actually what you're wearing. It's like you're going on some sort of polar expedition or something." Randy Jackson thought "it was crazy" but wants Gokey to "support the verses."
Anoop Desai decided to sing "You're Always on My Mind," a classic country song. Randy Travis predicted the performance would be Desai's best. Anoop started out softly and slowly into the ballad, offering up beautiful vocals that got bigger through the number. "Anoop is back!" Paula Abdul announced. "I'm so proud of you," she told him, saying "it fit you like a glove." "You touched my heart," she smiled. "You just managed to go from zero to hero," Simon Cowell told him. "Actually, in a way, that was one of my favorite performances of the whole night," he said. Cowell also admired Anoop's aplomb in the way he handled criticism from last week. "You can really sing," Randy Jackson said, and added "the arrangement was dope." Kara DioGuardi thought it was "amazing," and said it was "the biggest surprise."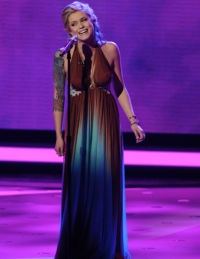 Megan Joy Corkrey, still the resident Vote for the Worst favorite, chose "Walkin' After Midnight." Talk about untouchable songs. As usual, Corkrey sounded a little off in all her vocals and added a weird warble to her performance. Nor did I care for her brown dress. "Glad that one's over, right?" Randy Jackson asked, and then oddly said he was "quite impressed." Kara DioGuardi praised Corkrey's spirit. Paula Abdul called her a "fighter" and a "consummate professional." "You were fantastic tonight." "You should have flu every week," Simon Cowell told her, adding "and you look gorgeous." The entire panel blamed her poor vocals on her flu, which apparently landed her in the hospital earlier this week. So…what's their excuse for her poor vocal performances all the other times? Seriously, someone please tell me why they are pushing Megan Joy Corkey.
Matt Giraud had the prime position of the night, appearing in last place. He chose Carrie Underwood's "So Small," which Randy Jackson questioned at first. Giraud appeared on the Idol stage behind his piano and added his usual sound to the tune, which means I didn't like it (because I don't much care for Giraud). But vocally, he's strong. Musically, he's smart. And for the purposes of American Idol, he could go pretty far. Giraud's strong sound captivated the crowd, and he easily showed up Corkrey's vocals without breaking a sweat. "There ain't nothin' small about you," Kara DioGuardi cried. "Amazing," she decreed. Paula Abdul praised his "authenticity" and "honesty," though she stumbled over her words quite noticeably. Simon Cowell is impressed with Giraud's vocals, and Randy Jackson thinks he has "mad skills."
Tomorrow, one of these Top 11 hopefuls will be sent home. Will it be Adam Lambert and his horrendous version of "Ring of Fire," or will the public finally get sick of the overt Megan Joy Corkrey promotions? Will it be Alexis Grace, whose blasé performance seemed to fall a little flat with judges? Or will it be someone completely unexpected? We won't know…until Wednesday night.
(You can find all the American Idol 8 posts here.)
Related Tags:
adam lambert, alexis grace, allison iraheta, american idol, american idol 8, anoop desai, carrie underwood, country, country week, danny gokey, fox, grand ole opry, kara dioguardi, kris allen, lil rounds, matt giraud, megan corkrey, megan joy corkrey, michael sarver, music, paula abdul, performance, randy jackson, randy travis, reality, ryan seacrest, scott macintyre, sidefeatured, simon cowell, top 11
© Gear Live Media, LLC. 2007 – User-posted content, unless source is quoted, is licensed under a Creative Commons Public Domain License. Gear Live graphics, logos, designs, page headers, button icons, videos, articles, blogs, forums, scripts and other service names are the trademarks of Gear Live Inc.