Thursday March 26, 2009 2:32 pm
American Idol 8: Top 10 Perform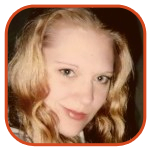 Tweet
Posted by K.C. Morgan Categories: Music, Prime Time, Reality, FOX, American Idol, Gossip,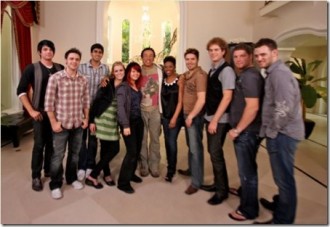 It's Motown week for the Top 10 performers of American Idol 8. It's this group that we'll see again and again throughout the season and even after the finalist is named. They will all return to tour through the summer; some of them may even go on to have successful careers. But at least a few of them, we'll never hear from again. For one of them, that topple from reality TV supremacy could begin as early as tomorrow night.
Paula Abdul bid the remaining contestants to "surprise us," for the night's performances. "The point, tonight, is what you do to make these songs original," Simon Cowell advised.
To celebrate the theme, the Top 10 took a trip to Detroit, where Motown Records was established. There, they were greeted by a dozen or so screaming fans and iconic recording artist Smokey Robinson, who just happens to be the mentor for this week.
Read More

| American Idol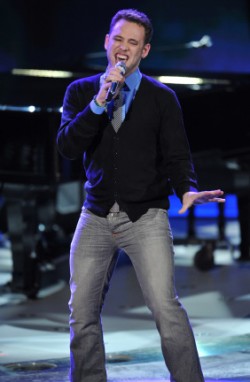 Matt Giraud chose one of my all-time favorites: Marvin Gaye's "Let's Get It On." Honestly, I wasn't sure he had the voice for this. But from behind the piano, Giraud displayed his incredible level of vocal control and range. I've been a bit anti-Giraud from the word go despite his great vocals - I'm not even sure why - but I must admit I'm warming up to him after this one. Randy Jackson felt that Giraud has "come up so far" and could be a contender for "the top spot." Kara DioGuardi finds that Giraud is "coming out" of his shell. She thought it was a "solid performance." Paula Abdul thinks he's got a "sexy, cool vibe." "It was a brilliant choice of song," Simon Cowell praised, saying his voice "suited" the tune.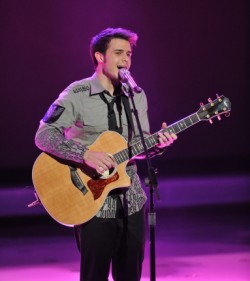 Kris Allen stepped up to sing "How Sweet It Is." "Kris blew me away," Smokey Robinson said after their practice session, advising Allen "don't change a thing." And so, Kris didn't. He started on the Idol stage with his guitar and delivered a sold performance that didn't waver once. The upbeat arrangement entertained the crowd, and Allen seemed to grow more comfortable by the moment. Paula Abdul got up to dance along with the ladies in the crowd. Kara DioGuardi believes that it's all about "artistry," and she thinks Allen "did everything right." "You picked a great song. Your personality is infectious," Paula Abdul told him, calling the performance "brilliant." "I thought that was smart," Simon Cowell said, but advised Allen to get more "swagger and confidence." "To be a star, Paula, you've got to be conceited," Cowell explained. Randy Jackson thinks "it's all good right now, baby," and told Kris he's "in the zone."
Scott MacIntyre decided not to follow Paula Abdul's advice, though he respectfully explained his decision during a sit-down with Ryan Seacrest. He bravely chose the Diana Ross song "You Can't Hurry Love" for the evening. Smokey Robinson felt sure Scott would "knock 'em dead." MacIntyre presented a pretty flawless performance, making a few interesting changes to the arrangement and bringing the background singers front and center with him at the piano. I thought it was a smash. "I think that you did bring something different," Paula Abdul praised him, saying he "brought new life" to the performance. "It wasn't a great version of the song," Simon Cowell disagreed with her. "I actually thought it was completely the wrong song for you." In fact, he found the whole thing "cheap," and thinks Scott consistently picks the wrong tunes for his performances. Randy Jackson found it to be a bit of a "hotel performance," saying "you're a better singer than that." "Finally, some tempo!" Kara DioGuardi praised, but added that she found his "execution was not perfect." Paula and Simon then got into a debate regarding Scott's song choices. This culminated in a coloring session.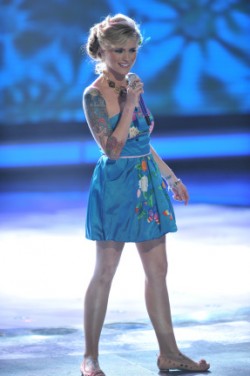 Megan Joy (Corkrey) was the next to appear on stage. She chose "For Once In My Life" and sang quite strangely in front of Smokey Robinson, who used diplomatic phrases like "refreshing," "original" and "different" to describe her. She appeared on stage looking lovely but again sounding something like a bad Judy Garland drag queen act. Not to be harsh, I'm just saying I really don't care for her singing and still can't get over the fact that she's hanging around. The number seemed to go on for ever and ever, and if I never have to hear her bad screeching again it'll be too soon. "I like the outfit. The ensemble is jumpin' off. It's all cool, but…dude, that song was a train wreck for me, man." Randy Jackson admitted, saying the whole thing was "bizarre." Kara DioGuardi didn't seem to care for the song choice, either, saying the number was "all over the place" and that Megan "hit bad notes." "The song, it like, took you over," she said. "I'm gonna tell you this: your stunning beauty just takes my breath away," Paula Abdul said. "But I'm gonna have to agree, this was not the right song for you." "It was horrible," Simon Cowell, as usual, pulled no punches. "You're getting some really, really bad advice," he added, telling her to fire whoever is working for her at the moment.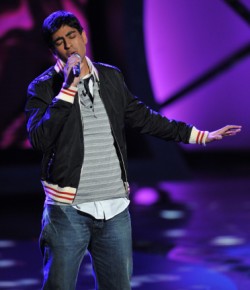 Anoop Desai was the next to stand in the spotlight - and under the harsh glare of criticism. His song for the night was "Ooh, Baby Baby." At least one question of the night was answered: one of the contestants, at least, was definitely brave enough to sing Smokey. And Anoop did the ditty plenty of justice. He started out soft and sweet to deliver beautiful vocals, never missing a note. Kara DioGuardi believes the song to be "one of the most beautiful" ever written. "I think you did a pretty good job," she offered up a rather (I thought) lackluster response. "I want you to push it more," she advised. Paula Abdul wants to see "more confidence" but finds him "sweet" and "tender." "It was a great vocal," Simon Cowell delivered high (for him) praise, but said the performance was a little "boring." "It's showmanship," he explained. "Give me that energy," Randy Jackson asked, but said "it was nice to hear you croon and swoon."
Michael Sarver missed the trip to Detroit with the other Idols, as he was ill. "Because I stayed back, I'm a whole lot better today," he smiled. Smokey Robinson advised Sarver to "pound" the song, which is pretty much the only way one can sing "Ain't Too Proud to Beg." Sarver stepped out on stage and did just what the mentor advised, hitting the audience with power from the word go. What Sarver displayed in range and vocal strength, however, he lacked in stage presence. During his interviews, Michael is arguably the most charismatic of the Idol contestants. On stage, something's just missing…but not from his voice. "Well, um…oh boy," Paula Abdul sighed at the beginning of her critique, saying it felt "a little Las Vegas, loungey." She explained, "you really need to be dominating that song." Paula was so upset by her own words, she apologized when she finished. "It was…uh…actually, I couldn't wait for it to end," Simon Cowell told him, saying "you were actually screaming and shouting the song." He coldly added, "you have no chance of winning." Simon Cowell continued for a while before summing it up: "It just isn't good enough. That's the truth." "You made it a little bit corny," Randy Jackson explained. "It's not about singing; it's about artistry," Kara DioGuardi just muddied the waters, because at this point in the competition Simon Cowell habitually tells contenders to simply "sing well."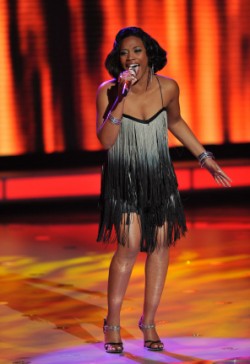 Lil Rounds chose an absolutely adorable frock for the evening, looking very much the part. She sang "Heatwave," and somehow started with her vocals a little off. It was a surprising performance out of the very consistent Lil, who is truly one of the best vocalists in the whole contest. But Rounds was out of sync with the music and sounded vocally wrong whether she was in the chorus or chirping out a verse. One can only hope that Lil's already-established popularity will carry her through for a week. Sometimes, it doesn't hurt to display a little vulnerability on the Idol stage. It's pretty much her only hope, because the performance, and subsequent critique, was pretty rough. Randy Jackson asked her how she was doing, and admitted "the front of the song was really a little bit tortured." "You know, you look great," Kara DioGuardi began with a compliment. "You were the diva tonight that everyone was waiting to hear," she said. "I gotta tell ya, I don't think it was the right song," DioGuardi added. "We need more from you right now. And it was screaming at some parts." But Lil still had one fan on the panel, at least. "I disagree completely with these two," Paula Abdul remained in Lil's corner. She thought the song felt "fresh" and thought Lil "owned" it. Simon Cowell thought the performance was "an authentic tribute," but also thought it was a little "too fast." He reminded the crowd that Lil is one of the better singers in the competition - and they sorely needed it right then.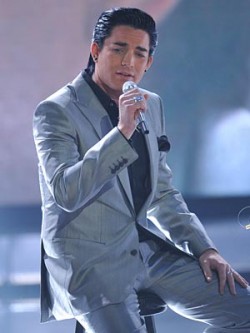 Adam Lambert, who made waves with his "Ring of Fire" rendition last week, was the next Idol to be featured. He also chose a Robinson song, "Tracks of My Tears," a tune I've always loved. Smokey felt "very proud" of Lambert's version during their session. Lambert showed up on stage looking quite a bit like Zac Efron in Hairspray and singing with the musicians gathered around him in an intimate stage setting. The soft vocals and new look created a performance that was yet another jaw-dropper, and now I think Lambert's strategy is stunningly clear (and astonishingly brilliant). He's just going to shock us into voting every week, and we'll keep him around to see how many new things he can come up with to amaze us. Good plan. This time, the focus was on the vocals, and Lambert reminded everyone that he's not just the weird kid with the weird look. His neatened up, buttoned-up appearance was very handsome. Kara DioGuardi gave him a standing ovation, claiming "you showed artistry on that stage." Paula Abdul finds him to be in his "own league," remarking on his "element of surprise" and appreciating his new, "clean look." "It was the best performance of the night," Simon Cowell told him. "You, tonight, really have emerged for me as a star." Randy Jackson also like Lambert's look and sound, calling the performance "unbelievably hot" and "the bomb."
Danny Gokey decided to deliver fun with "Get Ready." He appeared in his mentor clip sans glasses, but had his regular style and usual sound for the big stage. Somehow, I'm already highly bored with Gokey in spite of it all. His vocals are absolutely amazing, but somehow it's the same thing over and over. He briefly joined the back-up singers at one interval, and I think perhaps he's simply trying too hard. Paula Abdul, who was actually rocking a pretty great look for her, thinks Danny is "identifiable" and "reliable." "I thought that was clumsy and amateurish," Cowell stated. Randy Jackson thinks Gokey has "a dope voice," and "loved the energy." Kara DioGuardi "thought it was good, not great," but is still "a huge Danny fan." By this point, all the judges were rushed and harried - Idol, as always, was running low on time.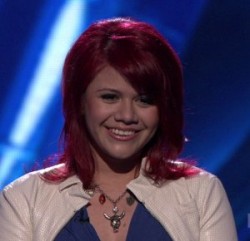 Allison Iraheta was the next to take the stage, the final performer of the night. She chose "Papa Was a Rolling Stone," because "it's an awesome song." When Allison sings it, that statement is certainly true. Starting out sultry and slow, she delivered her usual bluesy vocals. Her arrangement and singing style might have been a little too jazzy, but there's no doubt Iraheta's got the chops to make it all the way to the end of the competition. Her end note put a beautiful cap on the evening. "You're one of the dopest singers in this whole thing," Randy Jackson cried. "You were in the bottom three last week? What?" Kara DioGuardi was absolutely blown away, invoking God to describe Allison's voice. "You belong in the competition," Paula Abdul, mumbled, hiding her crayon mustache. "You are a survivor," Simon Cowell was giggling too much to give a decent critique.
And so it ends. Tomorrow's results show will send one of them home. Michael Sarver and Allison Iraheta were both low vote-getters last week…will Thursday be a day of reckoning for one of them?
(You can find all the American Idol 8 posts here.)
Related Tags:
adam lambert, allison iraheta, american idol, american idol 8, anoop desai, danny gokey, fox, kara dioguardi, kris allen, lil rounds, matt giraud, megan corkrey, megan joy, megan joy corkrey, michael sarver, motown, motown week, music, paula abdul, performance, randy jackson, reality, ryan seacrest, scott macintyre, sidefeatured, simon cowell, smokey robinson, top 10
© Gear Live Media, LLC. 2007 – User-posted content, unless source is quoted, is licensed under a Creative Commons Public Domain License. Gear Live graphics, logos, designs, page headers, button icons, videos, articles, blogs, forums, scripts and other service names are the trademarks of Gear Live Inc.