Thursday May 19, 2011 11:42 am
American Idol 10: Top 3 Perform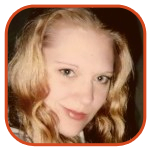 Tweet
Posted by K.C. Morgan Categories: Music, Prime Time, Reality, FOX, American Idol, Gossip, Video,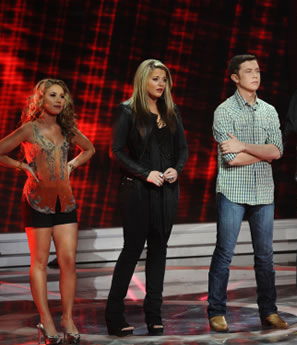 Top 3 week of American Idol is always pretty big (for them). Each contestant goes home for a big celebration, with full rock star treatment.
And even James Durbin, who was eliminated last week, went back home to a hero's welcome. But only Haley Reinhart, Scotty McCreery and Lauren Alaina are left to compete for votes. And of the three, only two will be a part of the show's big finale next week.
The show snagged a superstar for Top 3 week: Beyonce. There's no need to expound on her credentials; they're too evident. She definitely has the knowledge to help the Top 3.
Scotty McCreery was the first to take the stage. In the first round, contestants picked their own songs. Scotty's was "Amazed" by Lonestar. Classic country song for a technically perfect country singer. Scotty's performance was very solid, no surprise since he's been the most consistent in the contest.
"I think you just keep getting better and better," Steven Tyler was pumped. "You really did take that song up a notch."
Jennifer Lopez remarked on Scotty's growth through the season. "You've grown so much as a performer… it's a great way to start the show."
Randy Jackson praised the song choice. He found some problems within the performance, but the end made him say "wow." "That's money!" Jackson cried.
Lauren Alaina followed with "Wild One," a Faith Hill song that suits her well. Beyonce gave Lauren performance advice, and she had plenty of attitude when she belted out the song. Wearing glittering boots and huge floral earrings, Lauren looked the country diva she's poised to become.
"You come out here, and you attack it like that, and that's what you gotta do," Jennifer Lopez told her.
"That fearlessness, that's what you gotta have," Randy Jackson agreed. "I think that when you let yourself go, that's when you're your best."
"I love the way you're singing tonight," Steven Tyler praised. "You're so ready for this."
Haley Reinhart, who has defied all odds by remaining in the competition, ended the round 1 performances with "What Is and What Should Never Be," a Led Zeppelin song. Beyonce found it to be an "interesting" song choice and branded Haley a "risk-taker." "You're incredible," she told Haley during their session. Haley started the performance dramatically at the top of the stairs before strutting her way down to the stage. Her father accompanied her on the guitar. It was a very Haley performance, and she surely pleased all of her fans. She did fall during all her running around and weird gyrations, but to her credit she didn't flub the vocals. Frankly, the fall will probably help her secure more votes.
"This is what it's all about," Randy Jackson declared. "This girl is slayin' it. You're fearless. You chose a song that's not for the weak at heart… this was one of your best performances ever!" He didn't mention the fall.
"Haley, did you fall for me?" Steven Tyler couldn't resist. "You know, it's not about how many times you fall, it's about how many times you get back up." And the fall started to work for Haley immediately. "That was superb."
"I thought the fall was planned." Randy joked… but he may not be far from wrong.
"You gotta keep going… that's a sign of a professional," J-Lo remarked. "It was a really tough song, you sang it really, really great."
Ryan Seacrest asked the judges who won the round. "Hands down, Haley," Randy Jackson proclaimed.
"Scotty sang it like he meant it. Lauren had too much fun. But she got her freak on," Steven Tyler said of Haley.
"I'm going to have to go with Haley for this one as well," Jennifer Lopez chimed in.
Jimmy Iovine picked "Are You Gonna Kiss Me or Not" for Scotty McCreery to sing. He played a guitar while he sang the tune, using his higher register for much of the performance. Scotty's final smile was the stuff of Idol gold.
"You were livin' that one. Beautiful!" Steven Tyler declared.
Jennifer Lopez loved many parts of the performance. "That's what the zone feels like… it was so good." She then asked Scotty to shave his head for the finale. He agreed.
"I think, Scotty, Jennifer was just saying she would kiss you," Randy Jackson teased.
"I'm a married woman!" She reminded. You mean that swarthy guy who follows her high heels around is her husband? Hm.
Ryan Seacrest predicted Randy's next comment - "Scotty's in it to win it!"
After a pantyhose malfunction, Lauren Alaina sang Jimmy Iovine's pick for her: "If I Die Young." She started the tune out very strong and turned the rather depressing subject matter into a cheery little number. But everything sort of died in the middle. After the pause, Lauren slipped a bit and the ending wasn't as strong as it could have been. Watch the whole thing in the video above.
"You, Lauren, have the most beautiful tone of our finalists," Jennifer Lopez told her. "You had a very honest moment in the middle of that song that I think you actually got caught up in, yourself," she added.
"You knew right away when you didn't hit the modulation at the right point," Randy Jackson also praised Lauren for battling through the song. "You are definitely in it to win it, too."
"I loved it as well," Steven Tyler agreed. "It's a beautiful song. You've got a beautiful voice, and you nailed it again."
Jimmy Iovine picked "Rhiannon" for Haley Reinhart, which felt a little too easy. Haley was a little shaky throughout the performance (maybe it was the weird wind machine?) and it was probably one of her worst all year. Seriously, between the outfit and the crazy wind, the theater felt like a karaoke bar, circa 1977.
"I think you did a good job with it… your pitch was like, perfect, for the whole thing," Randy Jackson said. He loved the wind machine. "I would grow my hair out if I could have the whole wind thing."
"You sang the song so beautifully," Steven Tyler praised. Can they not hear? Was the wind machine too loud?
"It was a beautiful moment," J-Lo chimed.
However, Steven Tyler cited Lauren as the winner of round 2.
J-Lo disagreed, crying "Scotty, Scotty, Scotty."
Randy Jackson agreed with her, adding that Scotty "wrecked it."
Scotty McCreery was asked to sing "She Believes in Me" by the judges, an old school Kenny Rogers country tune. He absolutely killed the number, truly singing his heart out. He's definitely got star power, and his song was performed without a hitch. It could hurt him; popularity killed James Durbin's dream. Maybe McCreery should have faceplanted on the stage instead.
"You put it over the top for me just now," Steven Tyler was blown away.
"I guess you showed us," J-Lo laughed. "Great job, baby. So proud of you."
"Seeing you believe that you can hit those notes, and you doing this… you were so sweet and tender in the front, you hit the chorus. Very nicely done," Randy Jackson was full of praise.
Lauren Alaina was asked to sing "I Hope You Dance," which is perfectly suited to her. Wearing a pretty ball gown, Lauren stepped onto the smoke-filled stage to deliver the country tune. She showed off a lot of range, put all her power into the performance and really gave it her all… but there was some unsteadiness to the vocal. Enough to keep her out of the finals? We shall see.
"That was beautiful… I'm going to dare to say that you won that round for me already," Jennifer Lopez told her.
Randy Jackson praised Lauren's look and sound, pointing out to Ryan Secrest that she is also "In it to win it."
"Lauren, you walked out here like you owned the Grand Ole Opry," Steven Tyler told her. "I'm so happy, and America's so happy."
Haley Reinhart got the sweet spot, and closed the show with "You Oughta Know," the judges' pick. She sang the sanitized version with sass, barely kept up with the lyrics, and went back to the weird dancing that plagued her in the beginning of the contest. It was frankly horrible.
But the girl can't do a thing wrong in the eyes of the judges. "America's got their work cut out for them," Randy Jackson said, though he did point that she had "problems" before he declared Haley's also "in it to win it."
Steven Tyler just said the performance was "beautiful" and emphasized how well she hit the chorus (since that's all she did hit).
"Definitely the stronger parts were the choruses," Jennifer Lopez agreed.
"Haley, you slayed me tonight," Steven Tyler declared her the winner of the third round.
Jennifer Lopez still believes that Lauren gave one of the strongest performances of the night, and Randy Jackson agreed that Lauren won the final round.
So, which two will advance to the finals? The show will whittle the contest down to two on Thursday night. Read all our American Idol 10 posts to get all the recaps.
© Gear Live Media, LLC. 2007 – User-posted content, unless source is quoted, is licensed under a Creative Commons Public Domain License. Gear Live graphics, logos, designs, page headers, button icons, videos, articles, blogs, forums, scripts and other service names are the trademarks of Gear Live Inc.