Thursday July 16, 2009 9:56 am
2009 Primetime Emmy Nominations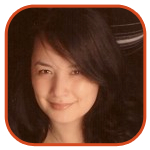 Tweet
Posted by Veronica Santiago Categories: Action, Animation, Award Shows, Comedy, Drama, Prime Time, Sci-Fi/Horror, ABC, Cable, CBS, FX, FOX, HBO, NBC, Showtime, TNT-HD, 30 Rock, 24, Entourage, Family Guy, Grey's Anatomy, House, Lost, Saturday Night Live, The Office,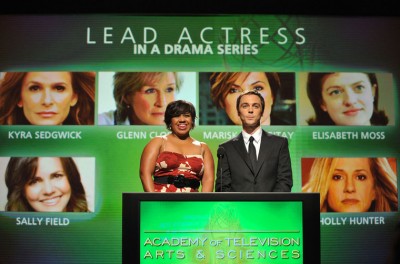 Bright and early this morning, Chandra Wilson and Jim Parsons announced the nominees for the 61st Primetime Emmy Awards.
Just like last year, we saw many first-timers named and a long list of cable acknowledgements (for both pay and basic channels). Thanks to expanded categories, we also saw a number of surprises (Flight of the Conchords, Family Guy) and overdue nominations (How I Met Your Mother, Big Love).
For the second year in a row, Mad Men, with its 16 nominations, topped all drama programs. Meanwhile, 30 Rock broke comedy records with a whopping 22 noms. Overall, HBO was the most-nominated network with 99 mentions while NBC - yes, NBC - came in second.
This year's ceremony will be hosted by Neil Patrick Harris on Sept. 20 on CBS.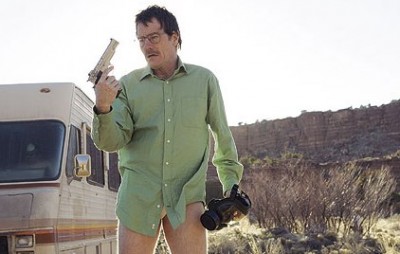 Outstanding Drama Series
Big Love
Breaking Bad
Damages
Dexter
House
Lost
Mad Men (last year's winner)
Outstanding Lead Actor, Drama
Simon Baker, The Mentalist
Gabriel Byrne, In Treatment
Bryan Cranston, Breaking Bad (last year's winner)
Michael C. Hall, Dexter
Jon Hamm, Mad Men
Hugh Laurie, House
Notable omission: No more nominations for Boston Legal's James Spader. Woo hoo!
Outstanding Lead Actress, Drama
Glenn Close, Damages (last year's winner)
Sally Field, Brothers & Sisters (last year's winner)
Mariska Hargitay, Law & Order: SVU
Holly Hunter, Saving Grace
Elisabeth Moss, Mad Men
Kyra Sedgwick, The Closer
Outstanding Supporting Actor, Drama
Christian Clemenson, Boston Legal
Michael Emerson, Lost
William Hurt, Damages
Aaron Paul, Breaking Bad
William Shatner, Boston Legal
John Slattery, Mad Men
Notable item: William Shatner…again?? I thought we were done with that show!
Outstanding Supporting Actress, Drama
Rose Byrne, Damages
Hope Davis, In Treatment
Cherry Jones, 24
Sandra Oh, Grey's Anatomy
Dianne Wiest, In Treatment (last year's winner)
Chandra Wilson, Grey's Anatomy
Notable omission: Katherine Heigl, Grey's Anatomy (Guess that cancer storyline didn't work for her after all.)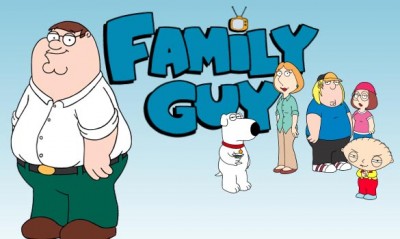 Outstanding Comedy Series
30 Rock (last year's winner)
Entourage
Family Guy
Flight of the Conchords
How I Met Your Mother
The Office
Weeds
Notable item: Family Guy. (First animated series since 1961's The Flintstones to be nominated in this category. I'm sure The Simpsons are pissed.)
Notable omissions: Two and a Half Men (Ratings apparently don't mean much.)
Outstanding Lead Actor, Comedy
Alec Baldwin, 30 Rock (last year's winner)
Steve Carell, The Office
Jemaine Clement, Flight of the Conchords
Jim Parsons, The Big Bang Theory
Tony Shalhoub, Monk
Charlie Sheen, Two and a Half Men
Notable item: Jim Parsons. (Didn't you know nerds were hot again?)
Oustanding Lead Actress, Comedy
Christina Applegate, Samantha Who?
Toni Collette, United States of Tara
Tina Fey, 30 Rock (last year's winner)
Julia Louis-Dreyfus, The New Adventures of Old Christine
Mary-Louise Parker, Weeds
Sarah Silverman, The Sarah Silverman Program
Notable omissions: America Ferrera, Ugly Betty (I doubt the show's move to Fridays will help her next year.)
Outstanding Supporting Actor, Comedy
Jon Cryer, Two and a Half Men
Kevin Dillon, Entourage
Neil Patrick Harris, How I Met Your Mother
Jack McBrayer, 30 Rock
Tracy Morgan, 30 Rock
Rainn Wilson, The Office
Notable item:McBrayer and Morgan. (I'm surprised it's taken this long to get them on here.)
Notable omissions: Jeremy Piven (Entourage), last year's winner. (Was his absence a result of mercury poisoning?)
Outstanding Supporting Actress, Comedy
Kristin Chenoweth, Pushing Daisies
Jane Krakowski, 30 Rock
Elizabeth Perkins, Weeds
Amy Poehler, Saturday Night Live
Kristin Kristen Wiig, Saturday Night Live
Vanessa Williams, Ugly Betty
Notable item: Kristin Wiig (What's more shocking than two SNL ladies at the same time?
Two women who spell their name Kristin
. The fact that the Academy spelled her first name wrong!)
Notable omission: Jean Smart, Samantha Who? (last year's winner)
(You can find the full list of nominees here.)
Related Tags:
2009 emmy award, 2009 emmy awards, 2009 emmys, 24, 30 rock, 61st annual primetime emmy awards, 61st primetime emmy award, 61st primetime emmy awards, aaron paul, academy of television arts & sciences, academy of television arts and sciences, adslice, alec baldwin, amc, amy poehler, big bang theory, big love, boston legal, breaking bad, brothers & sisters, brothers and sisters, bryan cranston, chandra wilson, charlie sheen, cherry jones, christian clemenson, christina applegate, damages, dexter, dianne wiest, elisabeth moss, elizabeth moss, elizabeth perkins, emmy award, emmy awards, emmy nominations, emmys, entourage, family guy, flight of the conchords, gabriel byrne, glenn close, greys anatomy, himym, holly hunter, hope davis, house, how i met your mother, hugh laurie, in treatment, jack mcbrayer, jane krakowski, jemaine clement, jim parsons, john slattery, jon cryer, jon hamm, julia louis dreyfus, julia louis-dreyfus, kevin dillon, kristin chenoweth, kristin wiig, kyra sedgwick, law & order special victims unit, law & order svu, law & order: special victims unit, law & order: svu, lost, mad men, mariska hargitay, mary louise parker, mary-louise parker, michael c hall, michael c. hall, michael emerson, monk, neil patrick harris, nominations, nominees, pushing daisies, rainn wilson, rose byrne, sally field, samantha who, sandra oh, sarah silverman, sarah silverman program, saturday night live, saving grace, sidefeatured, simon baker, snl, special victims unit, steve carell, svu, the big bang theory, the mentalist, the new adventures of old christine, the office, the sarah silverman program, tina fey, toni collette, tony shalhoub, tracy morgan, two and a half men, ugly betty, united states of tara, vanessa williams, weeds, william hurt, william shatner
© Gear Live Media, LLC. 2007 – User-posted content, unless source is quoted, is licensed under a Creative Commons Public Domain License. Gear Live graphics, logos, designs, page headers, button icons, videos, articles, blogs, forums, scripts and other service names are the trademarks of Gear Live Inc.