Wednesday June 21, 2006 6:48 pm
Entourage: One Day in the Valley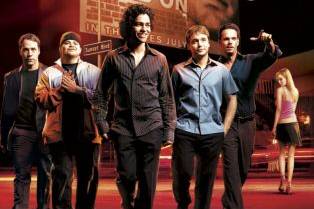 Unable to sleep, Ari gives Eric a 5am call on the day of the movie's opening. Ari asks Eric to talk dirty to him—right before he projects a huge first weekend: $95 million… #1 or bust. After he gets off the phone, Mrs. Ari unsuccessfully tries to get her hubby in the mood. Ari says that it will all have to wait until after the premiere—even though it's been 3 weeks already.
Although Vince denies feeling stressed, Drama makes him a special premiere breakfast—one that won't make his stomach upset. Even though it is already expected to be 100 degrees in the city, the boys decide that they will secretly watch the movie in the Valley. They want to ensure that they go to an out of the way place. Meanwhile, they all make their own box office predictions. Turtle is certain that the movie will make over $114 million—just surpassing the record set by Spiderman. Even though Aquaman was directed by Jim Cameron, Drama doesn't believe that beating Spidey is a possible goal. Aquaman doesn't already come with a built-in audience.
Back at his office, Ari is given an authentic warrior by his assistant, Lloyd. It's meant as a symbol of good luck to carry him through his day. Lloyd then tells Ari that he has a 4:30 appointment with Dr. Marcus. Mrs. Ari apparently decided that they needed an emergency couples session.
On their way to the theater, Eric get the latest numbers from Ari. The East Coast numbers are in and they are already predicting that the movie will hit $100 mill. Vince claims he is above all the hoopla and insists that Eric keep any info to himself until all is said and done.
As they head into the Valley, the temperature is approaching 105 degrees. Surprisingly, this does not deter the long line of fans already waiting outside the theater. Promising! Inside, they sit in the back in anonymity. As the movie approaches an important climax, a large male patron gets up to go to the bathroom and blocks their view. Turtle warns the man that he will miss a critical scene if he leaves, but he gets up anyway… that is until Johnny Drama encourages him to stay. Panning back to the big screen, we see a bunch of people running from a large waterfront pier. Unfazed by the screams is a tuxedo-clad Aquaman, who is walking calmly through the frantic crowd. Just as he makes it to the edge of the pier, he leaps into the water… and into COMPLETE BLACK.
The West Coast heat has shut down the electricity—including the movie and the air conditioning. The disappointed audience is told that they will receive a refund for the tickets. In the middle of the crowded lobby, Vince is spotted by two of his male fans… then some screaming girls.. and then a rabid mob. Luckily, Turtle is already outside with their Maserati revved.
Unfortunately, the blackened street lights prevents them from getting too far. Worried, Eric calls Ari and asks if the outages could affect the total take-in. Ari doesn't see how a small outage in Northridge could have any affect on the numbers—as it is, they currently have Spiderman in their sights. But Ari doesn't want Vince to get too excited too soon and makes Eric swear to keep his lips sealed. Unfortunately, Eric's face reveals too much and Vince demands that he disclose anything he knows. Against his better knowledge, Eric reveals the promising news. Excited by the numbers, Vince tells the boys that they are going shopping for some toys. Knowing exactly where to go, Turtle takes them to the local Ducati dealership. As Vince is closing the deal on four new bikes, another outage closes shop.
Back where things are still lit, Mr. and Mrs. Ari are meeting with their therapist. Unfortunately, their counseling session is continuously interrupted by phone calls from Vince and Eric. Although he manages to resist the first two calls, Ari caves in on the third after telling his wife: "I have to answer the batphone when it rings three times and it's from Vince." As luck would have it, mid-conversation another blackout.
The gang is still hanging outside the Ducati dealership when Vince's movie theater fans, Reggie and Jay, pass by on their Vespa. Apparently they had been following them since they left. Making a bold move, the fans invite the gang to a nearby pool party. Apparently the party is being hosted by a rough crowd, and they would need Vince as a way to get in. Aquaman to the rescue! Drama isn't initially enthused about hanging out a high school party, but they ultimately decide that it would be better than sitting in a traffic jam.
During the kegger, Eric receives a call from a frantic Ari There are now blackouts from San Francisco to San Diego. With two of the most populated cities hit—they are now only predicted to rake in about $85 million. Vince is initially disappointed by the news but then quickly changes his perspective. Seeing how much fun they are having at this high school party has made him reminisce about the good times they had before they cared about money. He vows to take it all in stride. Unfortunately, Ari does not see things the same way and promptly puts the lucky warrior back on Lloyd's desk—just before smashing it.
Later that evening, Ari paces as he waits for the final projections to come in. Meanwhile, his wife is eagerly hoping for a night alone together. Just when it looks like she has finally managed to distract his thoughts, he gets the long-awaited phone call. He promises his wife that he will make it up to her—but first he needs to head to the Valley and give Vince the news himself.
Ari arrives at the party to find Vince on the top of the house. Luckily Ari has good news to complement this Almost Famous moment. Although it initially like the blackout would negatively affect their numbers, what it actually did was affect the reporting of the numbers. Turns out that they make actually make $116 million, topping Spiderman.
A drunken celebration ensues and Ari - with his $900 shoes still on - is promptly thrown into the pool. Later, Reggie and Jay thank Vince for helping them score with two of the untouchable ladies. Unfortunately, closing the deal may prove difficult since they only rode in on a Vespa. Vince, still high from the good news, decides to help the boys out once more. All they need to do is return his Maserati back to the dealership by August—when its lease ends. Aquaman to the rescue!
© Gear Live Media, LLC. 2007 – User-posted content, unless source is quoted, is licensed under a Creative Commons Public Domain License. Gear Live graphics, logos, designs, page headers, button icons, videos, articles, blogs, forums, scripts and other service names are the trademarks of Gear Live Inc.