Tuesday August 15, 2006 2:02 pm
Entourage: I Wanna Be Sedated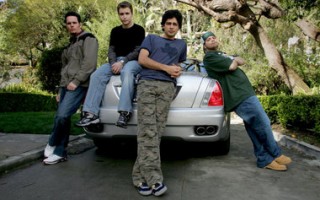 Turtle wakes up and preps for a big day. He and his client, rap artist Saigon, are about to seal the deal on a recording contract. On his way into the kitchen, he asks the boys for a second opinion on his outfit. The boys pretend to be clueless about Turtle's meeting and wonder why he's gotten all dressed up. Turtle is convinced that his friends have forgotten about the most important day of his life, but they finally give up the whole joke. Eric had his car waxed for the occasion and Drama even prepared him a special Pop Tart. Vinnie preps to give him his regular paycheck, but Turtle says that he may not need his money anymore. To cap the morning off, Drama offers his driving services to Turtle. Eric then sets off to see Ari and tells Vince that he should go with him. It's been a week since they've last heard from him. Vince declines and decides to spend an unemployed day alone at the bookstore.
At the Sony/BMG offices, Turtle and Drama wait in the lobby for their missing client. Despite several frantic messages, Saigon is a no-show for ther appointment with Mr. Cain. Turtle is forced to lie and tells Cain that Saigon is simply running late. Unfortunately, Turtle's sweat says something else. When he finally admits that he can't find his client, Cain tells him that the deal will go away if he can't produce Saigon by 5:00. This sounds eerily similar to that Ari/Warner Bros/Aquaman storyline.
Eric makes his first appearance at the new Miller Gold agency and finds Ari busy in his new space. Eric is perturbed that Ari hasn't been in contact with his client recently and wonders if he is too distracted with his fancy digs. Ari reminds Eric that he has sent Vinnie numerous scripts and that he will work for Vinnie when Vinnie is prepared to get back to work. E is turned off by Ari's attitude and calls him a 'douche bag'. Just then Lloyd comes in and tells Ari that Bob Ryan is waiting outside to speak to him. Producer Bob Ryan (actor Martin Landau) wants Ari to pay him back for helping him sign a major client back when he was starting out. All he wants is for Gold to give him a movie star that he can take around to the studios. Wanting to get rid of Ryan and Eric, Ari sets the two up together. Ari tells Eric that Bob is the producer behind such legendary movies such as Network, The Sting and Dog Day Afternoon. Impressed to hear his credentials, Eric agrees to talk to Bob about a possible movie he has ready for Vince.
Meanwhile, Turtle and Drama head directly to Saigon's house. When his mother opens the door, she claims that she didn't know anything about any meeting and she doesn't know where her son is. Unfortunately, something in her voice led them to believe she was holding something back. Setting off to investigate, Drama heads around the house and not only sees Saigon's mother frantically making a phone call…but he sees a large plasma TV in her living room. Unfortunately, a large dog scares him from the window before he could spy any more. When Saigon's mother comes back out on the porch, Drama asks if he can simply make a call on her cordless phone. Instead of actually making a call, he hits redial and determines that she had just made a call to the Standard Hotel. Drama and Turtle head to the hotel and set off to find Saigon there.
At the bookstore, Chase picks up a tabloid with his picture on the front. Aquaman in Vegas Melee A girl nearby warns him about the paparazzi waiting out front. It might look funny if they saw him checking out his own picture. Grateful, he thanks her and later offers to buy her lunch. You knew the whole reading thing couldn't last very long. Before you know it, he's now taking her on a shopping spree. After all, he's got nothing else to do with his day anymore. As a special thank you to him, she offers him a (naked) peek of herself in the dressing room. Wait a second. If I'm correct, this is the role that Katharine McPhee auditioned for. Was she really going to appear partially nude??
On their way to talk business, Bob Ryan takes Eric for a ride in his chauffeured car to lunch. Instead of heading to The Ivy as originally planned, Ryan suggests that they go back to his house for a meal. Eric agrees and Bob talks away name-dropping left and right. He even introduces him to his maid Marsha, who supposedly had sex with Marlon Brando back in the day. Eric tries desperately to keep Bob on topic but all the old man wants to do is talk about the glory days with all his celebrity friends. E finally starts to realize that there is no project. Ryan 'fesses up and admits that he wants to have some young blood to talk to about developing some new projects. With Vince and Eric by his side, he might be able to get new ideas greenlighted. Although he has a legacy of producing some great films, if he were to drop dead right now all he would be remembered for is Cutthroat Island. Eric pretends to sympathize with him and asks to use the bathroom.
Back at Miller Gold, Barbara Miller catches Ari working hard at….decorating. She's already had a million dollar day for the office and he needs to start catching up. Just then, Ari's phone rings. Unfortunately, the phone call is not for a potential deal but from a stranded and pissed off Eric. He desperately wants to leave Bob Ryan's house but he has no idea where he is. Ari admits E was set up because he called him a 'douche bag'.
At the Standard Hotel, Turtle and Drama are forced to knock on individual doors to find Saigon. Just when they are about to give up, they strike gold. They follow a group of honeys clearly there for a party. Once they make it inside the hotel room, Turtle and Drama find Saigon in the bedroom playing video games. Saigon is surprised to see Turtle there but also apologetic for not returning his phone calls. He takes them out on the balcony and tells them that he has a new manager. It's someone he made a verbal commitment to ten years ago. His manager skipped town but has since recently returned and is holding Saigon to his obligation. On top of it all, he scored him a better recording deal. Drama speaks directly to the new manager who tells the boys that their deal with Saigon is 'dead'. Drama tells him that they have a legally binding agreement and threatening them isn't going to do any good. To prove otherwise, the manager's thugs grab Drama and dangle him from the balcony over the pool area. Saigon tells his cousin to leave Drama alone because he promised to take care of Turtle. The manager agrees to give Turtle the cash upfront to get rid of them. Although he originally tries to weasle $60,000 out of them, Turtle smartens up and only asks for the $40,000 he was actually owed. After they hand over the money, the thugs bring Drama back up.
Meanwhile, Vincent is having is own kind of drama with the bookstore girl. Having found themselves in a hotel room, Vinnie realizes that he has had a great day with his new hookup. She is flattered and shocked to realize that Vinnie actually likes her—after all, he could have any girl he wants. When he insists on seeing her again, she tells him she can't. She's engaged. Chase is floored to hear this and even more surprised to find out why she slept with him. He was on her list. She and her fiance agreed that if they ever met a celebrity on their 'list', any encounters would be excusable. Now she just has to hope that her fiance doesn't meet Cameron Diaz.
Still stuck at Bob Ryan's home, Eric explores the house and sees photo after photo of Ryan and all his celebrity friends. Eric comes across a picture of Joey Ramone and is intrigued. He and Vince came from the same street as Ramone. Bob mentions that he has a script about the Ramones lying around the house somewhere. He wanted to get the movie made but Oliver Stone had to come out with that Doors movie. For the first time that day, Eric actually thinks they have a possible movie for Vince in their midst. He asks to look at the script on his way home. Impressed by what he reads, Eric and Bob pick up Vince outside the bookstore on the way back. From there, they head directly to Miller Gold. Vince is finally ready to get back to work.
© Gear Live Media, LLC. 2007 – User-posted content, unless source is quoted, is licensed under a Creative Commons Public Domain License. Gear Live graphics, logos, designs, page headers, button icons, videos, articles, blogs, forums, scripts and other service names are the trademarks of Gear Live Inc.