Wednesday January 18, 2006 2:25 pm
A Look At the 2006 Golden Globes
Tweet
Posted by Rhys Alexander Categories: Award Shows, Talent, Editorial, Features,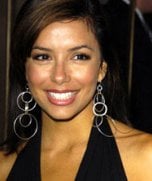 The best thing about award ceremonies is the fun we can poke at them later. And of course, we'll also honor the deserving. Here are some highlights from the television awards of the 63rd annual Golden Globes. We're proud to present our picks for The Good, The Bad, The Ugly…and The Pretty.
Agree? Disagree? Please leave your picks below!
The Good
Hugh Laurie's Best Actor/Drama award. The choice of anyone else would have been a travesty. Never before has a television actor transformed himself so successfully into a complex character with such an intriguing mix of toughness and vulnerability. Laurie's talent has taken a show with (originally) little possibility to succeed, and made it a favorite of both critics and fans.
Best Speech of the Night goes to The Office's Steve Carell, who, claiming that his wife wrote his speech, gave a hysterical reading of an acceptance speech punctuated with praise of his lovely wife.
Sandra Oh winning Best Supporting Actress. As Dr. Cristina Yang on Grey's Anatomy, she bring equal parts drama and delight to her complex character.
The Desperate Housewives' reaction to Mary Louise Parker's win in their category. Even though they 'lost,' they were excellent sports about it, brimming with goodwill and cheer.
The Bad
Did every single Desperate Housewife really deserve a nomination in the Best Actress/Comedy category? Obviously, the winner would be the one non-Housewife. More importantly, loads of comedic talent was overlooked, such as Sarah Chalke from Scrubs, Jaime Presley from My Name is Earl, and many others.
Desperate Housewives as the winner of Best Television Series/Comedy. No, it isn't. The show is experiencing a major sophomore slump, and though there have certainly been shining moments this season, they have been overshadowed by tedium. (Applewhite subplot, anyone? Yawn.)
The traditional "Gee, I never thought I'd win," while pulling a prepared speech out of the pocket shtick. At least memorize the speech beforehand, celebrities, so you don't seem like big liars!

The Ugly
Many people seemed to love it, but we weren't impressed with Teri Hatcher's Versace gown. Cutouts are most often tacky, and to us, she looked like a sequined mermaid.
Emilie de Ravin of Lost. Well, it wasn't really ugly; she looked quite beautiful. But the dress was so almost perfect that it truly disappointed. The cut and flow were gorgeous, but the pale gold washed out Emilie's cool blond looks. We would have loved to have seen her in a deep pink or emerald.
Paris Hilton's tulle mess. The back and white colors did nothing for her, and the skirt's length ruined the line of her long legs. Plus…tulle?
Mischa Barton in her red dress with ruffled edges. Red is not her color, but more importantly, why did she make the dress out of curtains?
Grey's Anatomy Ellen Pompeo in a frumpy, belted concoction. Did she raid her grandmother's closet for this dress?
Pamela Anderson is starting to look an awful lot like a taxidermy project. Enough said.
The Pretty
Eva Longoria looked gorgeous in her lipstick-red Bob Mackie halter dress. Very few people can actually look good in red, and Eva has the perfect coloring—and spunk—to succeed.
Felicity Huffman looked like a Greek goddess in her flowing ivory gown…a feat made all the more impressive by the fact that she was completely believable as a man wanting to be a woman in the recent Transamerica.
Lost's Evangeline Lilly in her gorgeous green dress that perfectly matched her eyes. It must have been nice to get out of that grungy Lost wardrobe!
Hugh Laurie in his perfectly tailored tux looked great…and is one of the few men in this world ever to pull off a bowtie.
Until next year, happy TV-ing!
© Gear Live Media, LLC. 2007 – User-posted content, unless source is quoted, is licensed under a Creative Commons Public Domain License. Gear Live graphics, logos, designs, page headers, button icons, videos, articles, blogs, forums, scripts and other service names are the trademarks of Gear Live Inc.