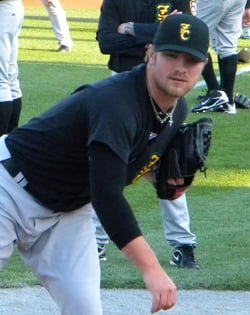 This year has been called The Year of the Pitcher in baseball. With so many no-hitters and two (three?) perfect games, not to mention countless close calls for no-hit bids, pitching truly has been at the top of the conversation this season. But the marvels on the mound do not stop with major league hurlers. There are dozens of guys with blue chip arms in the minors who will not even step into a major league stadium. One of those guys is Kyle Drabek.
Click to continue reading Young Drabek almost ready to make big leagues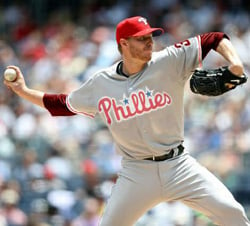 The doctor is in. Roy Halladay picked up his 15th win of the season on Saturday against the Mets and with that win he brought himself into the top five in all three National League Pitching Triple Crown categories. His 15 wins have him third behind Ubaldo Jimenez and Adam Wainwright's 17; 2.24 ERA is also third, behind Tim Hudson's 2.13 and Wainwright's 1.99, and his 175 strikeouts place first among National Leaguers, 10 ahead of Felix Hernandez.
Click to continue reading The Doc, Roy Halladay, delivers fifth consecutive win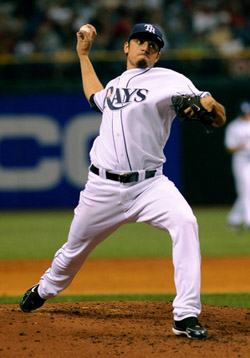 When the media dubbed 2010 "The Year of the Pitcher," they weren't kidding. Tampa Bay's Matt Garza continued the spectacular season for hurlers on Monday night by throwing the fifth no-hitter of the year. Garza joined Ubaldo Jimenez and Edwin Jackson in mere no hitters, as well as Dallas Braden and Roy Halladay who have both been perfect this season. Throw in Armando Galarraga's 28-out not-quite-perfect game and you have one heck of a season, and it's still July.
Click to continue reading Matt Garza continues the Year of the Pitcher with a no-hitter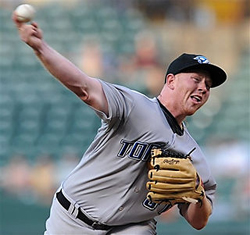 Toronto pitcher Jesse Litsch made a statement on Saturday; and that statement is that he is back. Returning from the dreaded Tommy John Surgery in June of 2009, Litsch threw seven innings of three hit baseball with zero walks and zero runs allowed against the San Francisco Giants. For those paying attention, he is actually back as of last Sunday, but the right-hander got lit up against the Rockies, allowing seven earned runs on nine hits in 2.1 innings.
Click to continue reading The Litsch is back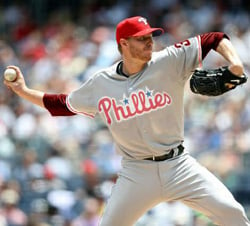 Roy Halladay won't be going back to Toronto afterall. Blue Jays president and CEO Paul Beeston announced on Tuesday that the series between Toronto and Philadelphia on June 25-27 has been moved from Rogers Centre to Citizens Bank Park, due to the G20 summit being held literally next door to the Rogers Centre on the same weekend. Rumors have been swirling about the possible schedule change for month, and now that it has become official, it has become the number one sports story in the city.
Click to continue reading Jays and Phillies series moved to Philadelphia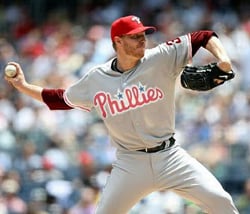 The Blue Jays got their first taste of an opposing Roy Halladay on Wednesday when they made the short trip from Dunedin to Bright House Field in Clearwater. The Jays showed their appreciation for Halladay and his new Philly uniform by swatting balls left and right, touching up the ace starter for four runs in the first inning alone. However, Halladay was able to pick himself up in the show why he's one of the best by striking out three batters in the second.
Click to continue reading Jays win, Halladay loses…not your typical headline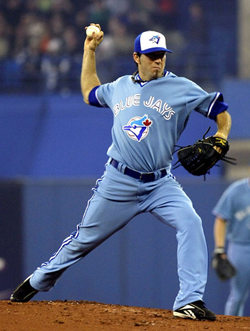 It was the audition that was Shaun Marcum's to lose. Toronto's new No. 1 pitcher is far from an ace, but to ask him to fill the shoes vacated by former Jays star Roy Halladay is asking far too much. Marcum came into training camp expected to be at the top of Toronto's rotation, and so far he's not disappointed the masses with his solid outings, and has been rewarded with the first Opening Day assignment of his career.
Click to continue reading Marcum tasked with replacing Halladay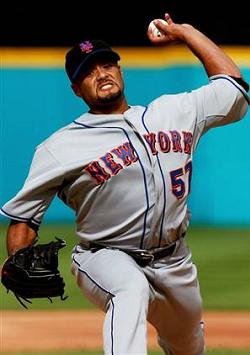 Is there anything worse than a cocky athlete? When Mets ace Johan Santana was asked who he thought the best pitcher in the National League East was, he took a moment to "think" about his answer before saying, "Santana… simple." Not only is that a slap in the face to the other teams in his division, but also to his teammates like Mike Pelfrey, John Maine and Francisco Rodriquez. Of course fans want the best players to play on their team, they just don't want those players to say they're the best.
Click to continue reading Santana claims he's best in the NL East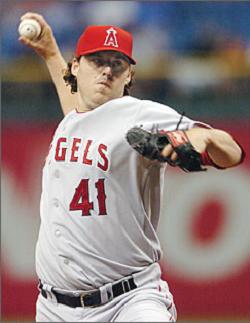 While the Winter Olympics may be going on, spring is definitely in the air. Major League Baseball's Spring Training officially kicks off on Wednesday when each team's pitchers and catchers report to training facilities to start warming up their arms for the long season. Over 1,000 players will begin the long journey towards Opening Day while the rest of the position players have an extra couple of weeks off before joining their teammates in sunny Florida or hot Arizona.
Click to continue reading Pitchers and catchers to report to Spring Training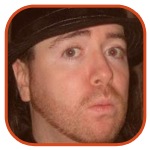 Posted by Adrien Griffin Categories: Athletes, Editorial, MLB, Trades,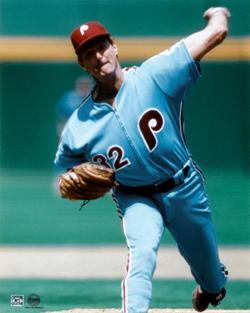 Now that the dust is starting to settle around the Roy Halladay move to Philadelphia, the breakdowns and analyses of the trades have begun to take precedence among sports headlines across North America. Halladay was revealed as the newest Phillie in a media conference on Wednesday afternoon where, for the first time, he donned his new red and white jersey. An unnoticed piece to anybody outside of Toronto's fanbase was the large "34" on the back of the jersey. Doc's number 32 had to be replaced thanks to Philadelphia's retiring in 1989 the number in honor of one of the greatest pitchers of all-time - Steve "Lefty" Carlton.
Click to continue reading Philadelphia's original number 32
© Gear Live Media, LLC. 2007 – User-posted content, unless source is quoted, is licensed under a Creative Commons Public Domain License. Gear Live graphics, logos, designs, page headers, button icons, videos, articles, blogs, forums, scripts and other service names are the trademarks of Gear Live Inc.