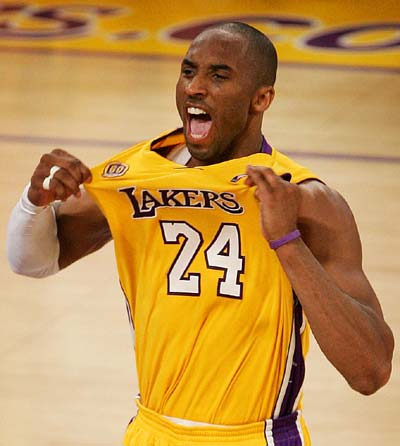 Kobe Bryant of the Los Angles Lakers is leading the overall voting for the 2011 NBA All-Star game, which is appropriate considering that the game will be played at the Staples Center in Los Angeles. Others leading the way for the Western Conference are Chris Paul at the one-guard, Kevin Durant and Carmelo Anthony at the forwards, and oddly, Yao Ming at center. Yao has been out for a bit now due to another injury issue and won't play in the game at all. When the coaches make their reserve selections, one of them will start in Yao's place. In the East, the leading guards in voting are Rajon Rondo and Dwyane Wade with LeBron James and Kevin Garnett in the lead in voting for forwards, and Dwight Howard at the five spot. The official starters will be named on January 27.
Read More

| ESPN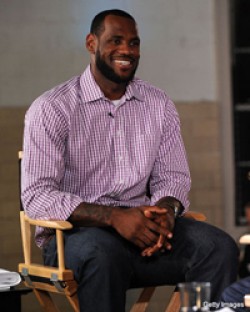 LeBron James has decided to join his Team USA and fellow 2003 NBA draftees, Dwyane Wade and Chris Bosh, down in South Beach to play with the Miami Heat. The trio of perennial NBA All-Stars will look to win what only Wade has, an NBA title ring, for the next five years at the very least. James, after much speculation that had him going to the Chicago Bulls, New York Knicks, New Jersey Nets, and staying with the Cleveland Cavaliers, made his choice known on ESPN Thursday night in a program called, The Decision. It's generally thought that the execution of LeBron's selection was poor in taste as it just fed more into the hype that most people were already sick of anyway. However, there is no questioning LeBron's appeal and general curiosity about where he would play. Rest easy, it's the Heat.
Read More

| Yahoo! Sports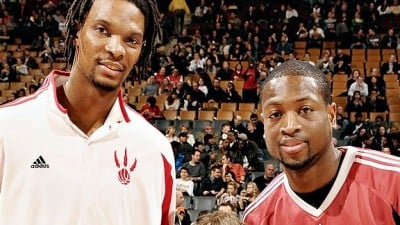 Unrestricted free agents, and two of the Big Three that includes LeBron James, Chris Bosh and Dwyane Wade have decided which team they will be playing for starting next season - the Miami Heat - and most importantly, they'll be doing it together. Bosh will be joining a new team with his friend and Team USA teammate, Wade, who will be re-joining the team that drafted him in 2003 as the fifth overall pick, while Bosh was drafted fourth overall by the Toronto Raptors. The aforementioned James was selected first overall in the same draft. The possibility still exists for LeBron to join Bosh and Wade in Miami, an answer that will be made known on July 8th at 9PM ET on ESPN.
Read More

| Yahoo! Sports

Posted by Dennis Velasco Categories: Athletes, Injuries, MLB, News,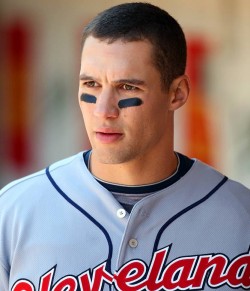 Man, things are just not good in Cleveland sports these days. First, there is a constant threat of arguably the best Cleveland athlete since Jim Brown leaving, which of course is LeBron James. Next Cleveland Cavaliers GM Danny Ferry resigns from his post. And now the best player on the Cleveland Indians, Grady Sizemore will miss the rest of the MLB due to microsurgery on his knee. Sizemore has not been healthy in recent seasons and wanted to avoid any potential possibility of missing significant time by having this surgery now, as his goal is to play at least ten more seasons. The surgery should help him achieve that, but then again, there are no guarantees. And, again, this is Cleveland sports we're talking about. Don't hold your breath.
Read More

| Yahoo! Sports

Posted by Dennis Velasco Categories: Front Office, NBA, News,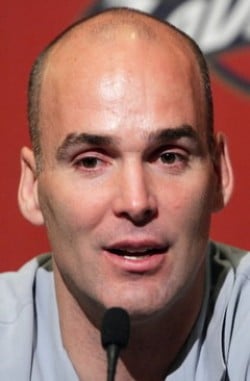 In a surprising and sudden move, Cleveland Cavaliers GM Danny Ferry has resigned from his post. Ferry became the GM in 2005 and helped form the team that reached at least the second round of the playoffs every year during his tenure, something that wasn't done by any other team during that period. Ferry backed Mike Brown, who was recently fired as the Cavs coach, and had a difference of opinion with owner Dan Gilbert on the direction of the team. So, Ferry resigned before his contract expired on June 30th. So, how does this affect the re-signing of LeBron James? Well, if rumors are true, LeBron as part of his re-signing, would help choose the next Cavs coach, and presumably, will be able to do so with the new GM. It's just another day in Cleveland sports.
Read More

| Yahoo! Sports

Posted by Dennis Velasco Categories: Athletes, Front Office, NBA, News, Rumors,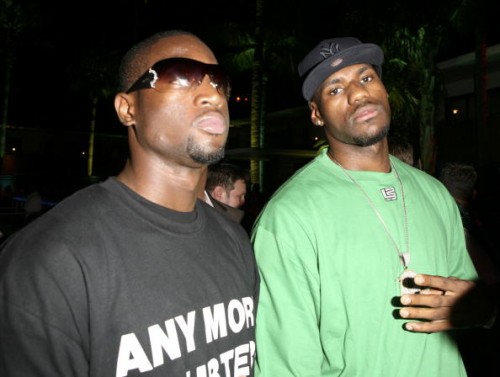 Okay, first of all, don't call this gathering of 2010 NBA free agents - Dwyane Wade, LeBron James, Joe Johnson, Chris Bosh, and allegedly Amar'e Stoudemire - a "summit." Let's be clear, they'll just be talking about one subject, possibly in one location, and discuss their futures. Yes, this does not sound like a summit at all. Well, maybe a little. In any case, it's amazing that these aforementioned NBA free agents will basically dictate who the next NBA powerhouse will be, particularly if any combination of two players go to one team. As previously posted here on Endscore, the Cleveland Cavaliers have the edge to re-sign LeBron, so maybe someone like Bosh signs with the Cavs after a sign-and-trade deal is struck. Maybe Amar'e heads from one warm weather climate in Phoenix to another one in Miami. Who knows what happens, but it's clear that the players are in control in the NBA.
Read More

| ESPN

Posted by Dennis Velasco Categories: Athletes, Front Office, NBA, Rumors,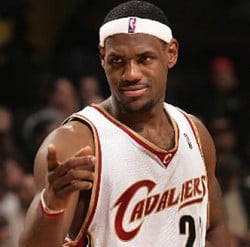 Well, take heart Cleveland Cavaliers fans, LeBron James has finally spoken about his upcoming NBA free agency and the incumbent team has the edge to re-sign The King. James spoke with CNN's Larry King on Tuesday for an interview to appear on Friday, saying, "... you know, this city, these fans, I mean, have given me a lot in these seven years. And, you know, for me, it's comfortable. So I've got a lot of memories here. And—and so it does have an edge." This may dampen the spirits of the New York Knicks who have laid it all on the line, suffering through two bad and almost wasted seasons under the current regime of Donnie Walsh and Mike D'Antoni. The Knicks have purposely traded assets to get under the NBA salary cap in order to sign LeBron and one of the other big NBA free agents - Dwyane Wade, Chris Bosh, Joe Johnson amongst others. If James does in fact sign with Cleveland, many teams such as the Chicago Bulls and New Jersey Nets, teams with legitimate shots to sign LeBron will need to move on. For the Knicks, however, how would they?
Read More

| ESPN

Posted by Phil Partington Categories: Editorial, NBA,
.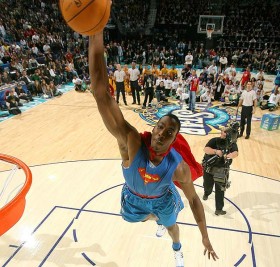 For years, the NBA All Star Game has been a bit of a joke, the biggest problem being that the fans are allowed to vote in the starters. While there is truth to the argument, this game is for the fans, there are many NBA player contracts with incentives written into them for making the All Star roster. If this game is to measure the quality of a player's recent production, how can it be determined by a popularity vote by casual fans who don't even follow the game?
Take Allen Iverson of the Philadelphia 76ers, for example. Iverson was voted in as a starter, despite not getting minutes with the Memphis Grizzlies, and only producing 14.5 ppg and 4.2 apg in a respectable 32 minutes a night while in Philadelphia. Take Tracy McGrady of the Houston Rockets, who was nearly voted in as an All Star over Steve Nash, despite playing in just six games this season where he averaged 3.2 ppg. The problem is an embarrassment to the whole event, and should undergo serious reconstruction.
Click to continue reading Restructuring the NBA All Star Game

Posted by Phil Partington Categories: Editorial, NBA,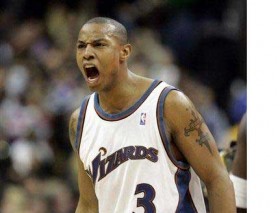 The 2009-2010 NBA trade deadline is approaching, and several teams have already shaken up their rosters in attempts to make a push for title contention this season, or to free up salary cap space for the upcoming off season free agent frenzy, which features myriad stars, such as LeBron James, Dwayne Wade, Chris Bosh and Amare Stoudemire.
While the Dallas Mavericks have already made such a move, acquiring Caron Butler and Brendan Haywood from the disappointing Washington Wizards, other teams, like the Los Angeles Lakers, are looking to stand pat.
Click to continue reading February 2010 NBA Title Contenders

Posted by Phil Partington Categories: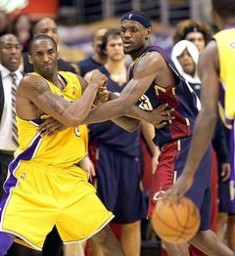 The first half of the season has brought many surprises and stories. The Lakers stand atop the NBA with a 37-12 record, and there's a five-way race between Carmelo Anthony, Kevin Durant, LeBron James, Kobe Bryant, and Dwayne Wade for the scoring title. With much of the second half of the season left to play, there's still a lot of basketball to determine who's most deserving of the NBA's prestigious individual awards. However, if the season ended today, here's how things might shape up.
Most Valuable Player Award
LeBron James, Cleveland Cavaliers - While plenty of arguments can be made for Kobe Bryant, the Cleveland Cavaliers aren't worth much without King James. While his turnovers could be lower (3.6 per game), he's averaging 29.5 ppg, 7.1 rbpg and 8.0 apg, while shooting over 50% from the field. He's also improved his shooting from beyond the arc to a more than respectable 36%.
Honorable Mention: Kobe Bryant, LA Lakers
Click to continue reading 2010 NBA Midseason Awards
© Gear Live Media, LLC. 2007 – User-posted content, unless source is quoted, is licensed under a Creative Commons Public Domain License. Gear Live graphics, logos, designs, page headers, button icons, videos, articles, blogs, forums, scripts and other service names are the trademarks of Gear Live Inc.